The Entire Downton Abbey Timeline Explained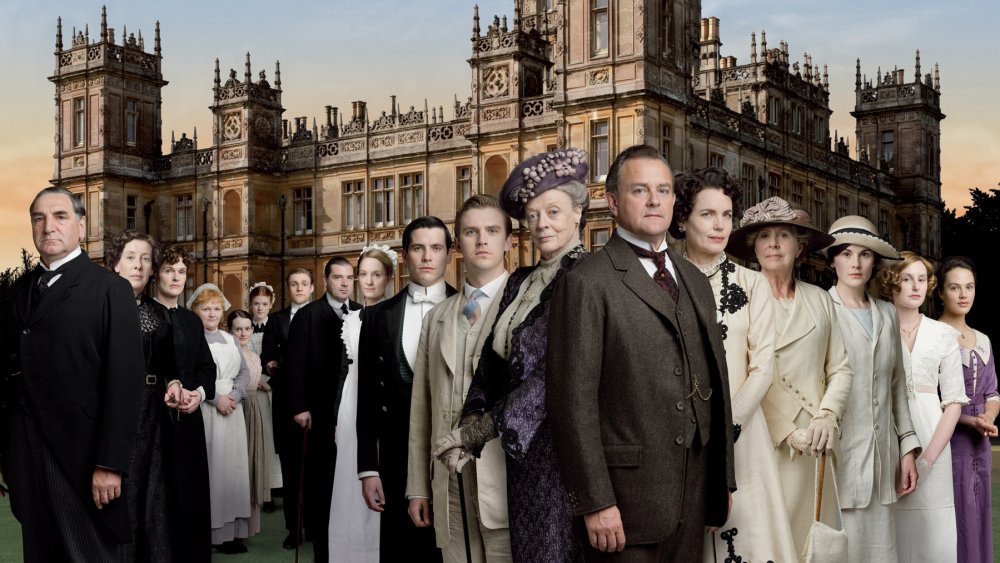 Downton Abbey follows the lives of the aristocratic Crawley family and their household staff for six elegant seasons, taking place between 1912 and 1926. The cast is huge, encompassing numerous family members, an extensive "downstairs" crew of servants, and a whole lot of people who marry into the clan. The series places heavy emphasis on British social hierarchies, and features a number of early 20th-century historical events, such as the sinking of the Titanic, World War I, the Spanish Flu pandemic, and the Irish War of Independence. It is mannered, gilt-edged, and posh — but don't let that fool you. Downton Abbey garnered legions of fans for its gripping drama as much as its glorious landscape shots.
The Crawley family, led by Robert, 7th Earl of Grantham and his wife Cora, Countess of Grantham, undergoes massive changes over the course of the series. Its time period is one of major cultural shift, especially in regards to the institutions that give the family their prestige. Pregnancies arrive at the worst possible times. Drugs are planted on innocent people. Beloved family members die abruptly, leaving behind mountains of unfinished business. It's a lot to keep track of, especially in the wake of the 2019 movie. Not to worry: We're here to help you keep meticulous track of the Crawleys and their world with this timeline of the entire series.
Shifting fortunes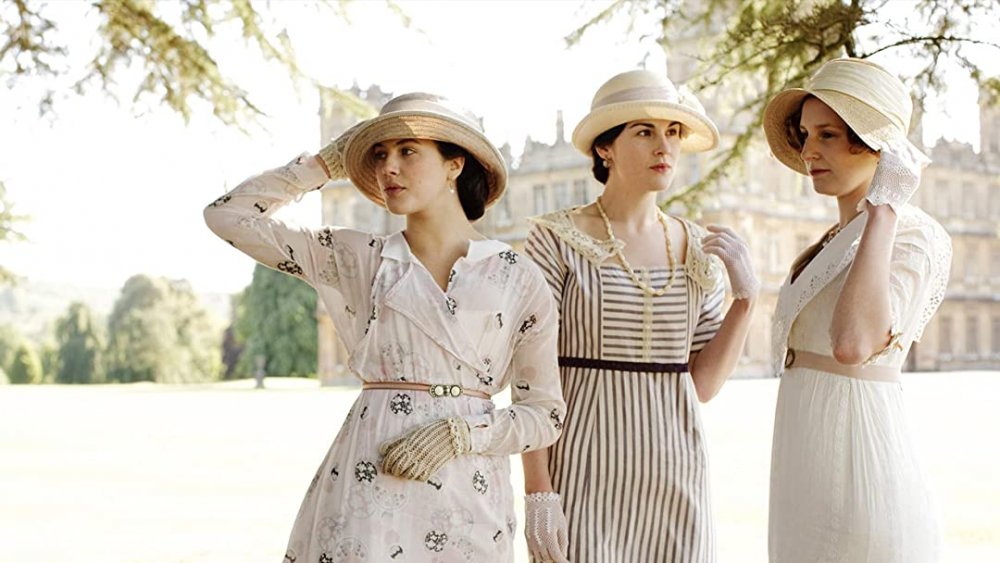 The first and shortest season of the series concerns itself with British lines of succession — specifically, the fact that only men can inherit titles and estates. Since the Crawley family has three daughters, Mary, Edith, and Sybil, their heir apparent is a second cousin named Patrick, whom Mary has agreed to someday marry. Things are thrown into chaos in the very first episode, however, with the sinking of the Titanic, on which Patrick and his father James were traveling. Their deaths throw the entire plan into disarray, and mean that the inheritance of Downton falls instead to Matthew, a distant cousin the family hasn't met.
When Matthew comes to Downton, there's an immediate clash of ideologies. Matthew has a job, something utterly unheard of within the Crawley family. Mary and Matthew become engaged, but Matthew suspects it's only because he stands to inherit Mary's fortune. When Cora becomes pregnant, Mary postpones the engagement, lest a male sibling stand to inherit instead of Matthew. Sadly, Cora loses the baby thanks to a scheme involving soap left next to the bathtub by Cora's disgruntled maid, O'Brien. When Mary comes crawling back, Matthew rejects her.
Meanwhile, downstairs, O'Brien and an ambitious footman named Thomas scheme against Bates, a friend of Robert's from the Boer War who's been brought on as Robert's valet. The season ends with the assassination of Archduke Franz Ferdinand and the outbreak of World War I in 1914.
The Great War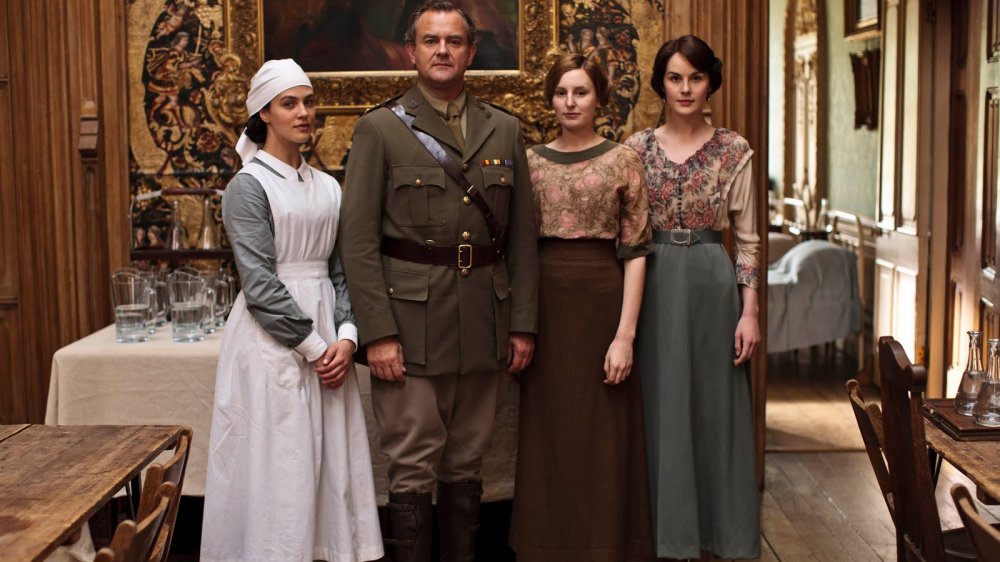 Downton's second season begins in 1916 in the middle of the Battle of the Somme. Matthew, Thomas, and footman William are all soldiers in the British army during the war, and Downton itself has been turned into a convalescent hospital for returning soldiers. Isobel, Matthew's mother and a former nurse, trains Sybil, who takes an active role in the running of the hospital. Matthew takes leave and returns to Downton, informing the family that he is engaged to a young woman named Lavinia Swire, leaving Mary devastated.
Matthew, William, and Thomas are all injured and sent home (though Thomas' injury was self-inflicted to get himself out of the trenches). William dies of his injuries, though not without confessing his love for kitchen maid Daisy, who agrees to marry him out of pity in a deathbed ceremony. Matthew is paralyzed from the waist down, calling into question his ability to father children, which destabilizes his engagement to Lavinia. Mary, however, becomes engaged to Robert Carlisle, a newspaper publisher who is holding a scandalous secret over her head. Bates and Anna, a lady's maid, have their budding relationship put on pause by Bates' wife, Vera, from whom Bates is estranged. Irish chauffeur Tom Branson, a man of revolutionary politics, grows closer to Sybil.
The Spanish flu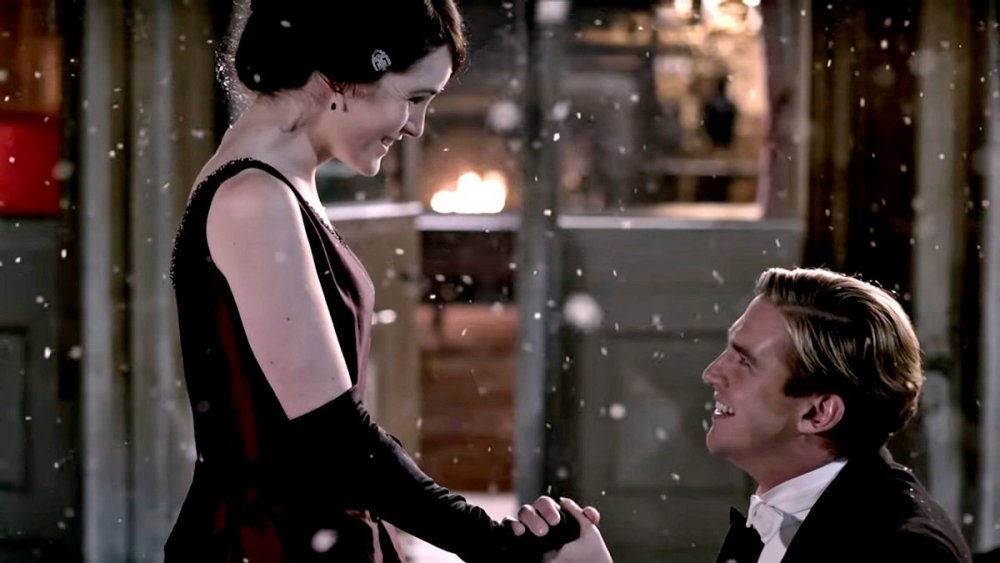 Matthew insists that Lavinia leave him, but she stays. However, Mary is the one who takes on much of his recovery treatment, bringing the two closer together again, despite his engagement. Edith helps a soldier who falsely claims to be their cousin Patrick, who died on the Titanic. His disfigured face helps the scheme, and Edith falls for it. Robert has an investigator look into it further, and "Patrick" abruptly departs.
Downstairs, Bates' wife Vera threatens to delay their divorce, then dies mysteriously, after which Anna and Bates marry in secret. Their joy is short-lived, however: Bates is arrested and charged with murdering Vera, and sentenced to life in prison. Major Bryant, who recovered from war injuries at Downton, dies in the war, leaving behind a child he fathered with Ethel, a maid at Downton. His parents offer to take care of the baby, under the condition that Ethel not have contact with the child. Ethel refuses, and leaves Downton with baby Charlie.
With the war coming to an end in 1919, the Downton household is threatened by another deadly force: The Spanish flu. Lavinia dies from the virus, leaving Matthew and Mary wracked with guilt. During the Christmas special, Sybil and Tom marry and move to Ireland, and she writes home that she is pregnant. Mary dumps Richard and reconnects with Matthew, whose wounds have healed. The two become engaged at the season's end.
Wedding bells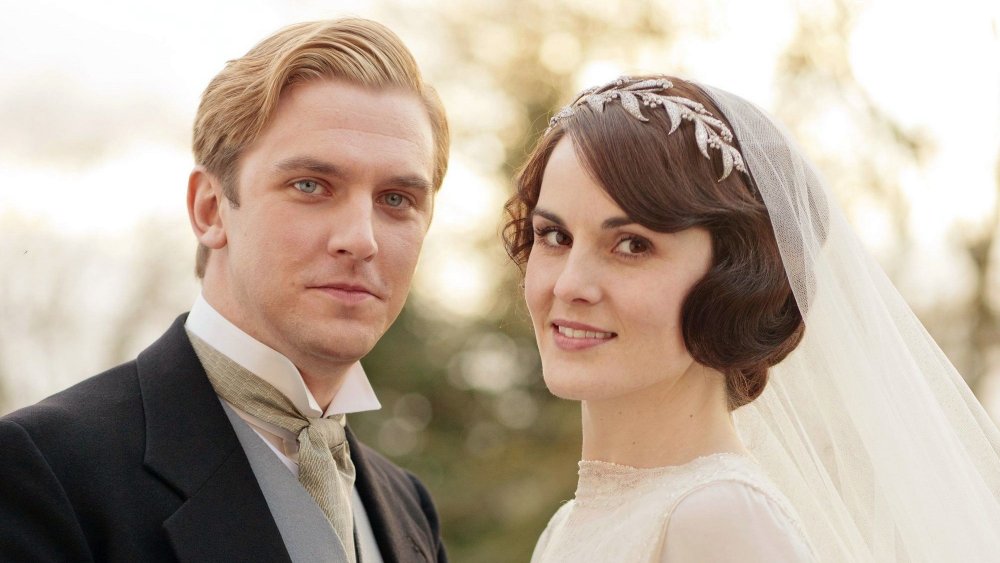 Season three covers 1920 to 1921, and begins with Matthew and Mary's wedding. Cora's American family attends the affair, and Robert learns that he's lost a ton of money invested in a Canadian railroad, leaving Downton basically broke. Jealous of her sister's fancy wedding and successful marriage, Edith pursues a much older man, Anthony Strallan, who reciprocates her feelings but knows he's too old for her. Ultimately, Anthony leaves Edith at the altar. She is devastated.
Downstairs, Anna and Bates struggle with his imprisonment, but Anna eventually finds a way to prove Bates' innocence and has him released from jail. O'Brien's nephew Alfred comes to work at Downton, taking on the role of Matthew's valet, a job Thomas wanted, which leads to animosity between O'Brien and Thomas. Another new footman, Jimmy, and a new maid, Ivy, join the ranks downstairs and many flirtations ensue.
Meanwhile, in Ireland, Tom becomes more involved in Irish independence and is wanted by the police. He escapes to Downton with a very pregnant Sybil following shortly behind him. Edith is offered a job writing a regular newspaper column. Matthew accepts Lavinia's father's inheritance and gives it to Robert to save Downton from the railroad debt. As a result, Robert makes Matthew more involved in running the estate.
Multiple funerals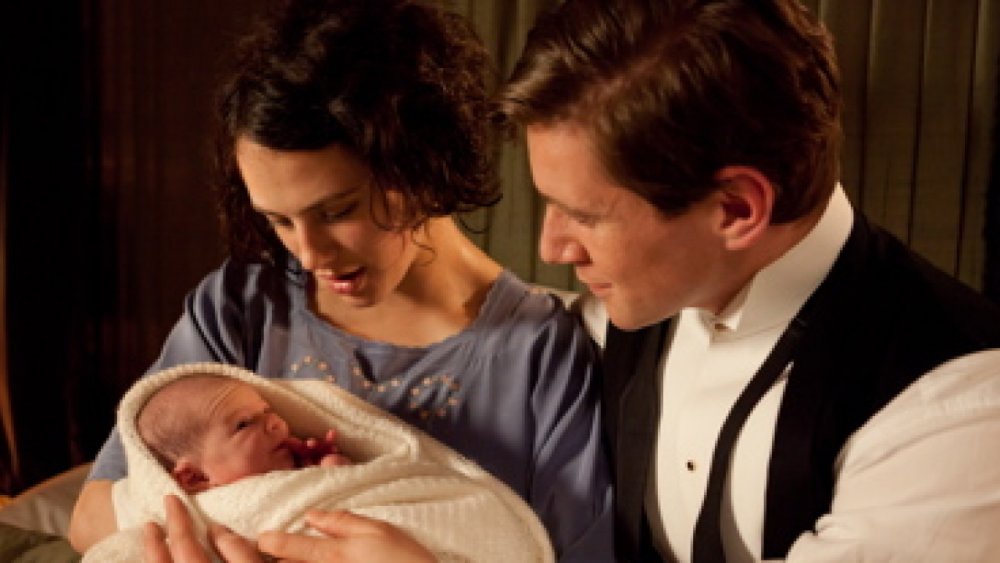 After a very difficult labor, Sybil gives birth to a baby girl. Tragically, she dies shortly after delivery from eclampsia. Cora blames Robert for her death: Robert listened to his old friend, an obstetrician named Sir Philip Tapsel, over their own doctor, who wanted to send Sybil to the hospital for a C-section. Tom names the baby Sybil in Irish tradition, though this decision kind of weirds out the Anglican Crawleys.
Edith becomes increasingly close to her editor, Michael Gregson. Mary and Matthew are overjoyed when Mary manages to become pregnant, despite earlier struggles with infertility. Everything changes, however, when Matthew dies in a car crash after driving home from the hospital where he met his infant son. Season three thus says goodbye to two beloved characters in only nine episodes, leaving the show without Sybil or Matthew.
Season three also introduces a new character in Lady Rose (Lily James), the daughter of Grantham cousin Susan and her husband, Hugh MacClare, from Scotland. Rose is a wild child who likes to drink and party, adding s bit of youthful fun to the series after so much tragedy.
Down and out in Downton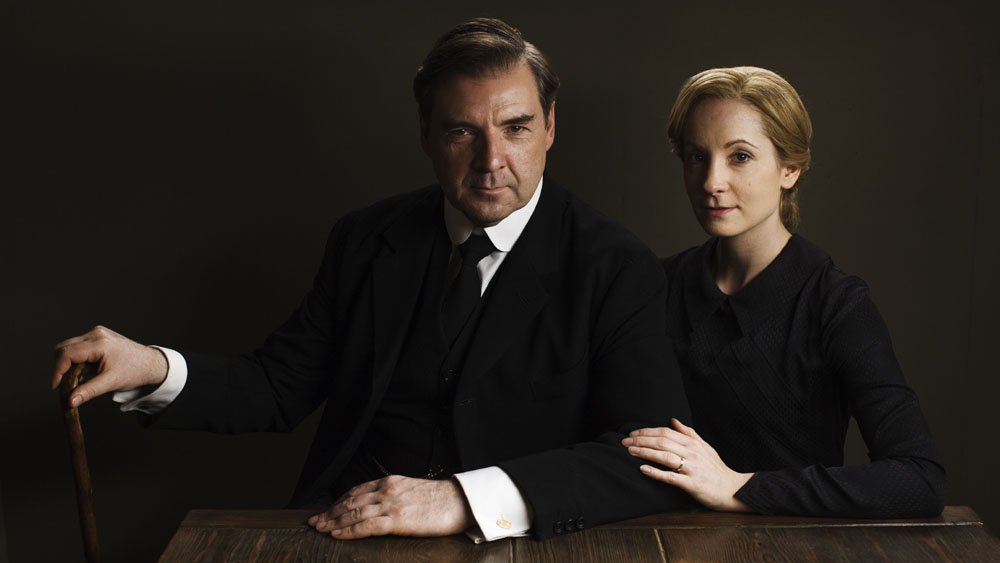 Mary struggles with grieving Matthew's death and caring for her newborn son, George. But when a letter is found naming Mary as Matthew's sole heir, Violet supports the idea of Mary becoming more involved in running the estate, hoping it will give her a purpose. Tom also joins in the management of Downton, and the two attempt to modernize. Now in 1922, Mary is presented with a number of new suitors, including Lord Gillingham and Charles Blake. She doesn't do much more than flirt.
During a party at Downton, Lord Gillingham's valet Mr. Green rapes Anna while the downstairs staff is upstairs listening to a singer. She tells no one but Mrs. Hughes, out of fear that Bates will murder him and go back to jail, or be put to death.
A number of other romances proliferate in season four. Edith spends the night with Michael Gregson, spurring him into seeking German citizenship so he can divorce his institutionalized wife. Tragically, however, Michael disappears in Germany, murdered by Hitler's Brownshirts. Rose has a scandalous fling with a Black jazz singer named Jack Ross. Tom has a flirtation with new maid Edna, which ends when she attempts to blackmail him into marriage. Then, Tom befriends a teacher named Sarah Bunting, who criticizes the aristocracy much as he once did. That relationship doesn't work out either.
Secrets and scandals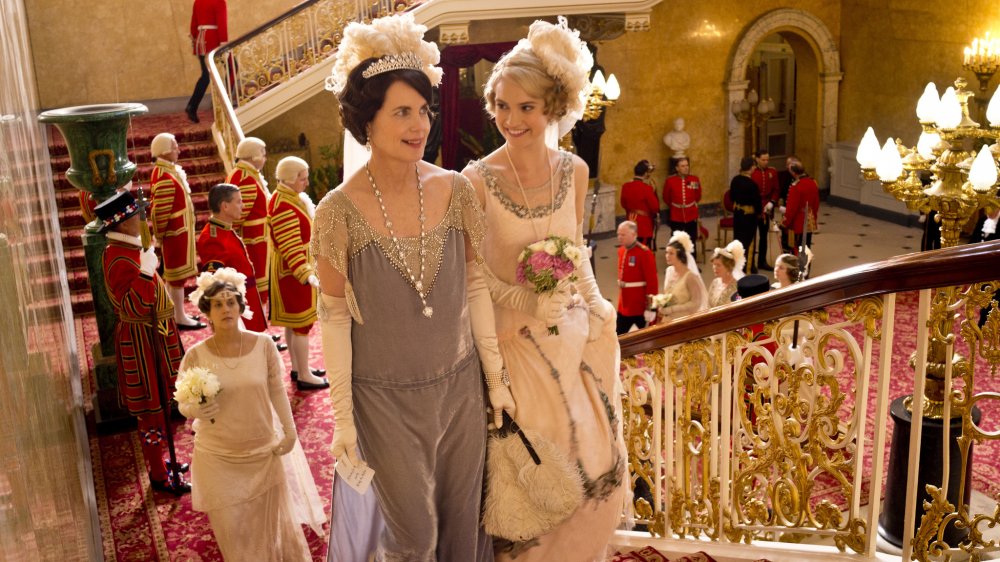 No one's in a great mood in season four. Lord Gillingham proposes to Mary, but she declines. Tom considers moving to America with little Sybbie. Edith discovers she's pregnant and backs out of an abortion, heading to Switzerland with Aunt Rosamund to hide her pregnancy and give birth there. Anna and Bates reconcile after Mrs. Hughes tells Bates that a stranger broke in and raped Anna. Of course, Bates figures out the truth eventually, and news of Mr. Green's death in a London street accident follows quickly after. Bates claims to have headed to York on the day of Green's death.
Downstairs, Alfred proposes to Ivy and gets rejected. He then leaves Downton to go to cooking school, leaving Daisy crushed. This season's Christmas special finds everyone in London for Lady Rose's debutante ball and presentation at court. There, the family becomes involved in a plot to solve the case of a missing letter from the Prince of Wales to his mistress. Quite the scandal. Mrs. Hughes finds a train ticket from Downton to London in Bates' pocket for the day Green died, making her suspicious of his actions. She tells Mary, and they burn the ticket. Edith returns from Switzerland, having given birth to a baby girl named Marigold. She places her secretly in the care of a farmer and his wife who live nearby.
Fires all around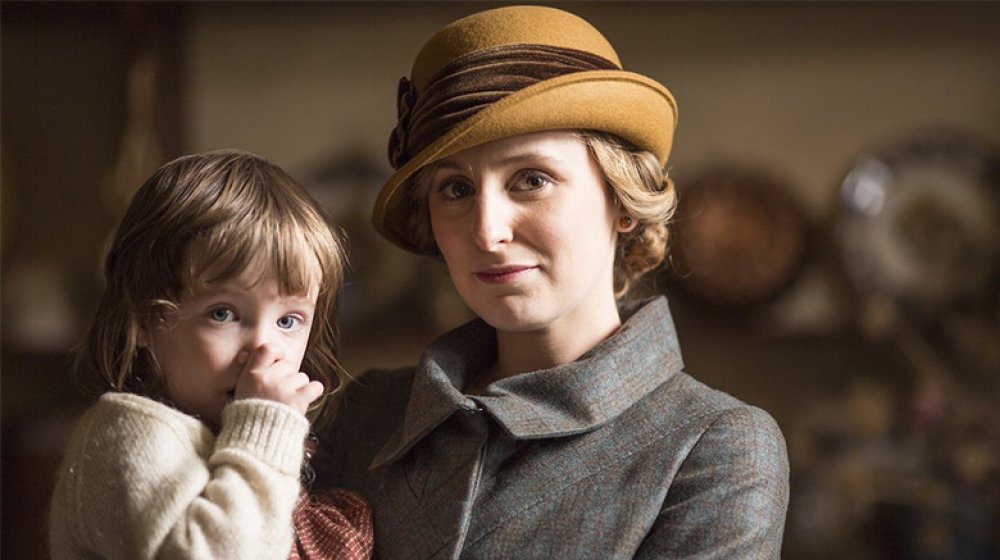 It's 1924, and people are coming and going all over Downton Abbey. New lady's maid Baxter starts working for Cora, though Thomas knows she has previously been convicted of theft. Baxter comes clean before Thomas can rat her out, and Cora puts Thomas on notice. However, he quickly puts himself back in the family's good graces when he rescues Edith from a fire in her room. Edith, finally at peace with Michael Gregson's death but missing  Marigold desperately, had thrown a book into her fireplace, causing the blaze. Her near-death experience makes her resolved to be more involved in Marigold's life, and she becomes her "godmother" and patroness.
Mary agrees to have a sexual relationship with Tony Gillingham, and asks Anna for help in procuring birth control. Bates finds the contraceptive device, and thinks it's for Anna, which angers him — he believes Anna does not want to have children with a murderer. Police arrive and unsurprisingly look at Bates for the murder of Mr. Green. Mary and Tony have a good little fling, but Mary eventually rejects his proposal, much to Violet's chagrin. Cora, feeling neglected by Robert, spends time in London with Mr. Bricker, an art curator. 
Russian roulette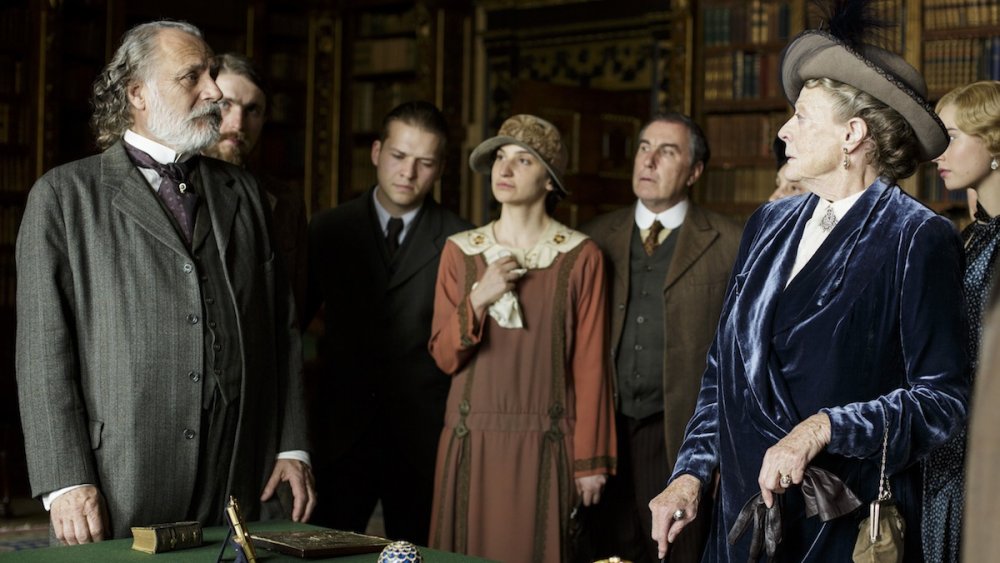 Lady Rose takes part in helping a number of deposed Russian aristocrats as they settle into life in England. Violet is reunited with Prince Kuragin, a Russian royal whom she met in St. Petersburg in 1874. As it turns out, Violet and the prince almost ran off together, but instead of rekindling their romance, Violet helps him find his missing wife.
Season five offers a dizzying array of romantic entanglements — none of which are entirely untroubled. Lady Rose makes her own match and marries Atticus Aldrige, son of a prominent Jewish family. Thomas attempts to "cure" his homosexuality with medical injections that only make him sick. Cora and Robert reconnect after her flirtations with Mr. Bricker. Isobel rejects a proposal from Lord Merton because his sons oppose the marriage. Yikes!
The police begin to suspect Anna of murdering Mr. Green, so Bates writes a letter confessing he did the deed and flees to Ireland. Baxter and Molesley are able to prove that Bates wasn't in London at the time of Green's death, and he and Anna are both left alone. Tom Branson and little Sybbie head to America, to embark upon a new life in Boston. Carson and Mrs. Hughes get engaged. Edith "adopts" Marigold, but Tom and Robert eventually figure out that she's Edith's biological child.
Sisters at a standstill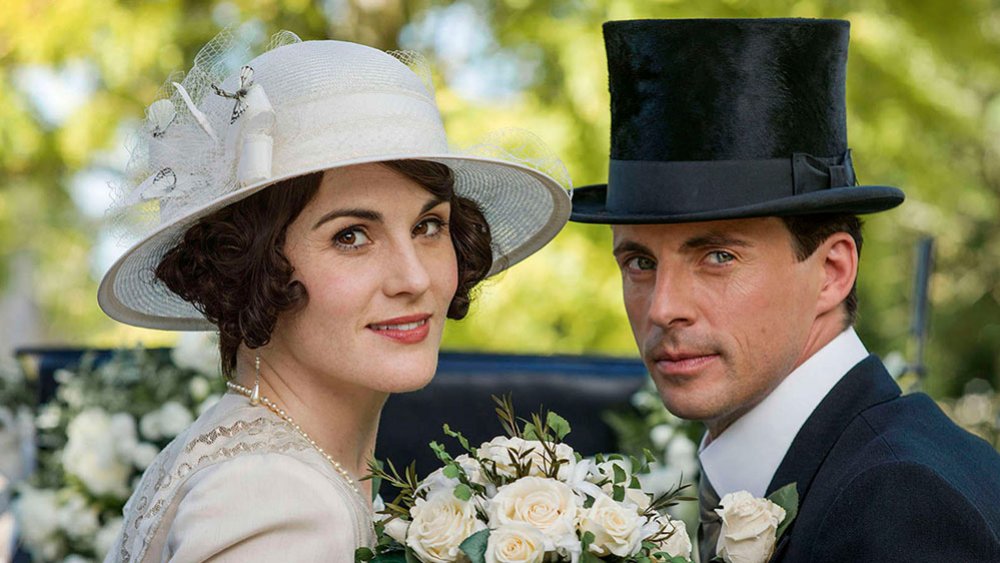 The final season of Downton Abbey covers the spring and summer of 1925. The Crawley girls find love amidst the blossoms, though not without going at each other's throats along the way. Edith, who is now running her own magazine, gets together with a nice man named Bertie Pelham, who succeeds a cousin and becomes a Marquess, moving into Brancaster Castle. Knowing that if Edith will outrank her if she marries Bertie, Mary spitefully reveals that Marigold is Edith's biological child. Tom returns from America and calls Mary out on her nasty act, correctly discerning that it's her way of dealing with guilt over having feelings for her suitor, Henry Talbot, a race car driver.
Meanwhile, Anna suffers repeated miscarriages. Mary takes her to the doctor she saw previously, who successfully helped her conceive. Mrs. Hughes and Carson get married, as do Mary and Henry Talbot. Henry and Tom then open a car dealership together.
Downstairs, Mrs. Patmore helps Daisy and new footman Andy move Daisy's father-in-law Mr. Mason onto his new farm. In the meantime, Daisy and Molesley take school exams, with Molesley doing so well that he's offered a teaching position at the school. Upon learning of his illiteracy, Thomas helps Andy learn to read.
Excitement abounds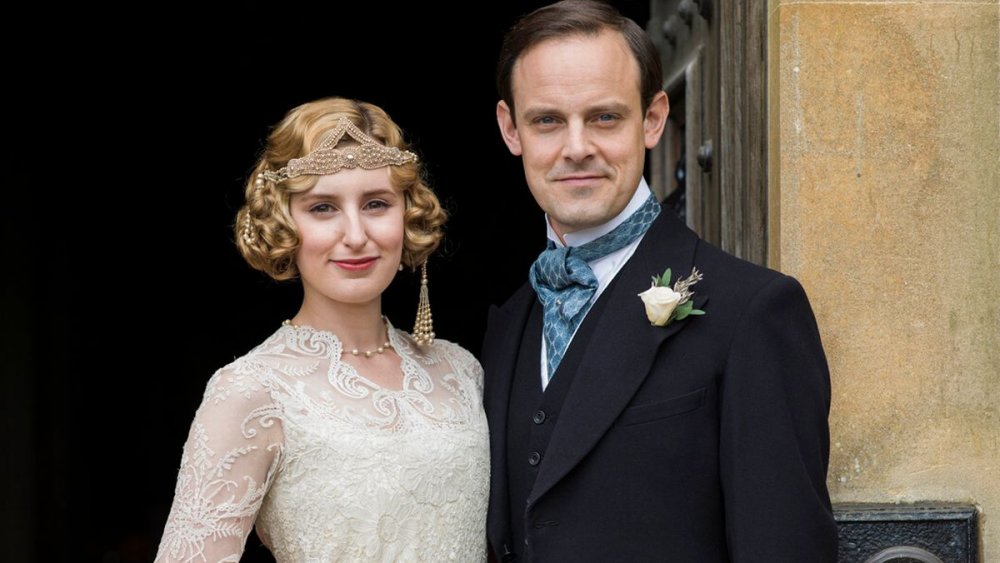 Some serious excitement wraps up the TV series. First, Robert develops a stomach ulcer that violently bursts during an elegant dinner, giving the show the bloodiest scene of its entire run. He survives, but Mary and Tom basically take over running Downton.
With the middle class rising and the aristocracy on the outs, Downton's staff begins to disperse, and its lands are sold off. What once was a protected and rarefied way of life makes way for a new age — one viewers know will be arriving dramatically, in the form of the Great Depression and World War II. Mrs. Patmore opens her own bed and breakfast. Daisy goes to live and work on the farm. Thomas has a brush with suicide, but survives the attempt and goes to work for an elderly couple. Carson's failing health forces him to retire, with the Crawleys hiring Thomas as their new head butler. Anna becomes pregnant, and delivers a healthy son to much rejoicing. Isobel marries Lord Merton, despite his sons' objections. Mary announces that she's pregnant again. The series ends with Edith and Bertie's lavish New Year's Eve wedding.
A royal visit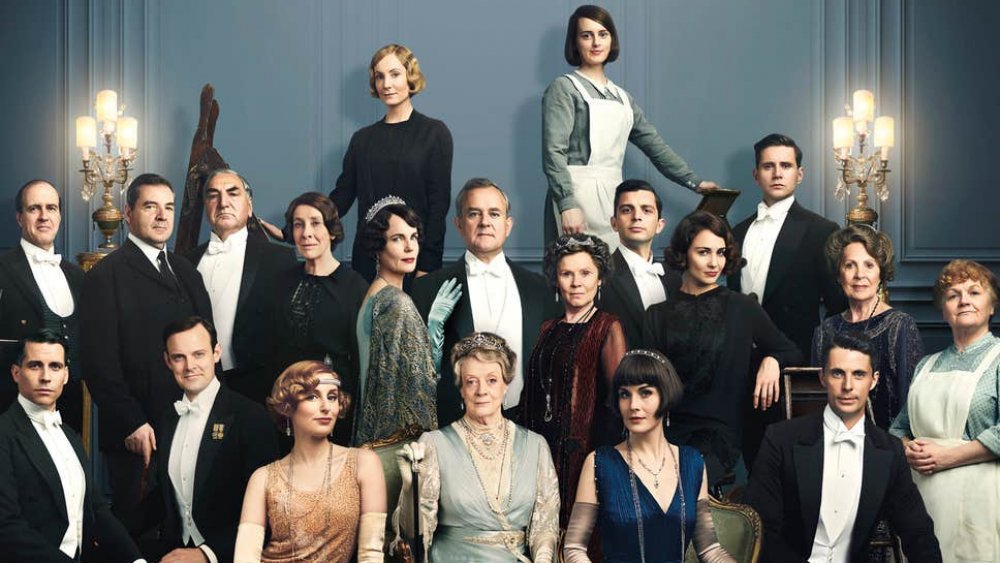 Considering how popular the series became, it's not surprising that the whole gang got back together in 2019 to make a film. All of the main cast return to their roles, alongside some new faces who bring plenty of intrigue to the storied estate. The year is now 1927, and King George V and Queen Mary plan to visit Downton on their tour of Yorkshire. This throws the household into a tizzy. Mary begs Carson to come back to work for the visit, much to Thomas' chagrin.
The King and Queen's staff arrive at Downton and pretty much take over the place, effectively kicking out all of the Downton folks who were excited to take part in the historic visit. Violet is upset by Lady Maud Bagshaw (Imelda Staunton), Queen Mary's lady-in-waiting, as she has some kind of secret history with her. Maud's maid Lucy forms a bond with Tom Branson in the meantime. Eventually, Isobel discovers the source of Violet and Maud's quarrel: Maud is leaving her estate to Lucy instead of Robert, despite the fact that he is Maud's closest relative. As it turns out, Lucy is Maud's secret child. Scandal!
A bittersweet departure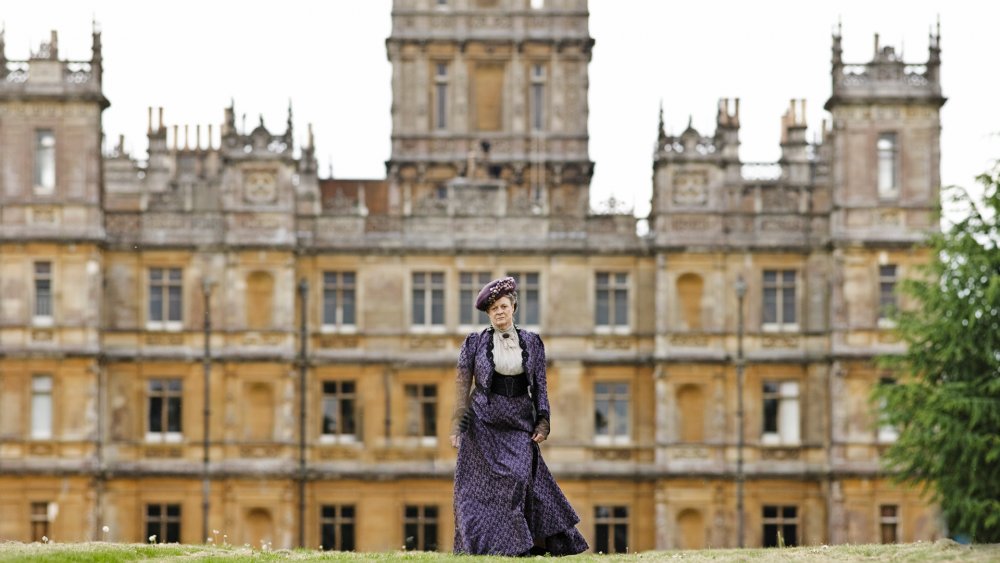 The Downton staff tricks some of the royal staff into heading back to London, and trap the rest in their rooms in order to serve the King and Queen. Molesley awkwardly (yet proudly) lets it slip that the Downton staff are responsible for the fantastic dinner that ensues. Unperturbed, the royals thank them for their work.
Thomas Barrow makes his way to a hidden gay club, and has the night of his life before getting arrested. Luckily, Richard Ellis, the King's Royal Dresser, is able to break him out. It is revealed that Ellis is also gay, and the two form a bond. Tom Branson manages to prevent the assassination of the King, having come a long way from his Irish revolutionary days. Bertie almost goes on an African tour with the King, but Edith's pregnancy manages to get him out of that. Violet reveals that she's sick and won't last much longer, but they're all British, so no one cries. 
All in all, the aristocrats and staff of Downton Abbey end their run happily. But as this movie wraps in 1927, viewers know their way of life will soon face massive upheaval. It's a pleasant ending, but a complex one — just like the rest of the series.