The Last Film Angela Lansbury Was In Before She Died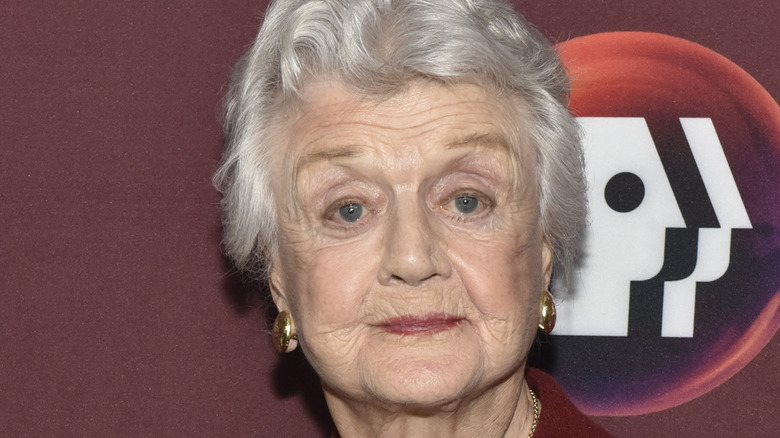 Rodin Eckenroth/Getty Images
The family of Dame Angela Lansbury announced today that the legendary actor has died, having passed peacefully in her sleep at the age of 96 (she would have been 97 in just a few days) (via NBC News). Lansbury, notably, worked as an actor for over seven decades on both stage and screen. In 1944, she made her film debut with "Gaslight" alongside Ingrid Bergman, followed by 1945's "The Picture of Dorian Gray" — she received a best supporting actress Oscar nomination for both roles. Some of her other most notable parts include playing Mrs. Lovett in the original 1979 Broadway production of "Sweeney Todd" (which earned her a Tony win), voicing Mrs. Potts in "Beauty in the Beast" and starring in all 12 seasons of the popular crime drama "Murder, She Wrote" (which earned her six Emmy nominations).
Lansbury racked up 111 on-screen acting credits during her lengthy and memorable career, having worked all the way up until 2018. So, for those curious, what was the last film that Lansbury was in before she died?
Angela Lansbury starred in Buttons, A New Musical Film
In 2018, Lansbury starred in "Buttons, A New Musical Film" (also titled "Buttons: A Christmas Tale") alongside another legendary actor, Dick Van Dyke. Directed by Tim Janis, "Buttons" follows two orphaned girls who dream of finding a family to adopt them in time for Christmas and are aided in the search by two guardian angels, played by Lansbury and Van Dyke. The cast also includes Ioan Gruffudd, Jane Seymour, Roma Downey, and Abigail Spencer. Additionally, Robert Redford and Kate Winslet act as narrators.
In 2019, Janis spoke to Home Theater Forum about what it was like to work with such legendary stars — Lansbury included — which was a major career moment for him. Janis said, "I remember it was such a great day when Dick Van Dyke and Angela Lansbury were together on set ... I told the camera guy to just, 'Keep the camera rolling. I just want to get everything, just them talking,' because it was just so exciting and such a historical moment for me, in my life. And really, working with the best, there's not much you do. They are such pros. They make the scene happen."
Angela Lansbury is also reportedly making a cameo in the upcoming Glass Onion: A Knives Out Mystery
Warning: Contains light spoilers for "Glass Onion: A Knives Out Mystery."
As it turns out, "Buttons, A New Christmas Film" may not have been the last acting endeavor of Lansbury's after all, as the veteran actor reportedly shows up in none other than a highly anticipated film — Rian Johnson's "Glass Onion: A Knives Out Mystery," the follow up to 2019's acclaimed murder mystery film "Knives Out."
According to Slant Magazine, Lansbury makes an appearance as herself in "Glass Onion." In the scene, detective Benoit Blanc (Daniel Craig) is on a Zoom call with some very famous faces — among them Lansbury, as well as the late Stephen Sondheim — and is bemoaning the fact that he hasn't worked on a satisfying case in awhile. Lansbury's cameo in "Glass Onion" is especially fitting, seeing as "Knives Out" contains a short clip from an episode of "Murder, She Wrote" — which fans of the classic series loved seeing.
We can't wait to see Lansbury show up on screen once more when "Glass Onion: A Knives Out Mystery" is released to Netflix in December 2022.