Eric Christian Olsen's Favorite Moment From NCIS: Los Angeles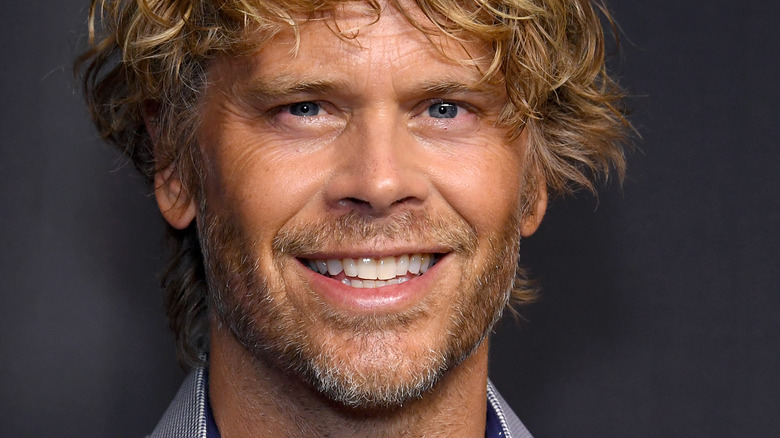 Jon Kopaloff/Getty Images
"NCIS: Los Angeles" is now on its 14th season, with the premiere episode airing on Sunday, October 9. A lot happened during the episode, including a possible sad future for Henrietta 'Hetty' Lange (Linda Hunt) after G. Callen (Chris O'Donnell) and Hollace Kilbride (Gerald McRaney) discover that one of Hetty's known aliases has been killed in Syria. Kensi Blye (Daniela Ruah) and Marty Deeks (Eric Christian Olsen) are also dealing with their new role as parents to Rosa (Natalia del Riego). As many fans know "NCIS: Los Angeles" was the first spinoff to come from the original "NCIS" series, which is currently on Season 20. However much of the main cast from Season 1 is still around on "NCIS: Los Angeles" unlike "NCIS," which only has a few original cast members left.
Olsen's Deeks is one of those original members, and although he was only a recurring character during Season 1, he quickly became a consistent member of the team in Season 2. It certainly didn't start too hot for Deeks, as he was almost killed during Season 2 Episode 17, but he and Kensi eventually began having feelings for one another, prompting a relationship that remains controversial amongst fans to this day. Deeks and Kensi were married during Season 10 and still maintain a working relationship.
Ruah has told Looper about the great relationship that she and Olsen share off-screen that helps with their dynamic on-screen, and Olsen even revealed that it was a sincere moment between Deeks and Kensi that remains his favorite ever.
Eric Christian Olsen's favorite moment was an improvised conversation between Deeks and Kensi
While speaking about "NCIS: Los Angeles" at the MCM Comic-Con panel in 2017, Daniela Ruah and Eric Christian Olsen answered questions about the relationship between their characters of Kensi Blye and Marty Deeks. Olsen then explained that some of the moments he looks at most fondly in the show involve improvisation, specifically between Deeks and Kensi. It even led to his favorite moment ever in the entire series. "One of my favorite scenes still, forever, still is after Deeks is tortured and he's going through a period of where he's not able to sleep for weeks, and she (Kensi) comes over with Chinese food and it's this great scene that they played in the two shot," Olsen said. "There's a bunch of like, really honest, natural improvisation ... and it ended up being one of my favorite scenes," he continued.
The specific scene Olsen referenced occurs during Season 5, Episode 2 titled "Impact." Deeks had been tortured alongside Sam Hanna (LL Cool J) at the end of Season 4 and had taken a leave of absence to recover. Kensi does come over with takeout and helps him through his pain. It was arguably a turning point in Kensi and Deeks' drawn-out will-they-or-won't-they relationship.
Season 14, Episode 2 of "NCIS: Los Angeles" airs Sunday, October 16 at 10/9c on CBS.