Where You've Seen The Cast Of Halloween Ends Before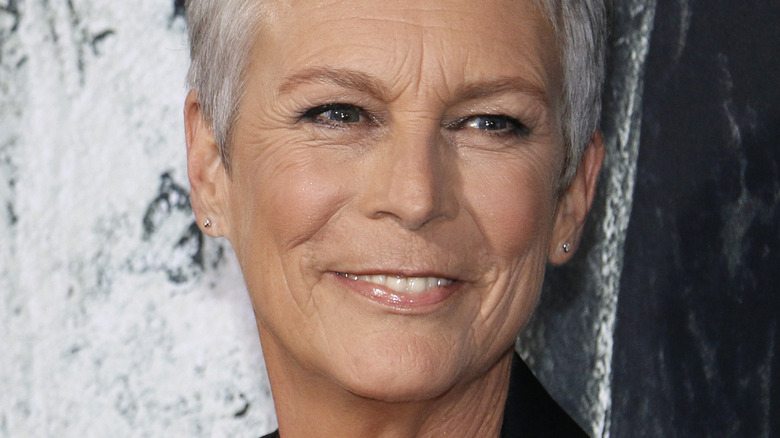 Tinseltown/Shutterstock
When it comes to the Halloween season, few horror movie franchises are as iconic as the aptly-named "Halloween" series. John Carpenter's 1978 classic introduced audiences everywhere to Michael Myers and from there essentially invented the slasher genre as we know it. "Halloween" became a surprise box office sensation, making $47 million off a $325,000 budget with equally as sensational reviews. It was the most profitable independent film until another horror titan, "The Blair Witch Project," unseated it in 1999 (per Parade). Roger Ebert himself praised the film early on, giving it four stars and warning readers, "If you don't want to have a really terrifying experience, don't see 'Halloween.'"
There have been 13 installments in the franchise that have varied in both quality and popularity but have nonetheless continued, and sometimes rebooted, the ever-developing story of the famous mask-wearing serial killer. Unfortunately, most of the sequels to and reboots of the original "Halloween" have been critical and commercial flops that have somewhat tainted how audiences feel about the franchise. It wasn't until David Gordon Green got his hands on the intellectual property in 2018's "Halloween" soft-reboot that The Shape was given a new lease on life that fared well with critics and audiences. With his revival film and its 2021 sequel, "Halloween Kills," Green revitalized people's interest in the series that continues with the final film in his reboot trilogy: "Halloween Ends."
This final chapter promises to bring the story of Michael Myers and horror heroine Laurie Strode (Jamie Lee Curtis) to a true conclusion in a way previous films haven't (looking at you, "Halloween: Resurrection"). With a cast of familiar faces and exciting newcomers, this film is looking to be a horrifying thrill for fans. So read on to find out where you've seen the cast of "Halloween Ends" before.
Jamie Lee Curtis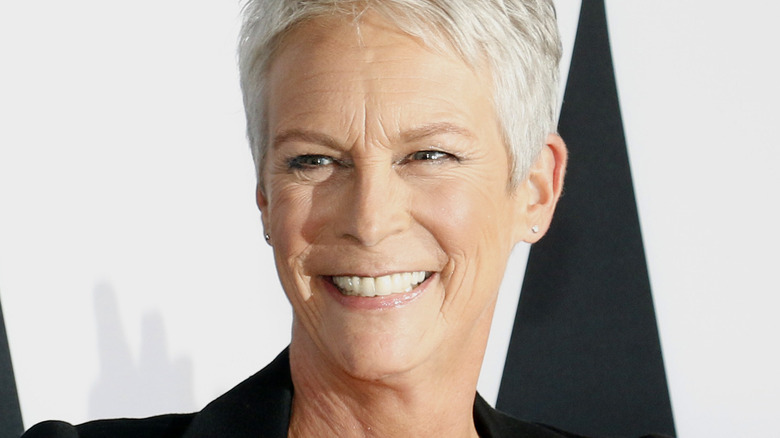 Tinseltown/Shutterstock
By far the biggest star associated with the "Halloween" franchise is Jamie Lee Curtis, and for good reason. She helped make the series the smash hit it is by being the leading character in the very first film and has since appeared in a respectable number of sequels (both good and bad). Curtis plays the character of Laurie Strode, a high school student and babysitter who lives in Haddonfield, Illinois, and has consistently been hunted by the masked psychopath Michael Myers. Her relationship with Myers has been inconsistent at best — sometimes they're related, a plot point introduced in "Halloween II," and sometimes there's no reason at all she became the object of his rampage. The latter explanation is chosen for the recent series of films directed by David Gordon Green, which take place roughly 40 years after the events of "Halloween" (and ignore all the movies in between).
Curtis reprises her role as Laurie Strode once again in "Halloween Ends," marking her likely final portrayal of the iconic scream queen. Although she got her silver screen start with "Halloween," followed by John Carpenter's "The Fog," Curtis has had an extremely successful career beyond that in both film and television. She may be familiar to fans of comedy with her roles in films such as "Trading Places," "A Fish Called Wanda," and "Freaky Friday." More recently, Curtis has been featured in critically acclaimed movies like "Knives Out" and "Everything Everywhere All At Once." A career slowdown came in the early 2010s, which nevertheless brought her an episodes-long supporting role on "NCIS" and seven years of promoting Activia yogurt in TV commercials. But her extensive, storied career in television includes standout roles in shows like "Anything But Love," "Nicholas' Gift" (for which she was Emmy-nominated), and "Scream Queens."
Andi Matichak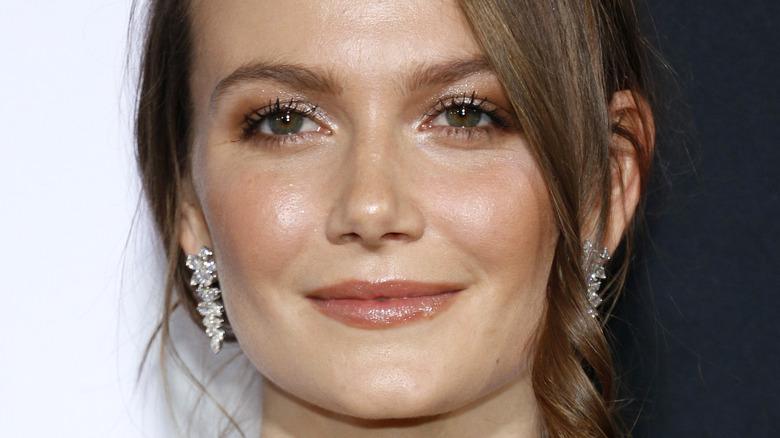 Tinseltown/Shutterstock
The rising star of the newer "Halloween" films is without a doubt Andi Matichak, who plays the role of Laurie Strode's granddaughter, Allyson Nelson. The character of Allyson was first introduced in 2018's "Halloween" as a teenage girl who was estranged from her grandmother because of her dedication to doomsday-prepping for the day that Michael Myers would come back to kill her. While Allyson's mother (Judy Greer) discouraged this kind of paranoid thinking, it was proven to be the right move once Michael did eventually hunt them down. For the sake of spoilers, we won't say everything that happens in "Halloween" and "Halloween Kills," but what is important to understand is that Allyson makes it out alive (for now).
While her role as Allyson has certainly put Matichak on the map, she is still very much in the early stages of her acting career. Matichak got her start in two episodes of the ABC supernatural drama series "666 Park Avenue," followed by guest appearances in "Orange Is the New Black" and "Blue Bloods." Her first major feature appearance was as Wendy in the 2016 dramedy "Miles," followed two years later by "Halloween." She has since appeared in the horror movies "Assimilate" and "Son," followed by the war drama "Foxhole," but her most widely known projects continue to be the "Halloween" films.
James Jude Courtney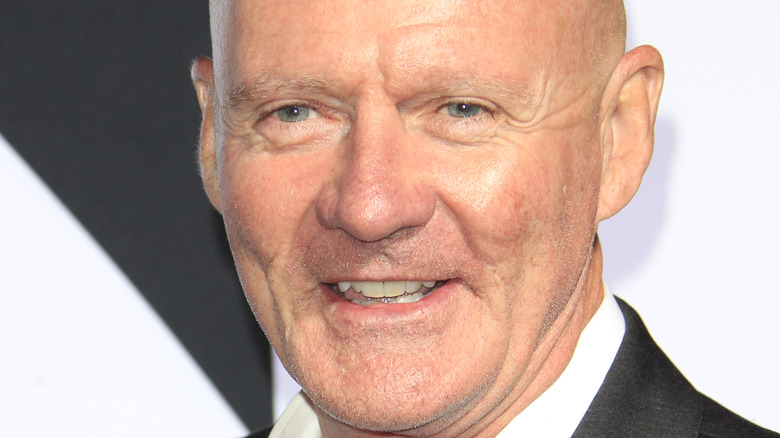 Kathy Hutchins/Shutterstock
You may not recognize this name off the bat, but James Jude Courtney has played an essential role in the newest "Halloween" trilogy as none other than Michael Myers himself. Well, he plays Michael most of the time while sharing the masked spotlight with the original (and much older) actor for the character. Courtney is no less han the 18th actor to play Michael in the franchise (per Screen Rant). Courtney portrays the towering serial killer despite being well into his 60s thanks to his background as a stunt performer and has managed to revitalize the iconic movie monster by bringing an imposing dread to his performance. To fans, the recent appearances of Michael Myers by Courtney are the scariest the killer has been since the original film.
While he may not be a huge onscreen presence because he's wearing a mask the whole time, Courtney still may be familiar to viewers who look him up after the fact. He has been in numerous movies and television shows over the years in big and small roles alike, but his most recognizable appearance has to be as Der Kindestod in "Buffy the Vampire Slayer." Courtney also appeared in shows such as "Knots Landing," "Unsolved Mysteries," and "Babylon 5" in mostly auxiliary roles.
Nick Castle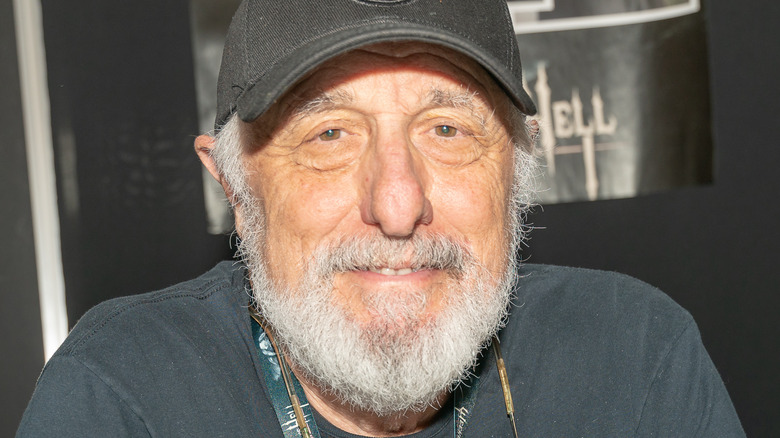 Markus Wissmann/Shutterstock
If Michael Myers had an originator, it would be Nick Castle. He, along with legendary director John Carpenter, conceived of the character all the way back when the first film was made in 1978. He portrayed Michael (called only "The Shape" in the credits) and developed all the little mannerisms and ticks that make the slasher so terrifying for audiences. Though he shared the role with five other actors in the original film (per Screen Rant), Castle remains the actor most synonymous with Michael, and hos stint as The Shape continues to "Halloween Ends." In the reboot trilogy, he's shared the role with James Jude Courtney. While his appearances in the movie are limited, and could even be described as cameos, it's still interesting to see the original Michael Myers return at all. Castle also notably records all the breathing for the character (per Collider).
Beyond "Halloween," Nick Castle has been a known name in Hollywood for a while. He co-wrote Carpenter's "Escape from New York" in 1981 and later wrote the screen story for Steven Spielberg's "Hook" and the script for 2007's "August Rush." As a director, Castle helmed 1984's "The Last Starfighter," 1993's "Dennis the Menace," 1995's Damon Wayans vehicle "Major Payne," and the Ellen DeGeneres comedy "Mr. Wrong." His on-screen roles are few and far between, but Castle may be remembered by fans for his brief appearance in Carpenter's "Dark Star" as an alien or "Escape from New York" as the Pianist; he also appeared as The Coupe De Villes in a 1986 film he wrote and directed, "The Boy Who Could Fly" — a reference to his band The Coupe De Villes with Carpenter.
Will Patton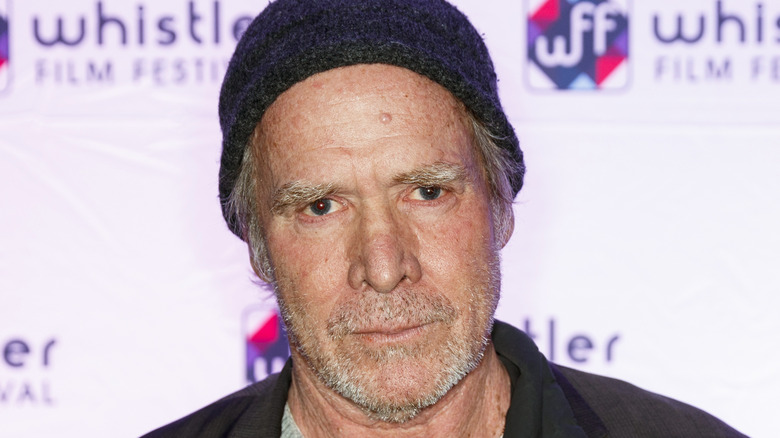 Andrew Chin/Getty Images
Will Patton is definitely one of the most seasoned actors in "Halloween Ends." Patton plays Deputy Frank Hawkins, a Haddonfield cop who was the first person to arrest Michael Myers after the events of the first "Halloween." He's the reboot franchise's most notable original character outside of the Strode family, having been introduced in the 2018 film as an older, grizzled, and traumatized man who wants to make amends for what happened back in 1978, and his backstory was shown at the beginning of "Halloween Kills," where Hawkins was briefly played by Thomas Mann.
Will Patton has made a name for himself over the years as an in-demand character actor, with one of his most popular roles being Colonel Dan Weaver in the TNT series "Falling Skies." On television, he played Jackson Haisley in the CIA drama "The Agency," Gary Walker in "Numb3rs," and Alan Wilson in "24," all in the 2000s, followed in the 2010s by his roles as Mike Tascioni in "The Good Wife" and Avery Sunderland in "Swamp Thing." Recently, he's played Garrett Randle in "Yellowstone" and Wayne Tillerson in Amazon Prime's "Outer Range."
In films, his credits are numerous and flush with great movies, including turns in Martin Scorsese's "After Hours," the Kevin Costner drama "No Way Out," and the John Grisham adaptation "The Client." He appeared alongside Costner again in "The Postman," went to space in "Armageddon," and co-starred with Nicolas Cage in "Gone in 60 Seconds" and Denzel Washington in "Remember the Titans." Recently, the noted actor has appeared in awards darlings, like "Meek's Cutoff," "American Honey," and the Best Picture-nominated "Minari."
Rohan Campbell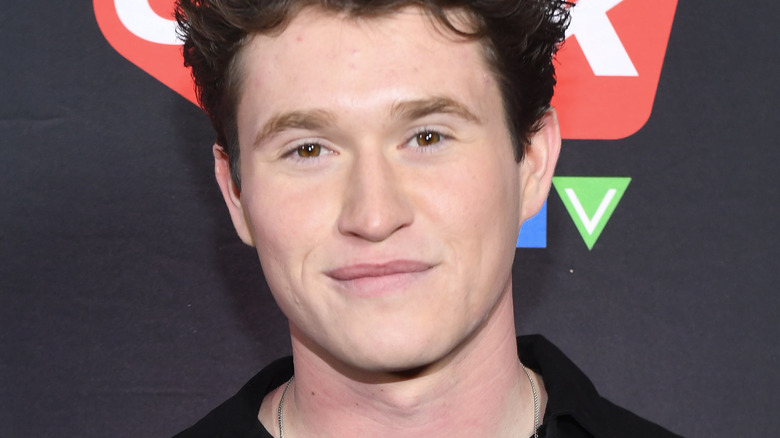 Gp Images/Getty Images
A newcomer to the "Halloween" franchise is Rohan Campbell, playing the mysterious character of Corey Cunningham. According to the official synopsis of "Halloween Ends," Cunningham is a babysitter accused of murdering the child he was supposed to be watching. This event sets off the film's story, which takes place a few years after the events of "Halloween Kills." Whether or not Cunningham is guilty of the crime remains unknown, as is his connection to Michael Myers (who has disappeared since the last movie).
As an actor, Rohan Campbell is still early in his career, with a handful of notable film and television appearances up until "Halloween Ends." His first film was the 2013 Canadian comedy "The Right Kind of Wrong," followed by roles in movies like the drama "The Valley Below," the Scott Eastwood Westerner "Diablo," and the family film "A Miracle on Christmas Lake."
Campbell has had some bigger leading roles in television. He may be recognizable to fans of Hulu's "The Hardy Boys" series, where he starred as Frank Hardy alongside Alexander Elliot. He also landed a smaller supporting role on Netflix's "Virgin River." He has also appeared in shows including "Klondike," "Once Upon A Time," "Supernatural," "Project Blue Book," "iZombie," "Snowpiercer," and "The 100," though only for an episode or two of each.
Kyle Richards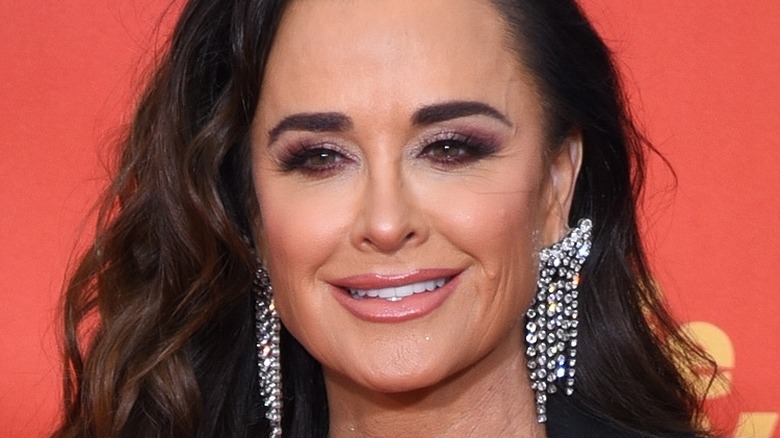 Michael Mattes/Shutterstock
Kyle Richards got her start as a child actor in Hollywood. Most prominently, she appeared in "Little House on the Prairie" as Alicia. More importantly, though, is that she's been in the "Halloween" franchise as long as anyone else. In 1978, she played Lindsey Wallace, one of the two kids Laurie Strode was charged with babysitting the night Michael Myers attacked, and Richards has continued to appear in the series in "Halloween II" and "Halloween Kills."
Besides "Halloween," Richards has been in movies and television shows for over five decades and across numerous genres. She has appeared on "The Real Housewives of Beverly Hills" since 2010, through 12 seasons, and is now the only member of the original housewives to remain. Additionally, Richards was a contestant in 2017's "The New Celebrity Apprentice," where she played for Children's Hospital Los Angeles.
As a kid, she appeared in the horror film "The Watcher in the Woods," then later in "ER" as nurse Dori Kerns. Sporadic TV appearances in "CSI: Crime Scene Investigation" and "Days of Our Lives" complemented her long-running tenure in "The Real Housewives" until the masterminds behind the "Halloween" franchise gave her a ring and asked her to return to Haddonfield.
Omar Doresy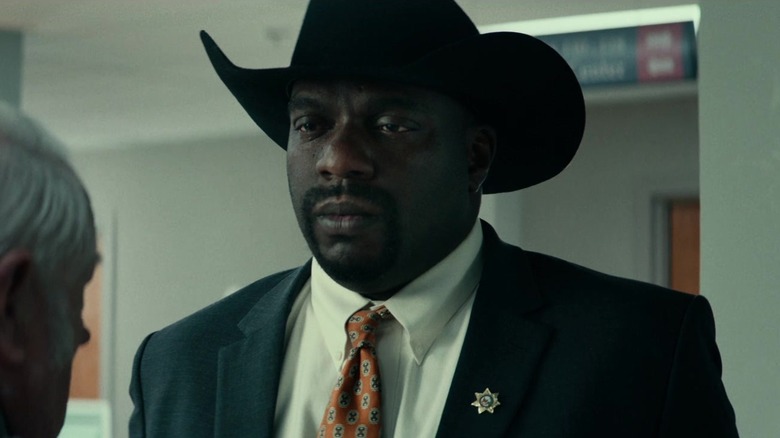 Universal Pictures
Yet another talented and prolific actor to be featured in "Halloween Ends" is Omar Dorsey, playing the cowboy hat-wearing Sheriff Barker. His character was introduced in 2018's "Halloween" as the amiable sheriff of Haddonfield, who is reluctant to believe Michael Myers is back on the loose in his town. As the series has gone on, Sheriff Barker proved unable to control the bloodthirsty mob from wreaking havoc in their desire to kill Michael themselves. Dorsey has been confirmed to return for the final "Halloween" film, but it is unknown what has become of Barker in the four years since everything that happened in the last movie.
Dorsey has built quite an impressive filmography over the years. Some of his most famous roles are "Big Tony" Hamilton in "The Blind Side," Chicken Charlie in "Django Unchained," and James Orange in the 2014 historical drama "Selma," a real civil rights activist who marched with Dr. Martin Luther King Jr. back in the 1960s — all three of those films were nominated for Best Picture. Other than that, Dorsey also appeared in several television roles on shows such as "ER," "The Mentalist," "Castle," "Ray Donovan," and "NCIS." He also was featured in the HBO comedy series "Eastbound & Down," which stars Danny McBride, who was one of the writers for the recent "Halloween" reboot films. Prominently, he starred in "Ray Donovan," "Aquarius," "Rake," "Queen Sugar," and "Power Book III: Raising Kanan," and in the films "Dog Eat Dog" and "Thank You for Your Service."
Candice Rose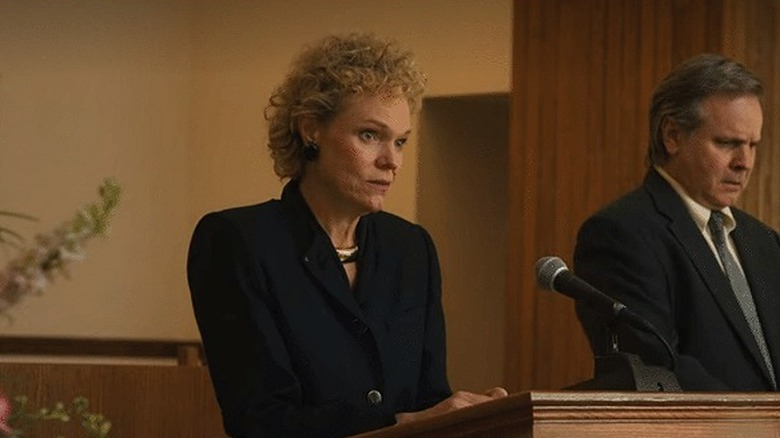 Netflix
Candice Rose makes her first appearance in the "Halloween" franchise as the character of Mrs. Allen in "Halloween Ends." Rose has returned to acting after a significant seven-year hiatus with roles in movies and television. Not much seems to be known about her character's role in the story since it's likely a small role, but since it's a horrifyingly violent slasher, it is safe to say that she probably gets some unpleasant one-on-one time with Michael Myers himself.
Outside of "Halloween," Rose has been in lots of different projects over the years that may be familiar to audiences. In the past few years, she has made appearances in "Days of Our Lives," "Chicago Med," and the fourth season of "Stranger Things" as Chrissy's mom. What's even more interesting is Rose's performance as Aunt Melanie in Marvel's hit series "She-Hulk." With upcoming performances in the series "Complete Bull" and "The Unseen," it seems that Rose's filmography continues to grow with each passing year.
Stephanie McIntyre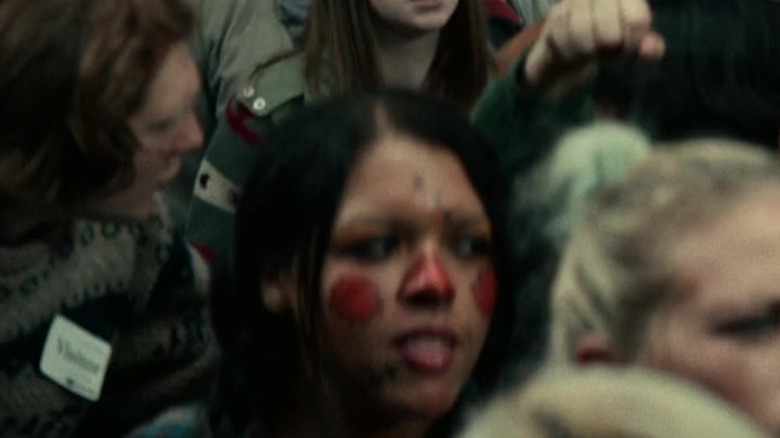 Universal Pictures
Although she is only featured in a small, unnamed role of Nurse in "Halloween Ends," Stephanie McIntyre nonetheless is probably recognizable to viewers from some of her other previous work. It isn't exactly clear what part McIntyre's nurse will have in the greater story of the film; it is likely that she is involved with Haddonfield hospital where much of "Halloween Kills" takes place. It is possible she may even play a nurse that helps Laurie Strode during her time being taken care of after getting attacked by Michael Myers.
In real life, Stephanie McIntyre has performed in other roles that you may not even realize you recognize yet. Funnily enough, she actually had a completely different role in "Halloween Kills" as a scarecrow without any connection to the nurse she plays now (which also went uncredited). Some other roles she appeared in include small parts in shows like "House of Cards," "Under the Dome," "Banshee," and "The Walking Dead" to name a few. McIntyre also features as a waitress in an episode of "The Righteous Gemstones," which is another project starring and produced by Danny McBride as well.
Judy Greer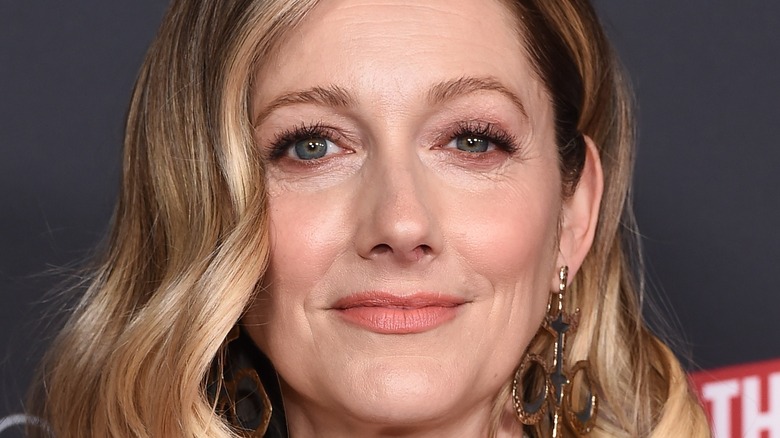 DFree/Shutterstock
Spoiler warning ahead for the events of "Halloween Kills," but you may be surprised to see Judy Greer on this list considering that it seemed like her character of Karen Nelson was killed by Michael Myers at the end of that film. While it has not been confirmed if Greer will make an appearance in "Halloween Ends," there has been some speculation and ambiguity on if she'll show up in some capacity.
Greer has become a household name in the past few decades as a fantastic character actor in countless movies and shows. Some of her main film roles include performances in rom-coms "13 Going on 30" and "The Wedding Planner," and supporting turns in films like "Adaptation.," "The Descendants," "Jurassic World," and "Ant-Man." She donned a mo-cap suit for the new "Planet of the Apes" films, too. Greer has also become well-known through her television roles in shows such as "Arrested Development" and "It's Always Sunny in Philadelphia."