Halloween Ends - What We Know So Far
As long as the holiday of All Hallow's Eve continues to be celebrated, the "Halloween" film franchise will continue to be a horror classic. Since the original John Carpenter movie released in 1978, serial killer Michael Myers has been a mainstay of movie nightmares. The success of the terrifying slasher spawned a number of sequels, as well as a reimagining from the mind of rocker and horror director Rob Zombie in 2007. However, when the "Halloween" name changed hands from Dimension Films to Blumhouse Productions, the new studio decided that the series was in need of an overhaul.
Enter 2018's "Halloween," when filmmakers David Gordon Green and Danny McBride, along with the help of Carpenter, dedicated themselves to putting a new spin on the franchise. Their vision included a direct sequel to the 1978 original, effectively initiating a retcon of all previous sequels. The film brought back original cast member Jamie Lee Curtis to reprise her role as Laurie Strode, who, 40 years later, is still haunted by the traumatic events of her past. The movie was a critical success, leading to the making of a direct sequel, "Halloween Kills," which debuted October 15, 2021.
Plans for a third film in the trilogy, "Halloween Ends," were confirmed in July 2019 (via /Film). The third and final installment premiered on October 14, 2022. Here is what we know about "Halloween Ends."
Who is in the cast of Halloween Ends?
As most horror fans know, anything can happen and literally no one is safe. The 2018 film brought Jamie Lee Curtis back to the iconic role of Laurie strode, and introduced two new generations in Laurie's daughter Karen (Judy Greer) and Allyson (Andi Matichak). Though this central trio survived that film and made it to the climax of the follow-up, "Halloween Kills" ended on a shocking note as Michael murdered Karen just before the credits rolled.
Curtis and Matichak are back one last time in "Halloween Ends," with James Jude Courtney and original Michael Myers actor Nick Castle joining forces to bring The Shape to life (as they did on the previous two entries). Kyle Richards is also back once more as Lindsay Wallace, Laurie's 1978 babysitting charge who managed to again narrowly escape Michael's knife in "Halloween Kills." Trilogy mainstays Will Patton and Omar Dorsey round out the returning cast members we know we can expect, reprising their roles as Deputy Frank Hawkins and Sheriff Barker, respectively.
Joining the cast for the first time in "Halloween Ends" former "Guiding Light" star Michael O'Leary as Dr. Mathis, a character mentioned but not seen in "Halloween Kills" (per Bloody Disgusting). Meanwhile, Rohan Campbell of Hulu's "The Hardy Boys" will provide a fresh face as a new character named Corey Cunningham.
What is Halloween Ends about?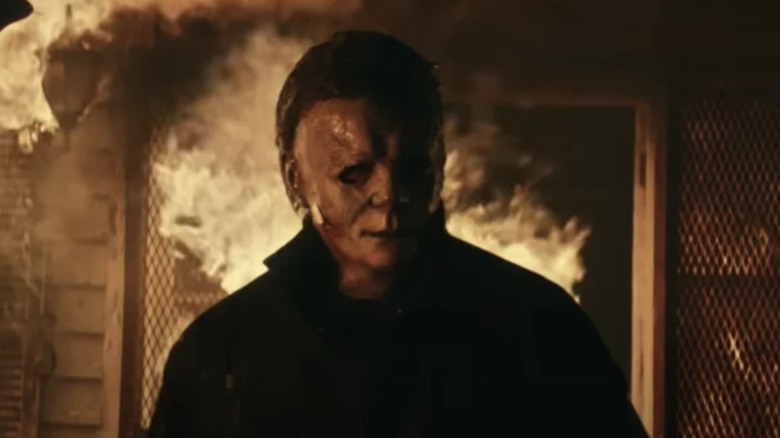 Universal Pictures
The official synopsis for "Halloween Ends" explains that, rather than picking up exactly where we left off in "Halloween Kills," the story will resume four years later. Laurie Strode and her granddaughter Allyson are living together, and there's no Michael Myers in sight. We can assume that the movie will have Laurie and Michael locked in a final showdown of sorts — at least, a final showdown for this iteration of the franchise. As for the fate of these two characters, who can say for certain?
In an interview with Total Film Magazine (via Games Radar), Jamie Lee Curtis, producer Malek Akkad, and director David Gordon Green gave a few hints as to what audiences might expect from the final film in the trilogy. After "Halloween Kills" focused on the town of Haddonfield at large, it seems we're in for a shift. "The last one is going to be way more contained," Akkad said. Cryptic, but potentially foreboding. 
As for Green, he went on to elaborate slightly, suggesting that the final "Halloween" film — which was originally planned to take place on the same 2018 Halloween night as both its predecessors — may be something that fans won't expect. "I get engaged by doing something different," Green said. "If I was just going to be repetitive, I would hand the reins off to someone else. When you have that opportunity within an established franchise, it's really fun to think about how you can show different tones and perspectives and evolve."
Michael Myers and the "Halloween" movies have certainly had their fair share of evolution. 
Where was Halloween Ends filmed?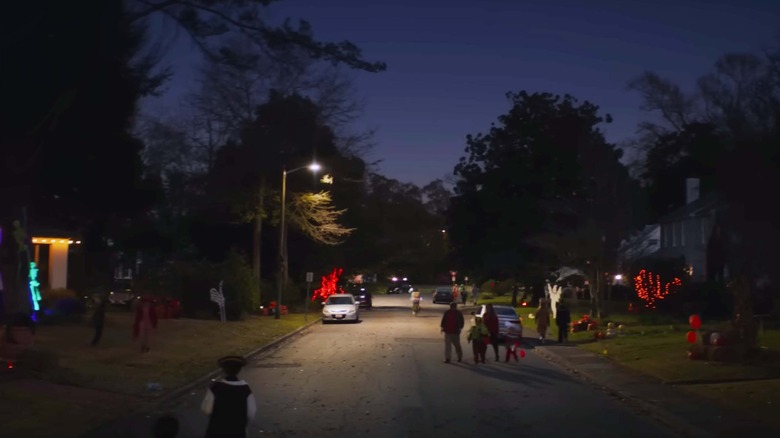 Universal Pictures
The iconic not-so-sleepy town of Haddonfield, Illinois, is one of the most infamous movie towns in horror history, and also one of the deadliest. Home to the forever final girl Laurie Strode and the unstoppable force Michael Myers, Haddonfield is one of those places that should probably stop celebrating Halloween altogether just to be safe. Nevertheless, the children of Haddonfield continue to trick-or-treat, bringing Michael Myers back to his hometown to continue his bloody work.
While the original John Carpenter film was shot in the California neighborhoods of South Pasadena, Sierra Madre, and Alhambra, the most recent "Halloween" trilogy traveled to the opposite coast to film. The 2018 "Halloween" — the first in the new trilogy — was mostly filmed in the low country of South Carolina (via IMDb). The second installment, "Halloween Kills" — which featured the town and its citizens pretty prominently — was filmed mostly in North Carolina (via IMDb).
Interestingly, "Halloween Ends" — the final chapter in the new trilogy — was shot primarily in and around the Savannah, Georgia area (via WJCL 22), though not exclusively. According to the film's IMDb page, photography for "Ends" also took place in part around Salt Lake City, Utah, which was a vast departure from the east coast locations and the film's midwestern setting.
Regardless of where the final "Halloween" movie was filmed, Haddonfield will always be terrorized by All Hallows' Eve's most infamous slasher.
Who made Halloween Ends?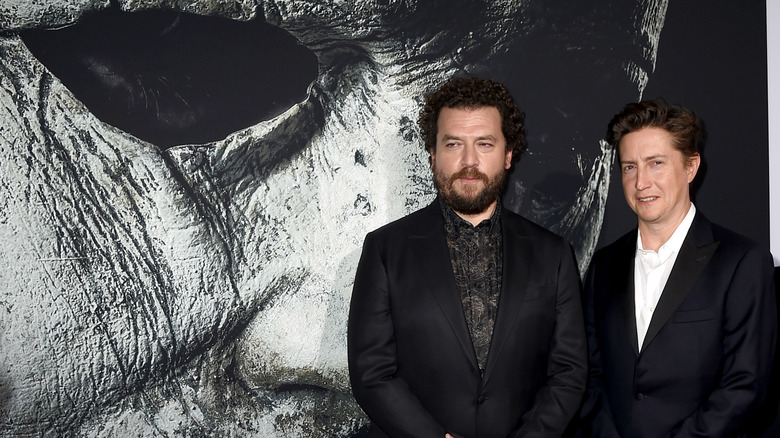 Kevin Winter/Getty Images
The new "Halloween" trilogy, beginning with the 2018 film, is largely the brainchild of filmmakers and longtime collaborators David Gordon Green and Danny McBride. Though Green and McBride were both new to the horror genre, they were longtime fans of John Carpenter and Debra Hill's original 1978 "Halloween," and opted to ignore all previous sequels and remakes. Green went on to direct all three films in this new trilogy.
Evidently, even though they ignored all the previous installments in the franchise, it still took Green and McBride — who co-wrote the 2018 film alongside Jeff Fradley — over 80 drafts of the screenplay to "get it right," with rewrites happening as late as one week before production (via The Hollywood Reporter). The duo of Green and McBride returned to write the screenplay for "Halloween Kills" alongside Scott Teems, resulting in a sequel that proved more polarizing than its crowd-pleasing predecessor. Green and McBride also co-wrote the screenplay for "Halloween Ends," this time alongside Paul Brad Logan and Chris Bernier (via Variety).
All three of Green and McBride's "Halloween" films were produced by Blumhouse Productions founder and CEO Jason Blum, who brought back original "Halloween" director John Carpenter in a producing capacity (and also as a composer), hoping to bring new life into the franchise. After "Halloween Ends," Green is set to tackle "The Exorcist" franchise next (via The Hollywood Reporter), as well as a potential "Hellraiser" television series with McBride for HBO (via Deadline). It sounds like their venture into the horror genre has just begun.
Where can you watch Halloween Ends?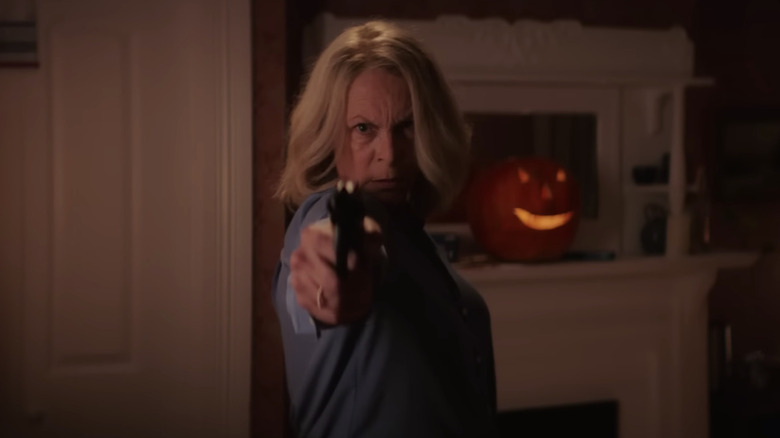 Universal Pictures
When 2018's "Halloween" was released, it was a simpler time. The film arrived in theaters and then quickly made its way to home video soon after, with the second and third films in David Gordon Green's planned trilogy being greenlit almost immediately following its success. Unfortunately, it would be another three years before "Halloween Kills" would be released due to the COVID-19 pandemic, with the sequel's initial release date of October 2020 being shifted to October 2021.
"Halloween Ends" began filming not long after the release of "Halloween Kills," with a set release date for October 2022. With only a year between these two films, Green's two sequels follow an '80s slasher movie tradition of immediate back-to-back entries. The earlier "Halloween" series even sporadically followed this pattern for a while — "Halloween II" was released in October 1981, continuing the story from the first film, with "Halloween III: Season of the Witch" (the only film not to include Michael Myers) coming out a year later. In 1988, "Halloween 4: The Return of Michael Myers" was released, which brought The Shape back from his comatose state, leading into "Halloween 5: The Revenge of Michael Myers" the following October.
"Halloween Ends" arrived in theaters on October 14, 2022 and — as with "Halloween Kills" before it — was also be made available on Peacock for the first 60 days of the film's release (per the movie's official Twitter). In this post-pandemic world, many folks' new normal means not venturing to the theater, and thankfully, "Halloween Ends" is happy to oblige, making sure you can lock your doors and stay inside with Michael for the spookiest of holidays.
What do we know from the official trailer?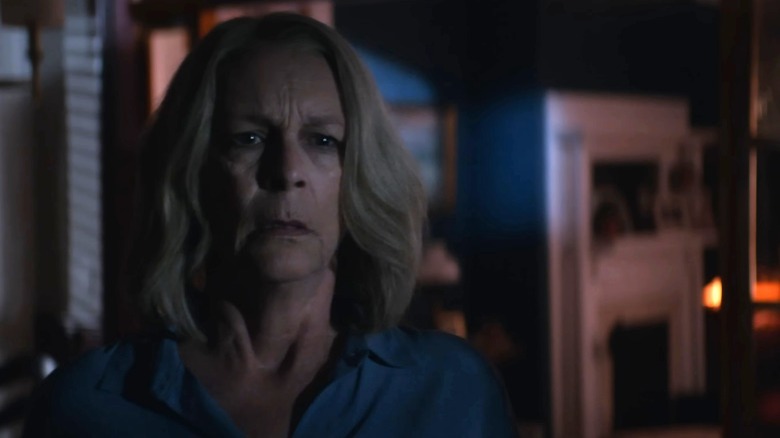 Universal Pictures
The "Halloween Ends" official trailer doesn't reveal much, but what it does show is pretty telling. Rather than spend all of its brief 75 seconds sharing new footage, the "Halloween Ends" trailer recycles through some familiar moments, peppered in around new shots from Laurie Strode's seemingly final confrontation with the unstoppable Michael Myers. After decades of living in fear, this Laurie is prepared to do whatever it takes to finally take Michael off the board and keep Haddonfield and her family safe.
We get just a glimpse of these two engaging in an all-out clash, with Michael throwing Laurie around as she attempts to engage him in physical combat. At one point, he almost forces her hand into a garbage disposal — thankfully, Laurie seems to break away. We also know that Laurie has been preparing for Michael, as she taunts him from behind door frames and around corners. If these clips tell us anything, it's that this is set to actually be the final meeting between these two horror legends, and will end the "Halloween" saga as we know it, with a finality no other sequel has lived up to.
Along with these moments of tension between our two leads, the "Halloween Ends" trailer inserts clips from the previous "Halloween" installments, namely moments between Laurie and Michael. Clips from the original 1978 feature, the 2018 film, and "Halloween Kills" all remind us of where these characters have been, to prepare us to find out where they're going ... and how their stories will end.
How does Halloween Ends fit into the Halloween chronology?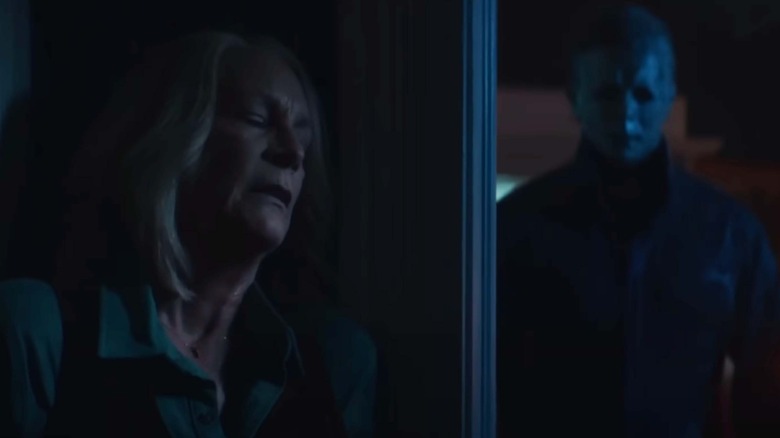 Universal Pictures
The "Halloween" franchise is a bit complicated, but most long-running horror series are. Including "Halloween Ends," there are 13 total films in the saga, though not all of them are necessary to enjoy this final trilogy installment. The only movie in the anthology that every other film tends to stem from is the original 1978 "Halloween," which introduced the world to both Michael Myers and Laurie Strode. This masterpiece from horror legend John Carpenter and his co-writer/producer Debra Hill has become an icon over the past four decades, and no matter how many new "Halloween" sequels or reboots hit the screen, none can escape the shadow of the original.
The original "Halloween II," "Halloween 4: The Return of Michael Myers," "Halloween 5: The Revenge of Michael Myers," and "Halloween: The Curse of Michael Myers" all follow in the timeline begun with the original. The third installment, "Halloween III: Season of the Witch," has nothing to do with the overall continuity, beyond the original movie playing on TV within its story about killer Halloween masks. Then, in 1998, "Halloween H20: 20 Years Later" was released to commemorate the anniversary of the original "Halloween," thus ignoring all the sequels except "Halloween II." This film would spawn a sequel of its own — "Halloween Resurrection" — which would soon be ignored by Rob Zombie's two "Halloween" reboot films beginning in 2007.
"Halloween Ends" fits in a timeline composed of the original 1978 film, the 2018 "Halloween," and "Halloween Kills." This effectively sets aside all the convoluted sequel plot threads concerning secret familial relationships and ancient cults, instead focusing in on the pure slasher element of an unknowable killer and his tenacious prey.
Halloween Ends might not be for everybody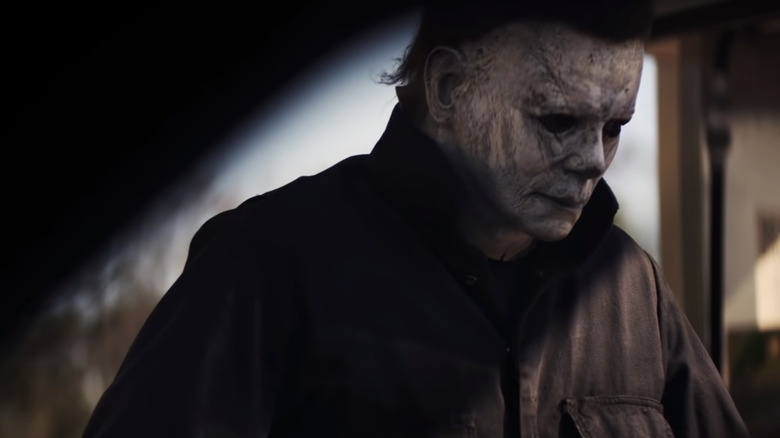 Universal Pictures
There's no doubt that David Gordon Green's take on the "Halloween" mythos isn't for everybody. Removing the brother-sister connection between Michael Myers and Laurie Strode was a gutsy move, especially given that the vast majority of the franchise (even the Rob Zombie remakes) has kept that part of their story intact. This makes sense, given that John Carpenter himself made them siblings while working on "Halloween II" and the expanded TV broadcast of the original film. "I came up with this brother thing," Carpenter admitted to ComicBook.com in 2019. "It was awful, just awful. But I did it."
Nevertheless, the 2018 "Halloween" revival disregarded this plotline completely (with Carpenter's blessing), opting to start anew with only the original 1978 film — which does not mention their familial connection — remaining a part of the story. This alone was frustrating for some fans, though for others it was a new beginning, and one that sparked new life in an otherwise aimless franchise.
According to series star Jamie Lee Curtis, many fans might not love "Halloween Ends," the final installment in this rebooted trilogy of slashers. "It's going to make people very angry..." she told NME, "and it's going to be shocking because it asks a lot of questions. So that's all I can tell you." It sounds like we're headed for uncharted waters.
Wherever the conclusion to this modern "Halloween" trilogy takes us, it seems it will be somewhere we've never gone before. This might be scary to some longtime Michael Myers fans, but the possibility of an unprecedented and surprising conclusion may just be the kind of uncertainty the "Halloween" franchise needs.
Is Jamie Lee Curtis actually retiring from playing Laurie Strode?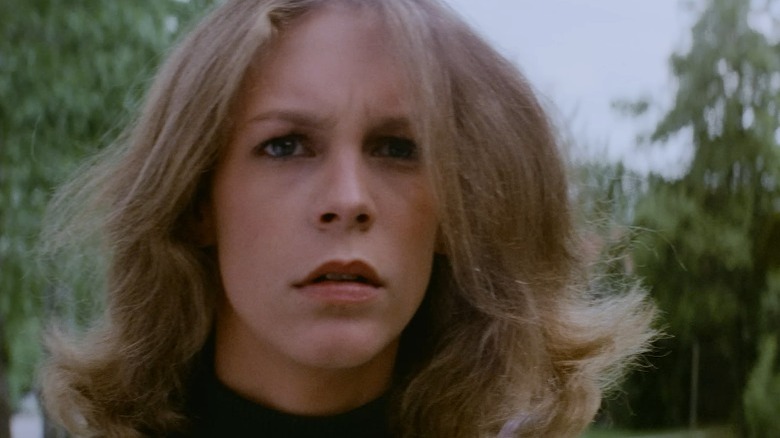 Universal Pictures
For over 40 years, Jamie Lee Curtis has come and gone from her role as the iconic "final girl" Laurie Strode, continuously escaping the clutches of Michael Myers. Now, "Halloween Ends" promises, well, an end to all that. This means that either Laurie is set to die in combat against Michael, or live happily ever after once he's six feet under. Whichever ending befalls our horror heroine, it will surely be thrilling to see her story get a definitive conclusion here.
Jamie Lee Curtis has implied in a video promoting "Halloween Ends" that this is her last time playing Laurie Strode (as seen on her Instagram). She went on to explain to Total Film Magazine (via Games Radar), "I'm not saying something like, 'Oh, because I die!' It's nothing to do with that. I'm talking about emotionally what they have constructed. I think it will be a spectacular way to end this trilogy."
Most versions of the "Halloween" saga explain that Laurie and Michael are actually siblings, a turning point in the franchise that was revealed in the original "Halloween II." Since then, Laurie has been fighting her brother to the death, sometimes surviving and other times dying (either on or off camera). With David Gordon Green's "Halloween" trilogy, their familial bond was erased, continuing their story anew as bitter enemies rather than fractured siblings.
Who knows what the future holds for Jamie Lee Curtis, but one thing's for sure — she's probably won't face Michael Myers again. At least, for Laurie Strode's sake, here's hoping.
What is Halloween Ends rated?
"Halloween Ends" has officially been rated R by the MPAA (via IMDb). While that may come as a disappointing update to some viewers, it shouldn't be much of a surprise. Not only does the film promise to be one of the year's most visceral slasher movies, but its two predecessors, 2018's "Halloween" and 2021's "Halloween Kills," were both rated R as well. "Halloween Ends" is a fitting conclusion to its franchise's latest trilogy, one that matches the tone and level of gore as the two films that preceded it.
The R rating for "Halloween Ends" also, notably, reports that it received its rating due to its "bloody horror violence and gore, language throughout, and some sexual references." Taking that into account, it seems fair to say that it'll provide the kind of suspenseful and scary experience that fans of the franchise hope it will.
Will the Halloween story actually End here?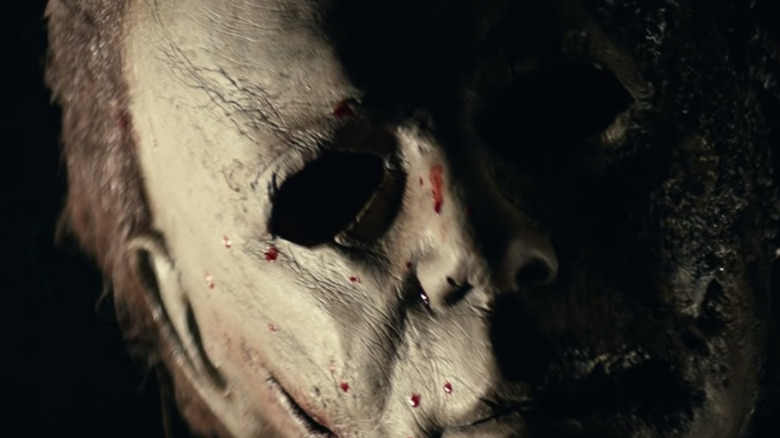 Universal Pictures
With a title like "Halloween Ends," there are some pretty serious implications attached. No doubt, this is the end to David Gordon Green's sequel trilogy of "Halloween" films meant to be a love-letter of sorts to the original John Carpenter classic. With Jamie Lee Curtis evidently satisfied with the film's conclusion and the plot seemingly wrapping up here, it sounds like "Halloween Ends" might actually be the final chapter of the "Halloween" saga. And what better film to end on than the 13th!
Of course, John Carpenter — who stuck with this trilogy as a producer and a composer after decades away from the franchise — has his own thoughts on the continuation of the "Halloween" brand in a post-"Ends" world. "If you take a dollar sign and attach it to anything ... it will live. If the dollar sign is not big enough, no matter what, it will not live," Carpenter told ComicBook.com. He added, "This time, I do not know. They really want to end. They're going to shut it off, end it. It's what David has in mind. That's fine."
In an interview with ScreenRant, producer Jason Blum went on record and reminded us that this is Blumhouse Productions' last "Halloween" movie, and while that doesn't necessarily mean that Michael Myers won't return someday, their work on the franchise is complete. "This is our last one and I think people will be very happy," Blum said.
The truth is, "Halloween Ends" is the culmination of the franchise as we know it currently, but that doesn't mean it's the end for "Halloween" as a whole.
Where to watch other movies in the Halloween franchise
A total of 12 "Halloween" movies have been released in the years since John Carpenter's original slasher movie classic kicked the iconic franchise off back in 1978. "Halloween Ends" is, therefore, be the franchise's 13th film installment to date. Viewers do not, however, have to be aware of the events of all of the franchise's previous installments in order to enjoy "Halloween Ends." For the most part, the film promises to only meaningfully connect to the events of 1978's "Halloween," the 2018 film of the same name, and 2021's "Halloween Kills."
That said, if there are any viewers out there who want to revisit some of the franchise's past films before watching "Halloween Ends," many of them are available right now on various different streaming services. 1978's "Halloween" is, for instance, available to stream on both Shudder and AMC+, as are "Halloween 4: The Return of Michael Myers" and "Halloween 5: The Revenge of Michael Myers." Those films are, however, only available to paid Shudder and AMC+ subscribers.
1982's "Halloween 2," "Halloween 3: Season of the Witch," and 2009's "Halloween 2" are all available to stream right now on Peacock as well. Elsewhere, 1998's "Halloween H20: 20 Years Later" and 2002's "Halloween: Resurrection" are both currently available on Paramount+. 2021's "Halloween Kills," meanwhile, is currently streaming on HBO Max.