Halloween Ends, But Director David Gordon Green Doesn't Know Just How Yet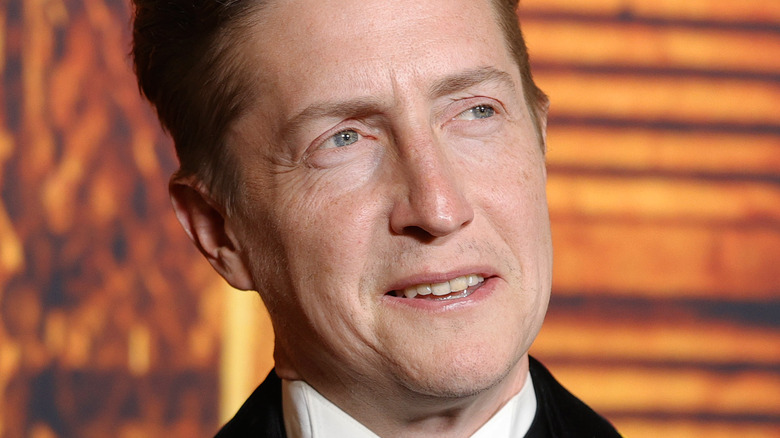 Amy Sussman/Getty Images
With the finality surrounding a movie title like "Halloween Ends" — the long-awaited swan song of the "Halloween" movie franchise that began in 1978 — it shouldn't come as a big surprise that director David Gordon Green wants to make sure the horror saga ends on the right note.
Director John Carpenter kicked off the iconic horror movie series, of course, where an institutionalized killer, Michael Myers, escaped his Smith's Grove Sanitarium and returned home to Haddonfield, Illinois, to commit more murder and mayhem. Laurie Strode (Jamie Lee Curtis) was one of the victims he stalked in "Halloween," but she survived. Skipping the events of the film's seven sequels, Green's "Halloween" in 2018 served as a direct sequel to Carpenter's original instead. It found Strode 40 years, appropriately, after the original film's events, where she made her existence as a survivalist in a heavily fortified compound. With Myers on the loose once again, Strode, this time around, finds her protecting her daughter, Karen (Judy Greer), and granddaughter, Allyson (Andi Matichak), and despite trapping Myers in the gated basement of her house and setting the domain on fire, "The Shape," as the character is billed, lived to see another day.
Delayed by the COVID-19 pandemic, the sequel "Halloween Kills" — which cleverly worked in several original cast members from the 1978 film — was released in 2021, ending with the tragic murder of Karen and effectively setting the stage for the final showdown between Strode and Myers. How the ultimate confrontation will end, however, seems to be perplexing Green as the film rapidly nears its release date.
David Gordon Green says the ending to Halloween Ends 'changes every day'
"Halloween Ends" is bound to attract a huge audience, considering the monstrous worldwide box office take of $255.6 million (against a $10 million budget, via Box Office Mojo) for David Gordon Green's "Halloween." Perhaps even more impressive was the healthy global cume of $131.6 million (against $20 budget, via Box Office Mojo) for "Halloween Kills." After all, the film did come out while theaters were still seeing slim attendance because of the pandemic, so Universal Pictures gave fans the option of seeing "Halloween Kills" on the Peacock TV streaming service the same day it was released in theaters.
Naturally, with the built-in audience and a narrative that finds Laurie Strode seeking to vanquish the epitome of evil once and for all, Green is feeling the pressure to deliver. In fact, Green told Empire Magazine online that the ending of "Halloween Ends" is something that "changes every day."
"In theory, the picture is locked, but this morning I called the editor and said, 'What if we do this one thing,'" Green told Empire. The director also noted how he's been consulting with John Carpenter and Jamie Lee Curtis about the ending "regularly," adding, "It's exciting, uncertain, satisfying and sad. I've enjoyed the ride but it's probably time to get off. I think we're gonna go out with a bang."
In addition to Curtis, Andi Matichak, Will Patton, and Kyle Richards will all be back for "Halloween Ends," as well as Nick Castle and James Jude Courtney as "The Shape." Like the hybrid release for "Halloween Kills," "Halloween Ends" will premiere simultaneously in theaters and on Peacock TV on October 14.