20 Shows Like Reign That Are Worth Your Time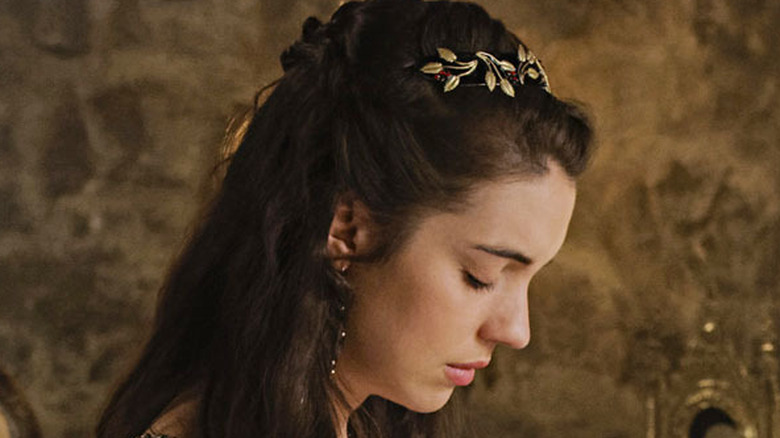 The CW
The CW's "Reign" ran from 2012 to 2017 and starred Adelaide Kane as Mary, Queen of Scots. Beginning in 1557, the series picks up with Mary's betrothal to Francis (Toby Regbo), the heir to the French throne. But this being a CW show, there are, of course, a gaggle of ladies in waiting and a love triangle via an invented half brother (Torrance Coombs). The series also co-stars Megan Follows as Mary's mother-in-law Catherine de Medici, who was known for her schemes and knowledge of poisons, and a little magic is thrown in here and there through the appearances of seer Nostradamus. In later seasons, Mary's rival Queen Elizabeth I (Rachel Skarsten) pops in to take the story down its natural course. 
With "Reign" you're definitely getting a bit of a history lesson, but also some anachronistic fun through fashion, invented romances, and music. Eat your heart out, "Bridgerton" — "Reign" did the instrumental pop song years before you did. But before you think we're knocking "Bridgerton," it's here on this list of shows to check out if you really like "Reign." Tackling a ton of European monarchy history, and even going back to the Roman Empire, the shows on this list feature a ton of kings, queens, royals, and occasionally some commoners to satisfy the "Reign" itch.  
Camelot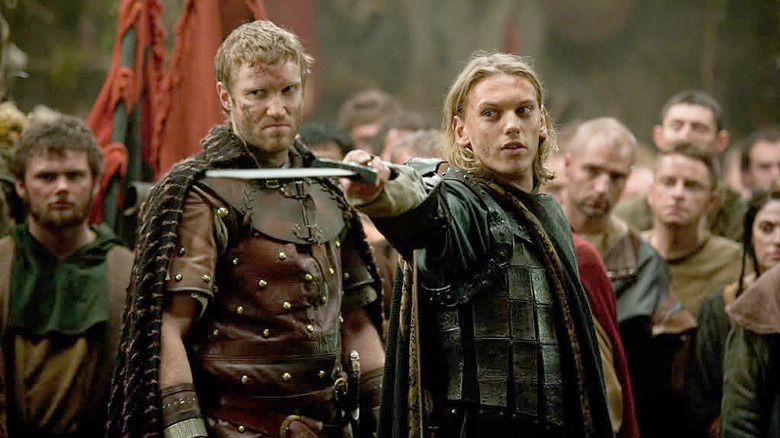 Starz
If one of the things you love about "Reign" is its vague use of magic and the supernatural, you may enjoy "Camelot." Before we jump into actual history on this list, lets go back to the founding of Britain in the 5th century. The Romans (whom we'll get to later on this list) have left the British isles and King Uther Pendragon rules the newly free country, but upon Uther's death, a fight for the throne and the development of a new era ensues. Jamie Campbell Bower stars as King Arthur who pulls the sword from the stone and is crowned after Uther's death. Joseph Fiennes plays a wild and dark Merlin the wizard who helps Arthur become the king he's destined to be. Eva Green co-stars as Arthur's half sister and schemer Morgan le Fay, with Tamsin Egerton as love interest Guinevere.
Unfortunately, "Camelot" only lasted one season on Starz, mostly because its main actors started getting super busy and signed on for other projects. But if historical adaptations of European history are what nabs your interest, starting way back at the beginning of Britain is  a good way to go, even if the story is more of a legend than actual historical record. 
The White Queen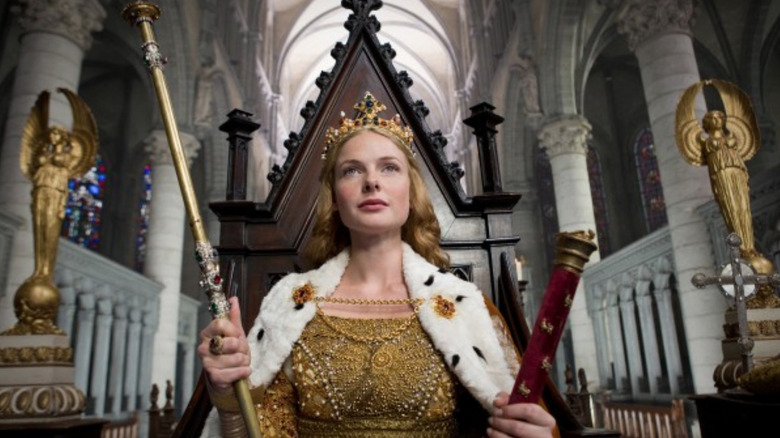 Starz
"Reign" takes place mostly in France, but just across the English channel there's a rich, violent, and dramatic history perfect for television adaptations. Author Phillipa Gregory, famous for writing "The Other Boleyn Girl" among numerous historical novels, has a plethora of novels focused on the events of medieval England, which the Starz networks has mined for a number of shows. The first, "The White Queen," is based on three of Gregory's books: "The White Queen," "The Red Queen," and "The Kingmaker's Daughter." Set during the Wars of the Roses, specifically beginning in 1464, this series stars Rebecca Ferguson as Elizabeth Woodville, the wife of King Edward IV, a king of the York line whose reign was constantly questioned by those of the Lancastrian line. 
The series also stars Max Irons as Edward IV of England; James Frain as Richard Neville, 16th Earl of Warwick, the aforementioned "Kingmaker"; Aneurin Barnard as Richard III of England, Edward IV's brother who would eventually usurp the throne; Faye Marsay as Lady Anne Neville, "The Kingmaker's Daughter" and queen consort to Richard III; and Amanda Hale as Lady Margaret Beaufort, "The Red Queen" and mother of eventual King Henry Tudor. This series plows through a period of about 20 years in a single season, so pay attention to who's who — and who is working with who and betraying who. The finale glides right into the next entry on this list.
The White Princess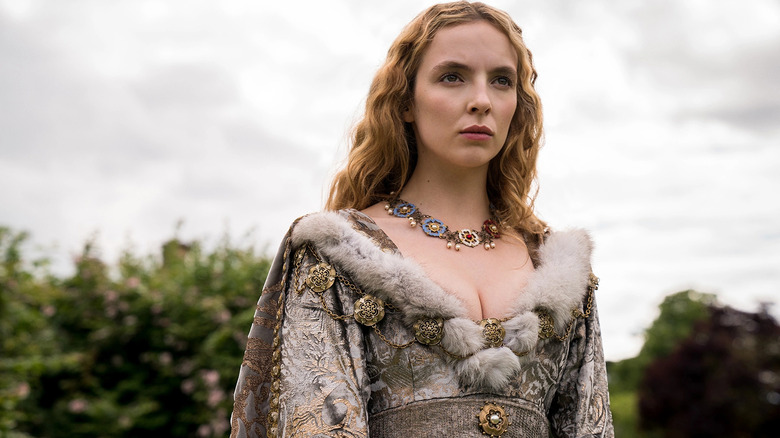 Starz
"The White Princess," based on Gregory's novel of the same name as well as a bit from "The King's Curse," takes over right where "The White Queen" ends in about 1485. Richard III is dead and Henry Tudor of the Lancaster line is set to take the throne as Henry VII. To end the Wars of the Roses, Henry marries Elizabeth of York, daughter of Edward IV and Elizabeth Woodville, and heir to the York line. Combining the houses of Lancaster and York effectively ends the civil war, but that doesn't mean everyone accepts the outcome. "Killing Eve" star Jodie Comer plays Elizabeth "Lizzie" of York, the young queen who at first marries reluctantly but eventually joins in earnest with her husband to protect her family, which includes two eventual young kings: Arthur and Henry VIII.
Michelle Fairley, known for playing Catelyn Stark on "Game of Thrones," takes over the role of Margaret Beaufort here, and her icy cold demeanor is perfect for the cunning Red Queen. This series covers about 10 years during the run of Henry VII's reign, which included numerous attempts by others claiming to be the true heir to the throne and many scandals of identity. As it wraps up, Lizzie and Henry have multiple children, but the Tudor family line still faces drama ahead in the next series.
The Spanish Princess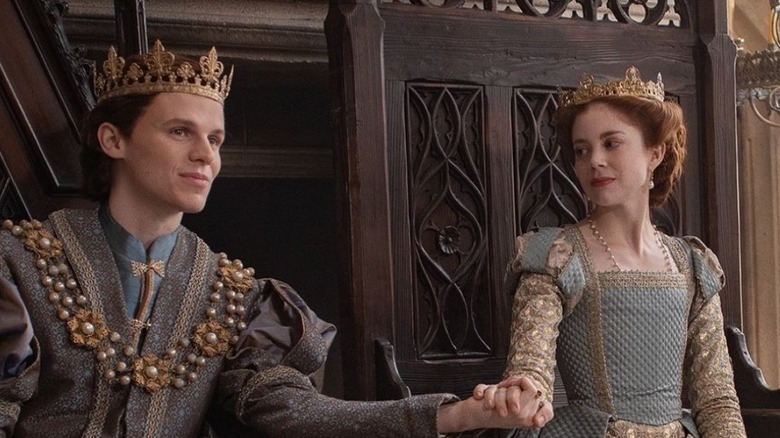 Starz
"The Spanish Princess," based on Gregory's novels "The Constant Princess" and "The King's Curse," tells the story of Catherine of Aragon. Daughter of King Ferdinand and Queen Isabella of Spain, Catherine was betrothed to the future English Tudor King, Arthur, as a child. It's 1501, and a grown Princess Catherine (Charlotte Hope) arrives in England ready to marry Arthur (Angus Imrie), but all does not go to plan, as Arthur dies shortly after they're wed. Catherine is determined to remain Queen of England, so she attaches herself to Arthur's younger brother Harry (Ruairi O'Connor), the eventual King Henry VIII.
Margaret Beaufort is still alive in this series, and now played by the cunning Harriet Walter. Laura Carmichael, Edith of "Downton Abbey" fame, joins the cast here as Maggie Pole, a character that grew up during "The White Queen" and "The White Princess," so the character development and storylines are particularly interesting for those two characters, whom we've seen in previous shows. Unlike the previous two series, however, "The Spanish Princess" got two seasons to flesh out its story. It covers about 25 years and ends as King Henry VIII's eyes are turning from Catherine and toward Anne Boelyn, and we all know how that story goes. But if you don't, jump right into the next series.
The Tudors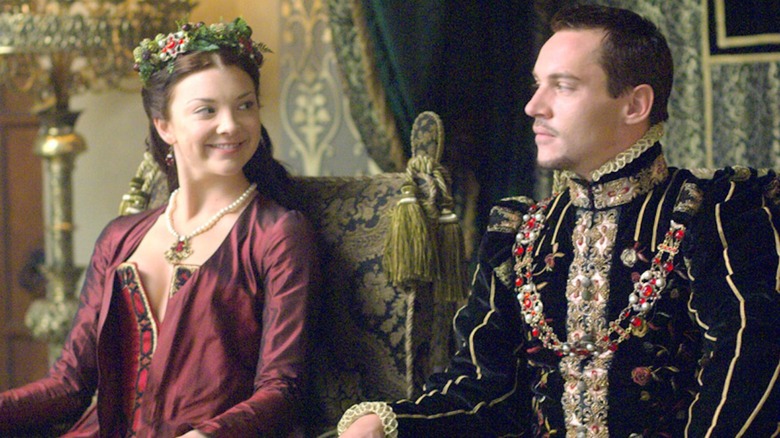 Showtime
Over on Showtime, "The Tudors" explores the life and many wives of King Henry VIII. Jonathan Rhys Meyers stars as Henry with Maria Doyle Kennedy as first wife Catherine of Aragon, Natalie Dormer as second wife Anne Boleyn, Annabelle Wallis as third wife Jane Seymour, singer Joss Stone as fourth wife Anne of Cleves, Tamzin Merchant as the teenage fifth wife Catherine Howard, and Joely Richardson as final wife Catherine Parr, who would outlive Henry.
"The Tudors" ran for four seasons and featured some other famous faces: Sam Neill plays Cardinal Thomas Wolsey in Season 1 before Henry breaks from the Catholic Church. Superman himself, Henry Cavill, plays friend of the king and eventual brother-in-law Charles Brandon. Gabriel Anwar plays Margaret Tudor, Henry's sister, whose storyline on the show is a combination of Henry's real sisters, Margaret and Mary. In many ways "The Tudors" takes more liberties than any of the previous Starz series, with composite characters and a much more compressed timeline. In reality, the events of "The Tudors" covered many decades, though everyone remains pretty young and hot in this salacious show. But if you're looking for less scandal and sex while indulging in the story of Henry VIII, head to the next series. 
Wolf Hall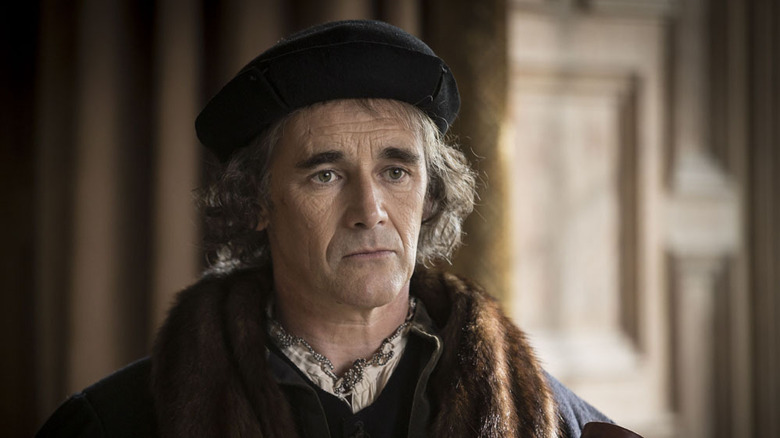 BBC
For a more serious and political look at Henry VIII's relationship with Anne Boleyn and his split from the Catholic Church, check out the 2015 PBS Masterpiece miniseries "Wolf Hall." This much shorter telling focuses on Sit Thomas Cromwell, played here by Mark Rylance. "Homeland" star Damien Lewis dons the crown as King Henry VIII, and the Queen of "The Crown," Claire Foy, plays Anne Boleyn. Sir Jonathan Pryce plays Cardinal Wolsey, and a tiny Tom Holland plays Cromwell's son Gregory.
Based on Hilary Mantel's novels "Wolf Hall" and "Bring Up the Bodies," "Wolf Hall" is only focused on a short period of time, one of Henry's wives, and the split from the church, so it doesn't have to cover the same number of years that "The Tudors" did, nor does it have the same salacious content that the Showtime series did. Indeed, "Wolf Hall" is a bit more subdued, and features Cromwell as a more sympathetic character than the other Tudor-era series on this list. So if you're more interested in political intrigue than the sex and violence, "Wolf Hall" might be more to your liking.
Anne Boleyn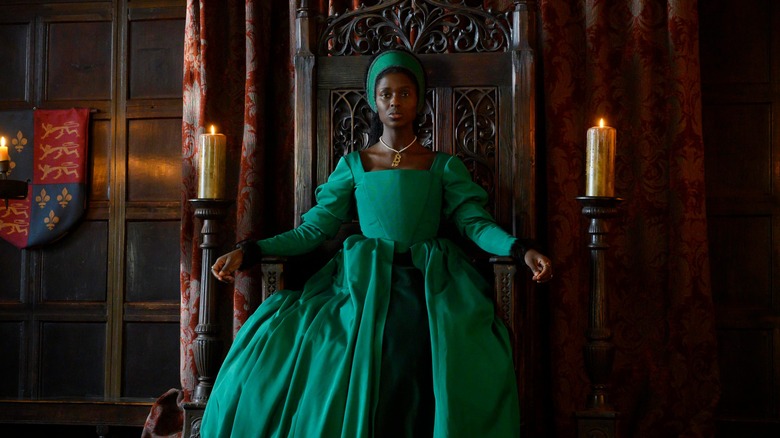 Sony Pictures Television
Another more concise and focused show is the three-part English miniseries "Anne Boleyn," which starred Jodie Turner-Smith as the titular queen during the final five months of her life. The casting of a Black woman as Anne Boleyn certainly made headlines, and the show was a more feminist look at the patriarchal society Anne was subjected to and had to work within. The atmosphere of the series is more of a psychological thriller than a historical drama, and makes Anne a more sympathetic character than previous iterations. 
The miniseries is a quick watch and Turner-Smith's colorblind casting was a feature throughout the entire cast, not just with its star, and was described as more of an "identity conscious casting," according to Mark Stanley, the actor who plays Henry VIII. As he told the Radio Times, "It was all about this being the right person for the job, rather than what we as a society might perceive as the 'right look' for the job." If "The Tudors" and "Wolf Hall" lack a bit of a feminist lens for you and you want more of how one of Henry's wives felt during his frenetic relationships, "Anne Boleyn" is one to check out before moving forward in time for the next pick.
Becoming Elizabeth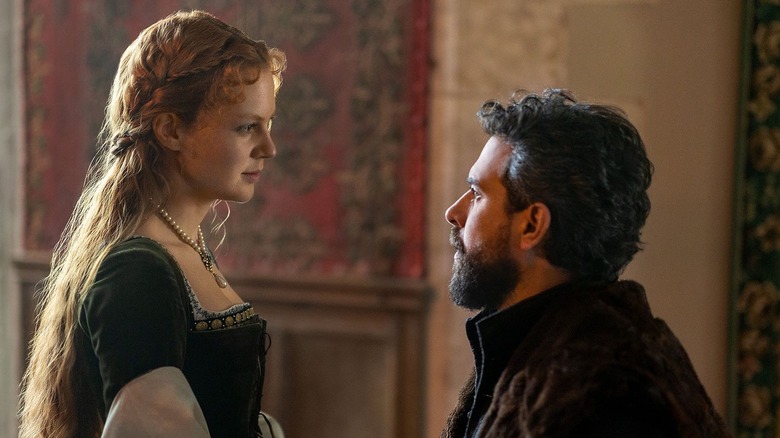 Starz
Popping back over to Starz but forward a few decades in time, "Becoming Elizabeth" begins with King Henry VIII's death in 1547 and focuses on his sole daughter from second wife Anne Boleyn, who would go on to become one of the longest-reigning monarchs in English history. Alicia von Rittberg stars as a teenage Elizabeth, who is caught between the new king, her young brother Edward VI (Oliver Zetterström), her older sister Mary (Ramola Garai) who will eventually become Queen Mary, and her father's widow Catherine Parr (Jessica Raine) and her straying husband, Thomas Seymour (Tom Cullen).
Starz obviously chose to skip over Henry VIII's reign after "The Spanish Princess," possibly because it's already ben so extensively covered in shows like "The Tudors" and "White Hall." Elizabeth's time as queen has also been explored in a number of movies, such as 1998's "Elizabeth" and its 2007 sequel "Elizabeth: The Golden Age" starring Cate Blanchett. Queen Elizabeth I also pops up as a main character on "Reign" during the final two seasons. It's interesting to see a time period in her life that other films and TV shows haven't yet covered. 
The Serpent Queen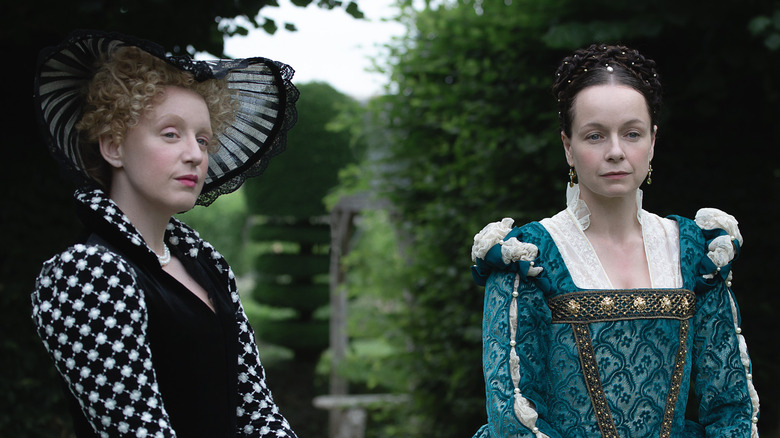 Starz
If Megan Follows as Catherine de Medici is one of your favorite parts of "Reign," we can't blame you. Follows' performance is brilliant and as the only other character to appear in every episode besides Mary (Adelaide Kane), she's definitely a second star of the show. So if you want a decidedly non-CW adaptation of Catherine de Medici, which naturally means more sex and violence and R-rated shenanigans, check out Starz's series "The Serpent Queen."
Based on the 2004 non-fiction book "Catherine de Medici: Renaissance Queen of France" by Leonie Frieda, "The Serpent Queen" stars Samantha Morton as the Italian noblewoman Catherine in her younger years just as she married King Henry II of France in 1533. This series definitely takes into account the fact that Catherine was suspected of having links to the occult. Her friendship with seer Nostradamus and her knowledge of various poisons, spells, and witchcraft comes into play.
Medici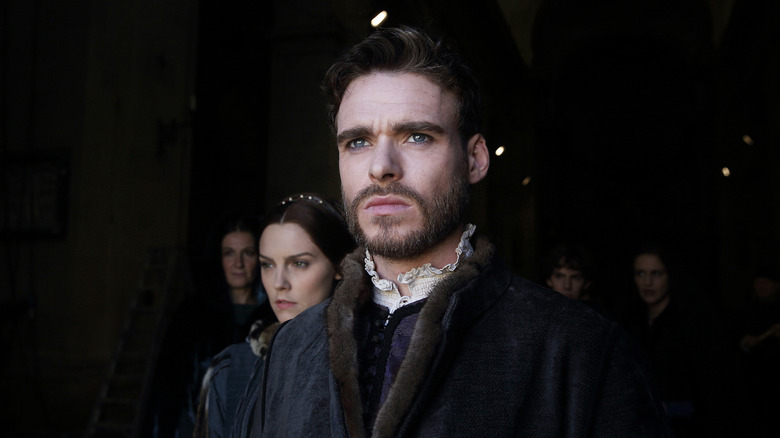 Rai
If "The Serpent Queen" intrigued you enough and you want to know more about this mysterious Medici family, jump back in time about 100 years and check out the Italian Renaissance by way of a family drama. "Medici" stars Richard Madden (Robb Stark from "Game of Thrones") as Cosimo de Medici, and Stuart Martin as Lorenzo de Medici, the two sons of Florentine banker Giovanni de Medici. Dustin Hoffman plays the family patriarch Giovanni de Medici, whose relationship with the Catholic Church and influence over the popes makes for an extremely powerful family in 1429.
"Medici" covers a lot of ground; over 20 years pass in the first season alone, subtitled "Masters of Florence." Season 2, "The Magnificent," begins another 20 years after Season 1 ends, so the drama jumps all the way to 1469. Though presented in English, the three seasons of "Medici" were shot in Italy and produced for Italian television, so even if the actions of the Medici family are questionable to you, the stunning filming locations are enough to draw you into the Renaissance drama.
The Borgias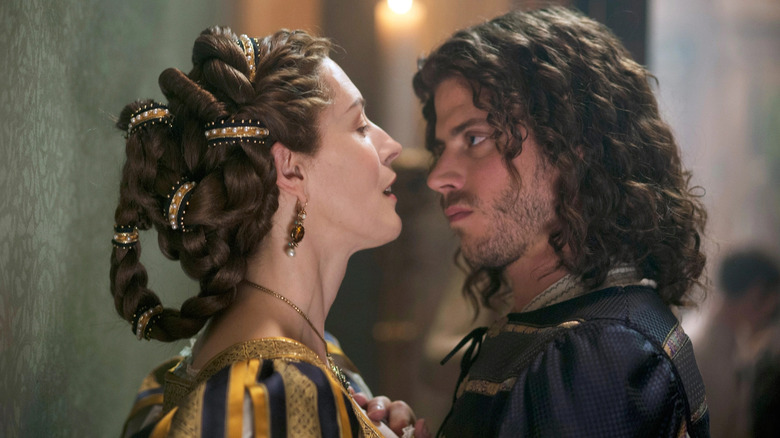 Showtime
If the Renaissance familial drama of "Medici" lures you in, you'll probably like "The Borgias" as well; it's set a couple of decades later in 1492, as Rodrigo Borgia (Jeremy Irons) is elected the new Pope, styling himself Pope Alexander VI. His power and influence over Rome and many of the other Italian kingdoms and duchies was unstoppable at the time, and he used his power to advance his family, which included his son Cesare (François Arnaud) and daughter Lucrezia (Holliday Grainger).
The Showtime series is exactly what you'd suspect, with scandal, sex, violence, betrayal, and power permeating the family's every endeavor. The rumored but unproven incestuous relationship between Cesare and Lucrezia is depicted in this series, though the historical accuracy of that remains a mystery. "The Borgias" ran for three seasons on Showtime and was abruptly canceled without wrapping up some storylines or getting to the end of Pope Alexander VI's era, so if that's the kind of thing that bothers you, be forewarned. 
Rome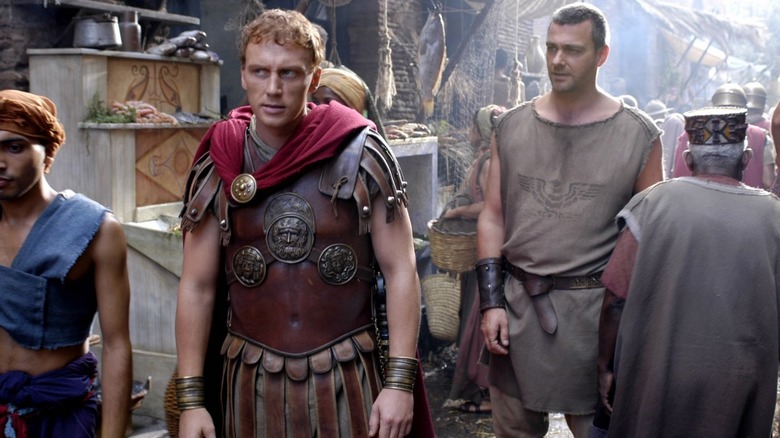 HBO
Italy is as fascinating and rich in TV-worthy history as England, so let's stay there and jump back in time by more than 1400 years to ancient Rome for ... you guessed it, HBO's "Rome." This highly fictionalized series stars Kevin McKidd (before his "Grey's Anatomy" days) and Ray Stevenson as Lucius Vorenus and Titus Pollo, two Roman soldiers and commoners whose lives are impacted by the transition from Roman republic to empire. Ciarán Hinds plays Julius Caesar, the Roman general who took charge of his armies and in turn took charge of Rome, declaring himself dictator. Tobias Menzies of "outlander" and 'The Crown" plays Marcus Junius Brutus, Caesar's most famous assassin, with James Purefoy as Mark Antony and Lyndsey Marshal as Cleopatra.
"Rome" takes a lot of liberty with its story here, inventing characters like Pollo and creating composite characters from historical figures only mentioned in passing in ancient documents. The series is a ton of fun, though, with exactly the kind of salacious events that you'd expect from HBO's sensibilities. 
Versailles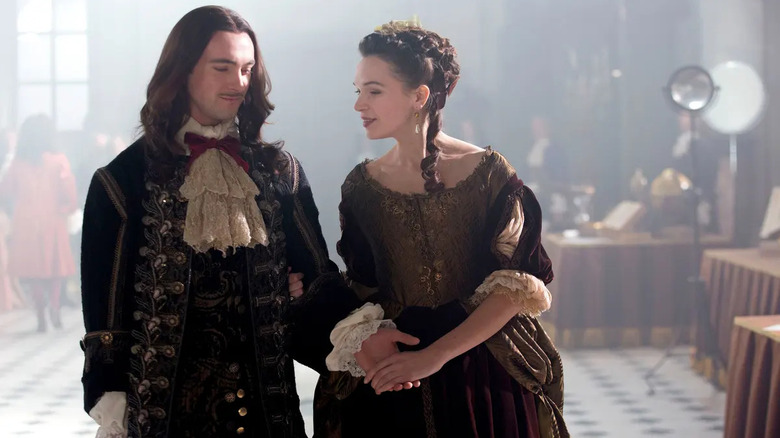 Netflix
Let's jump forward again, this time to 17th century France, a couple hundred years after Mary Queen of Scots of "Reign" has departed for Scotland. Set in 1667 during the reign of King Louis XIV, "Versailles" is definitely a guilty pleasure series. In fact, pleasure and opulence are a big focus here, as the show explores the king who built the Palace of Versailles and whose extravagance came to epitomize the indulgences of the French royalty. There are intensely elaborate costumes and wigs here, while scandal and sex dominate the storylines.
In a way, "Versailles," which aired its three seasons from 2015 to 2018, was ahead of its time. Right now, audiences love nothing more than to hate-watch the devious actions and downfall of spoiled rich people on "Succession," Billions," or "The White Lotus." The palace of Versailles was practically the OG enclave for spoiled rich people and, if you know anything about French history, you know these people eventually get their comeuppance. Maybe not during the reign of Louis XIV, but eventually.
The Great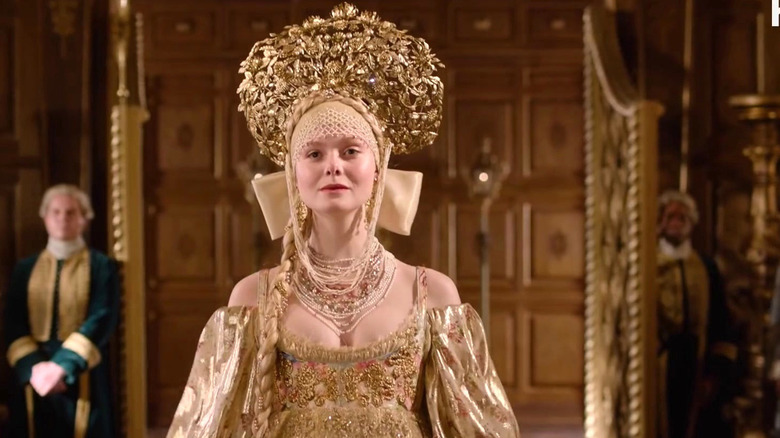 Hulu
Speaking of opulence, over in Russia almost 100 years later in 1745, a young princess named Sophie converted to Orthodox Christianity, taking the new name Catherine so she could marry her cousin, Tsar Peter III. Hulu's "The Great" stars Elle Fanning as the titular Catherine the Great, with Nicholas Hoult as the immature ruler Peter. The series is an anachronistic and decidedly anti-historical account of Catherine and Peter's early marriage, with a definitively dark comedy tone. 
Everything is exaggerated here, with satirical takes on historical events. The characters yell out the word "Huzzah!" more than once an episode as Catherine grows to realize her husband is about as dumb as rocks. If you're looking for something a little more bawdy and fun than the many previous serious dramas on this list, "The Great" might be the kind of quasi-historical thing you're looking for. The costumes are particularly lovely, though the show will definitely have you Googling whether any of the events of the show actually happened or were total fabrications. 
Outlander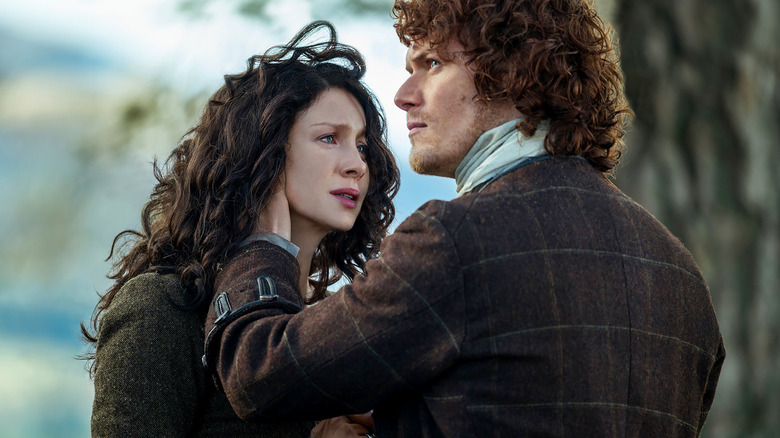 Starz
We're going to stick with the late 18th century for the next couple of entries here, and yet firmly in the realm of historically inspired fiction with fewer actual historical characters and more dramatic license. Starz's biggest hit to date has got to be "Outlander," an adaptation of the novels by Diana Gabaldon. The series stars Caitriona Balfe as Claire, an English World War II nurse who finds herself tossed back in time to 18th century Scotland. There she meets Highland warrior Jamie Frasier (Sam Heughan), whom she marries for protection from the British colonizers but with whom she eventually falls into a deep and passionate love.
The story of Claire and Jamie spans decades — and even centuries, after Claire is thrust forward in time again. They visit France, the Caribbean, and eventually land in the Americas just as the Revolution begins. Gabaldon is still writing books that combine history, sci-fi, romance, and some great sex scenes that translate pretty darn well onto the small screen. If swashbuckling, kilts, and some steamy scenes are in order, "Outlander" is a nice way to veer from strict history into historical fiction. 
Poldark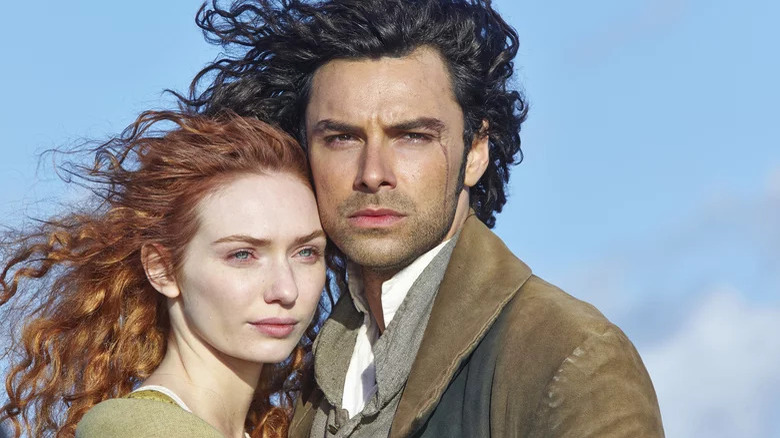 PBS
Speaking of the American Revolution, the PBS series "Poldark" takes a look at what happens to the losers. Based on the books by Winston Graham, "Poldark" revolves around Captain Ross Poldark (Aidan Turner), a soldier who returns home from fighting in the American Revolution as the love of his life is about to marry his cousin and his estate is in shambles. Ross hires a local town girl Demelza (Eleanor Tomlinson) to help him clean up and put the place back in order; naturally, the sparks fly. The two get married out of a sort of convenience, but eventually the passion emerges.
There are 12 books in Graham's "Poldark" series crammed into five seasons of the late 18th century drama. There's a lot of familial betrayal, period shenanigans, and romance as Ross and Demelza raise multiple children amid a time of recovery and reevaluation in English history. With a feisty heroine and a rough on the outside, soft on the inside leading man, "Poldark" hits the same romance buttons pressed by "Reign" and "Outlander."
Bridgerton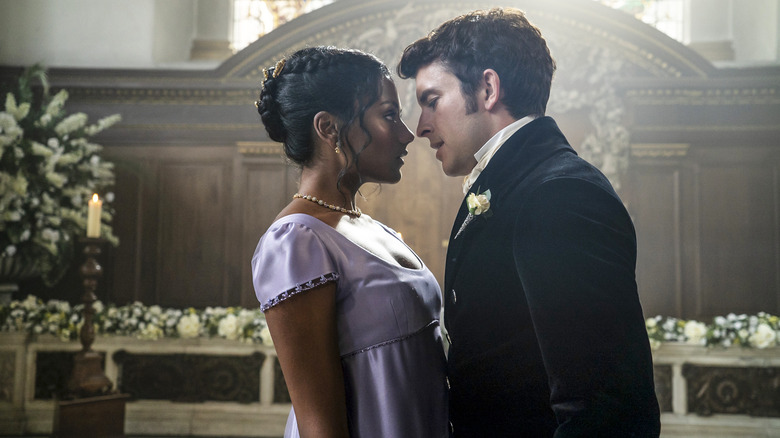 Netflix
For this show, we're staying in England but jumping forward a couple of decades, while Mad King George III is still pretty mad about the American Revolution, and England is in its Regency period. From 1811 to 1820, King George III was deemed too crazy to rule and his son took over as regent. During this time, England's wealthy society folk lives through "le bon ton," a time of romance, affluence, and relative peace and calm. It's during this period that many of Jane Austen's novels are set, but for something a little saucier than Austen, we've got "Bridgerton."
Based on the novels by Julia Quinn, "Bridgerton" focuses on the eight children of the Bridgerton family finding romance, falling in love, and falling into bed with their paramours. The first season follows eldest daughter Daphne (Phoebe Dynevor) and Duke Simon Basset (Regé-Jean Page), while the second season explores the romance between oldest brother Anthony (Jonathan Bailey) and Kate Sharma (Simone Ashley). The show uses colorblind casting, anachronistic music, and plenty of tense moments to lure you in right before it smacks you with a load of swoon-worthy sex scenes. And there are eight "Bridgerton" books, so naturally we can look forward to plenty more seasons to come.
Victoria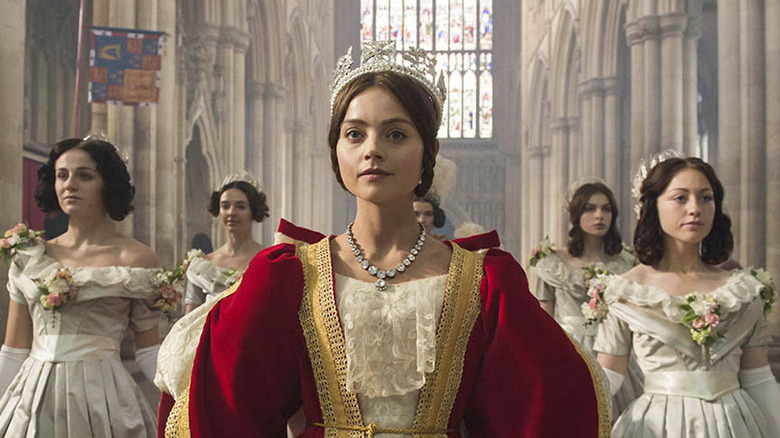 PBS
Just about two decades after the Regency period ended, an 18-year-old named Victoria was thrust from obscurity and onto the throne. The PBS Masterpiece series "Victoria" stars Jenna Coleman as the titular queen whose reign lasted 63 years, until 1901, and whose influence over the majority of the 18th century Great Britain coined the term "The Victorian Era." On the series, Victoria's life at such a young age revolves around finding a husband in Prince Albert (Tom Hughes) and peppering Europe with a ton of offspring that they then marry off to other European royal houses, earning her the nickname "The Grandmother of Europe."
"Victoria" ran for three seasons but unfortunately ended on somewhat of a cliffhanger, with Prince Albert collapsing with illness. As history goes, Victoria retreated into seclusion after Albert died relatively young in 1861. There aren't any plants for a fourth season, as Town & Country Magazine reported in July 2021, but even so, after the death of Queen Elizabeth II, it's interesting to watch the story of another of England's long-tenured female monarchs.
The Crown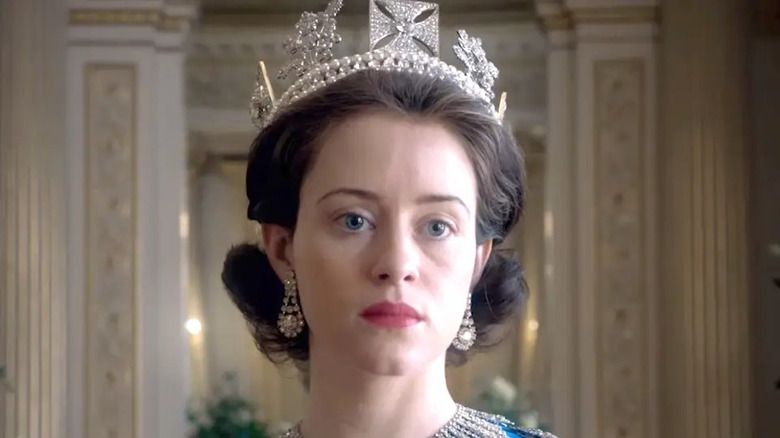 Netflix
Speaking of Queen Elizabeth II, if you haven't checked out "The Crown" on Netflix, you're missing some quality royal intrigue. The series began in 2016 with a young Princess Elizabeth's marriage to Prince Phillip and her subsequent coronation in 1952. In the first two seasons, Elizabeth was played by Emmy winner Claire Foy, after which Olivia Colman took over for Seasons 3 and 4. Prince Philip was played by "Doctor Who" alum Matt Smith, with "Outlander" actor Tobias Menzies taking over in Seasons 3 and 4. In the fifth and sixth seasons, Imelda Staunton takes over the role of Elizabeth, while Jonathan Pryce stands by her side as Phillip.
"The Crown" is all the more intriguing after watching the history of the English monarchy laid out in the numerous previous series on this list. And following the death of the real-life Queen Elizabeth II, audiences will no doubt be addicted to the final two seasons, which depict her life in more recent years. History is gripping enough, but much of "The Crown" feels like peering into some very private royal lives. 
Game of Thrones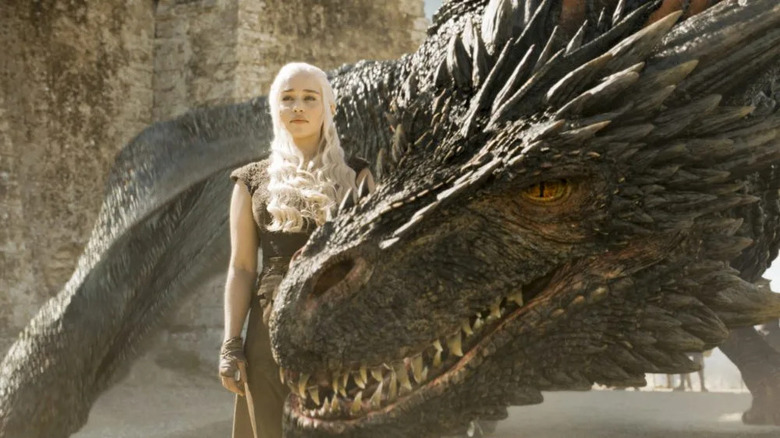 HBO
Then again, if you're tired of real-life history, real-life people, and just want a little bit of magic and dragons, there's always the HBO smash hit "Game of Thrones." If you haven't seen it by now, you've probably heard that many people didn't like how it ended. But spoilers or not, the end result might land differently for someone who's watching it anew and wasn't glued to the TV every Sunday night for eight seasons. The cast is too huge to list here, just know that "A Song of Ice and Fire" author George R.R. Martin partially based the novels on the Wars of the Roses, as wells as other historical periods and figures, so you are getting a bit of history here with the dragons, white walkers, and various families feuding for power.
And if you watch "Game of Thrones" and miss the world of Westeros, love the Targaryens, the dragons, and the other mysteries of this universe, you're in luck, as HBO has followed it with "House of the Dragon," a prequel series set almost 200 years before "Thrones." Even in a fantasy world, we've got hundreds of years' worth of story to binge.