The Transformation Of Jodie Comer From Childhood To Killing Eve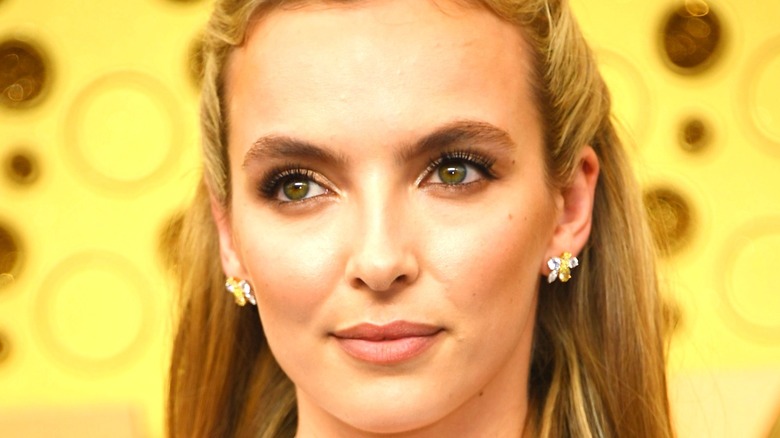 Kevin Mazur / Getty Images
Many people will recognize Jodie Comer's face right away. The young actress has made quite the impression with her performance as Villanelle in "Killing Eve," the spy drama series created by Phoebe Waller-Bridge and co-starring Sandra Oh. Comer's character is beautiful, ruthless, and seriously messed up, but that's what makes her so endearing. The performance has wowed viewers, even earning Comer an Emmy and a BAFTA Award, and she's been nominated for a Golden Globe twice.
But what was Comer's journey to "Killing Eve" like? The actress was born in Liverpool, England, where she grew up in a normal, working class family. She went to St. Julie's Catholic High School, where a strange situation ended up getting Comer her first acting job. Although Comer's already accomplished so much as an actress, there are many different places she could go with her career in the future, and fans can't wait to see what she does next.
Here's Comer's journey from childhood to her breakthrough role in "Killing Eve."
Getting expelled from a dance group got Jodie Comer into acting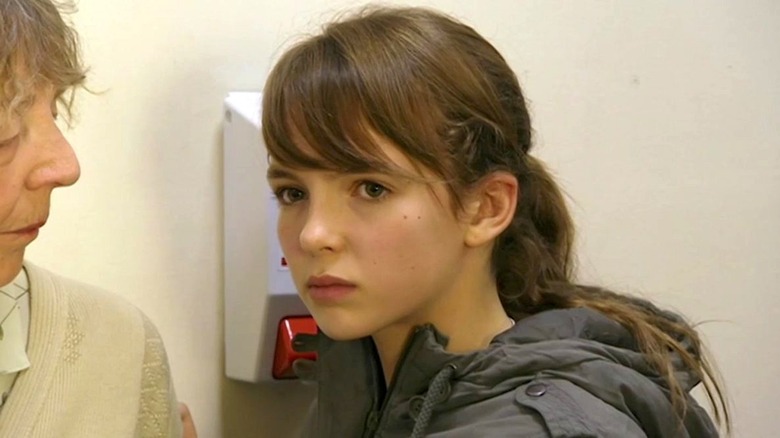 STV/ITV
Comer's introduction to acting really proves that when one door closes, another one opens. While she was growing up in Liverpool, Comer took classes at a local acting school on the weekends. In an interview with Glass Magazine, Comer explained that the acting school had a talent show where she was supposed to perform the dance from "Chicago" for "Cell Block Tango." Comer said, "I'd gone on holiday with my parents and [the team] messaged me saying I was out as I hadn't been there to practice. I was mortified, but in Liverpool, we had this thing called the drama festival which I entered solo with my drama school and I came first."
Instead of a dance or song, Comer performed a dramatic monologue. Her drama teacher then sent her in to audition for a BBC Radio 4 play, and she got the job, her first ever acting gig. In conversation with the actors she worked with, Comer shared, "they told me that if I enjoyed it so much I could actually make it into a career, which hadn't really occurred to me before." Comer got an agent shortly after the radio play, and her acting career quickly picked up from there.
Comer made an impression in English dramas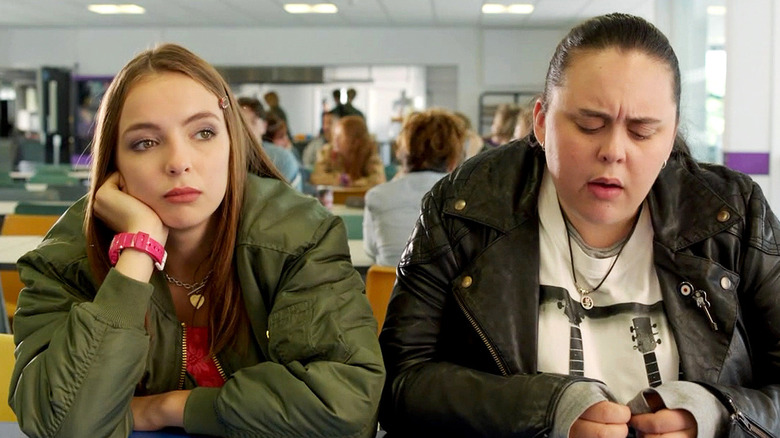 E4
While finishing high school, Comer started getting parts in multiple English dramas. Her first role was in an episode of "The Royal Today," a 2008 drama set at St. Aidan's Royal Free Hospital. In 2010, Comer had roles in two long-running dramas, "Waterloo Road" and " Holby City," the latter of which is still going today and 22 seasons in. As for her first multi-episode arc, that came in 2011 with the British legal drama "Justice." Comer appears in all five episodes of Season 1, playing a character named Sharna Mulhearne, a key witness in a case, but the show was unfortunately cancelled after the first season. 
The actress appeared on a handful of other long-running dramas centered around crime, hospitals, and similar topics, even nabbing a guest role on "Law & Order: UK." One of her first few major roles was in the supernatural mystery series "Remember Me," playing an assistant at a Yorkshire care home named Hannah. Soon after, she played the pretty best friend Chloe in "My Mad Fat Diary," the critically-acclaimed dramedy starring Sharon Rooney as Rae, a teenage girl trying to reconnect with her friends after a stay in a psychiatric hospital dealing with her body image and mental health issues. With three seasons total, the show has a 96% on Rotten Tomatoes and was nominated for multiple BAFTA awards.
The actress quickly transitioned to starring roles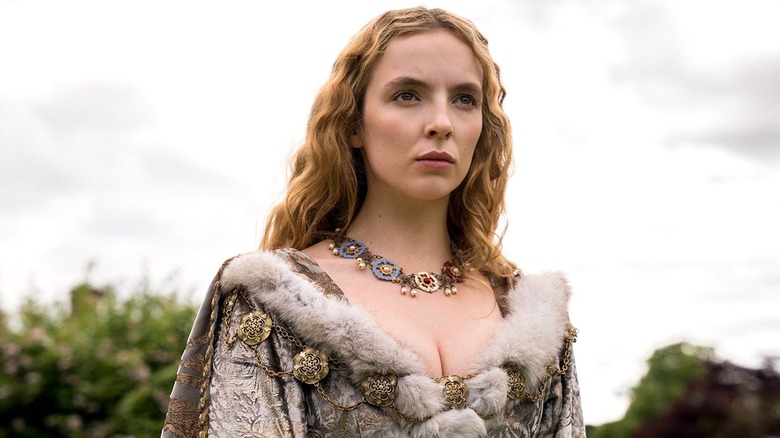 Starz
Shortly after "My Mad Fat Diary," Comer booked her first starring role in "Thirteen." The BBC drama features Comer as a 26-year-old named Ivy Moxam who suddenly escapes the house she's been kidnapped and held in for 13 years. After she returns to her family, the police begin to question her story, making her relive the trauma of the 13 years she spent in captivity to prove she's telling the truth. Comer was nominated for a BAFTA for her performance, and the show definitely put her in the spotlight.
Comer quickly nabbed her next starring role in 2017, a year after "Thirteen," playing Elizabeth of York in "The White Princess." The series is a sequel to the 2013 miniseries "The White Queen" starring Rebecca Ferguson as Elizabeth Woodville, Queen of England and the wife of King Edward IV. "The White Princess" continues from where the first series leaves off, following Comer's character, the daughter of Queen Elizabeth and King Edward, as she marries King Henry VII to end the War of the Roses. The miniseries did very well with critics, with many praising Comer's performance. Another sequel series, "The Spanish Princess," followed in 2019, with Charlotte Hope playing Catherine of Aragon.
Comer became a charming assassin in Killing Eve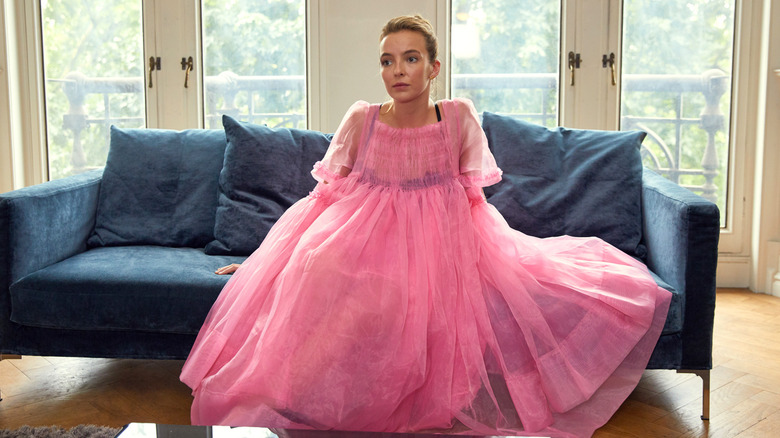 BBC America
Comer had a few other significant roles over the next few years, notably playing Rey's mother in "Star Wars: The Rise of Skywalker." Then in 2018, Comer auditioned for and got the role of a lifetime and the one that would skyrocket her to stardom — playing Villanelle in the dark comedy thriller "Killing Eve." Opposite her, Oh stars as Eve Polastri, an MI6 agent tasked with hunting down Villanelle and starts becoming obsessed with her. Fortunately, the feeling's mutual, as Villanelle — whose real name is Oksana Astankova — then starts tracking Eve down, having fun with the new game of cat and mouse. The show also stars Fiona Shaw as Eve's MI6 boss, Carolyn Martens, Kim Bodnia as Villanelle's handler, Konstantin, and many more great names.
With three seasons out so far and a fourth expected next year, "Killing Eve" has amazed critics, with the series standing at an average score of 89% on Rotten Tomatoes. Hannah Giorgis of The Atlantic wrote that "Villanelle is a complexly written, deeply frustrating character—traits most often associated with charismatic male antiheroes. She doesn't meet the entertainment industry's perpetually moving goalpost of female characterization, likability, yet she is nearly impossible to not root for." Villanelle is a unique character who audiences root for despite the show making it clear that there's no real redemption in the cards for her, and this is all thanks to Comer's performance.
Unfortunately for fans of "Killing Eve" and Villanelle, the series will be ending after the upcoming Season 4. Although it's sad, it might be perfect timing, as fans of Comer can't wait to see what she does next. Who knows where she'll go from here.