Why The Serpent Queen Has Scholars Questioning Its Portrayal Of Catherine De Medici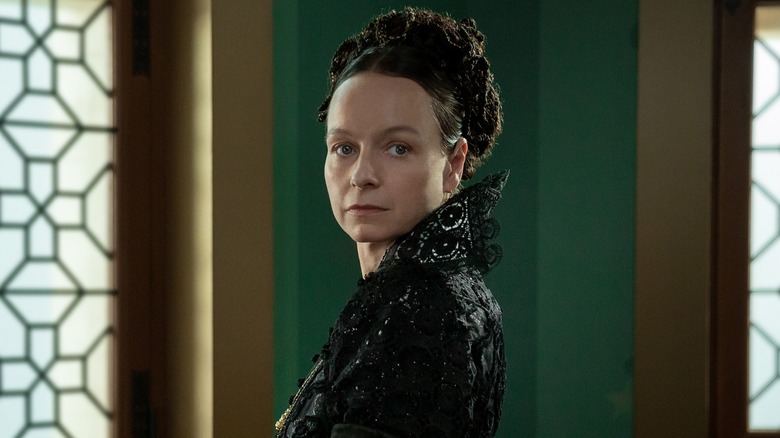 Starz
There's arguably never been a better time to watch TV shows about the aristocracy. "The Crown," about to enter its fifth season, remains wildly popular and will soon usher in Imelda Staunton's reign as the new Queen Elizabeth II. For those with darker comedic sensibilities, Hulu has renewed its Russian royalty sendup "The Great" for a third season. And "Bridgerton," while not strictly about the upper echelons of royalty, scratches the Regency rom-com itch.
"The Serpent Queen" is the latest entry into the aristocratic TV craze. The Starz series follows the rise of 16th-century French queen Catherine de Medici, who is portrayed by Samantha Morton and Liv Hill, and premiered September 11. If the title of the first episode — "Medici B*tch" — is any indication, "The Serpent Queen" isn't exactly a Ken Burns joint. The series takes some, shall we say, tonal departures from the history of the famed queen, opting for biting humor over staid historicity. While it's not aiming for outright accuracy, "The Serpent Queen" still has some scholars questioning Catherine de Medici's portrayal.
The Serpent Queen offers a sympathetic reading of the ruthless queen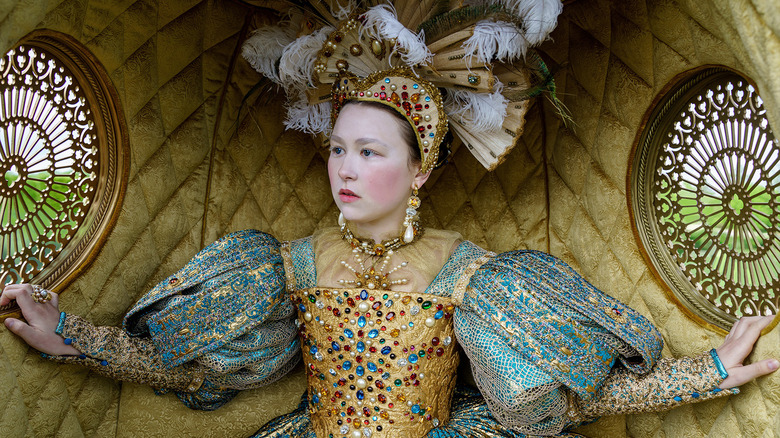 Starz
Throughout Catherine de Medici's reign from 1547 to 1559, the much-maligned Queen became known for her calculated, brutal style of ruling. But her characterization as an ice queen is a little off, scholars say. "A snake is someone that will stab you in the back, that will always be in the shadows trying to get you," says Estelle Paranque, author of "Blood, Fire and Gold: The Story of Elizabeth I and Catherine de Medici" (via Smithsonian Magazine). And that could not be further from the truth when it comes to Catherine."
Indeed, some assert that her bloody reign, defined in part by the conflict between the Huguenots and the Guise-led Catholics, was in pursuit of peace and her family's success as aristocrats. "She is a selfless, tireless negotiator for peace," says "Scandal and Reputation at the Court of Catherine de Medici" author Una McIlvenna (via Smithsonian Magazine). "She is utterly dedicated to ensuring that her children's rule is successful."
"The Serpent Queen" showrunner Justin Haythe hoped to cast de Medici's supposed villainy in a sympathetic, complex light. "I liked the idea of a villain from history who would address us and say, 'Let me you tell why I did the things I did, and you'll judge me differently,'" Haythe told Town & Country. "You have to really wonder if this is an evil person with shards of good, or it's a good person who's capable of evil to survive."