Jodie Turner-Smith Stuns In The First Trailer For Anne Boleyn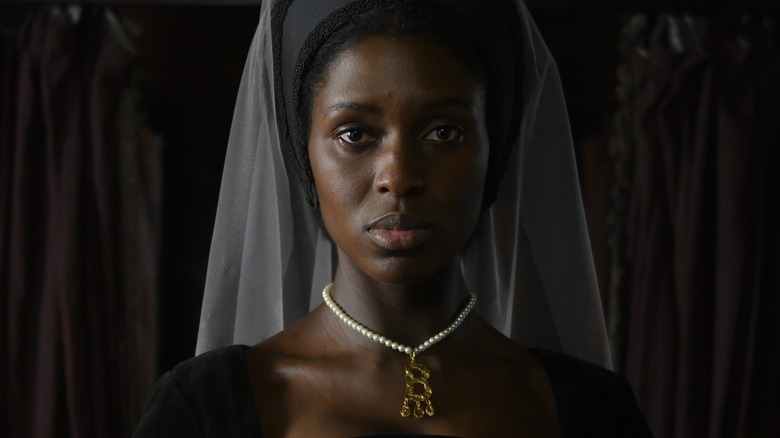 Channel 5
One of England's most infamous queens is getting her own series.
In a new show for the British network Channel 5, breakout star Jodie Turner-Smith, fresh off her acclaimed turns in "Queen & Slim" and "Without Remorse," will tell the story of the last days of one of the commonwealth's most notorious monarchs. Now, in the first full-length trailer for "Anne Boleyn," fans of Turner-Smith and English history alike can finally get a glimpse at the actress' take on Henry VIII's doomed second wife.
In the first full length trailer for the series, Turner-Smith can be seen sporting the iconic pearled "B" necklace — for Boleyn — while on trial for treason and other high crimes, pleading not guilty before a room full of disapproving men. Meanwhile, in flashbacks, viewers get a glimpse of the birth of Anne's daughter, who would go on to become Queen Elizabeth I... as well as Henry's disappointment and his eventual dalliance with his third wife, Jane Seymour. As the trailer hits its stride, it asks the viewer whether Anne was "dishonest or devoted," a "traitor or a trailblazer," or a "sinner or a saint," telling the audience, "you may know the history, but you don't know her story," with plenty of shots of Turner-Smith looking proud, regal, and stunning.
Anne Boleyn is one of history's most divisive figures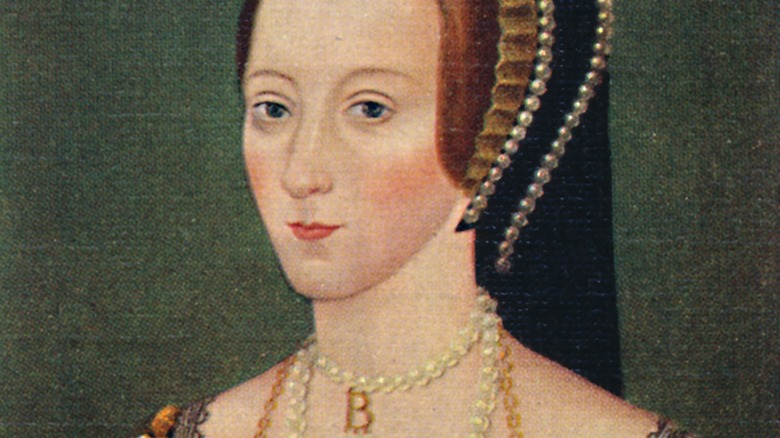 Print Collector/Getty Images
There are plenty of controversial kings and queens throughout history, but few have inspired quite as much fervor as Anne Boleyn, the young woman who enchanted a king to the point where he jumped through seemingly impossible hoops to marry her... only to later behead her for a variety of alleged crimes.
Born to the high-ranking Boleyn family sometime in the 16th century, Anne Boleyn rose through the ranks of both the French and English courts, eventually catching Henry VIII's eye... while he was married to Spanish princess Catherine of Aragon. When Anne refused to be Henry's mistress on the grounds that she needed to preserve her virtue for the sake of her family, Henry moved heaven and earth to divorce Catherine and marry Anne, breaking with the Roman church and the Pope himself to annul his first marriage through a complicated maneuver that took several years.
However, after Anne only bore Henry a daughter and miscarried several times — and her alleged temper and high spirits became supposedly tiring to Henry — the king figured out a way to dispose of Anne, accusing her of crimes that included treason, incest, and adultery. After several courtiers implicated with her, including her brother George, were convicted and executed, Anne Boleyn was beheaded at the Tower of London in May of 1536, three years after her coronation. According to some historians, Henry announced his betrothal to his third wife, Jane Seymour, that same day.
It looks like Turner-Smith, the first Black actress to play Anne, will depict the downfall and death of the strong-willed queen — which will make for a pretty fascinating story. The three episode series "Anne Boleyn" is set to air on England's Channel 5 soon, and Sony will distribute the series across the world.