Why Candace Fortner From The Patient Looks So Familiar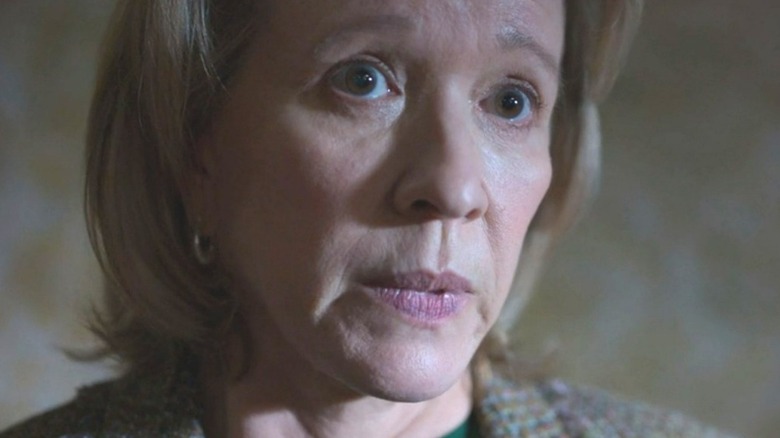 Hulu
Hulu's psychological thriller and limited series, "The Patient," follows Dr. Alan Strauss (Steve Carell), an elderly therapist in the throes of personal loss, as he is kidnapped by Sam Fortner (Domhnall Gleeson), a serial killer intent on curing himself of his lethal habits. The series, written by Joel Fields and Joe Weisberg, is an entirely original story and relies heavily on intimate, one-on-one conversations, so much so that it's almost like watching a play. Vulture called it the "most thought-provoking and absorbing" production of 2022.
While the story's main thrust follows the direct and tenuous relationship between Dr. Strauss and Fortner, other relevant figures are involved, such as Fortner's mother, Candace (Linda Emond). If she seems familiar, that's because Emond has been in the acting industry since at least the late 1960s. From television to movie theaters to literal Broadway, here are some of her finest, or at least most recognizable, credits. 
Linda Emond is a neurobiologist in Law & Order: SVU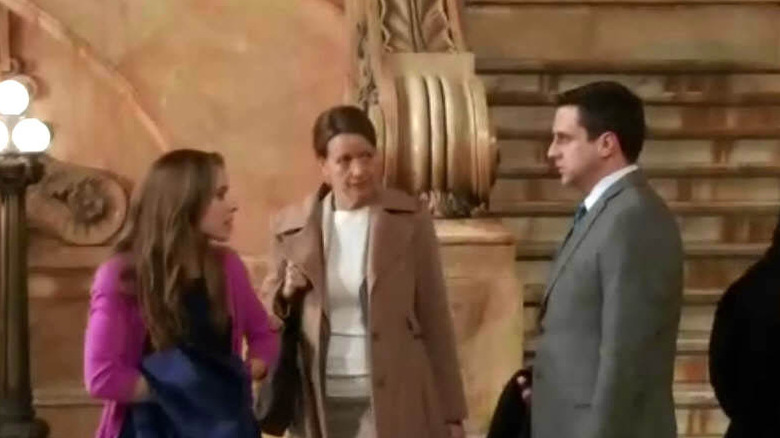 Peacock
In 1999, NBC released "Law & Order: Special Victims Unit," an American crime drama procedural that functions as the first spinoff to NBC's "Law & Order." The series is ongoing, with the 24th consecutive season airing years later. In broad strokes, the story follows the Special Victims Unit (SVU, for short), a group of detectives in the employ of the New York Police Department's 16th precinct, as they investigate and prosecute sexually oriented crimes. As if that weren't enough darkness, they also handle cases of domestic violence, abuse against children, and any crime against individuals living with disabilities. The main cast includes Mariska Hargitay, Christopher Meloni, Ice-T, and Dann Florek. 
In a smattering of episodes from 2004 to 2022, Linda Emond portrays Dr. Emily Sopher, a neurobiologist who is called to testify in court on the matters of human behavior as they are affected by nature rather than nurture. Although she's incredibly clinical, she's equally passionate and often finds herself guiding other hands toward a better outcome, even if it tiptoes on the edge of illegality. 
Linda Emond is a rich chef in Julie & Julia
In 2009, Sony released "Julie & Julia," an American biographical dramedy film based on Alex Prud'homme's Julia Child biography, "My Life in France," and Julie Powell's memoir, "Julie & Julia: 365 Days, 524 Recipes, 1 Tiny Kitchen Apartment," which she later retitled "Julie & Julia: My Year of Cooking Dangerously." The film follows two plot lines and timelines simultaneously — firstly, in 2002, it depicts Julie Powell (Amy Adams), an emotionally drained call center worker in New York City that takes on a personal project to cook and blog about a series of recipes within the confines of a single year. 
Secondly, in the 1950s, "Julie & Julia" depicts Julia Child (Meryl Streep), an ambitious chef who moves to France to learn as much as she can about French cuisine so that she can write a recipe book with her findings. Along with their names, Child's book of recipes is the tie that binds the two women together. Aside from Adams and Streep, the film features Stanley Tucci, Jane Lynch, and Chris Messina. 
In "Julie & Julia," Linda Emond portrays Simone Beck, a woman with whom Julia Child — and Louisette Bertholle (Helen Carey) — wrote their famous book, "Mastering the Art of French Cooking." She was a rich woman with ambition who affectionately went by the nickname Simca. 
Linda Emond is a star-crossed lover in Cabaret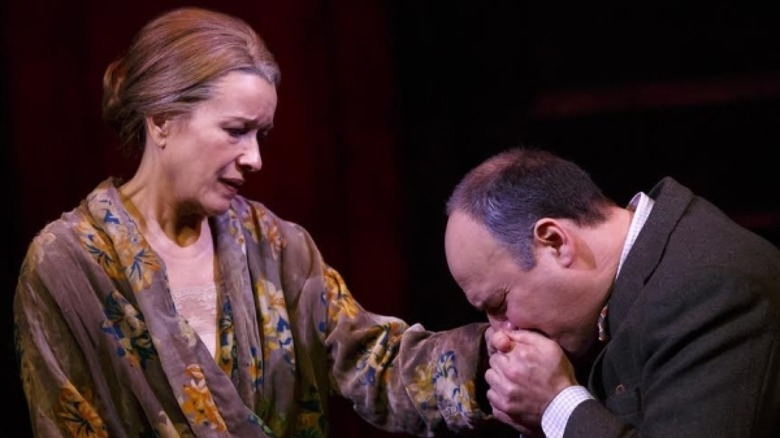 Joan Marcus/Theatre Mania
In 1966, John Kander, Fred Ebb, and Joe Masteroff created "Cabaret," a musical based on the 1951 stage play "I Am a Camera" (which in turn was based on the 1939 novel "Goodbye to Berlin" by Christopher Isherwood). The story follows a young American author as he travels to Berlin in 1929, a notably bad time for anyone to be around Germany. While there, he falls into an ill-fated infatuation with a singer at a seedy cabaret.  Their combined emotional collapse is set against a backdrop of impending war and genocide. It's not the most chipper musical, but the number of awards connected to its tenure on Broadway, West End, and other professional venues is undeniable. 
In the 2014 Broadway revival of "Cabaret," Linda Emond portrays Fräulein Schneider, an elderly German woman who owns a boarding house in Berlin. In her subplot, she falls in love with an elderly Jewish man who works as a fruit vendor just as the Nazi regime finds strength. Out of fear, love, or perhaps both, she ends her relationship with the man. It is not said what becomes of either of these characters at the end of things, but it is heavily implied that Fräulein Schneider's erstwhile lover refuses to accept that Germans would no longer tolerate his living among them or his living at all.
Linda Emond is a serial adulterer in Lodge 49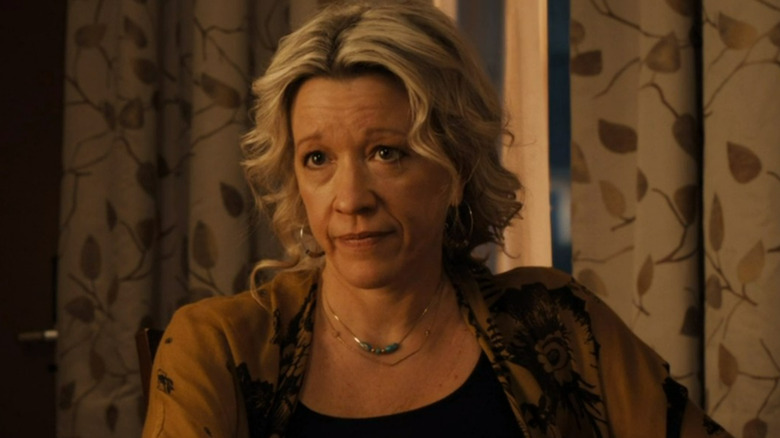 Hulu
In 2018, AMC released "Lodge 49," an American dramedy series that is notably inspired by the 1966 Thomas Pynchon novel "The Crying of Lot 49." The series ran for two seasons and ended in late 2019. In broad strokes, the series follows Sean "Dud" Dudley (Wyatt Russell), who joins a fraternal order — it's a rich people cult, really — to find fulfillment in the wake of his own father's death. Also, at some point, there are sacred, hidden scrolls with the secret to making money through the power of bitcoin ... yes, seriously. The series also stars Brent Jennings, Sonya Cassidy, David Pasquesi, and Eric Allan Kramer. 
In "Lodge 49," Linda Emond portrays Connie Clark, a journalist and a member of the Lodge. Connie is a woman suffering from brain seizures and, only slightly less severe, an on and off again (and then on again and then off again ... the whole thing is exhaustingly cyclical) extramarital affair with another member of the Lodge. Eventually, she gets upgraded to the "True Lodge," so that's fun.