The Real Reason Kevin Bernard's Absence Wasn't Mentioned In Law & Order's Crossover Event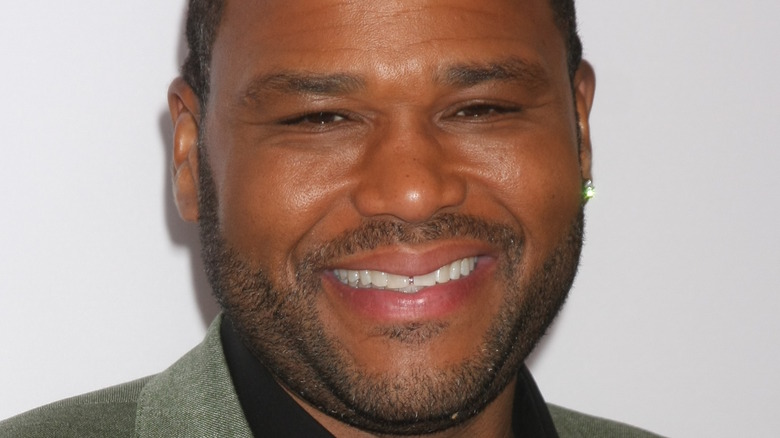 Kathy Hutchins/Shutterstock
Anthony Anderson's run on "Law & Order" as Detective Kevin Bernard appears to have officially come to an end, with his character not even getting mentioned during NBC's highly-anticipated September 22 crossover event with "SVU" and "Organized Crime." But there's an important reason why. 
Back in May, NBC announced that Anderson would be leaving the legendary police procedural before the start of Season 22. The longtime actor had joined the cast in 2008 and been a staple on the show for Seasons 18, 19, and 20 before its 12-year hiatus. He eventually returned for the 2022 revival and appeared in all 10 episodes. During an interview with Entertainment Tonight in July 2022, Anderson explained why he had chosen to walk away from "Law & Order" after just one season — saying he wanted to focus more on being a producer. 
"I wanted to go off and create more shows like 'Black-ish,' create things that I have ownership in, and do something a little bit different," Anderson told ET. Some of his prior producer credits, in addition to "Blackish," include his very own sitcom "All About the Andersons," "Mixed-ish," "House Haunters," and "Grown-ish" (via IMDb).
On Thursday, during NBC's three-part "Law & Order" crossover event, Anderson's Det. Bernard wasn't mentioned during any of the episodes, leaving many fans who weren't aware of his offseason departure at a loss. One viewer, @CLUCAS2010, tweeted: "Where is our man Anthony Anderson at? Is this it is he done? Why?" Another Twitter user who watched the crossover, @wmbookworm96, said: "Wasn't Anthony Anderson the partner last season? Where'd he go, I like him." While Anderson's exit may come as a surprise to some people at home, it's something that the "Law & Order" showrunners apparently do plan to talk about at some point.
The explanation for Det. Bernard's exit is being saved for Episode 2 of Law & Order Season 22
According to showrunner Rick Eid, the reason Det. Kevin Bernard's departure from "Law & Order" wasn't mentioned during the big crossover premiere event was because the explanation was being saved for the second episode of Season 22, titled "Battle Lines," which is set to air on September 29. 
"It's a little mention," showrunner Rick Eid told TVLine in August 2022. "It's in the time-honored tradition of Law & Order where it's very brief and it's like, 'Moving on. Here we go. We've got to solve the case.'" 
As shown in the crossover event, "Supergirl" and "Mortal Kombat" actor Mechad Brooks is set to replace Anderson as incoming detective Jalen Shaw. The former "SVU" guest-star spoke to Entertainment Tonight about the opportunity, as well as his character, who he describes as "an adrenaline junkie turned undercover narcotics officer turned homicide detective."
"It's a dream come true in so many ways," he told ET. "I grew up watching the show, so it's surreal." Diving into what kind of cop his character is, Brooks said: "He knows the law inside and out. Also, he can be rough when he needs to, when duty calls...He's a wolf that hunts for peace and when people get in the way of that, you see the wolf."