Why Pepper's Voice On Modern Family Sounds So Familiar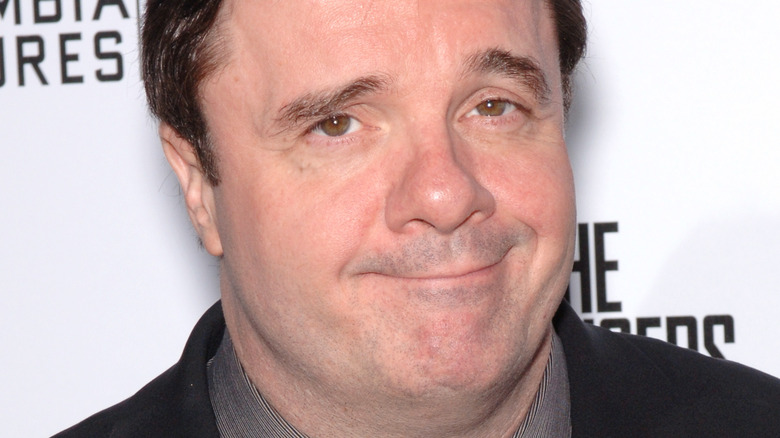 Featureflash Photo Agency/Shutterstock
As "Modern Family" recurring character Pepper Saltzman, veteran film and TV star Nathan Lane plays the force-of-nature, relentlessly outspoken friend — and borderline frenemy — of the eventually-married-couple Mitch (Jesse Tyler Ferguson) and Cam (Eric Stonestreet). 
The indomitable Pepper is often deeply involved in some of the key moments of Mitch's and Cam's life together. But in his occasional, almost-adversarial role, Pepper is also seen to play the part of that one friend who knows them so well that any barb he launches tends to hit the tender spot. Added to this equation is the fact that Pepper, frankly, has no filter. When it comes to holding his tongue in any given social situation demanding delicacy, Pepper's razor-edged, all-too-honest wit can make for some seriously cringe-worthy interludes. 
So, with his larger-than-life persona to consider, why would "Modern Family" fans hear Pepper's voice and think "I KNOW I've heard that voice somewhere else."
Nathan Lane voiced Timon in Disney's The Lion King
As some "Modern Family" buffs may already be aware, Nathan Lane's career extends well beyond his 10 episodes on the long-running sitcom, including numerous voice acting roles in animated projects.
In this regard, "Modern Family" viewers may recognize Lane's distinctive vocal skills from his work on animated series like "Teacher's Pet" where he voiced both Spot Helperman and Scott Leadready, as well as voicing Snowbell in the 1999 feature film "Stuart Little" and its sequel. But Lane is most readily known for supplying the voice of the spunky little meerkat Timon in Disney's blockbuster 1994 animated hit film "The Lion King," along with its direct-to-video sequels, spin-offs, and specials.
As it turns out, however, the duo of Lane's Timon and Ernie Sabella's warthog Pumbaa almost had much smaller parts in "The Lion King." In Lane's interview with the American Film Institute, the actor explained that initially, Disney's then-Chairman Jeffrey Katzenberg thought the film was too dark and needed some comic relief. "I think Mr. Katzenberg had a lot to do with [adding more Timon and Pumbaa to the movie]," Lane told AFI, adding that Katzenberg felt the film at that early stage was "A little heavy, it's a little serious," resulting in more scene-stealing work from Lane and Sabella.
Beyond his voice acting resume, Lane is also known for starring in films like 2005's "The Producers" and 1996's "The Bird Cage," and has recently been appearing in a recurring role in Hulu's "Only Murders in the Building," frequently playing off fellow comedy legend Martin Short.