You Can Probably Guess How Succession's Brian Cox Feels About Showtime's Billions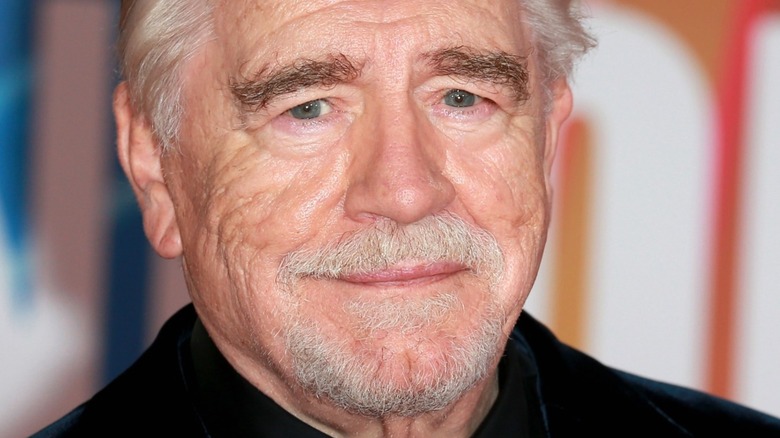 Fred Duval/Shutterstock
"Succession" star Brian Cox is someone who calls it as he sees it — especially in Hollywood. And that's exactly what he did Monday night during an interview after the 2022 Emmys.  Now, Cox is no stranger to calling people out publicly. The longtime screen star released a fiery autobiography in 2021 called "Putting the Rabbit in the Hat," which featured countless hot takes and disses from the notoriously grouchy Scotsman. 
"I think if you're going to do something like that you really have to tell the truth," Cox told The Scotsman newspaper. "I've reached a certain age and I wanted to look at certain things in the light of one's experience and be as truthful as I could be." Cox's hit list included Quentin Tarantino, Johnny Depp, Edward Norton, and other big names.  "So overblown, so overrated," Cox wrote of Depp. "A bit of a pain in the a** because he fancies himself as a writer-director," he added, describing Norton. 
On Monday night after the Emmys, Cox was speaking to a reporter about the future of "Succession" when the actor suddenly set his sights on arguably its biggest finance-related show rival, "Billions."
'We don't want [Succession] to overstay its welcome, like Billions,' Cox says
Speaking to The Times of London, Brian Cox went full Logan Roy and delivered a not-so-subtle verbal jab on Showtime's "Billions" — saying "Succession" would never jump the shark the way the fellow finance series had in his eyes. 
"We don't want it to overstay its welcome, like 'Billions,'" Cox blasted. "That's past its sell-by date. That will not happen with our show." Cox was also asked by The Times if he thought "Succession" could go on for much longer past Season 4 when he made the "Billions" dig. "I don't know [if there will be a fifth season]," Cox said. "No one's had their contracts renewed. Who knows how long it will go on?" 
While some people were quick to bash Cox online for offering up yet another ornery Hollywood hot take, many were actually in his corner regarding the "Billions" sentiment. Entertainment Weekly's Randall Colburn tweeted, "As a former Billions fan I can say that no show deserves to be made fun of more than Billions. Brian Cox is great because he had no reason to say this in order to make his point. More b**chy interviews, please!" User @Ric3Fantasyfan wrote, "Completely agree...it was ridiculous of Billions to keep going after Damian Lewis left...shows need to recognize when they should end rather than run it into the ground."
In February 2022, Showtime officially renewed "Billions" for a 7th season, which will be the second one following Lewis' departure. Actors Paul Giamatti, Corey Stoll, and Maggie Siff all remain. "Succession," meanwhile, is currently filming its 4th season.