Looper Survey: The Cobra Kai Character That Deserves Their Own Spin-Off According To Fans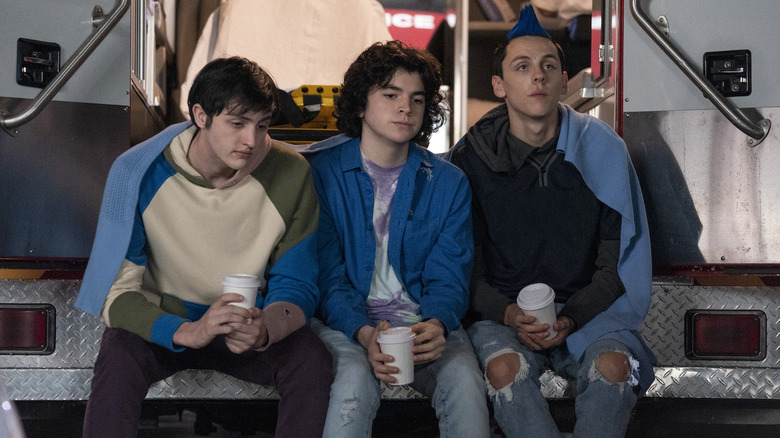 Netflix
Netflix's "Cobra Kai" is a show driven by its entertaining characters and all the karate-related drama that comes with them, whether it be Johnny Lawrence (William Zabka) and Daniel LaRusso (Ralph Macchio), Miguel Diaz (Xolo Maridueña) and Robby Keene (Tanner Buchanan), or Tory Nichols (Peyton List) and Daniel's daughter Sam (Mary Mouser). Fans have more than enough stories to choose from. But if you were to actually ask viewers who from the "Cobra Kai" gang deserves their own spin-off series, the answer will likely surprise you.
Former opponents-turned-karate-frenemies Johnny and Daniel are once again leading the pack in the recently dropped Season 5, which introduces the biggest fighting tournament yet for the streaming franchise. Characters like Miguel and Robby will surely have their hands full this season and in any future ones — if any — as they keep struggling to deal with their relationships with both Johnny and Daniel. While Season 6 of "Cobra Kai" has yet to be announced, the latest entry has pretty much confirmed what people have been suspecting all along — the show is still a fan favorite. And there could even be a potential spin-off series or two on the way in the coming years. 
In an exclusive poll, Looper asked viewers which "Cobra Kai" character ultimately made the most sense as the possible star for such a series, with their answers making it abundantly clear that they don't care about fan favorites.
Fans believe Eli aka Hawk is the most deserving of a spin-off series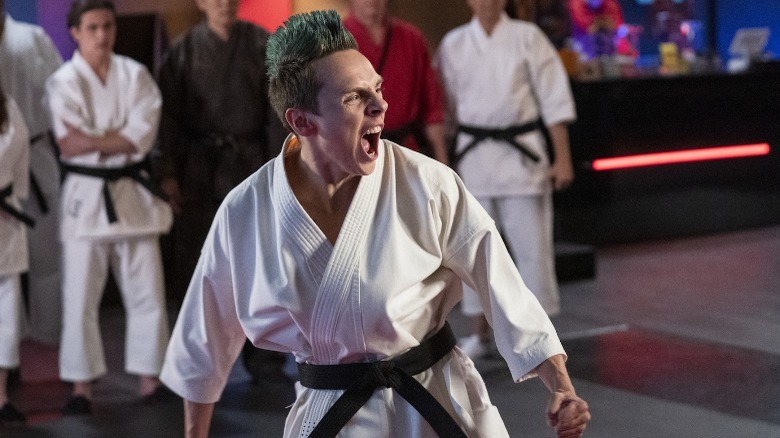 Netflix
Out of everyone on "Cobra Kai," viewers feel Eli Moskowitz aka Hawk (Jacob Bertrand) is the character who deserves to have his own spin-off series more than anyone else, with 27.1% of the 613 respondents polled by Looper going with him. The next most popular was Hawk's best friend Demetri (Gianni DeCenzo), who, like Hawk, has a pretty incredible origin story on the show, with them both starting out as bullied high school teens before eventually ascending to All Valley tournament status. Around 18.1% of the people who responded to Looper's survey said Demetri would be a perfect spin-off candidate, followed by Miguel at 15%, Tory at 14%, and then John Kreese (Martin Kove) with 12.6%. 
Demetri actor Gianni DeCenzo has voiced his interest in exploring a possible spin-off centered around him and Hawk, aka the "Binary Brothers." The two characters have come a long way over the past five seasons, with them becoming enemies at one point and constantly fighting each other. Hawk even went so far as to break Demetri's arm during Season 3. But still, the two pals were able to patch things up and reconcile. 
"I would love to see a Demetri and Hawk spinoff," DeCenzo told TV Insider. "I always thought of them as, yes, going to college, but also for some reason being detectives. Maybe Hawk is the bad cop and Demetri the good cop. Demetri uses his brain while Hawk uses his fists to solve these crimes while in college." But while it may sound like an awesome idea, how likely is it really that the "Cobra Kai" showrunners are even interested in doing a spin-off? 
Cobra Kai's co-creator said in 2021 that the showrunners were 'batting around' ideas for spinoffs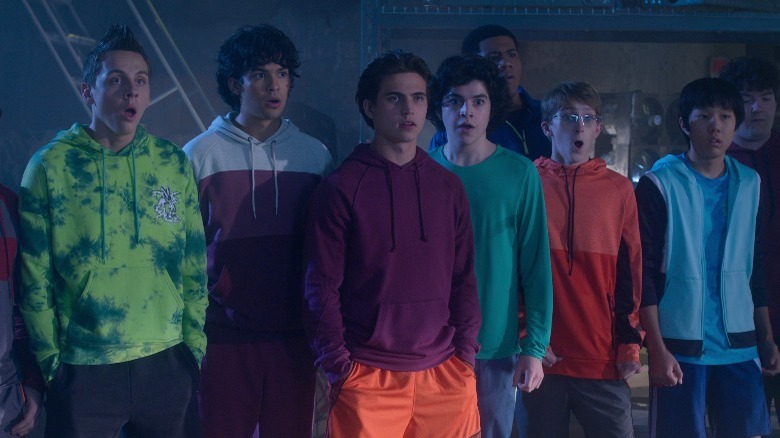 Netflix
According to "Cobra Kai" co-creator Jon Hurwitz, there have been some fairly serious creative talks in recent years around the possibility of doing multiple spin-offs in the "Karate Kid" and "Cobra Kai" universe, though nothing has been officially confirmed. In September 2021, Hurwitz tweeted in response to a fan inquiry, "We're batting around ideas for various Karate Kid/Cobra Kai spinoffs. Some further along than others. Won't spoil anything beyond that." In a separate tweet to another fan, Hurwitz wrote, "We have lots and lots of plans, both inside and outside of the Miyagiverse."
In August 2022, it was confirmed by Deadline that the "Cobra Kai" showrunners would be rolling out a "Ferris Bueller's Day Off" spin-off for Paramount Pictures. This suggests that they've already started unveiling some of their plans. Ralph Macchio is a big proponent of passing the torch to the younger "Cobra Kai" stars and ultimately expanding the Miyagiverse, with the franchise possibly even hitting the big screen again someday. 
"Is there a Miyagi origin story?" asked Macchio during a September 2022 interview with Comicbook.com. "Is there a 'Cobra Kai' prequel before 'The Karate Kid'? Is there spin-offs with some of the young cast of these characters? Who knows? But we're not done as long as we're given the opportunity to really bring it in. As long as it evolves organically, these guys that write the show really have their finger on the pulse of that."