Hawk's Drastic Change In Cobra Kai Season 4 Explained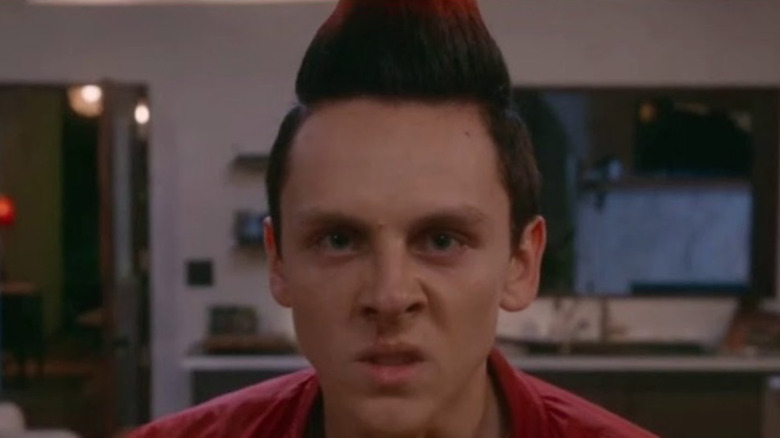 Netflix
Jacob Bertrand's portrayal of Eli "Hawk" Moskowitz is one of the most popular parts of the first four seasons of "Cobra Kai." His work on "The Karate Kid" spin-off series even has fans going back and looking closer at a certain episode of "Parks and Recreation." While the majority of the screen time in "Cobra Kai" is spent with Johnny Lawrence (William Zabka), Daniel LaRusso (Ralph Macchio), Miguel Diaz (Xolo Mariduena), or Samantha LaRusso (Mary Mouser), Hawk has proven to be an enduringly popular figure in the series. 
However, longtime fans of "Cobra Kai" will remember that Hawk wasn't always an expert karate champion with a giant mohawk. He is arguably the most transformed character in the series, both because of his physical transformations and because he is one of the few characters to spend time in all three dojos (Cobra Kai, Miyagi-Do and Eagle Fang). Season 4 makes sure to let audiences know that these dramatic alterations aren't coming to an end anytime soon. Season 4 introduces a number of considerable changes for the character, making it a season that Hawk superfans are sure to remember for years to come.
So, what is the story behind Hawk's latest metamorphosis?
Hawk wants to rekindle his relationship with Moon
Netflix
It's literally tattooed into his chest. Ever since Moon (Hannah Kepple) broke up with Hawk in Season 2, Episode 5 ("All In"), nearly everything Hawk does revolves around the loss of his girlfriend. Though Hawk has definite aspirations to get back together with Moon in Season 3, he abruptly learns that she is already in a relationship with Piper (Selah Austria). In Season 4, Episode 5 ("Match Point"), Moon compliments Hawk on the new color of his mohawk, telling him that purple "symbolizes enlightenment." Clearly unaware of such information, Hawk shyly insists that is exactly what he was going for. Though Hawk is ready to settle for being friends with Moon at this point, Demetri (Gianni DeCenzo) informs him that Moon's relationship with Piper actually didn't work out. 
With this vital bit of information, Hawk immediately sets his sights on regaining the affections of his former girlfriend. While having some additional tattoo work finished, Hawk sends Moon a text inviting her to the upcoming prom. Sadly, before Hawk can send the text, he is interrupted by various members of Cobra Kai, including Robby Keene (Tanner Buchanan) and Kyler Park (Joe Seo). While Kyler holds Hawk down, Robby picks up a knife with plans to drastically alter Hawk's appearance.
Cobra Kai cuts Hawk's hair and he quits karate briefly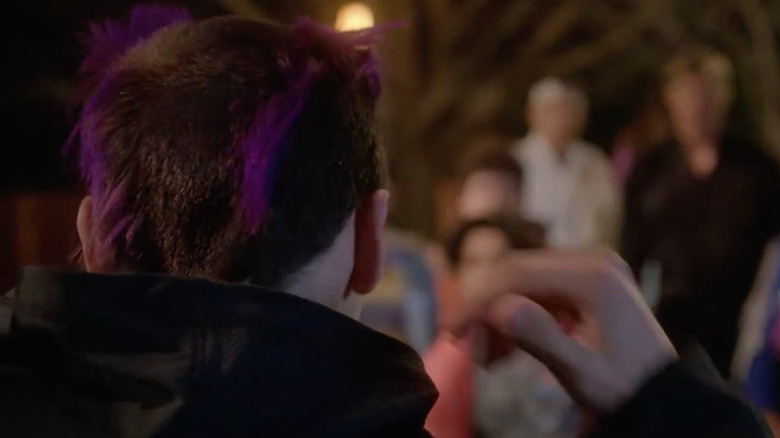 Netflix
Hawk's newfound confidence is short-lived as a result of the forced removal of his mohawk midway through the season. Humiliated by the attack, Hawk mournfully arrives late to Daniel and Johnny's much-anticipated fight. The attack on Hawk leads Johnny to declare Eagle Fang's independence from Miyagi-Do and he orders his students to depart, deciding to train his students separately once more.
In Season 4, Episode 6 ("Kicks Get Chicks"), Hawk is noticeably absent from practice, following the dissolution of the agreement between Johnny and Daniel. Instead, Demetri finds Hawk sitting at home, playing video games and feeling sorry for himself. Informed of the changes to the upcoming All Valley Karate Tournament, Hawk looks uninterested and eventually declares, "I'm done with karate, man. I quit." Demetri pleads with Hawk to return, telling his best friend, "You can't quit." Demetri goes on to tell Hawk that even though he was initially resistant to join a dojo, it was the best thing that ever happened to him. Demetri credits Hawk's influence on his life with many of the positive changes that have come about within the last few years. Still, Hawk seems content to quit karate.
As a last-ditch effort to convince Hawk to return, Demetri shows him footage of the two long before they joined any dojo in a YouTube video titled "Binary Brothers." When Hawk asks why Demetri is showing him the video, Demetri says, "Because this is who you are: my best friend." Eventually, Demetri's words seems to reach Hawk, but it isn't entirely clear that his karate days aren't quite over until the final scene of the episode.
He returns and destroys his bullies at the tournament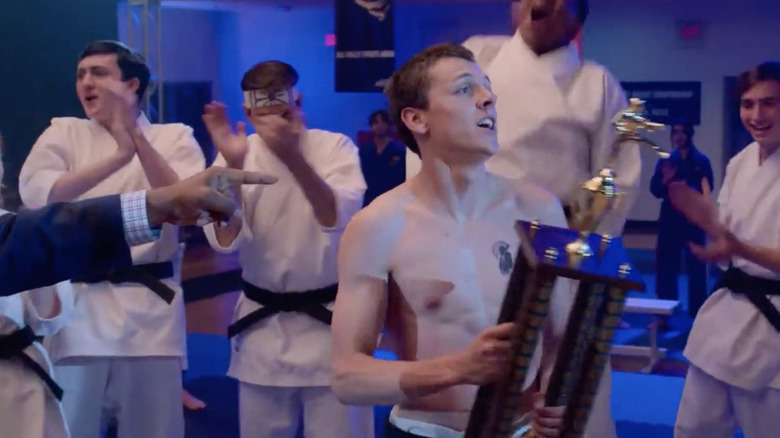 Netflix
In the final scene of Season 4, Episode 6 ("Kicks Get Chicks"), Demetri's pep talk with Hawk finally has its intended effect and Hawk arrives to practice at Miyagi-Do, the dojo with which he will compete in the 51st Annual All Valley Karate Tournament. Sadly, Hawk loses Miyagi-Do crucial points in the first division and seems to be struggling. After Kyler torments Hawk on the sideline, Hawk seems more deflated than ever before.
Fortunately, Moon approaches Hawk and offers comfort, saying "Ignore him. He's always been a bully, but that's not who you are." When Hawk responds that he doesn't know who he is, Moon assures him that he has never been defined by his haircut and adds, "I liked you for your energy and your confidence." Though Hawk says he lost his confidence, a sudden kiss from Moon seems to turn things around for him. As he approaches the mat, Hawk declares himself "the man who's going to win this whole f—ing thing." With his newfound confidence, Hawk defeats Kyler with ease. 
Hawk later fights Miguel and wins by default after Miguel suffers a brutal injury and opts to forfeit the fight. Eventually, Hawk also defeats Robby in the final division, earning revenge against the man who stole his mohawk. This victory also means that Hawk is declared All Valley Champion, winning a trophy and taking home all of the glory in the process.