The Cobra Kai Relationship That Fans Want Fixed In Season 5
Curtis Bonds Baker/Netflix
It's been a long and bumpy road for many of the characters in "Cobra Kai," with some choosing to wage intense and seemingly irreparable feuds — like Xolo Maridueña's Miguel Diaz and Tanner Buchanan's Robby Keene — while others on the show are able to settle their beefs and somehow play nice. For Season 5, fans are begging for the latter when it comes to a certain long-standing relationship. 
Clips from the trailer for the upcoming fifth season of "Cobra Kai" tease a number of epic conflicts ahead for everyone involved, with there being tons of ground to cover in the latest chapter. Season 4 ended with multiple shockers, including the arrest of John Kreese (Martin Kove) and the unexpected departure of Miguel to Mexico, where his biological dad is said to be living. Johnny Lawrence (William Zabka) ended up following suit in an effort to bring Miguel back. Then there was the continuation of the Sam LaRusso (Mary Mouser) and Tory Nichols' (Peyton List) feud, along with the season-ending recruitment of Chozen Toguchi (Yuji Okumoto) by Daniel LaRusso (Ralph Macchio) to help end Cobra Kai for good.
While most of the drama unfolding on 'Cobra Kai" has been welcomed with open arms, many fans hope to see at least one relationship repaired by the end of Season 5.
Fans want Miguel and Johnny to reconcile for good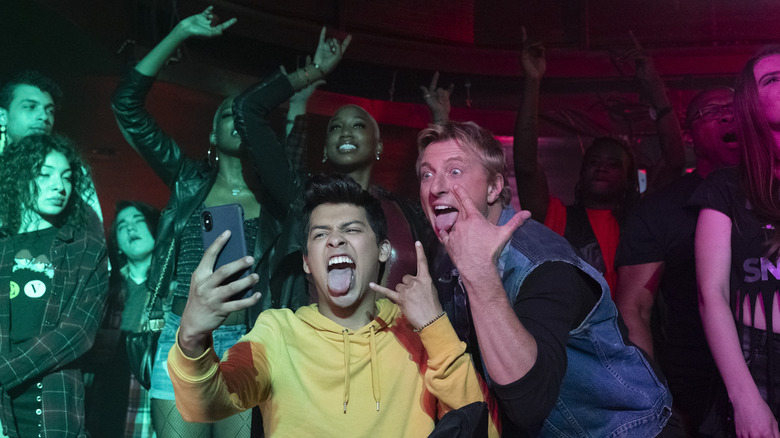 Curtis Bonds Baker/Netflix
In Season 4, the relationship between Miguel Diaz and Johnny Lawrence was nearly KO'd by "Cobra Kai" writers — with Johnny finally revealing his true feelings for Miguel's mom to the unapproving teen, coupled with his son Robby Keene further driving a wedge between them. Things had already grown strained due to Robby making verbal attacks and false claims about his father, including one about Johnny wanting to be a dad to Miguel simply because he failed at raising Robby. To make matters worse, Johnny accidentally called Miguel "Robby" one night while drunk, prompting him to disappear and seek out his dad. This eventually culminated with the departure of Miguel to Mexico and Johnny's subsequent quest to bring him back, which fans hope will lead to reconciliation. 
"S5 better fix this relationship," wrote Redditor u/devs_6669 in a July 2022 discussion thread that saw numerous fans calling for Miguel and Johnny to make up. "They have at least ONE great scene together in each season," another person said. "What kind of monster would break that chain?" Fans ultimately hope Miguel can see the true side of Johnny's love and appreciation for him and mend their relationship. "In the very least end on a hopeful note," said Redditor u/devs_6669. "Not broken like S4."
Back in early 2022, Johnny Lawrence actor William Zabka spoke to Collider about what people can expect to see in Season 5, especially now that so many different characters are feuding and also trying to put aside their problems with one other. "At this point, Daniel and Johnny they separated but then they come back together at the end," Zabka said. "But really, more than the martial arts, more than the Eagle Fang of it, they're connected to these people, these humans, these characters."