It's Time To Talk About That Johnny Scene In Cobra Kai Season 4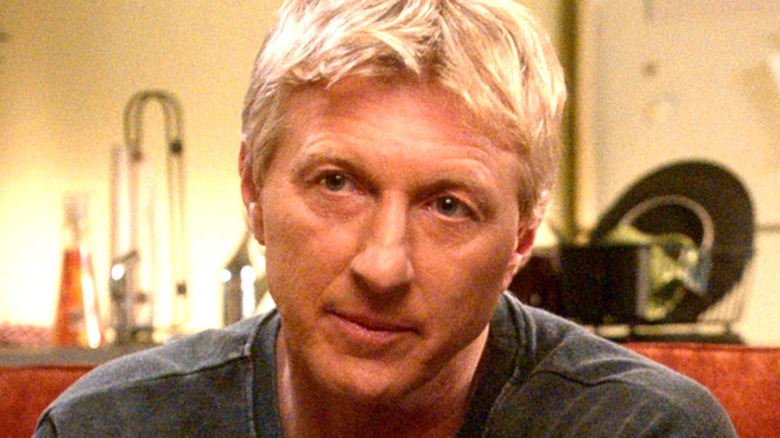 Courtesy of Netflix
Spoilers ahead for "Cobra Kai" Season 4
Fathers and sons are a continually troubling theme for characters at the center of the so-called "Miyagi-verse" (via Den of Geek). Prior to the main events of "The Karate Kid," Johnny Lawrence (William Zabka) is abandoned by his father, resulting in an unhappy childhood. Conversely, Daniel LaRusso's (Ralph Macchio) close relationship with his mother (Randee Heller) depicture one of the more memorable single-mom households in film history. 
In the very first season of "Cobra Kai," we learn Johnny, unfortunately, repeats his father's behavior in his relationship with his own son, Robby Keene (Tanner Buchanan). Although Johnny desperately wants to make up for his failings as a young father, he struggles to follow through, often favoring Miguel Diaz (Xolo Maridueña) over Robby. However, no scene in the first three seasons between Johnny and Miguel quite matches up to one awkward and devastatingly sad exchange between the two at the end of Season 4. Let's talk about Johnny mixing up Miguel and Robby.
Miguel helps Johnny to bed after a fight and lots of drinking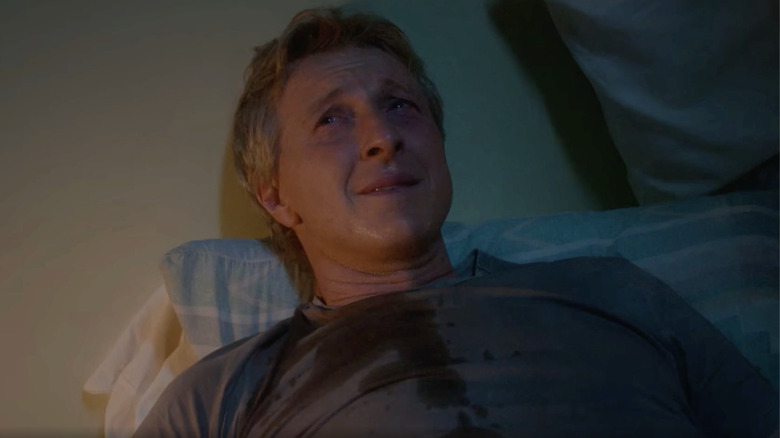 Netflix
In the Season 4 episode "Party Time," Johnny breaks into the Cobra Kai dojo, only to discover that Terry Silver (Thomas Ian Griffith) has installed cameras. Over the phone, Silver taunts Johnny about his relationship with his son and invites him to a meet-up at the original Cobra Kai dojo. There, Silver ambushes Johnny and beats the snot out of him in front of an increasingly skeptical John Kreese (Martin Kove). After taking a heavy beating, Johnny recovers by doing the one thing he does best. No, not teaching karate, watching '80s movies, or listening to '80s music. Instead, Johnny settles in for a night of heavy drinking and passes out on his living room floor, where Miguel later discovers him.
While Miguel originally goes to Johnny for help, he winds up helping his karate teacher to bed, where the sensei becomes emotional in his drunken state. Johnny says he wants to be a good father but admits he's just not very good at it. Because he has always wanted a father figure in his life, Miguel is taken aback by Johnny's drunken words and replies, "You're doing just fine. I love you." Sadly, it's never wise to take the words of an intoxicated individual to heart, and Miguel is deeply hurt by Johnny's mistaken response of "I love you too, Robby."
Miguel is devastated to hear Johnny say the wrong name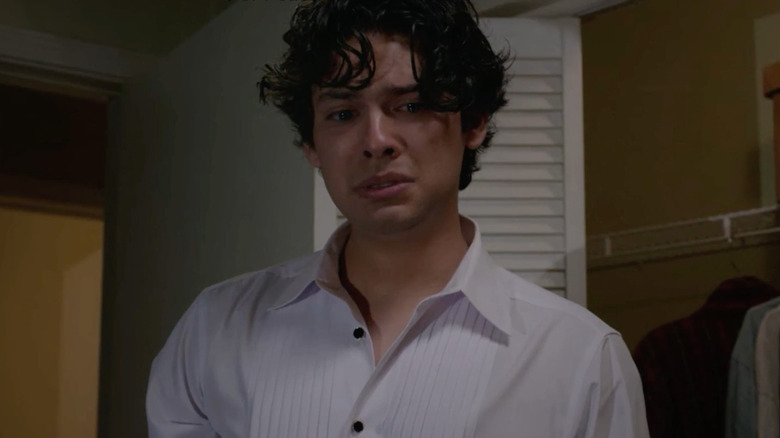 Netflix
Though Miguel doesn't say anything to Johnny about that night throughout the rest of the season, his sensei's drunken words have cut a wound deeper than any karate kick ever could. In fact, Johnny's words hurt Miguel so much that he chooses to forfeit his match against Hawk (Jacob Bertrand) in the final episode of the season. Miguel tells Samantha LaRusso (Mary Mouser), "It just didn't feel like I was fighting for me anymore," but it's also clear that something else is going on with him. 
Shockingly, Miguel departs the event without even watching his girlfriend's final match. He heads home to pack for a trip to Mexico City in search of his real father — a man who he has never met — and insists he must know who it is in order to better understand himself. He leaves a note apologizing to Johnny for bailing on the tournament but explaining that he's still not entirely sure who he wants to be.
Regardless of what Miguel learns about his origins next season, it certainly seems like his relationship with Johnny is forever changed after that instance of mistaken identity, something Johnny almost certainly doesn't even remember. When sensei and student inevitably reunite in Season 5, we have to wonder how a sober Johnny might react to hearing what a catastrophic mistake he has made.