The Miguel Scene In Cobra Kai Season 4 That Had Fans In Tears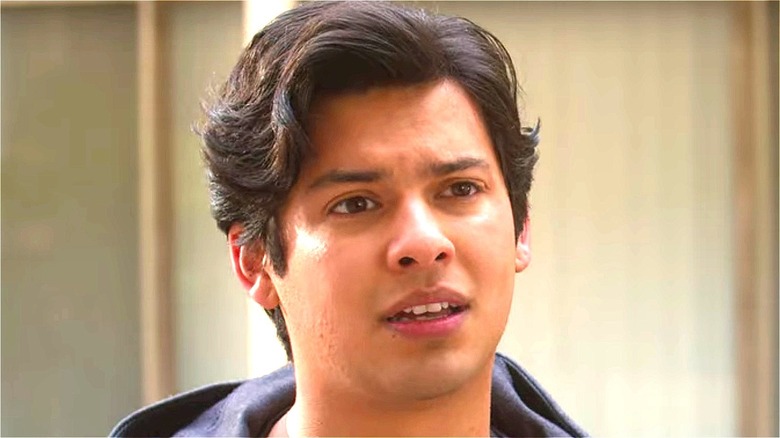 Netflix
This article contains general spoilers for the 4th season of "Cobra Kai."
Miguel Diaz (Xolo Maridueña) goes through the wringer during Cobra Kai's 4th season. He must cope with the intensifying rivalry between Miyagi-do, Cobra Kai, and Eagle Fang — which, in turn, ratchets up Miguel's conflict with Robby Keene (Tanner Buchanan). He also finds himself trying to form individual quasi-parental relationships with his co-senseis, Daniel LaRusso (Ralph Macchio) and Johnny Lawrence (William Zabka) as the twosome try to put aside their long rivalry and merge Miyagi-do and Eagle Fang into a single working entity that will bring Cobra Kai down for once and for all. 
Further unresolved feelings about his place in the karate world and his mysterious, long-absent father lead Miguel to leave California for Mexico to meet the mysterious Mr. Diaz at the end of the season. Only one part of Miguel's life remains on even footing during the season — his romantic connection with Sam LaRusso (Mary Mouser), which continues happily apace throughout all 10 episodes.
Though much of Season 4 is pretty tough on Miguel emotionally, one particular moment during his journey had fans weeping on his behalf, especially the folks who gather to talk about the show and all things Miyagi-verse on the "Cobra Kai" subreddit. Which scene brought fans to tears?
When Johnny called Miguel 'Robby,' the fans wept
During Episode 8, "Party Time," Miguel and Sam attend their junior prom together. Though the night begins happily, it results in disaster when Sam gets into a fistfight with Tory Nichols (Peyton List) at an after-party thrown by Stingray. A four-way brawl between Tory, Sam, Robby, and Miguel ensues. Sam and Miguel call it a night after ending up in the pool. 
When Miguel heads to Johnny's place, he finds his mentor lying drunk and delirious on his bedroom floor. Miguel helps him to bed, and a vulnerable Johnny blurts out that he wants to be a father to the young man, "but I suck at it." Miguel, with tears in his eyes, tells Johnny it's okay — and that he loves him. Johnny rolls over, saying "I love you too, Robby," leaving both the audience and Miguel devastated in his wake. The fact that Robby tells Miguel, "You think my dad cares about you? He's just trying to make himself feel better for screwing up with me!" during their fight just grinds more salt into the wound.
Numerous fans posting to the "Cobra Kai" subreddit declared that the scene made them cry, and several more praised Xolo Maridueña for his performance and declared that his performance has them excited for his upcoming turn as Marvel's Blue Beetle.
Fans are eager to see Johnny and Miguel mend their relationship. "I know Johnny messed up here but, Miguel should know that Johnny loves him," said u/Key_Stuff9113. With Johnny heading to Mexico to protect Miguel from his father at the end of the season, the possibility seems tangible. To quote u/AdSignificant6673, "If season 5 is Johnny kicking some cartel a** to save Miguel... that would be the ultimate redemption!"