Vin Diesel's Son Envisions A Fascinating Ending For The Fast And Furious Franchise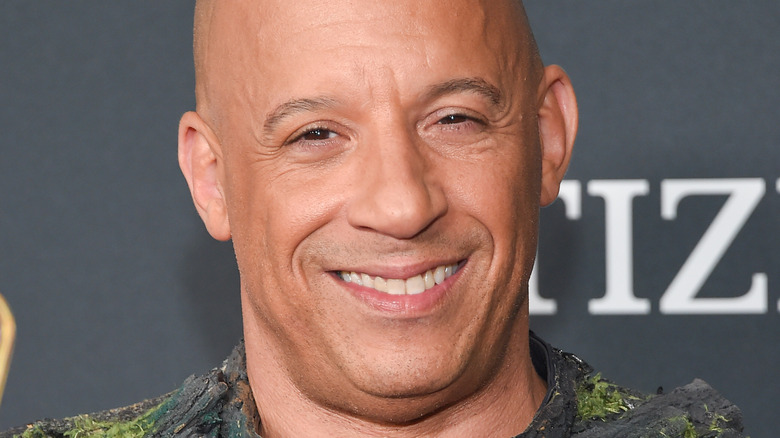 DFree/Shutterstock
The end of the "Fast & Furious" movies featuring Dominic Toretto (Vin Diesel) and his family is coming soon. Production for "Fast X" is currently underway, according to Deadline, and should be the very last movie in the direct continuity of what began with the late Paul Walker in 2001's "The Fast and the Furious." Of course, there has already been one spin-off with 2019's "Hobbs & Shaw" featuring Dwayne Johnson's Luke Hobbs and Jason Statham's Deckard Shaw, both of whom have appeared in multiple "Fast & Furious" films before. Since the announcement of "Fast X," multiple actors outside of the usual Toretto family that fans know have also been attached. Jason Momoa is set to be the main antagonist (via IndieWire), Brie Larson is involved (via Collider), and so is "Reacher" actor Alan Ritchson.
There hasn't been much revealed about the plot yet, but Cipher (Charlize Theron) will likely continue to play a larger role as an antagonist as well. Per the end of "F9: The Fast Saga," Cipher did survive Dom's convoluted and impressive defense attack that blew up her plane, but it is revealed that she was flying it remotely, getting away once again. However, the events seemingly did rekindle respect between Diesel's Dom and his brother, Jakob (John Cena). So, it could be possible that Jakob appears once more in the "Fast X" finale, which will be in two parts.
So, how will it all end? How do you even end a saga this massive? Vin Diesel's son may have the answer.
Vin Diesel's son wants a drive off with Dom and Brian for the ending of Fast X
During a recent interview with ShortList, Vin Diesel revealed that the ending for the entire "Fast & Furious" franchise could come from his 12-year-old son, Vincent Sinclair. "I know how it's gonna end," the actor said. "We've been working on it for the last year so whenever I'm talking about it, I have to hold back," he said. However, Diesel continued that his son professed that he had a "perfect ending" for the second part of "Fast X." Vincent Sinclair reportedly told his father, "You and Brian [O'Conner, played by the late Paul Walker] are at the beginning of a race, the cars go forward, your car lifts and then you cut the movie and that's the last thing you ever see." Diesel told his son that the idea is very clever.
That may give a hint to fans as to how the entire franchise could end. However, if it did happen, it may feel a little repetitive, as the end of "Furious 7" featured an almost identical ending due to Walker's passing during the middle of production. Either way, we can be sure of one thing — the ending definitely won't feature Dwayne Johnson's Luke Hobbs in any way amid his and Diesel's ongoing feud (via CNN). "Fast X" first part hits theaters on May 19, 2023.