Did Paul Walker Finish Furious 7?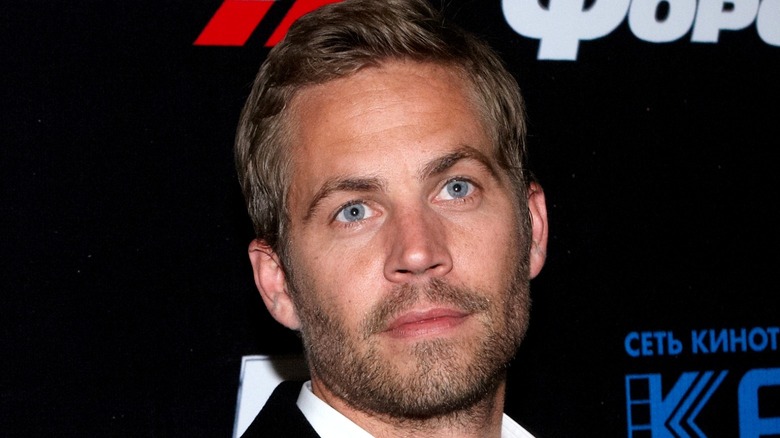 Kristina Nikishina/Epsilon/Getty Images
The Fast & Furious franchise has now been around for over two decades, spanning over nine films, including spin-offs like "Hobbs & Shaw." The most recent release of "F9" or otherwise known as "F9: The Fast Saga," is supposed to be the second last film in the series according to actor Vin Diesel, who has played the memorable and meme-able character of Dominic Toretto since the first installment alongside Paul Walker's Brian O'Conner, until his tragic passing in 2013 amidst production of "Furious 7." 
Although the Fast & Furious franchise has certainly had its ups and downs with fans and critics alike given it's move to far-fetched plots, obscene amounts of action, and an overemphasis on Toretto's values of family, it's incredibly impressive for any film franchise to last that long, especially after losing one of its leads and a beloved actor and character. "Furious 7" holds a special place in the Fast & Furious franchise because of Paul Walker, but anyone who was unfamiliar with the timing of his passing might not be sure if Walker really did end up finishing all of his scenes before the accident.
They almost scrapped the film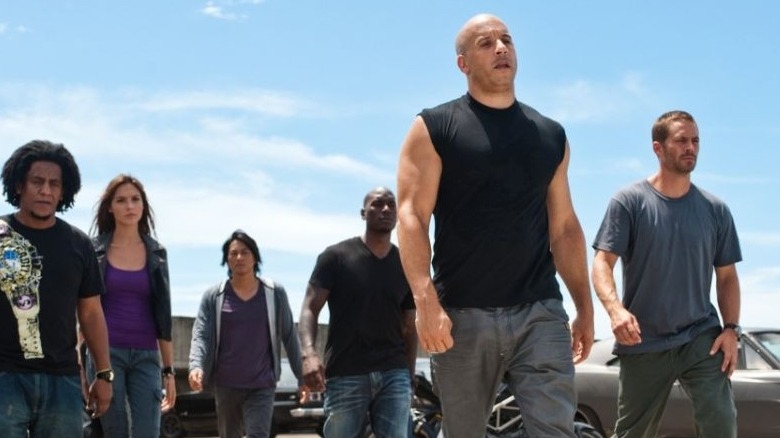 Universal Pictures
According to The Hollywood Reporter, it was a talented team of VFX artists, "Furious 7" screenwriter Chris Morgan, and director James Wan that ended up being tasked to complete the rest of Walker's scenes in the film after his passing mid-shoot. It wasn't an easy decision either — with the entire cast and crew grieving the loss of their friend, the film was almost cancelled. However, the decision was ultimately made to continue because cast and crew thought it was what Walker would have wanted, so the production team set out to honor Walker's memory in the best way possible. 
It started with rewrites to Brian O'Conner's ending in the script, then moving forward to repurposing 260 extra shots of Walker from archived footage in previous "Fast and Furious" films, including 90 additional shots performed by Walker's brothers Caleb and Cody, according to THR. They were then able to use CGI to place Walker's face onto his brothers' in post production.
A worthy challenge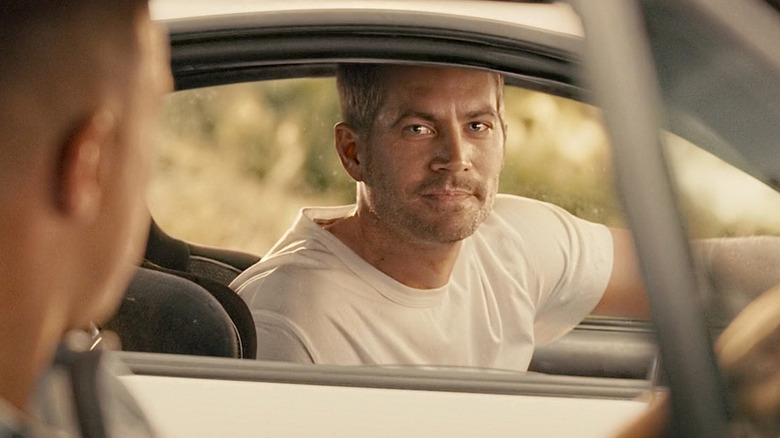 Universal Pictures
Ultimately, the process got complicated as they were finishing up the film. Weta VFX supervisor Joe Letteri struggled with matching the mannerisms of Cody and Caleb Walker with those of Paul. That's why the majority of footage in the film where Walker wasn't really there is the archived footage repurposed. The production team also had issues with audio, having to rearrange previously recorded lines from Walker into the lines needed in "Furious 7" on top of making sure to get the CGI of Walker's face just right. Fortunately, all of the work that the production team put into finishing Walker's scenes ended up extremely successful, as the audience and critics deemed it a heartfelt and fitting send off to Walker's character.
The end of the film shows what appears to be Walker's O'Conner and Diesel's Toretto have one final race until a fork in the road peacefully sends them separate directions to Wiz Khalifa and Charlie Puth's "See You Again." Technically, Walker wasn't able to finish "Furious 7," but the film's talented production crew was able to honor his memory through multiple avenues and complete the rest of Walker's footage. However, the cast and crew note that Walker's presence could be felt after the accident, so you might say that Walker did indeed finish "Furious 7." Now, with the teaser at the end of "F9," we'll have to wait and see if a digitally rendered Walker will show up again in the final installment of the franchise.