In Joe E. Tata's Career, One Role Stands Above The Rest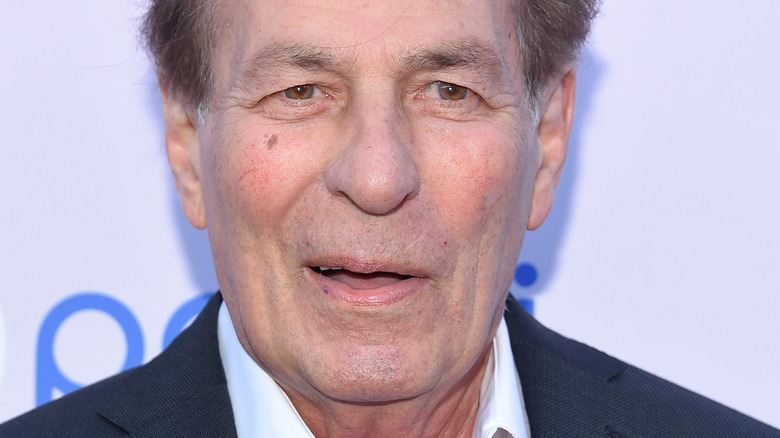 DFree/Shutterstock
Hearts are heavy for television lovers from multiple generations today as Deadline has confirmed that beloved character actor Joe E. Tata has died. He was 85 years old. The sad news broke via Tata's former co-star Ian Ziering, who announced the actor's passing in a heartfelt Instagram post. As Deadline reports, Tata had been living with Alzheimer's Disease since his 2018 diagnosis.
Prior to that diagnosis, Tata had carved out quite a career for himself on the small screen. You may not realize it, but that career ended up spanning the better part of five full decades before all was said and done. Over that lengthy run, Joe E. Tata earned no fewer than 88 screen credits, with many of those coming for work in some of the biggest shows on the air. Among the late actor's career highlights are spots on "Batman," the original "Mission: Impossible" TV series, "The Rockford Files," "Hill Street Blues," and "Magnum P.I.," among countless others.
It's safe to say, however, that of Joe E. Tata's numerous on-screen personas, there's one that arguably stands above the rest. And it's one he'll likely forever be remembered for.
Joe E. Tata's role on Beverly Hills, 90210 is one fans will surely never forget
Which of Joe E. Tata's roles outshines all the others? A case could easily be made for that of Nat Bussichio, the lovable owner and operator of the Peach Pit diner on the iconic teen drama "Beverly Hills, 90210." That diner, of course, became a central hangout for the main players on "90210" early in the series, and the location became a mainstay throughout the teen drama's decade-long primetime run. So too did Tata, whose wise, kind-hearted Nat became not only a mentor, but sometimes a father figure to many of the series' characters. In turn, both Nat and Tata became legitimate fan favorites.   
All in, Tata appeared in more than 200 episodes of "Beverly Hills, 90210," making Nat the longest-tenured role of his impressive career. Tata would even go on to reprise the role in three episodes of the 2008 "90210" revival, once again sharing the screen with O.G. series co-stars Shannen Doherty and Jennie Garth. The actor's final screen credit fittingly came on ABC Family's "Mystery Girls," a short-lived sitcom fronting Garth and another "90201" alum in Tori Spelling. Just as fittingly, it found Tata playing the principle of, wait for it, West Beverly Hills High School.
Though he hadn't appeared on screen in nearly a decade prior to his death, Joe E. Tata's presence in Hollywood will undoubtedly be missed. Thankfully we'll always be able to catch up with him in reruns.