Things You Didn't Notice In Beverly Hills, 90210 As A Teen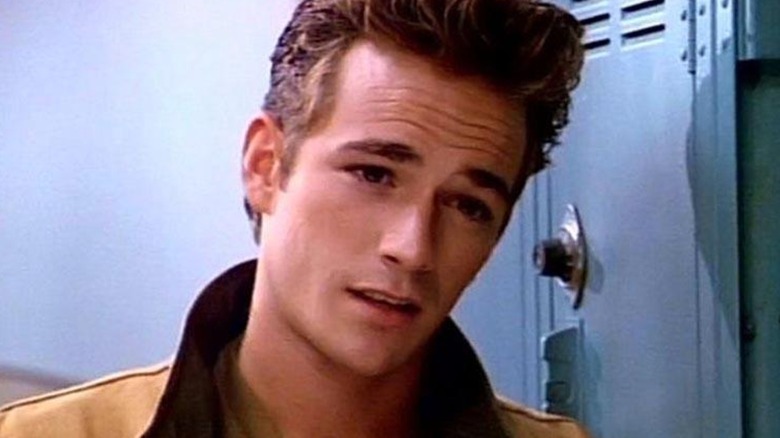 On October 4, 1990, a television show would debut that made people care about a zip code they never heard of before, and the lives of high school students living large within it. The names in the show soon became just as famous as its five digits — Dylan, Brenda, Brandon, Kelly, Steve, Andrea, Donna and David. By the end of its first season, "Beverly Hills, 90210" was not only a legitimate hit show with its target audience, but it became a global phenomenon and turned its stars into trendsetters and sex symbols.
The show ran for 293 episodes over 10 seasons, and in all that time there were a lot of things we didn't notice when watching the show in its original run. There were actors much older than the characters they portrayed, ugly behind-the-scenes drama, and music we'd never hear again. Now that the years have past and we're all older, we can take a second look. Here's things you didn't notice in "Beverly Hills, 90210" as a teen.
Most of the actors playing teens weren't actually teens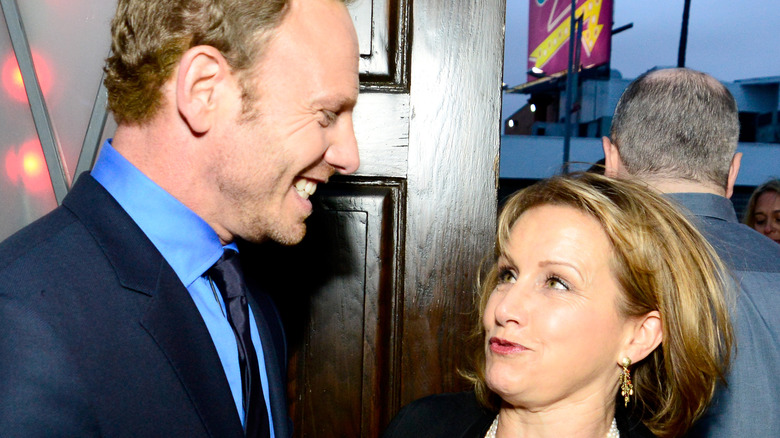 Jerod Harris/Getty Images
When we originally sat down and watched "90210" in its heyday, we believed we were watching high schoolers playing high schoolers ... but apparently we were suspending our disbelief. 
When the series began, James "Jim Walsh" Eckhouse was only 14 years older than his 'son' Jason "Brandon Walsh" Priestley, who was 21 at the time. None of us seemed to realize that Luke Perry was in his mid-20s when he played Dylan McKay. Ian Ziering wasn't so keen to reveal that he was 26 when he joined the show, telling EW, "I just kept my mouth shut. I never talked about it. And I wasn't the oldest in the cast either. I just thought, if they're going to buy, I'm going to sell it."
And yet no one was older or held an age secret bigger than Gabrielle Carteris did, who was 29 playing Andrea Zuckerman at age 16. A magazine illegally obtained her age and went public with it, but it didn't matter, as Carteris was so entrenched on the show by that point, telling People, "A producer did say to me, 'You're lucky we didn't know your age when we hired you.'"  As the current president of SAG-AFTRA, she continues to fight for actors who face age discrimination.
Executive Producer Aaron Spelling came to Carteris' defense, telling the AP, "No one complains when a 32-year-old male star plays a high school student in movies. It constantly amazes me."
Luke Perry didn't appear in the 90210 pilot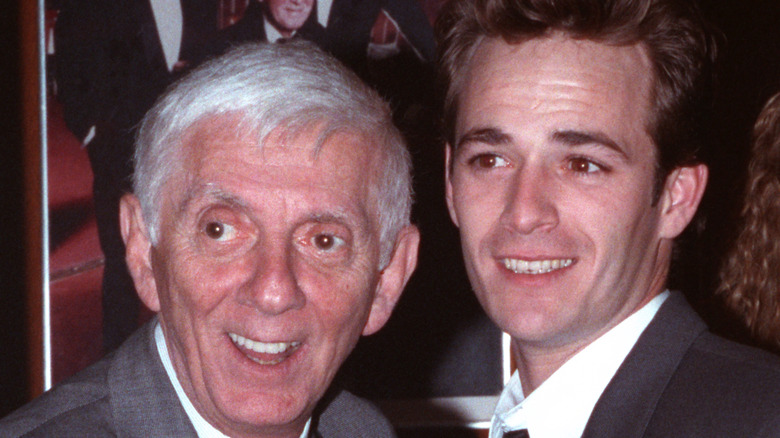 Shutterstock
Dylan McKay is perhaps the most notable "90210" character, and his legend has grown even more with the untimely death of his portrayer, Luke Perry, in 2019. Yet it's easy to forget that Dylan didn't even appear in the series pilot, and when he did show up he wasn't originally destined for any other episode beyond that second episode.
Show creator Darren Star knew something was missing after the pilot wrapped, telling Time Magazine that it needed "a secret ingredient: an avatar of cool." Executive Producer Aaron Spelling agreed, and looked to spice up the show with a new character who was "a little off-center," and "a dangerous guy," to pair with the smiley Minnesota Walsh twins.
When Perry auditioned for this new role, Spelling was instantly taken with him, but the studio didn't share the same enthusiasm. "Mr. Spelling, however, went to the mat for me, and here I am. I don't know what they were looking for, but they didn't want to keep me after my first episode. It was supposed to be a one-shot deal," Perry was quoted as saying in the book "Beverly Hills 90210: Exposed!" Spelling wanted him so badly for a regular role that he agreed to personally pick up Perry's salary for two seasons.
Perry didn't take the role and opportunity for granted, telling ET back in 1991, "A year ago I was shoveling asphalt, and a year from now I could be doing it again."
Several roles were recast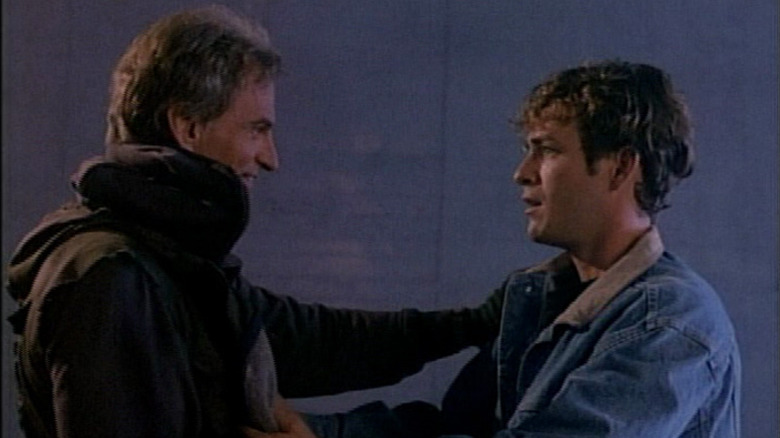 Some roles, for one reason or another, need to be recast, which happened with a few of the adults in the "90210" room. At the time, we probably didn't notice these switcheroos, and it's only until decades later are we finally cognizant of all these changes.
Dylan's wealthy pops Jack McKay had three actors take on the role. Terence Ford (brother of Harrison) went first in Season 1, and then Arthur Brooks in the beginning of Season 2. Later that season, Brooks was replaced by the actor who would assume the role for the rest of the show's run: Josh Taylor. Donna Martin not only had two moms, but they even had different names. Jordana Capra was the first and only "Perfect Mom" Nancy Martin. When she was renamed "Felice" and appeared in Season 2, Katherine Cannon took over the role. Andrea Zuckerman's Grandma Rose was also played by two different actresses — Lainie Kazan in Season 2, and Bess Meisler for Seasons 4 and 5.
Some actors had nasty exists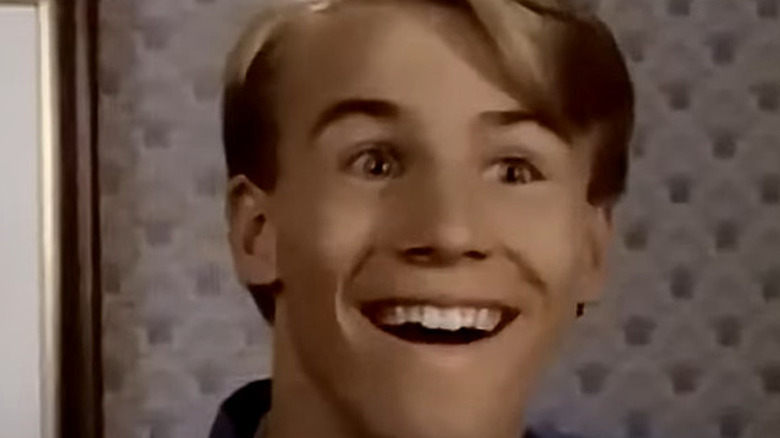 "The business fluctuates so much, you're in one moment and out the next," one time "90210" actor Douglas Emerson told Rolling Stone back in 1992.  His character Scott Scanlon met a horrific accidental death by gunshot, but we probably didn't realize why he and other actors were either bumped off or exiled to another zip code.
Even though he just bought a new Saab, Emerson learned he wasn't invited back for Season 2. Co-writer and executive Producer Charles Rosin later told BuzzFeed News that he wanted to use Scott's departure  to make a statement about gun violence instead of straight "kicking him to the curb."  Emerson had no regrets and went on to join the Air Force and have a wife and kids.
Shannen Doherty's tenure on the show was hot and bothersome, leading her Brenda Walsh character to take off for London after Season 4. Back then, we didn't know why — and we still don't have a solid answer. Rumors persist to this day, from an unauthorized haircut, to tardiness, to a physical spat with Tori Spelling, to just plain unhappiness from all parties involved. Her and Aaron Spelling had no ill will towards each other and the two re-teamed for the series "Charmed."
Carly Reynolds was supposed to stick around for at least 2 seasons, but Hilary Swank was shown the door after only 16 episodes. She told The Telegraph, "They never told me why, they just said it wasn't working." Three months later, she auditioned for the role of Brandon Teena in "Boys Don't Cry" — which would net Swank her first of two Academy Awards.
Some actors left on good terms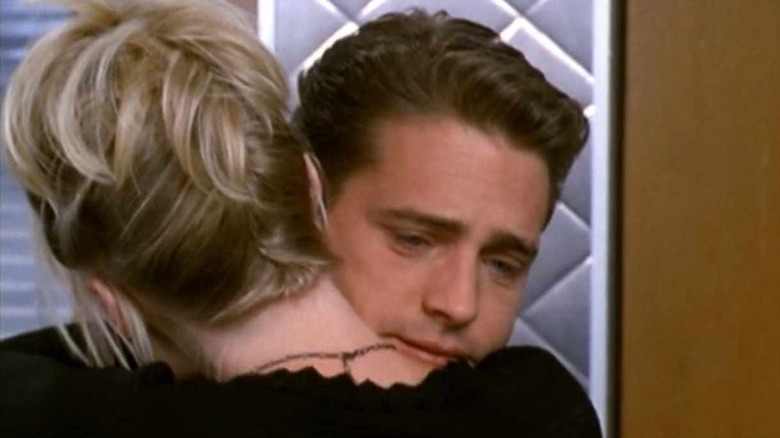 A few "90210" actors left on their own terms, or were happy to move onto (hopefully) greener pastures.
After five seasons, Jim and Cindy Walsh moved as far away from "90210" as possible — to 999077 (Hong Kong). James Eckhouse, who played Jim, once said in an interview that, "I had felt I really had done wanted I wanted to do. I just didn't want to spend the rest of my life being associated with being 'the dad from 90210' –not that that's so bad, it's a great thing, but I knew I needed to move on." After her contract wasn't renewed, Carol Potter, who played Cindy, went back to school to become a marriage and family therapist. She somehow found time to also work on Aaron Spelling's soap "Sunset Beach."
When Gabrielle Carteris' five year contract was up, and her character was happy with a baby, she told Entertainment News Wire that she "didn't want to be looking for a job in two years." She got her own talk show, "Gabrielle," that lasted only two seasons.
After a long run, Jason Priestley (via CNN) "felt that the character of Brandon had kind of run his course," and so Brandon left for a newspaper job in New York early in season 9, but didn't even get a goodbye party. This "anticlimactic" ending "just left a bad taste in my mouth," Priestley told The Guardian, adding that he "felt like I'd wasted nine years of my life." In retrospect, he told CNN that he regretted leaving the show, believing he and Kelly were supposed to end up together in the end.
Actors often played multiple roles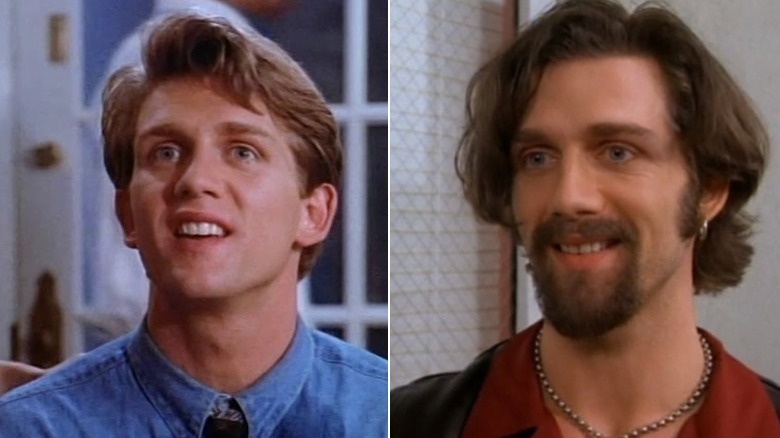 In the case of some "90210" actors, they landed multiple roles, sometimes many seasons apart. These multiple personalities passed us by without any scrutiny, and only until many repeated viewings later on, did we start to think, "hey, didn't I see you before?"
Denise Dowse first checked in as Professor Harriet Strathmore in Season 1, and then 11 episodes appeared as Mrs. Yvonne Teasley, Vice Principal of West Beverly. She appeared as Mrs. T for 23 episodes.
Tori Spelling's younger brother Randy got into the family act (father Aaron said it was "fine with me") and made his acting debut as a beach club camp counselor in Season 3. Three seasons later, he became Steve's half-brother Kenny.
Before Cliff Dorfman terrorized Kelly as Joe Patch in Season 9, he got spooky as Michael Cetta in the Season 2 "Halloween" episode, and snapped up a role as a photographer two seasons later when "Mr. Walsh Goes to Washington."
Bruce Thomas' first appeared in Season 6 as Hank Bradley, and then he returned three seasons later as Carl Schmidt, who was engaged to Valerie's mom.
Gordon Currie showed up in Season 2 as Brenda and Brandon's bitter paraplegic cousin Bobby, and four seasons later, scored a role as a pushy cocaine dealer Danny Five.
Many future stars visited 90210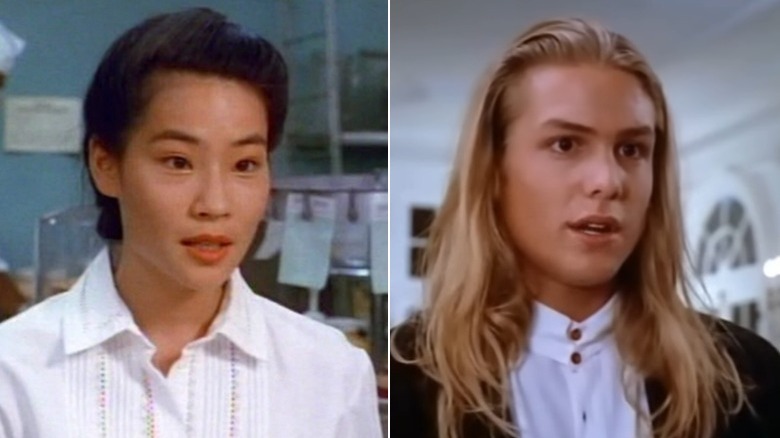 "90210" made instant teen idols out of its stars, but it was also a breeding ground for up and coming talent, who would make their screen debut in the tony zip code. They were no-namers with fresh faces to us then, but they're stars in their own right.
Before Aaron Paul was "Breaking Bad" he made his "awful" TV debut and netted his first screen kiss as a Romeo named "Chad."
Lucy Liu appeared at the Peach Pit as Courtney, the "perfect waitress," with only "five lines or under."
A young Walton Goggins showed up as a frat bro with the ability to bark like a seal. Goggins told EW, "Literally, my lines were 'Arf, arf, arf, arf.'"
Eva Longoria got her first set of wings playing a stewardess who is of no help to Dylan, as she "could barely remember" her own name. She told Yahoo!, "I wasn't even No. 1 or 2, I was flight attendant No. 3."
Gabriel Macht, best known for "Suits," and long set of locks when he played the not very handicapped-friendly Tal Weaver back in season 2.
Before Adam Levine and bandmates made moves like Jagger as Maroon 5, they existed as Kara's Flowers and made a to rock out at the Peach Pit. Levine said (via Us) that it was "the biggest deal ever," adding "There was nothing greater back in the day to play the Peach Pit. ... It was like a right of passage."
West Beverly High doesn't exist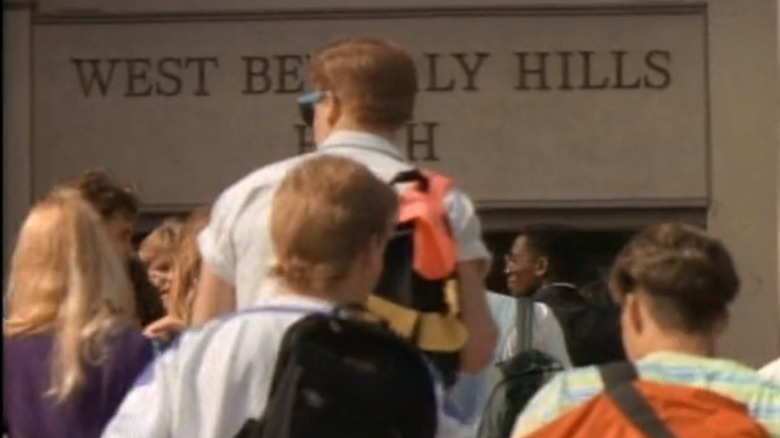 West Beverly High is one of TV's most iconic secondary schools. The teen-tastic events that occurred there felt so realistic that we too were a part of the Class of '93. What we didn't realize then is that West Beverly Hills High School doesn't actually exist. 
There is a Beverly Hills High School, but "90210" Executive Producer (and BHHS alum) Charles Rosin wanted to avoid lawsuits so gave the show's school a fictional name. Beverly Hills High had no interest in being used as a filming location either, and the show's eventual popularity ended up upsetting its students and their parents. Their loss became Torrance High School's gain. Production agreed to not interfere with the Torrance's class schedule, and for their troubles were initially paid $3,500 per day.
When the gang graduated, they all went on to attend California University, another fictional institution of higher learning.  They filmed at Occidental College. According to the Los Angeles Daily News, the Oxy students at the time weren't thrilled with the filming on their campus. The students stole props, threw eggs at the crew, and protested the show's lack of diversity. 
The show repeated junior year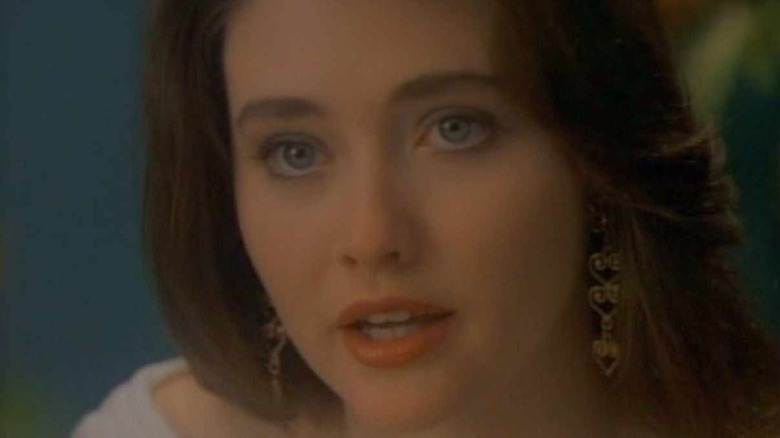 "90210" was always at its best when in the high school years, and that's probably why it didn't make anyone notice at the time that the West Bev students were forced to repeat their junior year.
Season 1 began with our of-driving-age crew pulling into the school's parking lot, ready to start their junior year. In fact, Brenda explicitly states, "I'm a junior at West Beverly High ... a 16-year-old junior" in the pilot. Season 2 heats up midway when then the gang is ready to start their ... junior year, forced to stress about the SATs, again.
This junior year repeat was never addressed on the series, or much in general, until show creator Darren Star reflected to the New York Times, "This is a show where these kids are going to go to college. They're not staying in high school forever. OK, junior year went on for two seasons, basically. Which is fine." When confronted by writer Alan Sepinwall one of the show's writers copped, "Look, we did what we had to do," in order to keep the show set in high school for as long as they could.
Apparently Executive Producer Aaron Spelling was fooled too, telling the AP in 1993, "We did start them as sophomores, and we played one sophomore year, one junior year, and one senior. I'm sure the network would have liked us to stay in high school for another four years."
Luckily for Steve, that threat from Mrs. Teasley about having to repeat his junior year, for technically a third time, was all but a nightmare to start Season 3.
Many songs have been cut in later airings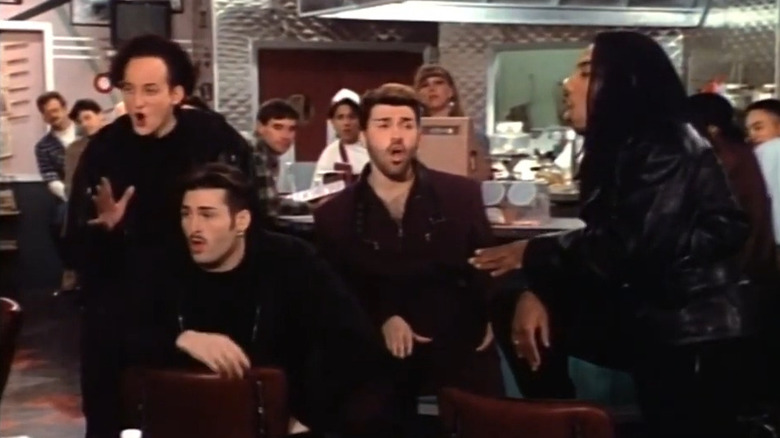 "90210" was a music heavy show. Many well known and upcoming artists were featured in background and the foreground. Some of the music has survived (like Babyface's), having their long term rights secured or relicensed. Others have been excised or have made the episode in question unavailable in reruns, home distribution, or streaming due to limited-use licenses.  These songs are now lost to time and remain only in memory. Viewers didn't notice or realize at the time how vital the music was a part of the viewing experience. And new viewers today won't even know what magical music moments they missed.
The Rolling Stones made a tour stop in Season 5, but it's not available for streaming on Hulu or Paramount+. The same is true of Luther Vandross' guest appearance. The unforgettable performances by such acts as Color Me Badd, Christina Aguilera and The Cardigans aren't officially even available to watch anywhere outside of grainy YouTube videos. The Flaming Lips' performance at the Peach Pit After Dark has been cut from the show, but the rest of that episode remains.
When Dylan and Brenda call it quits on their relationship, they are no longer doing it to R.E.M.'s classic "Losing My Religion." The music has been replaced by generic, but similar sounding music. Same when "Knockin' On Heaven's Door" was played when David remembered Scott after his death, Dylan was mulling who to have "Stand By Me," and when Brandon was finding love ice skating to "(I've Had) The Time of My Life," and many more musical losses.
Kelly Taylor faced nothing but trauma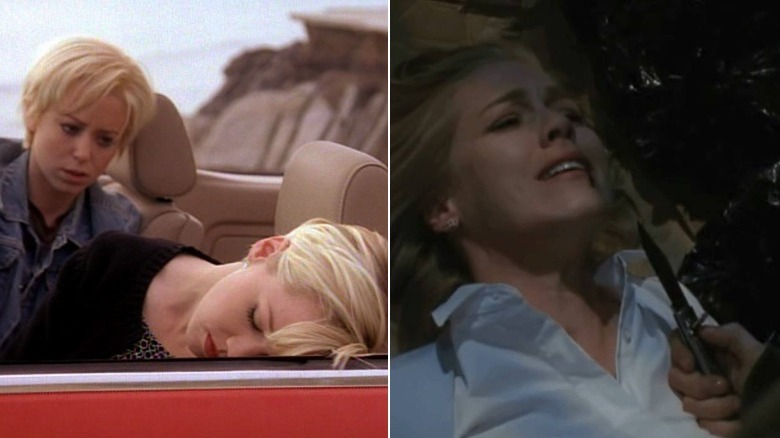 We followed beautiful Kelly Taylor's (Jennie Garth) journey over 10 seasons and 292 episodes, but what we maybe didn't realize at the time is how unkind and tortuous the show was to her over that long span of time.
Kelly did the best she could with the cards she was dealt, including being the daughter of an embarrassing alcoholic and cocaine-addicted mother. Later in the series, she has her own bouts of substance abuse issues, almost ODing on diet pills, and then becoming a coke addict herself. While she did sober up, it led to more trouble, as a rehab buddy eventually became obsessed with her and almost killed them both.
By season 9, she almost burned to a crisp in a house fire, had her become fully brainwashed and indoctrinated in a cult, had a miscarriage, an AIDS scare, and got amnesia after getting gunned down in an airport parking lot. This is all without diving into her sexual assault, the court case, and her eventually killing her assailant.