The 7 Best And 7 Worst Chris Rock Movies Ranked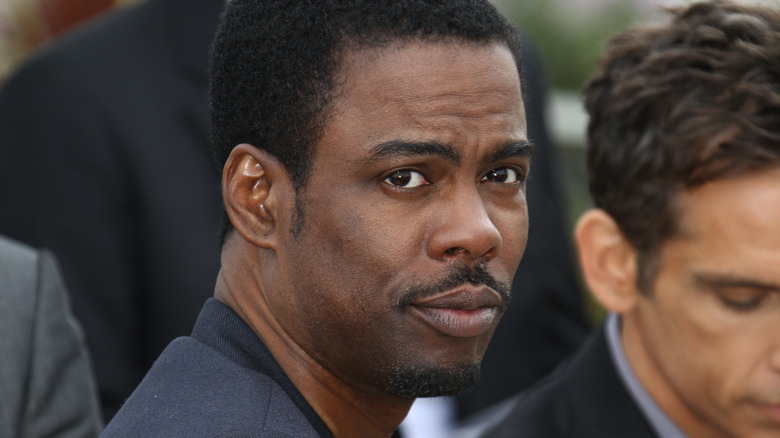 Denis Makarenko/Shutterstock
Actor and comedian Chris Rock may remain today best known for his four years starring as a featured cast member on the sketch comedy show "Saturday Night Live," but his career has only gotten bigger since. His success continues today with popular films like "Spiral" and appearances on hit TV shows like "Fargo." His career began well before "SNL" too, showing up in '80s action comedies like "I'm Gonna Git You Sucka" and "Beverly Hills Cop II."
Rock fans love him for his upbeat attitude and over-the-top personality, and he's used it mostly to appear in films alongside many of his "SNL" co-stars like Chris Farley and Phil Hartman, and later David Spade and Adam Sandler. But Rock's career could arguably have been bigger on the small screen, with a few of his own shows becoming classics, like HBO's "The Chris Rock Show" and the Fox sitcom "Everybody Hates Chris," which was recently announced to be receiving an animated reboot.
Rock's career has had its highs and lows, with the actor having hits and misses on and off the screen. But while he's struggled to find that big iconic role, he's had plenty of memorable movies, some good, some bad. 
Worst: I Think I Love My Wife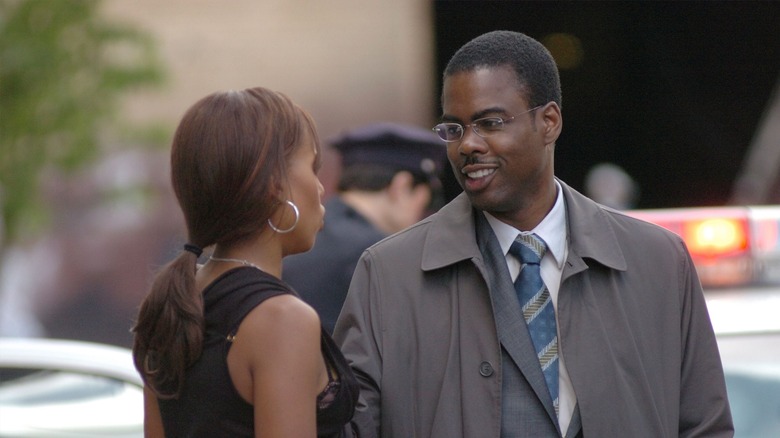 Fox Searchlight
The 2007 romantic comedy "I Think I Love My Wife" had everything going for it on paper, starting with its stellar cast. Alongside Chris Rock was a pre-"Scandal" Kerry Washington and a post-"Serenity" Gina Torres, while Steve Buscemi ("The Big Lebowski"), Michael K. Williams ("The Wire") and Orlando Jones ("Biker Boyz") rounded out the roster of big names. The movie had a talented screenwriter in fellow comedian Louis C.K., and was a remake of a beloved 1972 French film titled "Love in the Afternoon."
The film follows Richard Cooper (Rock) a seemingly happy family man who is nevertheless frustrated with his sexless marriage. He becomes more conflicted when he meets an alluring new friend named Nikki whose attraction is obvious and seems to be everything he wants in a partner. With his entire future on the line, Cooper must decide whether to run away with Nikki or remain in what he suddenly feels is an unfulfilling partnership with his wife.
Unable to live up to the original French film, "I Think I Love My Wife" struggles between comedy and drama; the romance is awkward, the film's women terribly are underwritten, and even Rock's performance is unimpressive. The film turns the original's tender story of love and loyalty into an uncomfortable tale with a muddled message that isn't sure what it wants to say. It didn't help that the star himself directed the film in just his second attempt behind the camera.
Best: CB4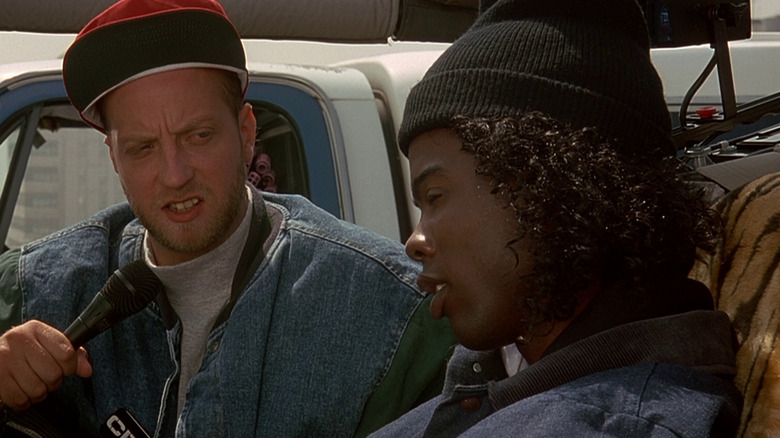 Universal Pictures
Fresh off his four-year stint on "Saturday Night Live," Chris Rock wrote and starred in the over-the-top comic parody "CB4" in 1993. A spoof of the rap industry, the film lampooned artists like Dr. Dre, Snoop Dogg, and Ice-T just as they were at the height of their early '90s fame. In particular, the film pokes fun at controversial rap group N.W.A., and several members of the group including Eazy-E even made cameo appearances.
The film centers on the fictional amateur rapper Albert Brown (Rock), who has big dreams of starting his own gangsta rap group. After securing a gig at a nightclub owned by local crime boss Gusto, fate lends a hand via a police raid. Gusto is put behind bars, and Brown assumes his identity, using his connections and gangster image to elevate himself from a small-time street hustler to a big-time rapper named M.C. Gusto. But it's not all smooth sailing, as trouble is brewing within his new rap group CB4. Meanwhile, the real Gusto sits in prison, vowing revenge.
With plenty of its own story to help prop up a string of gags, "CB4" was a perfectly timed rap comedy that feels like a time capsule of both early '90s comedy and the changing state of music at the time. And it's more than just Rock, as the likes of Chris Elliott, Phil Hartman, and Khandi Alexander also provide plenty of laughs.
Worst: Down to Earth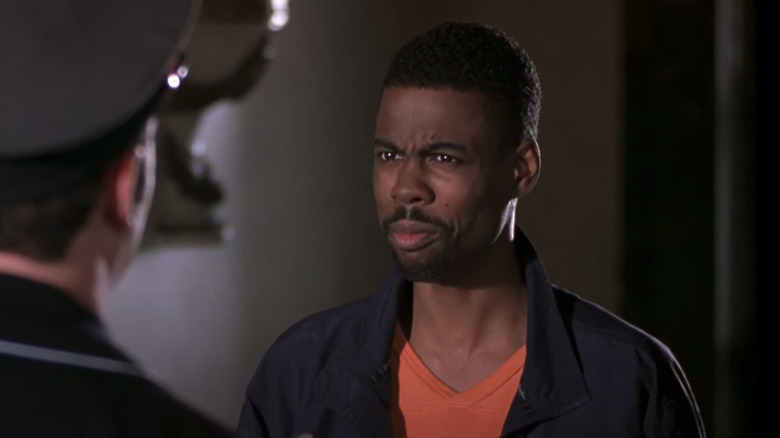 Paramount
There have been many movies about the dead returning to Earth to fix problems they never got right in life. In fact, Robert Downey Jr. starred in two of them: "Heart and Souls" and "Chances Are." In 2001 Chris Rock did his own movie in that unique sub-sub-genre: "Down To Earth." In addition to being a tired cliche, the movie doesn't even offer anything new or funny. 
This one is about a down-on-his-luck comedian named Lance Barton, who is distracted on the street by a beautiful woman named Sontee (Regina King) and killed in a traffic accident. Sent to Heaven, Barton learns his time was not supposed to be up, and he is returned to Earth with the help of a pair of angels (Eugene Levy and Frankie Faison), who put him in the body of wealthy businessman Charles Wellington III, who was recently murdered by his wife. Once a reviled public figure, Wellington becomes a new man thanks to Barton, all while wooing Sontee and perfecting his comedy act.
An absolutely nonsensical story, "Down to Earth" takes a well-worn preposterous premise and somehow makes it even more ridiculous. The biggest issue however isn't just that it's not funny, it's that it doesn't even seem to make a sufficient attempt. Despite his track record as a skilled comedian, Rock goes for something more sensitive here, and in the end it's just a whole lot of dead weight.
Best: Lethal Weapon 4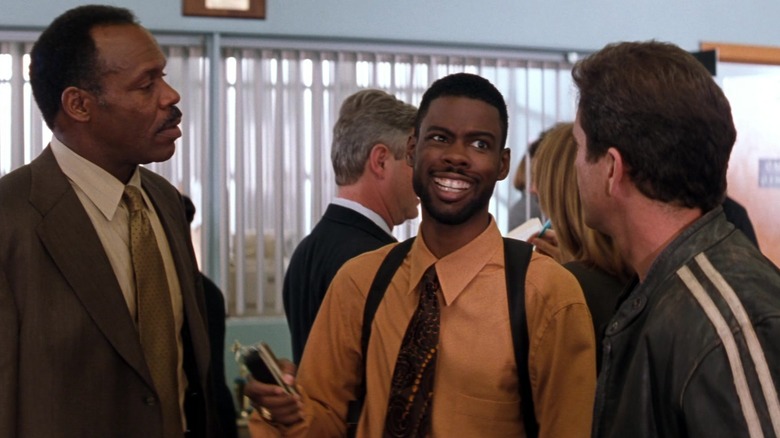 Warner Bros.
The third sequel to the classic '80s buddy cop comedy, "Lethal Weapon 4" continued the series' trend of adding new faces with each film. This time Chris Rock joins a cast that already included Mel Gibson, Danny Glover, Joe Pesci, and Renee Russo. Though by its fourth movie the series could have started to feel stale, the addition of Rock and Hong Kong action star Jet Li helped inject a mix of fresh action and comedy.
It's a whole new world for Riggs (Gibson) and Murtaugh (Glover) in this fourquel. The reckless maverick cop Riggs is trying to find a quieter domestic life with his soon-to-be wife Lorna Cole (Russo), who is expecting their first child. Murtaugh meanwhile isn't happy that his daughter is also pregnant, and that the father is one of his fellow officers, Detective Butters (Rock). But things go from bad to worse when they find themselves in the crosshairs of the Chinese mafia, led by Wah Sing Ku (Li). 
While it's definitely not the best in the series, "Lethal Weapon 4" was still a hit, and Rock was a big reason why. His brand of out-there comedy did well alongside Gibson and Glover, and he feels like a perfect fit for the franchise. So far there's been no word on whether Rock will be reprising his role as Butters for the upcoming legacy sequel "Lethal Weapon 5." 
Worst: Head of State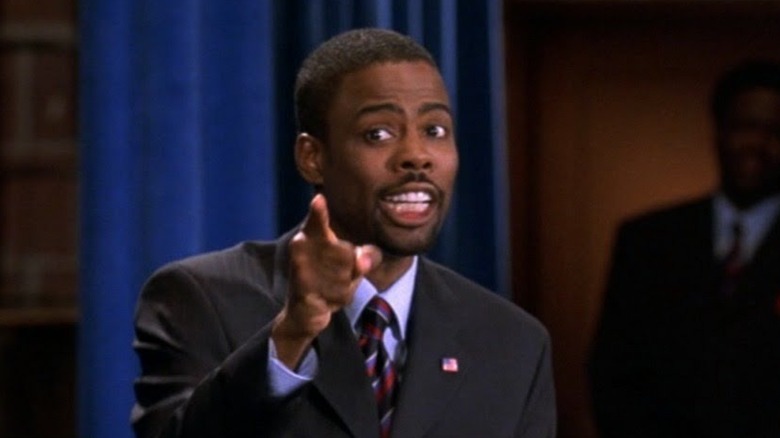 Dreamworks
It's never a good look when a movie written and directed by its lead actor winds up one of their worst ever outings, but that's sadly just what happened with Chris Rock and the 2003 clunker "Head of State." A surprising comedy with a political twist, it sees Rock in the role of alderman Mays Gilliam, who is chosen to be the Democratic nominee for president following a devastating accident that kills the original pick. Not seeing any path to victory, the party chooses Gilliam hoping a minority candidate might at least be good PR and improve their chances in future elections.
But Gilliam — and his VP pick, his brother Mitch (Bernie Mac) — proves far more formidable than expected, helped by his likable, down-to-Earth demeanor. Eschewing the carefully crafted political image built for him in favor of his frank and honest true self, he shoots up in the polls and quickly finds himself with a real shot at becoming President of the United States. All the while, Gilliam attempts to patch things up with his girlfriend Kim (Robin Givens).
Another head-scratcher, the biggest problem for "Head of State" is that it's a goofball comedy that's just not funny. The premise is actually a fairly interesting one that could have played well as a light-hearted drama or even razor-sharp political satire, but the attempt to turn it into a gag-filled romp completely backfires.
Best: Dogma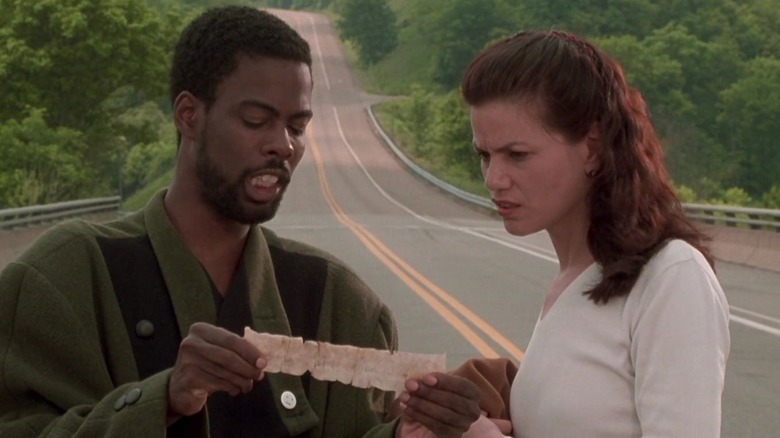 Lionsgate
The fourth film from writer/director Kevin Smith, this one featured a pair of future global megastars when they were still on their rise to fame, with Matt Damon and Ben Affleck leading the cast. The two play a pair of exiled angels who are cast out of heaven and left stranded in Wisconsin. But they soon hatch a plan to get back into God's kingdom by undergoing a religious rite in the suburban hellscape of Red Bank, New Jersey. The only problem is that if they succeed, existence itself will be wiped out.
Chris Rock stars as Rufus, one of a handful of heavenly deities who come down to Earth to try to stop them. Alan Rickman, Salma Hayek, and Jason Lee also play otherworldly beings, while '90s pop star Alanis Morissette plays God herself. The all-star cast is rounded out by George Carlin, Janeane Garofalo, Linda Fiorentino, and Jay and Silent Bob (Jason Mewes and Smith himself).
Following Smith's "Clerks" and "Mallrats," the indie filmmaker spread his wings on "Dogma," a religious satire that hits all the right notes, being both intentionally controversial and thoughtfully topical. Mixing his trademark wit, it serves up enough to debate the issues while still being a fun adventure, and it remains one of his best-reviewed films to date.
Worst: Bad Company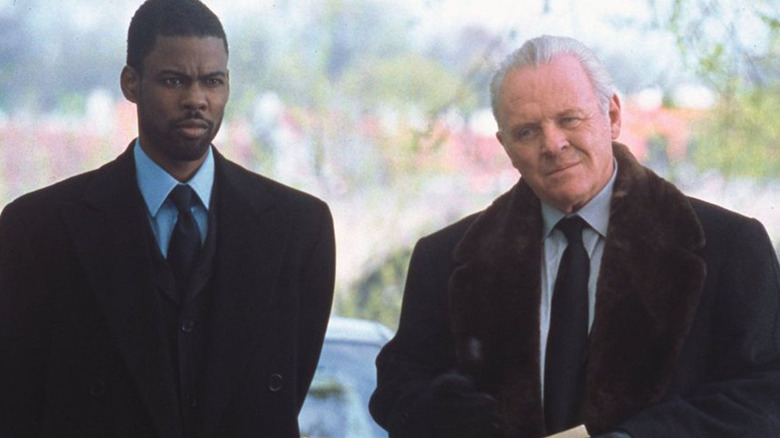 Buena Vista Motion Picture Distribution
Directed by Joel Schumacher, the 2002 thriller "Bad Company" was an unconventional film for the usually comedic Chris Rock. In the film, the funny man is paired with Anthony Hopkins ("The Silence of the Lambs") as secret agent partners on a mission to locate and retrieve a deadly nuclear suitcase bomb that could level an entire city. But there are quite a few twists in this one, some so ludicrous and others so predictable that it just becomes a total disaster of a movie top to bottom. For starters, Rock plays inexplicable dual roles.
It begins when CIA agent Kevin Pope (Rock) is killed while undercover investigating the suitcase bomb. But the mission is deemed so critical that the CIA digs up Pope's long-lost twin brother Jake Hayes (also Rock), who had grown up with no knowledge of his sibling. Recruited by agent Oakes (Hopkins), Hayes must quickly train to become an elite intelligence agent if he's going to help the CIA stop the bomb from being sold on the black market to a group of diabolical villains who want to detonate it in New York's Grand Central Station.
Drawing criticism for its bad mix of genre tropes and twists that strain believability, "Bad Company" was lambasted by critics. The NY Times laid into it, calling it an "originality-deficient comedy thriller ... the kind of movie that Chris Rock the comedian would make fun of." 
Best: New Jack City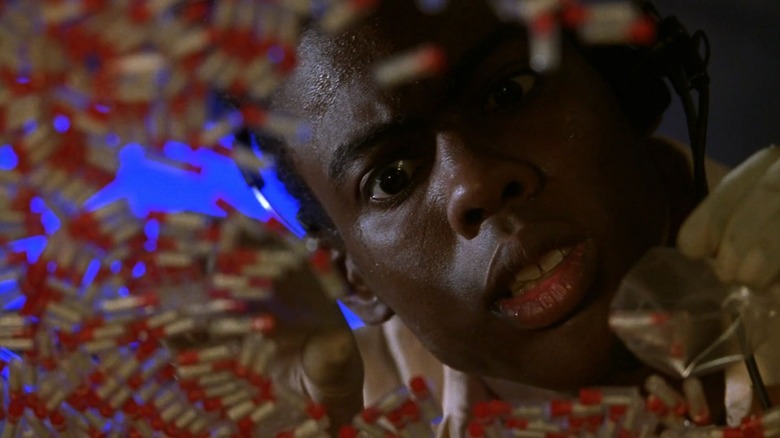 Warner Bros.
The early '90s were awash in gritty street crime thrillers. Among the best was "New Jack City," a movie that saw actor Mario Van Peebles ("Posse") make his big screen directorial debut. The film also saw Wesley Snipes graduate to the big time in his first leading role, playing street hustler turned notorious drug lord Nino Brown. Set during the 1980s, we meet Brown as a young man who's tired of living on corners and dreams of the big-money lifestyle of the kingpins he's seen in Hollywood.
With a crew of his own called the Cash Money Brothers, Brown sets out to become one of them himself, with the help of his enforcer Gee Money (Allen Payne) and his stick-up man Pookie (Chris Rock). Eliminating their rivals they quickly grow in power, with Brown soon controlling the city's drug trade. But the bigger Brown gets, the bigger a target he becomes, and it's not long before he is the focus of an undercover investigation by an NYPD task force led by detectives Stone (Van Peebles) and Appleton (Ice-T). 
Receiving critical acclaim from reviewers, Roger Ebert awarded the film three and a half stars, and he cited performances by Snipes' co-stars Rock and Ice-T as standouts, calling the comedian and rapper "effortlessly authentic and convincing." Over the years, "New Jack City" has become a crime classic of its own just like the ones Brown watched in his youth, remembered today for its fine cast and stylish direction.
Worst: Grown Ups 2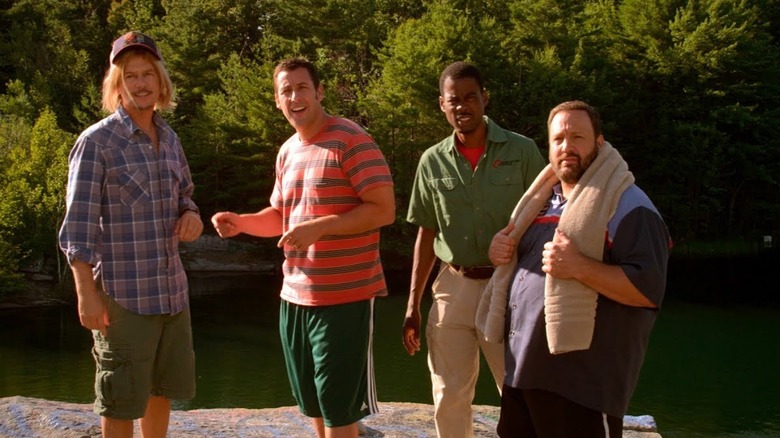 Sony Pictures Releasing
If Chris Rock can call anyone his comic partner it's Adam Sandler, having been paired with his fellow "SNL" cast member in a number of films. In 2010, he teamed with Sandler, David Spade, and Kevin James for "Grown Ups," a comedy about a group of childhood friends who reunite in middle age for some fresh hijinks. The movie was roasted by reviewers, though audiences seemed to like it well enough. The sequel, however, "Grown Ups 2," was a very different story, and remains among the worst-rated movies of Sandler's career.
Set a few years after the first movie, Sandler's Lenny has relocated his family back to his old hometown to be closer to his old gang of pals. But trouble has followed him, and his new home isn't the paradise he was hoping for. Lenny, Kurt (Rock), Marcus (Spade), and Eric (James) each have new suburban problems of their own to deal with, which are compounded when they get caught up in a rivalry with a group of young frat boys. 
Little more than a series of unconnected gags loosely strung together, this is one sequel that fails to outdo the original in any respect. Unlike its predecessor, "Grown Ups 2" didn't just annoy critics, but audiences too, who panned the movie as cringe-inducing, puerile nonsense, and a pathetic, poorly-produced cash grab.
Best: Nurse Betty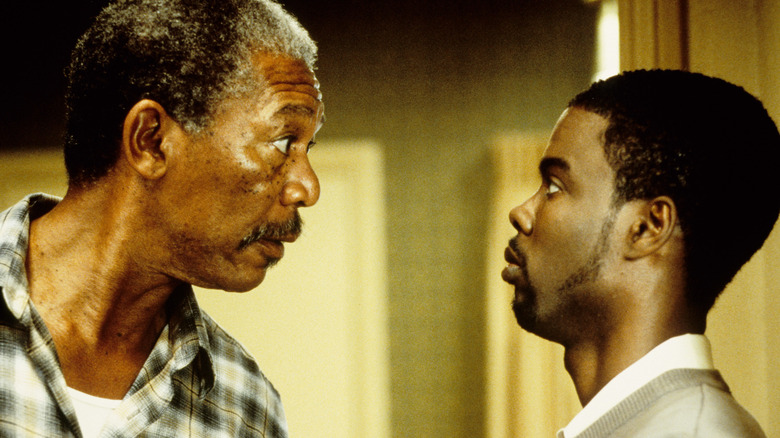 USA Entertainment
A twisted black comedy, "Nurse Betty" was something a bit different for Chris Rock and showed a different, slyer side to the comic actor. A clever comedy, the film starred Renee Zellweger ("The Bridget Jones Diary") and Hollywood legend Morgan Freeman ("The Shawshank Redemption") alongside Rock.
Zellweger plays Betty Sizemore, a housewife and waitress whose husband Del (Aaron Eckhart) is a drug dealer on the sly. But when a pair of hitmen — Charlie and Wesley (Morgan and Rock) — show up to kill Del, Betty witnesses the whole thing and is left so traumatized that she loses all sense of reality. While in a fugue state, Betty takes on the persona of a character from her favorite soap opera, and starts a new life in Los Angeles, believing she's a nurse who's been jilted by a former lover. When Charlie and Wesley learn that Betty unwittingly took their drugs with her, they give chase.
Though not a barn burner at the box office, "Nurse Betty" was a big hit with critics, praised for its quirky comedy that evoked shades of Quentin Tarantino. A fresh and innovative story that avoided common tropes, it has wound up one of Chris Rock's best, too.
Worst: The Week Of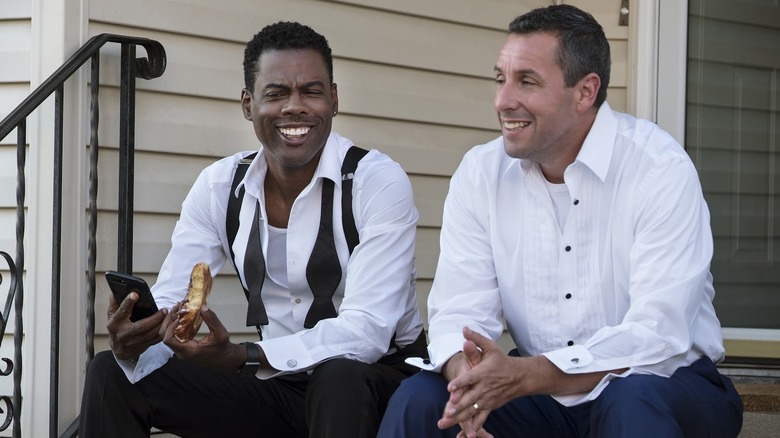 Netflix
Intended as a heartwarming, sentimental comedy about middle age, Rock reunites with Adam Sandler for "The Week Of," a 2018 film from writer/director Robert Smigel. The trio of "SNL" contributors was joined by Rachel Dratch and Steve Buscemi, in a well-intentioned film that looks sweet on the surface, but doesn't deliver much in the way of solid entertainment, whether you're looking for something touching or funny.
Sandler and Rock play two middle-aged fathers whose kids are marrying each other. As the wedding date draws near the two men — who come from vastly different economic backgrounds — spend more and more time together, getting on each other's nerves. Meanwhile, problems rack up ahead of the big day as slapstick mishaps and silly misunderstandings cause complications that threaten to derail the big day.
Sure, its heart is in the right place, and there are times when it's not all bad... but it mostly is. Part of Sandler's mammoth money deal with Netflix, it feels like much of the actor's other recent works: a quickly slapped-together comedy leveraging the talents of his "SNL" pals meant to draw his own following of fans, and churned out with little thought put into the story, direction, or even the jokes themselves.
Best: Top Five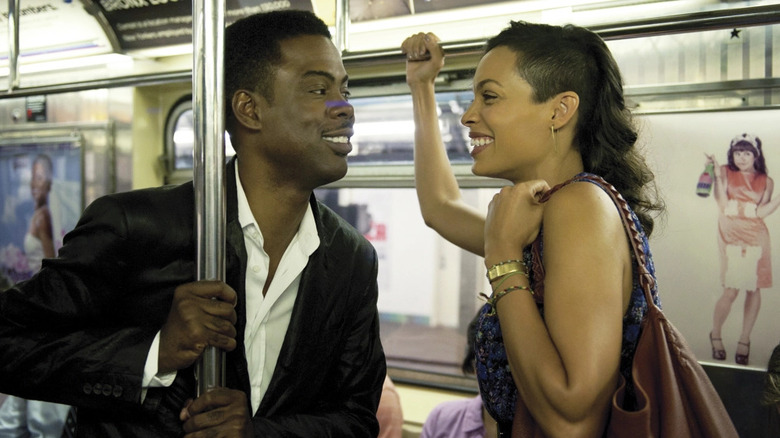 Paramount
For Chris Rock it appears the third time was the charm, as his first pair of big-screen directorial efforts were duds, but "Top Five" hit it out of the park. Written, directed, and starring Rock, that helped elevate the film to greatness, though Rock's script and direction were given accolades too. With a story about a veteran comedian reflecting on his life and career, it seems he was also heavily influenced by his own experiences.
The film sees Rock in the role of star comic Andre Allen, who is currently headlining "Hammy the Bear," a goofy comedy film franchise. But despite his success, Allen longs to be taken more seriously. His first attempt though, a historical drama, is met with bad reviews including a scathing critique from the New York Times that wounds his fragile ego. Still reeling from the critical drubbing, Allen is now forced to sit down for a lengthy interview with a reporter from the same paper on a retrospective of his career.
While "Top Five" is an engaging character drama on its own merits, it's also a fascinating glimpse behind the curtain of Rock's career in the industry. Critic Susan Wloszczyna was impressed, calling it a "raunchy ramble about celebrity, sobriety [and] selling out. ... courtesy of the immensely talented but too-often subpar movie star Chris Rock," and it might be the former "SNL" star's best leading role.
Worst: Pootie Tang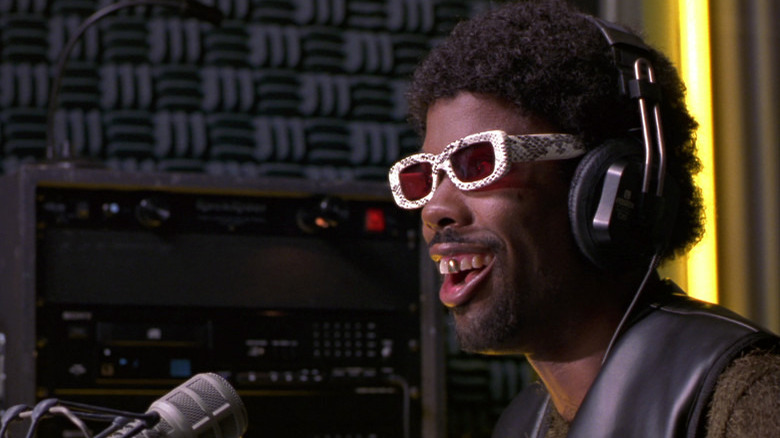 Paramount
When you learn that "Pootie Tang" was expanded from a gag on Rock's own sketch comedy series, "The Chris Rock Show," you start to understand why it was one of the early 2000s worst movies. Written and directed by frequent Rock collaborator Louis C.K., and featuring plenty of stars, it certainly could have been something special. Alas, it is not.
Pootie Tang is the eponymous movie star, a larger-than-life blaxploitation hero and ladies' man with a flare for the dramatic. The first portion of the film acts more or less as his life story, showing his comically troubled upbringing, the death of his abusive father, and his rise to fame as a singer, actor, and superhero of a sort. Eventually, he clashes with Dick Lecter, the head of an evil mega-corporation, who wants to use Pootie Tang's image to make bigger profits than ever before.
Though the film actually does have some compelling satirical elements, there's just not enough to sustain even its incredibly short 81-minute runtime, and what we're left with is little more than incoherent jibber jabbering between actors performing well below their talent levels. While "Pootie Tang" may have become a surrealist cult film over the years in some circles, most agree it's one of Rock's biggest duds, partly because it actually had some real potential. In fact, in some ways, it shares interesting parallels with the best film in Rock's catalog...
Best: Dolemite is My Name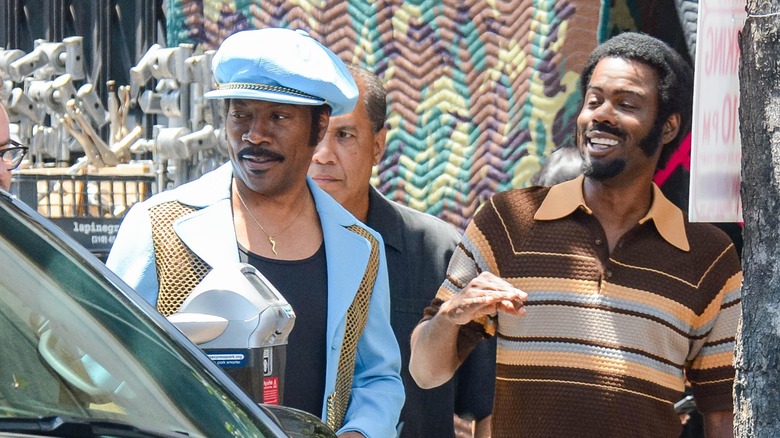 Netflix
One of the most underrated biopics in recent memory, "Dolemite is My Name" is based on the life and career of blaxploitation comedian turned actor, producer, and director Rudy Ray Moore. Played here by Eddie Murphy in a career-resurgent performance, the film also stars Wesley Snipes, Da'Vine Joy Randolph, Tituss Burgess, and Keegan-Michael Key, with Chris Rock appearing as local DJ Bobby Vale. But unlike so many of Rock's worst, "Dolemite is My Name" is the rare movie that's even better than the sum of its parts.
Starting out as a wanna-be comedian, the eager Rudy Ray Moore has a hard time booking gigs, and when he does make it to the stage, he bombs miserably. But after a chance encounter with a local oddball, Moore builds a new stage persona for himself in the form of Dolemite, a rude, crude, x-rated hipster who talks in rhyme. After a string of comedy albums makes him a local superstar, Moore is determined to conquer Hollywood next and turn Dolemite into a big-screen action hero.
While it exaggerated some Moore's life story for comic effect, it hit all the important beats of Moore's life with precision and captured all of his best moments while wearing its farcical tone on its sleeve. Top-notch performances from its cast also helped earn "Dolemite is My Name" a pair of Golden Globe nominations.