She-Hulk Creators Were Allowed To Use Daredevil Under One Condition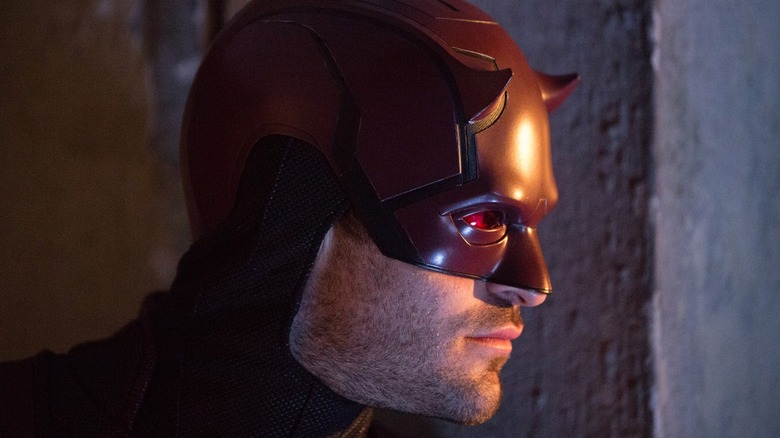 Patrick Harbron/Netflix
As exciting as it is to see Jennifer Walters (Tatiana Maslany) as the green-tinted attorney at law She-Hulk, there's one hero that fans are likewise eager to see turn up in the new Disney+ series. As teased in trailers leading up to the latest chapter in the Marvel Cinematic Universe, the MCU's newest lawyer is set to face off against a familiar one with the return of Matt Murdock, aka Daredevil, played once again by Charlie Cox as he was in the Netflix "Daredevil" series.
Following his appearance in "Spider-Man: No Way Home" as "a really good lawyer," the final trailer for "She-Hulk: Attorney at Law" confirmed that Murdock would finally reemerge as the horn-headed vigilante fans fell in love with during his stint on his prior Marvel Television series. Just like his namesake, the writers of "She-Hulk" made a daring move introducing the hero of Hell's Kitchen, who director Kat Coiro characterized as one of the show's most exciting elements.
Ensuring that fans should get pumped for Murdock's return in "She-Hulk," Coiro told Entertainment Weekly, "I am definitely excited for Daredevil to make his appearance, because I think he's going to be a crowd favorite." Even with such a wild sandbox to play around in, though, the devil was in the details regarding Murdock's return. Coiro and the creative team had free rein on how they could incorporate Daredevil, as long as he was dressed correctly for the occasion.
Marvel was set when it came to Daredevil's new suit for She-Hulk
Speaking to Lifehacker, "She-Hulk" writer Jessica Gao revealed the surprising level of creative freedom the team was given when they put in their request for Matt Murdock to take the stand opposite Jennifer Walters. "Usually how they do it is they kind of let us propose what we want to do rather than give us guidelines," explained Gao regarding her effort to expand on the corner of the MCU to which she'd been given access. "When they first told us that [Daredevil] was a possibility we just couldn't believe it. And as we were coming up with story and what we wanted him to do, the fact that they kept not saying no was shocking to us."
However, one area that was entirely off limits was Daredevil's outfit. "The one thing that I didn't have control of was the suit," Gao revealed. "They knew exactly what they wanted the suit to look like." From what we've seen so far, his current appearance does largely match the costume Charlie Cox wore on "Daredevil," but the extra bit of flair comes from the inclusion of yellow, which is a callback to the color combo that debuted in Daredevil's first six issues before he switched to all red (via Marvel Database).
Could Daredevil's new suit indicate a new beginning for the character?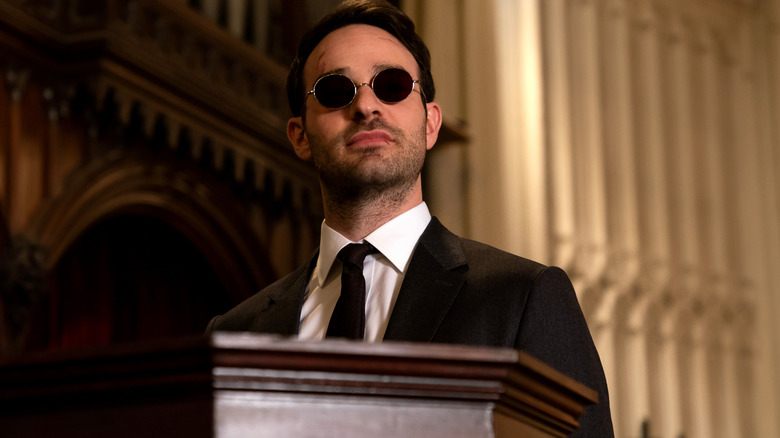 David Lee/Netflix
In an earlier interview, writer Jessica Gao told Collider that many characters were unavailable for inclusion in "She-Hulk" due to conflicts with other MCU properties. At first, she assumed that the same was true of Daredevil before receiving permission for his inclusion. "We thought we were being pranked," she said. "We just kept writing him in, and we kept rolling with the story just thinking like, 'Okay, any moment now they're going to tell us we can't use them. They made a mistake. They actually don't have the rights.' But it just kept [becoming] more and more real."
In July of 2022, Marvel Studios revealed that it's in the process of working on a new Daredevil series titled "Daredevil: Born Again." It's entirely possible, then, that his appearance in "She-Hulk" will serve as a prelude to his upcoming starring vehicle. That said, could the fact that his suit is now somewhat different in appearance suggest we're dealing with a different devil than the one we saw yelling, "I beat you!" in 2018? Or is this merely a new chapter for an established character? We'll leave Jen to find that out as "She-Hulk" continues on Disney+.