Marvel Finally Dropped The Daredevil News Fans Have Been Waiting For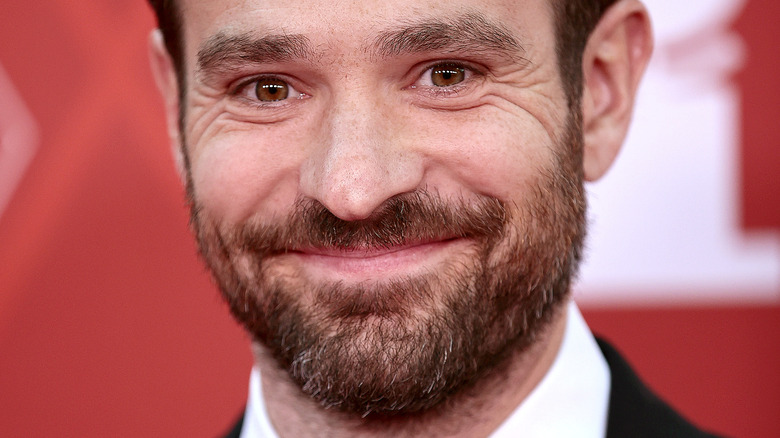 Dimitrios Kambouris/Getty Images
The Marvel Cinematic Universe is a sprawling web of properties spanning both the big and small screens. Some of the biggest characters in the history of comic books, including Thor, Hulk, Iron Man, and Captain America, have graced the big screen for over a decade. And, of course, some of the smallest, like Ant-Man and the Wasp, have also joined in on the fun. The small screen has been reserved for smaller and lesser-known characters like the Inhumans in "Agents of SHIELD."
One character that looms larger than the rest on the small screen is Daredevil (Charlie Cox), who led his own solo series for three seasons and teamed up with others in "The Defenders" on Netflix. He was joined by Jessica Jones (Krysten Ritter), Danny Rand/Iron Fist (Finn Jones), Luke Cage (Mike Colter), and Frank Castle/Punisher (Jon Bernthal). While Marvel recently reacquired the right to a long list of great characters, Daredevil is the one to which fans seem to be most eagerly awaiting a return. Of course, fans got a small tease in "Spider-Man: No Way Home," but at San Diego Comic-Con, they got the news they've been waiting for.
Daredevil is returning for Phase 5
According to our very own Jacob Hall from Static Media sister site /Film, who is present at the Marvel Studios Hall H presentation at San Diego Comic-Con 2022, Kevin Feige announced a new season of Daredevil is coming to Disney+. While there have been rumors of Daredevil getting a return on the streaming site, a tweet from Marvel Studios confirmed the report and gave us a little more insight with only a few words.
The tweet calls the new Daredevil season "Daredevil: Born Again." It also confirms the return of Charlie Cox as the Man Without Fear and Vincent D'Onofrio as the villainous Kingpin. The season will also be 18 episodes, making it by far the longest Disney+ Marvel property. What Netflix proved was that this character and the stories he has to offer are definitely deep enough to go way beyond the standard six episodes.
There is no word yet on the possible return of other Netflix actors. The other Defenders and their cadre of allies and villains remain in the wings, and a return of Foggy Nelson (Elden Henson) and Karen Page (Deborah Ann Woll) has yet to be announced.