Recent Daredevil Reveals Have Us Extra Pumped For Murdock's Return In She-Hulk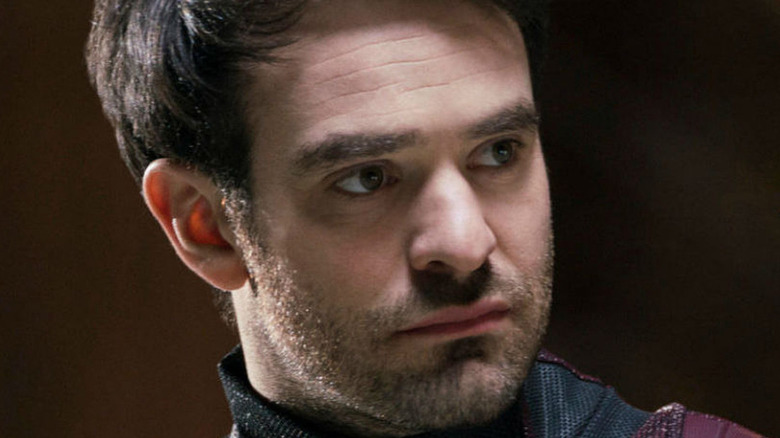 Marvel Studios/Disney+
Several elements of what used to be Netflix's array of Marvel shows have been moving toward the Marvel Cinematic Universe for a while now. The "Defenders Saga" has moved to Disney+ in its entirety. Kingpin (Vincent D'Onofrio) turned out to be the secret main antagonist of "Hawkeye." Even Matt "Daredevil" Murdock (Charlie Cox) himself has found time for a quick, brick-catching cameo in "Spider-Man: No Way Home." 
Though we're yet to see the MCU version of Murdock in his full superhero costume, he's quite clearly the first "Defenders Saga" hero in the MCU. In fact, Marvel recently dropped the Daredevil news fans have been waiting for by announcing that the character is part of the MCU's Phase 5 with a show called "Daredevil: Born Again." However, fans won't have to wait that long, because Daredevil's next MCU appearance is coming in "She-Hulk: Attorney at Law." As interesting as this upcoming meeting of the two Marvel superhero lawyers is, recent reveals give you even more reason to be pumped for the character's return in "She-Hulk: Attorney at Law." 
She-Hulk director says fans will love Daredevil
"She-Hulk: Attorney at Law" director Kat Coiro clearly knows that getting Daredevil in the show is a massive ace in the hole, and in an interview with Entertainment Weekly, she was quick to sing the character's praises. Due to the veil of secrets that covers every upcoming MCU project, she was not able to say all that much, but she did reveal some interesting things about Daredevil — and how the character compares to Tatiana Maslany's She-Hulk in the show.
"They match each other's wits, is what I can say," the director said about the chemistry between Daredevil and She-Hulk. "I am definitely excited for Daredevil to make his appearance, because I think he's going to be a crowd favorite. But I can't tell you anything else about that. The Marvel police is a real thing and I don't want to get arrested by them."
It's definitely clear that Coiro thinks the MCU Man without Fear will likely be a huge hit. Fans will see whether this assessment is right when "She-Hulk: Attorney of Law" starts airing on Disney+ on August 17.