The Big Bang Theory's Johnny Galecki Dishes On His Bizarro Entourage Persona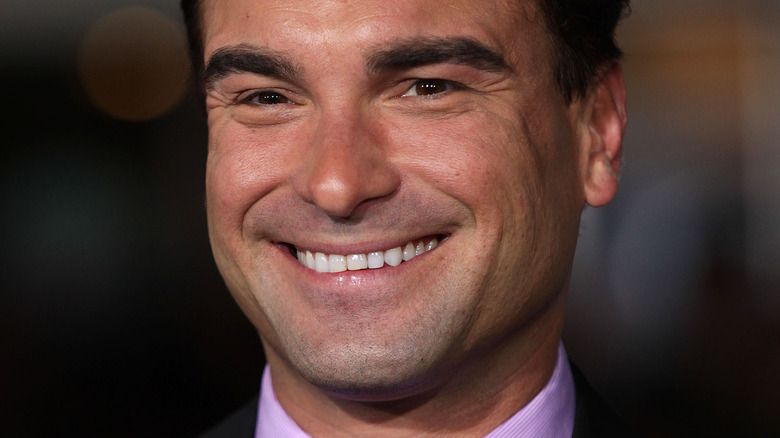 DFree/Shutterstock
Johnny Galecki has had an interesting Hollywood ride. The actor made his first notable mark as Rusty Griswold in the classic "National Lampoon's Christmas Vacation," playing the son of Chevy Chase's infamous Clark character. Course, Rusty is a role you only get to play once — just ask Anthony Michael Hall. Is this why we get a new Batman every time now? Is that where that unfortunate trend started? Hmm. Galecki then caught everyone's eye again with a recurring role on the hit TV show "Roseanne," which has returned more recently as "The Conners." Not so much with Roseanne now, but still with a little sprinkling of Galecki! Yeah, Hollywood is weird.
He is of course best known for his breakthrough success as Leonard Hofstadter in the hugely popular hit series "The Big Bang Theory," which ran for 12 seasons on CBS from 2006 to 2019. The show was a ratings smash, and in a landscape that now includes streaming and TikTok, that kind of ratings may never be seen from a network sitcom again. Galecki, along with Emmy winner Jim Parsons as Sheldon Cooper, Simon Helberg as Howard Wolowitz, and Kunal Nayyar as Raj Koothrappali, starred as geeky fanboys with a beautiful next-door neighbor named Penny (Kaley Cuoco). And comedy ensued! The premise may have stretched the "opposites attract" thing just a bit, but it worked. So Penny's never-revealed last name eventually becomes Hofstadter (we think) after Leonard finally wears her down enough to marry him. A classic American love story!
But along the way, Galecki made a few guest appearances on the buzzy HBO series "Entourage," playing a version of himself — which was a calling card of the Tinseltown-based show. His 2011 three-episode arc made a splash, but how did his "alternate" persona come about?
Galecki didn't plan on playing the jerk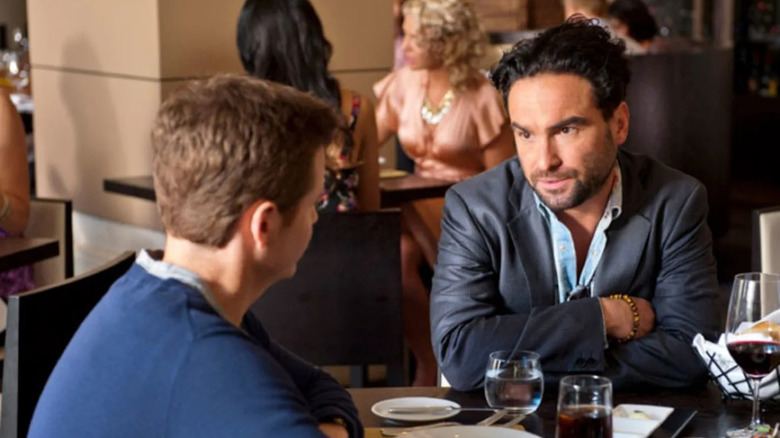 HBO
The most common persona for an actor to adopt on "Entourage" is basically an unpleasant version of themselves, which leads to great comedic possibilities. Like when Matt Damon shows up in Season 6 and promptly flips out. But when "Johnny Galecki" appears in Season 8, it was supposed to be something different. Via NBC Bay Area, Galecki said, "Initially, I didn't want to do that." Instead, the "Entourage" team and Galecki decided to play with the idea that no one really knows much about his background, so they came up with the idea to make him a tatted-out East L.A. gangbanger type. "And somehow that got lost in some of the drafts and I ended up playing, yes, a jackass version of myself," he said. "And it was a blast."
In the show, Galecki immediately begins making a play for Sloan (Emmanuelle Chriqui), who just happens to be involved in a complicated relationship with her ex, Eric (Kevin Connolly), who just happens to be taking on Galecki as a client. So right away, Galecki is stirring things up. He goes on to date Sloan and, well, just be an all-around jerk. Welcome to "Entourage," Johnny!
The important thing here is that Galecki's stint on "Entourage" proved the star has a good sense of humor. It's one thing to play a jerk when most of the world thinks of you as a good person, but when your private life has been fairly private like Galecki's, there's always the risk that people will think that's the real you. Lucky for him, most people just think he's the sweet geek who got Penny to marry him.