Every Matt Damon Cameo Ranked Worst To Best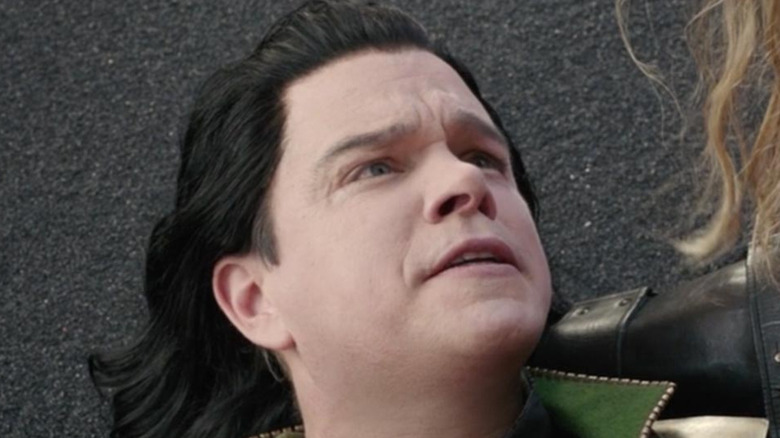 Marvel Studios/Disney
With all his contributions to the realms of drama and action movies, you would think an actor like Matt Damon would give someone else a chance when it comes to doing comedy. But no! Not content with winning the Oscar for best screenplay with 1997's "Good Will Hunting" and the insanely successful "Jason Bourne" franchise based on the best-selling Robert Ludlum books, he has to make us laugh too! It's almost unfair.
Of course, Damon's work in comedy is nothing new. He has, however, absolutely mastered one tiny aspect of comedic acting: the art of the cameo — mind you, not all of his cameos are funny, just his best ones. Damon's cameos are so good and memorable, they rival his best work in lead roles. Yeah, that's maybe stretching things a bit as well. It doesn't change the fact that any time you blink when watching a movie, you might have just missed a stellar Matt Damon cameo, because the versatile actor has helped many a film or television production along the way with a brief appearance. He's had small but pivotal roles in dramas and set off the inciting incidents in comedies. Damon's even reprised previous a character for a momentary wink and nod to the audience.
From appearances as an Asgardian actor or a pop-punk singer to bit parts as senior executives and occasionally just showing up as a fictionalized version of himself — because why not? — here is every Matt Damon cameo ranked worst to best.
12. Bachelor No. 2 in Confessions of a Dangerous Mind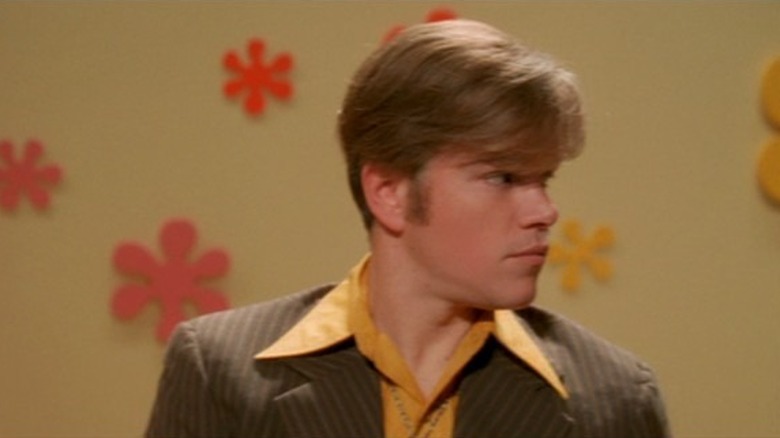 Miramax FIlms
In 2002, Hollywood powerhouse George Clooney made his directorial debut with "Confessions of a Dangerous Mind." The film is adaptation of the ostensibly "unauthorized autobiography" of game show host and creator Chuck Barris, in which he claims to have been an assassin in the Central Intelligence Agency who used trips associated with his work on "The Dating Game" as cover for his killings overseas. Actor Sam Rockwell played Barris, with Clooney pulling double duty as director and portraying Barris' CIA handler Jim Byrd. Though Barris had admitted to making up the claim of working for the agency nearly 20 years before the film was released (via Film Speak) and it was a commercial failure — it grossed $33 million worldwide, barely recouping its $29 million production budget (via The Numbers) — "Confessions of a Dangerous Mind" received positive reviews upon release and enjoys a Certified Fresh rating and 79% critics score on review aggregator Rotten Tomatoes.
And impacting neither its box office failures nor its critical success is a cameo from Matt Damon; in fact, this one is a two-fer. Brad Pitt and Damon appear as the unsuccessful Bachelors No. 1 and No. 1 in an episode of "The Dating Game" in a fun but completely meaningless, blink-and-you'll-miss-it double cameo. Though each actor is easily recognizable, neither man has a speaking line — so why are they in the film? Given that it was Clooney's directorial debut and the three of them had just launched the successful Danny Ocean franchise a year prior as part of the cast of "Ocean's 11," it's not hard to do the math.
11. Steven Sanderson in Finding Forrester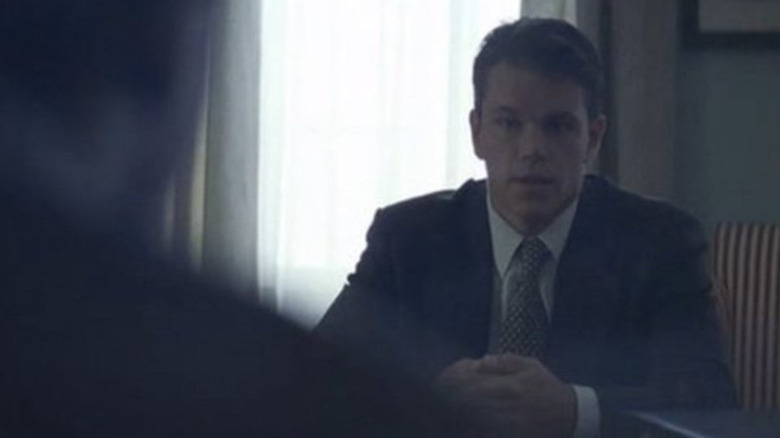 Sony Pictures Releasing
In 2000, "Good Will Hunting" director Gus Van Sant helmed the drama "Finding Forrester," which starred Sean Connery as reclusive, fictional author William Forrester. The movie tells of William's relationship with a young, gifted Black man named Jamal Wallace (Rob Brown), which stemmed out of the latter breaking into the former's home on a dare. When Jamal accidentally leaves his backpack behind when running away, William actually corrects some of his papers before tossing it out into the street. As their bond deepens, Jamal comes to learn that William won a Pulitzer Prize for the only book he ever wrote. William helps Jamal improve his own writing, and even gives him some of his own work to rewrite, though he must agree to never take it out of the apartment and he mustn't ask any questions about William's past or tell anyone about him. Under pressure to enter his school's essay contest before the deadline, Jamal breaks his promise to William and submits one of the rewrites, which lands him in hot water at school; as the work was previously published, Jamal is accused of plagiarism and must convince his reclusive friend to defend him. 
Matt Damon's cameo appearance in "Finding Forrester" comes late in the film. As Jamal is set to graduate from his prestigious private school, Damon appears as Steven Sanderson, an attorney who informs Jamal that William has died and bequeathed his apartment to the young man as a way of thanking him for helping encourage him rejoin society.
10. Mr. Big in No Sudden Move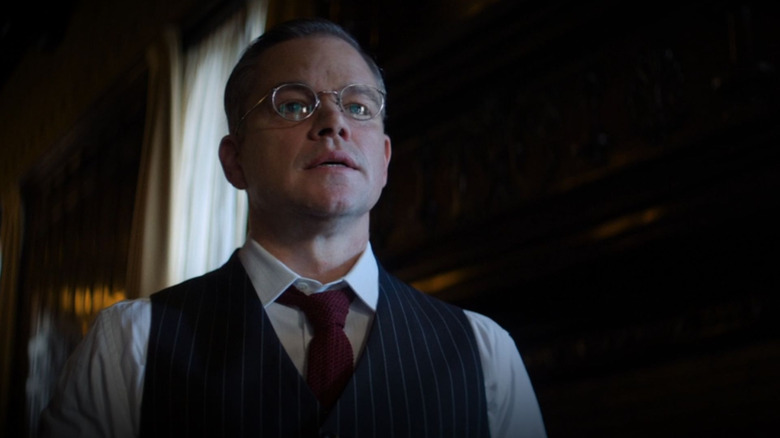 HBO Max
You might think that a film featuring the likes of Don Cheadle, Benicio del Toro, David Harbour, Jon Hamm, Brendan Fraser, Kieran Culkin, and Ray Liotta already had enough star power going for it, but director Steven Soderbergh clearly didn't agree when it came to his 2021 film "No Sudden Move." The crime thriller set in the 1950s sees a group of gangsters trying to figure out their recent job and how or why they were brought together in the first place — like "The Usual Suspects" but with fewer laughs. First Curt Goynes (Don Cheadle) and Ronald Russo (Benicio del Toro) get paid hold a General Motors accountant's family hostage, demanding he retrieve a document from corporate HQ, only to find out what he's given their employer a fake. Then they grab the real thing from the accountant's boss before finding out there's a price on each of their heads. For whatever reason, this document from GM is worth a lot of money and effort to someone. 
That someone is Mike Lowenstein, aka Mr. Big (Damon), and the reason it's worth so much is the document is a plan for a specific car part, the existence of which he's trying to keep under wraps. As it turns out, the part in question is a catalytic converter and the efforts to keep it concealed stem from trying to keep the federal government from requiring GM and all the other major automakers to implement emission controls on their vehicles. It turns out the gangsters were caught up in a corporate conspiracy by the real criminals: businessmen.
9. Shawn Oran in Chasing Amy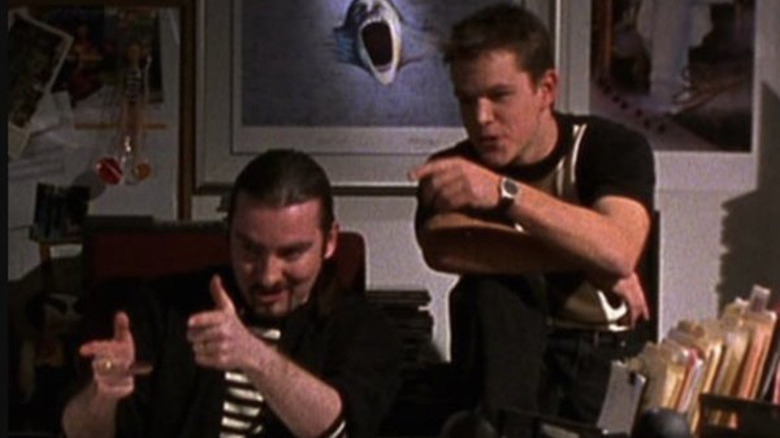 Miramax FIlms
If you tried to hit Ben Affleck with a rock in the late '90s and early '00s but missed ever so slightly, chances are you probably hit Matt Damon on accident. They actually both appeared as uncredited extras in the "Field of Dreams" scene at Fenway Park in 1989. But 1992's "School Ties" kicked off an extensive collaboration between the two, which resulted in Damon's appearance in the 1997 Kevin Smith romantic dramedy "Chasing Amy." Among other things, the film tells a tale of love and the struggles of comic book artists Holden McNeil (Affleck) and Banky Edwards (Jason Lee), creators of the fictional "Bluntman and Chronic" serial. Holden becomes smitten with a fellow artist named Alyssa Jones (Joey Lauren Adams), but is forced to settle for the friend zone with he learns she's gay.
As he's battling inner turmoil over the unrequited crush, he's dealing with an artistic struggle with his creative partner, who also may or may not be in love with him. Banky is eager to ink a deal with MTV to launch a "Bluntman and Chronic" animated series, but Holden in unsure if he'll be able to release creative control over the characters they created. 
So where does Matt Damon come in? He appears as Shawn Oran, one of the MTV execs with whom Holden and Banky meet about said potential series and is joined by View Askew OG actor Brian O'Halloran as fellow executive, Jim Hicks. The scene combined Smith's penchant for featuring actors from his previous films with Affleck and Damon never being far apart.
8. Himself in House of Lies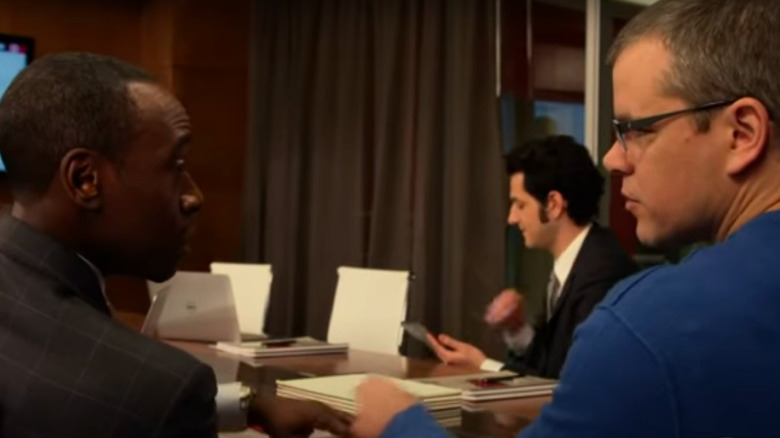 Showtime
In one of Matt Damon's cameos as a fictionalized version of himself, he appeared on Showtime's "House of Lies." In the fourth episode of Season 2, he engages the services of the consultancy firm Galweather-Stearn and works with series lead character Marty Kaan (Don Cheadle) on improving his image. Sure, it's an odd concept, because Matt Damon is pretty much universally adored as a human being in real life. Nevertheless, he's looking for a cause, specifically a cause that'll make him look better than George Clooney and maybe it's because the "House of Lies" version of Matt Damon is a total jerk. He's a self-described swag whore who "loves free s***" and a lecherous tool who ogles Jeannie van der Hooven (Kristen Bell) and asks if Marty "hit that" in the middle of a presentation meeting. Let's tone it down a bit.
Marty has to go to extra lengths to get things done, but the end result is a commercial for Damon's Children, which shows the actor shedding a tear at a third-world camp site after seemingly offering his personal medical opinion. Damon's name and face are emblazoned on everything from water bottles — mirroring his real world charity, Water.org — and medical supplies to the soccer ball the local children kick around before joining him in a group hug. It's definitely a better look than the in-show version of Matt Damon deserves but really only hints at the kind of philanthropy he's accomplished in the real world.
7. PR Exec No. 2 in Jersey Girl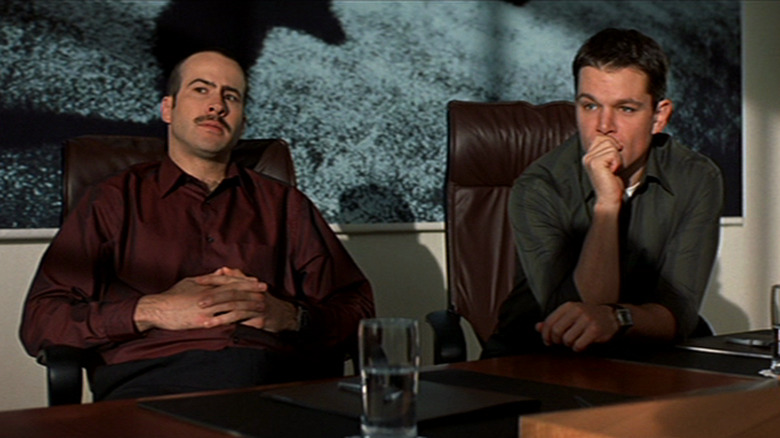 Miramax FIlms
In addition to his appearance as Shawn Oran in "Chasing Amy," Matt Damon has another executive-level cameo in a Kevin Smith film. The first movie outside the shared continuity of Smith's View Askewniverse, 2004's "Jersey Girl" starred long-time Smith collaborator Ben Affleck as Ollie Trinké. Ollie's a publicist who's living large in New York City, but that all changes when his wife Gertrude (played by then-girlfriend Jennifer Lopez) dies during childbirth, leaving him as a single dad who goes to live with his father Bart (George Carlin) in New Jersey after he loses his cool and insults his client — a pre-action movies Will Smith — and the assembled media at a press event. 
Fast forward several years and Ollie is still living with Bart and his daughter Gertie (Raquel Castro) but longs for his old life in the big city. Unfortunately, his name is mud in the eyes of pretty much every single public relations firm; you don't get away with insulting reporters and your client, who would soon be the biggest box office star of the decade, and expect to find work in the industry. Nevertheless, Ollie lands an interview. Unfortunately, the execs are really only interested in finding out if he's the guy who "pulled the 'Fresh Prince," a reference to the memetic outburst that got him fired. Ollie has become a legend in PR for all the wrong reasons and the men delivering the bad news are Jason Lee and Matt Damon. This twin cameo is extra fun because it mirrors Damon's appearance in "Chasing Amy," with Lee now joining him on the other side of the table.
6. Loki in Jay and Silent Bob Reboot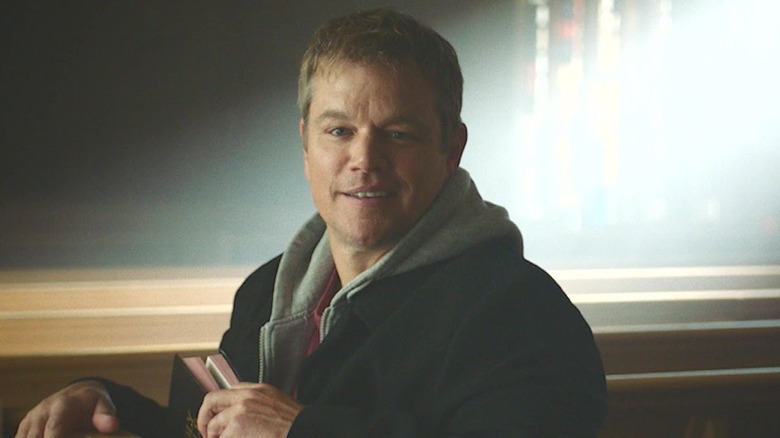 Saban Films
Matt Damon's most impactful role in a Kevin Smith movie came in his turn as the fallen angel Loki in the 1999 fantasy comedy and religious satire "Dogma." Loki — the Angel of Death — and his partner, Bartleby (Ben Affleck) — a Grigori or watcher — have been banished to Wisconsin for refusing to fight for the side of Heaven when Lucifer, rebelled. Since Wisconsin is clearly too awful to bear, they try to get back into Heaven through a loophole the Catholic Church enacted, whereby all of someone's sins would be forgiven if they were to walk through the entrance to a newly rededicated church in New Jersey. Then they'd just have to die with no sins and it's time to go home. Unfortunately, that would prove God wrong and to do so would shake the very foundation of existence. Given that you're reading about this film on the internet instead of not existing as part of an endless void of nothingness, it's safe to say their plan failed.
Damon reprised his role as Loki for Smith's "Jay and Silent Bob Reboot" in 2019, dropping puns and breaking the fourth wall from a Church pew while dressed in the same outfit. As Loki explained, he didn't go to Hell after the events of "Dogma," though God did strand him on Earth once again. This time, however, he ended up in the Mediterranean Sea with amnesia. If this doesn't sound familiar, it should. "After the events of 'Dogma,' you could say I was born again. And what you're looking at now is ... wait for it ... my reborn identity." So Loki, the Angel of Death, is now canonically Jason Bourne.
5. Himself in Entourage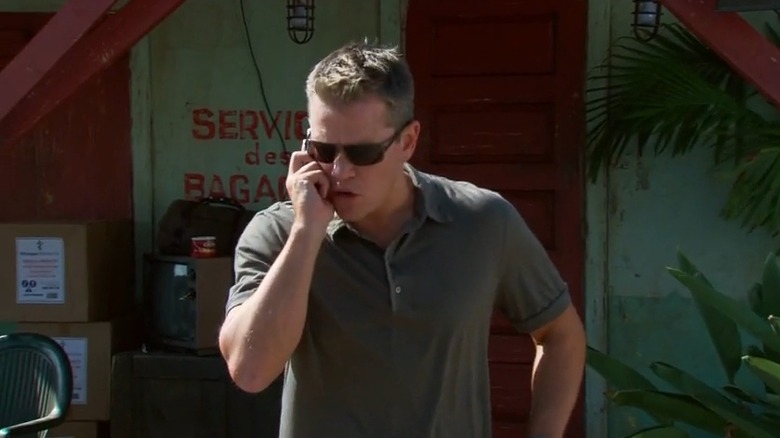 HBO
At some point within the last two decades, actor Mark Wahlberg thought it was a great idea to create a show about himself and enough people at HBO agreed that viewers got to enjoy eight seasons of "Entourage" out of it. To be fair, multiple people have apparently taken credit for the idea of filming Wahlberg and his crew of hangers-on, but one thing is indisputable: the show is based on Wahlberg's earlier years, focusing more on his film career and omitting his violent criminal behavior (via the New York Times) and instead of Boston, actor Vincent Chase's (Adrian Grenier) entourage was from Queens, New York. 
Over the course of its eight-season run and the feature-length film, "Entourage" featured plenty of memorable cameos, as you'd expect a premium cable series satirizing Hollywood's dark side would. Wahlberg himself naturally made an appearance, as did plenty of A-listers, from actors like Jessica Alba and Edward Burns to athletes like Michael Jordan and Ronda Rousey, and musicians like Snoop Dogg and Eminem. Mind you, plenty of actors played fictional characters as well, including Scott Caan's memorable Scott Lavin and Carla Gugino's Amanda Daniels.
Then there's Matt Damon, who appeared in the "Entourage" Season 6 finale as a fictionalized and pissed off version of himself. With the help of LeBron James and Bono, Damons leans on Vince to donate to his ONEXONE charitable initiative, but Vince overcommits, the result of which is Damon angrily calling him from Haiti to rip him a new one — deriding his talent and fictional career — when he doesn't receive the promised donation. "I can't believe I have a f***ing Academy Award and I'm calling you back!" Damon yells before eventually apologizing.
4. Himself in Jay and Silent Bob Strike Back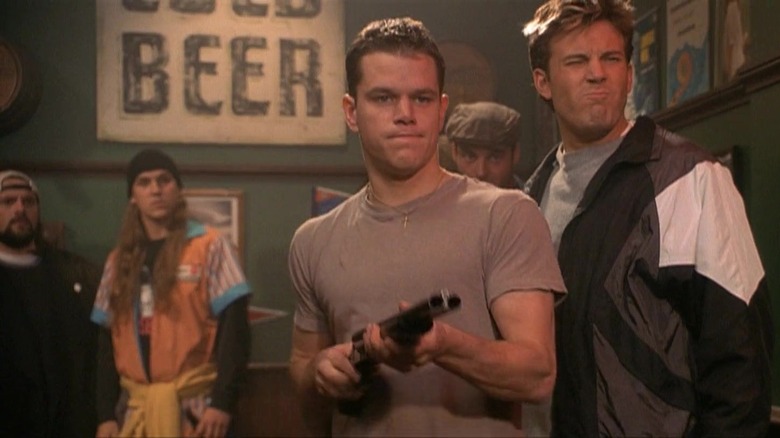 Miramax FIlms
Matt Damon's prior cameo appearances in director Kevin Smith's View Askewniverse films ranged from central to nearly infinitesimal. As such, it's only natural that Damon's next minor cameo came as himself. Before the title characters in "Jay and Silent Bob Strike Back" travel to Hollywood to stop a movie about "Bluntman and Chronic" — characters based on them — from being made, they first hit up original comic book artist Holden McNeil (Ben Affleck), who reveals he sold his part of the property years ago. Holden also tells Jay (Jason Mewes) and Silent Bob (Kevin Smith) that they'll probably be played by someone like Ben Affleck and Matt Damon, because it's a Miramax flick and "They put those guys in a bunch of movies." After many hilarious and idiotic hijinks, the dynamic duo somehow actually make it onto the Miramax lot and sneak onto a soundstage in order to hide from the relentless pursuit of a security guard (Diedrich Bader). When the production team mistakes them for extras, they get put in a scene and wouldn't you know it, Affleck and Damon — the guys from that movie with Mork from Ork — are there! 
Just when Jay and Silent Bob are about to pounce to stop the movie, a production assistant steps into frame with a clapperboard to announce that they're filming a scene from "Good Will Hunting 2: Hunting Season." Oh, so they don't need to beat Affleck and Damon up after all. Well how do you like them apples?
3. Donny in EuroTrip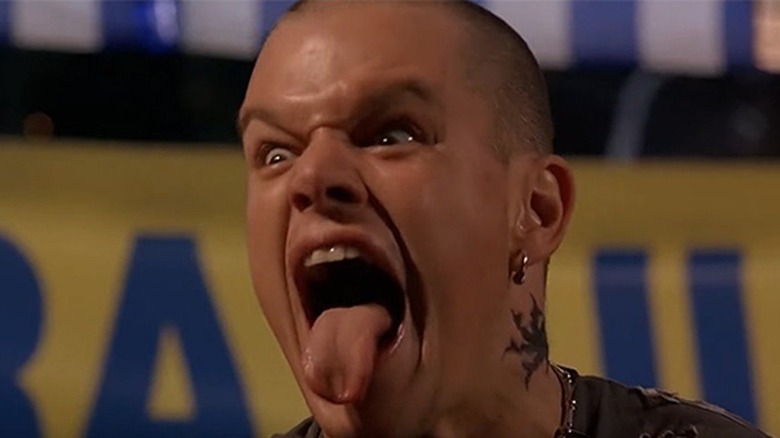 Dreamworks Pictures
The sophomoric 2004 comedy "EuroTrip" had a lot of things going for it. The comedy featured a promising up-and-coming cast that included Jacob Pitts, Michelle Trachtenberg, and Travis Wester; a silly enough premise to incorporate plenty of sex jokes; more nudity than anyone expected; and former soccer player Vinnie Jones leading a marauding band of Manchester United soccer hooligans. It also featured a solid soundtrack and one of Matt Damon's best cameos, which are inextricably tied together.
In the movie's first act, recent high school graduate — as in, right-after-the-commencement-ceremony recent — Scott "Scotty" Thomas (Scott Mechlowicz) gets dumped by his girlfriend, Fiona (Kristin Kreuk). See, she just can't take "all the lying and cheating on each other anymore." Scotty protests, swearing he's never cheated on her, and then the other shoe drops: she's been lying and cheating on him." After some merciless ribbing from his younger brother, Scotty heads to a massive grad party with his friend Cooper (Pitts) for a night of drinking, eager to forget about his failed romance. Spoiler alert: that didn't happen, because the lead singer of the band playing at the party happens to be the guy with whom Fiona was cheating — and he wrote a song about it!
Donny (Damon) introduces the song, saying it's about the "nastiest, freakiest sex puppet I know: Fiona." Fiona joins him on stage and he dedicates the song to her, wishing her a happy anniversary — um, what? — before a quick make-out sesh. "Scotty doesn't know that Fiona and me do it in my van every Sunday" are about as much of the lyrics to the ridiculously catchy song, "Scotty Doesn't Know," that we can reproduce.
2. Loki in Thor: Ragnarok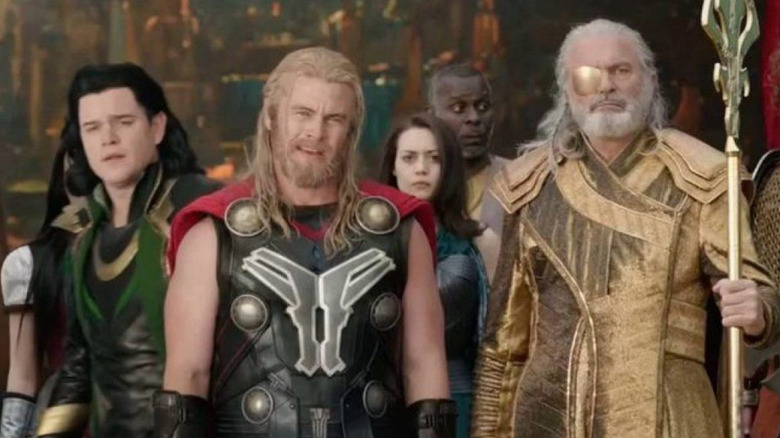 Marvel Studios/Disney
Matt Damon showed up unexpectedly in "Thor: Ragnarok" in the role of Loki. Kind of; in truth, he's an Asgardian stage actor portraying Loki. In the first act of "Ragnarok," Thor (Chris Hemsworth) is imprisoned by Surtur on Muspelheim. After he returns to Asgard via the bifrost, he's greeted by Skurge (Karl Urban), who's taken over after Heimdall was branded a traitor by Odin (Anthony Hopkins). When Thor heads to the palace, he sees his father taking in a performance of "The tragedy of Loki of Asgard." The scene serves as an exposition dump, to catch viewers up on the fact that Loki (Tom Hiddleston) appeared to have died in the previous movie, "Thor: The Dark World." In truth, Loki's disguised himself as the Allfather and is watching a play about his fake death, with Damon putting on a performance that cemented his position as the Asgardian god of theater.
The story behind Damon's cameo is almost as fun as the scene itself. As Marvel Studios president Kevin Feige told the media, the "Ragnarok" team decided to have some fun with the sequence, getting Chris Hemsworth's brother Luke to play a stage version of his character, Thor. Then they needed to cast Loki; "Mr. Hemsworth goes, 'Well what if I ask my friend Matt?'" Feige said (via Collider). "I said, 'Matt who?' He said, "'My friend, Matt Damon.' 'Okay. Sure. Sure Chris, ask your friend Matt Damon. He's not doing this.' 'Oh he's gonna do it. He's flying down.' The next thing I know, Matt Damon is on set in a full Loki costume, full Loki wig."
Fans will get to see Damon reprise his role in "Thor: Love and Thunder."
1. Dickie Greenleaf in Deadpool 2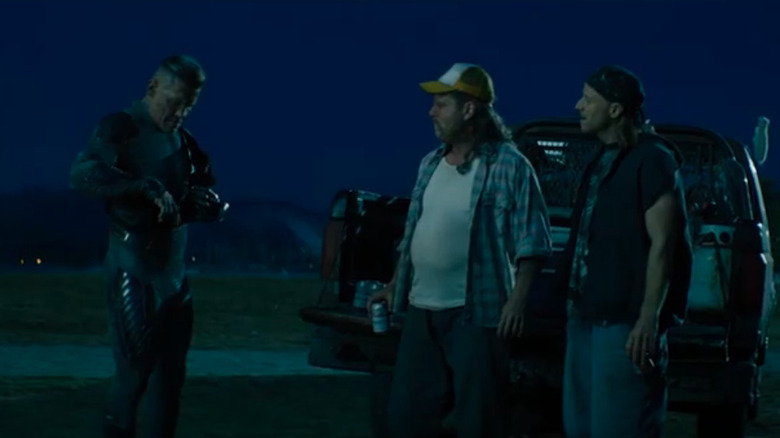 20th Century Fox
The "Deadpool" movies are all the proof we ever needed that Ryan Reynolds just gets us. You come for the action and the lead actor cracking wise in the title role, you stay for the fourth-wall breaks and the hilarious absurdity. When Reynolds launched the R-rated film franchise featuring everyone's favorite merc with a mouth, we were worried that we were going to see a ridiculous bloodbath riddled with curse words and penis jokes; well, we got exactly that in the best of ways, but we also got more than that. Just like the "Monster Ballads" informercials of years past taught us every bad boy has a soft side, the "Deadpool" franchise has shown us that every un-killable mutant assassin has a great supporting cast.
Of course, in addition to an excellent supporting cast featuring the likes of Morena Baccarin, T.J. Miller, Josh Brolin, Julian Dennison, Zazie Beetz, and Brianna Hildebrand, "Deadpool 2" also featured a memorable cameo. When Cable (Brolin) slides through time from the future to reach the film's present-day setting, he encounters two good ol' boys, standing in a field by a pickup truck. One of those men is Dickie Greenleaf, a character played by Damon with the same name as the character whose life he steals in "The Talented Mr. Ripley." Dickie is regaling his fellow sophisticate — Alan Tudyk, another cameo coup — on his preferred method of wiping post bowel movement, extolling the virtues of flushable wipes over just plain toilet paper. He even hints at some advanced method called a "blow and go" that involves a blow dryer. We don't know any more of the specifics, but we do know it made for the best Matt Damon cameo ever. So far.