Why Lana From Superman And Lois Looks Familiar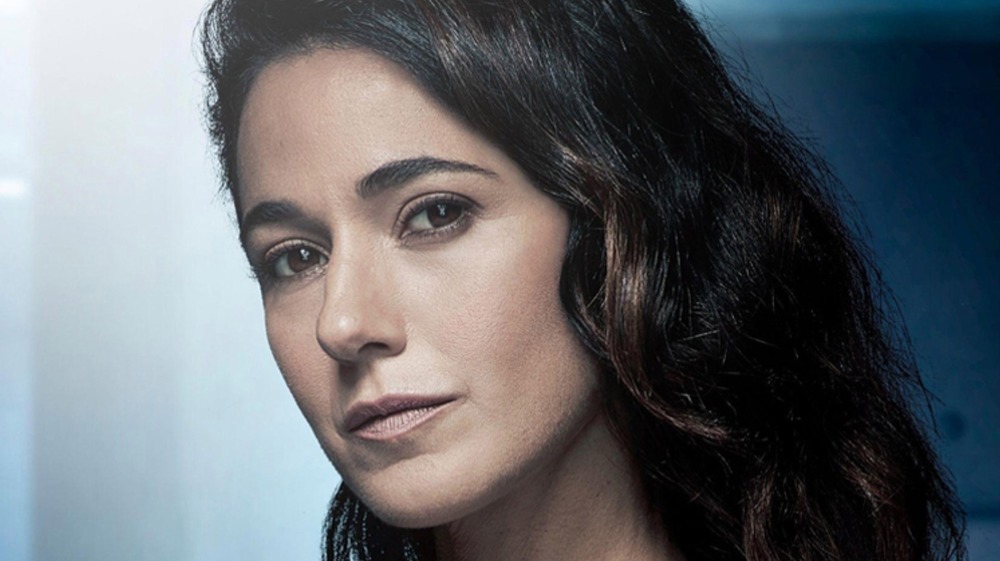 CW
When longtime Superman aficionados learned that CW's Superman & Lois would be taking its eponymous couple back to Smallville, they knew they could expect two things: earth tone barns with terrible alien secrets hidden underneath them, and Lana Lang. For over half a century, Lana Lang has held a special place in Superman fans' hearts as "the girl that's not Lois Lane." Generally speaking, she's Clark's anchor to his early life, reminding him of the simpler days back on the farm. She's been played by a small pantheon of performers — Bunny Henning in the short lived 1961 Superboy series, Annette O'Toole in Superman III (who also played Martha Kent on Smallville), and Kristin Kreuk in the increasingly weird-in-retrospect Smallville years.
Superman & Lois brings a new Lana to the table, this time living the American dream, married to the local fire chief with a couple of kids and a sleeping pill problem. Here, the troubled denizen of the Sunflower State is played by Emmanuelle Chriqui. Maybe you recognize her — the Canadian actress has been a near-constant presence in television and movies for over 25 years.
Chriqui's legend begins with Kung Fu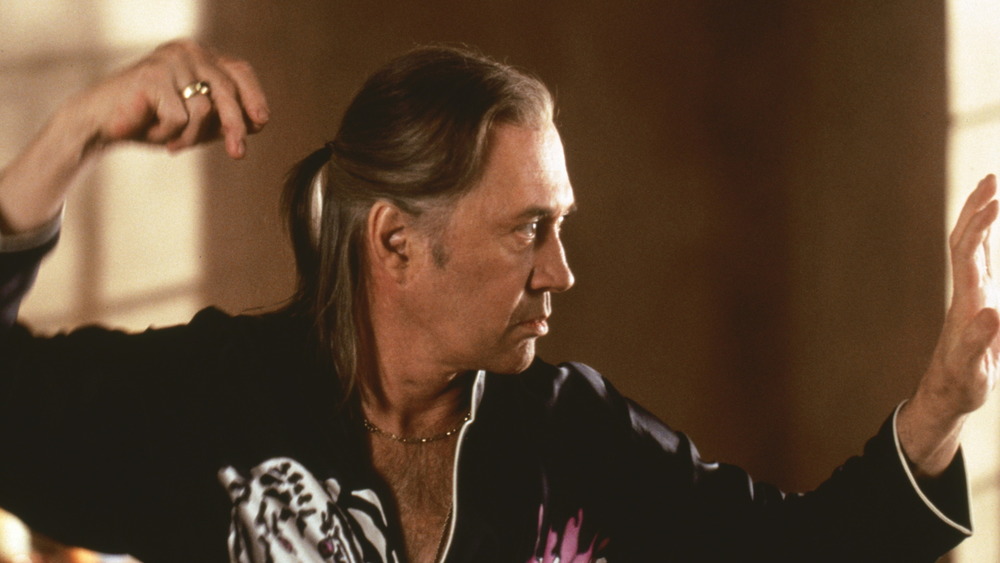 Warner Bros.
In 1972, television audiences had their collective breath snatched away like so many pebbles from the hands of enigmatic mentor figures. Kung Fu told the story of Kwai Chang Caine, a disgraced Shaolin monk travelling the U.S. in the late 19th century, righting wrongs and kicking the problems of the less fortunate. Think The Incredible Hulk, but it's the old West and the shirt budget is slashed. The series became a cult classic, and 1993 saw the release of a follow-up series: Kung Fu: The Legend Continues. Here, original series star David Carradine played the grandson of Kwai Chang Caine, helpfully also named Kwai Chang Caine, and even more helpfully abandoning the cowboy set pieces of the old days in favor of the cost-friendly streets of Toronto. It was a throwback to a simpler time when troubles could be punched away by the everyman, not just man-sized turtles. The list of guest performers who wanted in on the action is intimidating: Victor Garber, George Lazenby, George Takei, and even a bright-eyed young Ryan Gosling made appearances on the series.
And so did Emmanuelle Chriqui, in her very first credited, on-screen performance. She made her television debut in the 1995 episode "The Return of Sing Ling," playing a character named Bumper. Details beyond this point are difficult to come by, as Kung Fu: The Legend Continues is apparently the only program in history that hasn't made it to a streaming platform.
Chriqui takes a Wrong Turn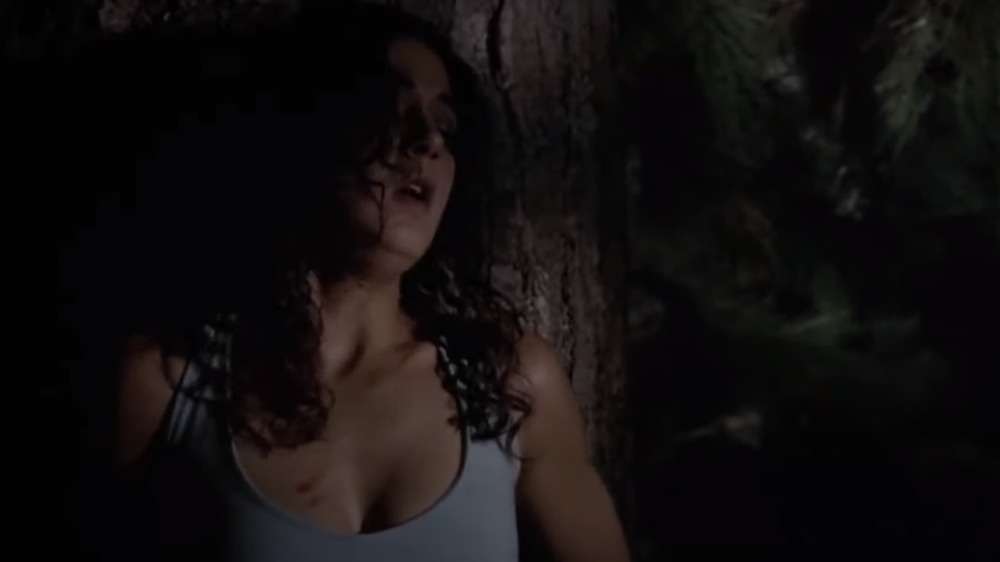 20th Century Studios
The mid-2000s were a rough time for wide-eyed, immaculately coiffed young women in movies. Between The Hills Have Eyes, The Texas Chainsaw Massacre, Freddy vs Jason, and the rest, a young enough face and a cropped-enough top was a one way ticket to a face full of machete. Emmanuelle Chriqui's top was looking mighty cropped when 2003's Wrong Turn came a-knockin'. Here directed by Rob Schmidt — the mind behind 2008's The Alphabet Killer and 2018's Fran K: Frankenstein — she played Carly, one of a small entourage of youths whose weekends get ruined when their car gets a flat tire because some backwoods cannibals put barbed wire in the road. It's a classic story, really.
After a series of television appearances, voice acting gigs, and minor film roles, Wrong Turn represented Chriqui's first co-starring role in a wide release motion picture. It also, to the best of our ability to determine, saw her first foray into running from man-eating hillbilly forest monsters, with the eventual result being the summary cropping of her face's top. Also, for whatever it's worth, the film was released by Fox, making it a Disney property now. No word on when we can expect a Wrong Turn Land at the amusement parks, but never give up hope.
Chriqui hangs with the Entourage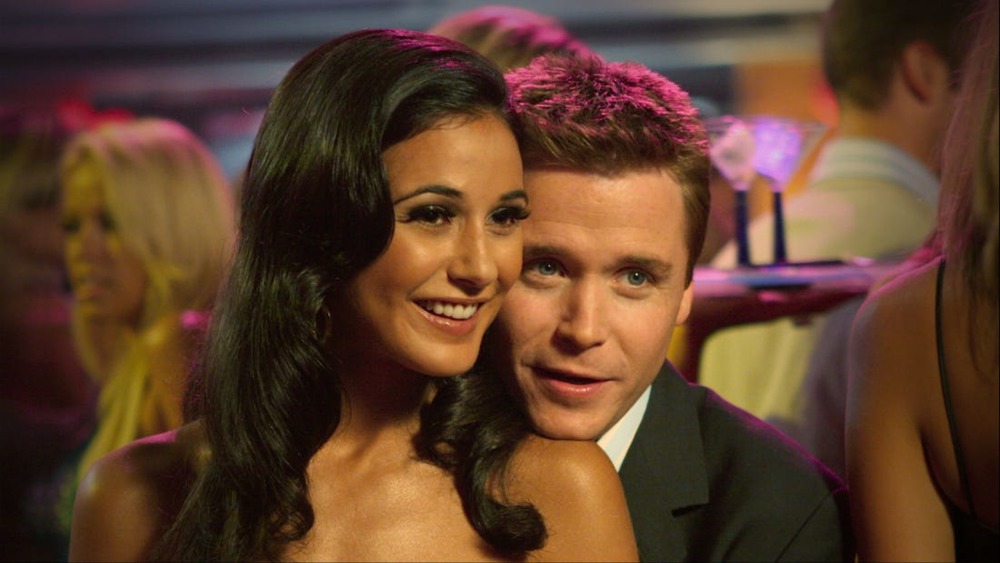 HBO
Entourage: HBO's years-long answer to the question "what would Sex in the City look like if we ran it through the gender swap filter on Snapchat?" Every DVD copy comes with a free can of body spray and a tuft of rejected hair plugs. If masculinity is toxic, then splashing Entourage in your eyes could technically turn you into Daredevil.
For eight seasons and a movie, Entourage kept its viewers' rapt attention, conveying the adventures of movie star Vincent Chase and his crew of hangers-on. It was also one of Emmanuelle Chriqui's steadier gigs following her debut in the season two episode, "The Bat Mitzvah." Here she played Sloan McQuewick, the sometimes-girlfriend of one Eric "E." Murphy (Kevin Connolly). The two would be on-again, off-again for the majority of the series, finally getting together on a permanent basis during the show's final season. Chriqui even appeared in the 2015 Entourage movie, giving birth to the couple's baby girl, who is wastefully named Ryan and not "lower case E."
Before Superman & Lois, she was in Super Troopers 2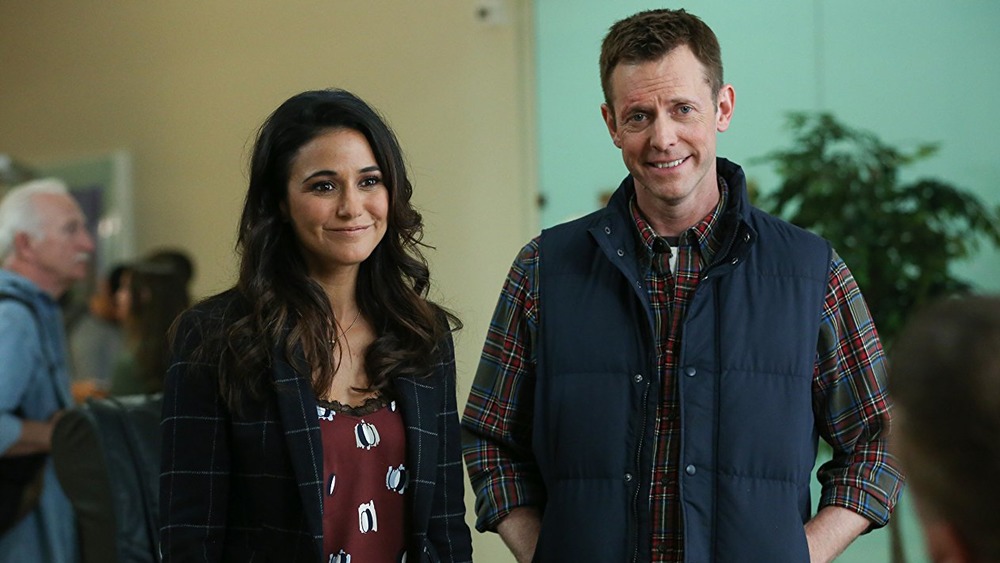 Fox Searchlight Pictures
Before making the tip to Smallville, Kansas, Emmanuelle Chriqui headed north of the border to her native Canada for a role in Super Troopers 2, the sequel to the sophomoric 2001 stoner classic Super Troopers, which helped put members of the Broken Lizard comedy troupe on the map. In the follow-up, Captain John O'Hagen (Brian Cox) gets the gang of Spurbury's finest back together for a special mission; it seems that a recently discovered border discrepancy means the southern part of Ontario, Canada, is actually supposed to be the northern part of Vermont. Your favorite former members of the Vermont Highway Patrol are tasked with establishing a local police department and liaising with their counterparts on the Royal Canadian Mounted Police. If it sounds idiotic, it's because it is; we're talking Super Troopers 2 here, not The Departed.
Chriqui gets in on the action as Genevieve Aubois, a French-Canadian cultural attaché assigned to help facilitate the transfer of land. Mind you, she's also an undercover Officer for Ontario Provincial Police, actually assigned to help bring down the drug-smuggling operation onto which the gang accidentally stumbles in a turn of events no one who hadn't seen the first film could ever have seen coming.