Dave Franco On Why There Had To Be As Much Comedy As Horror In Day Shift - Exclusive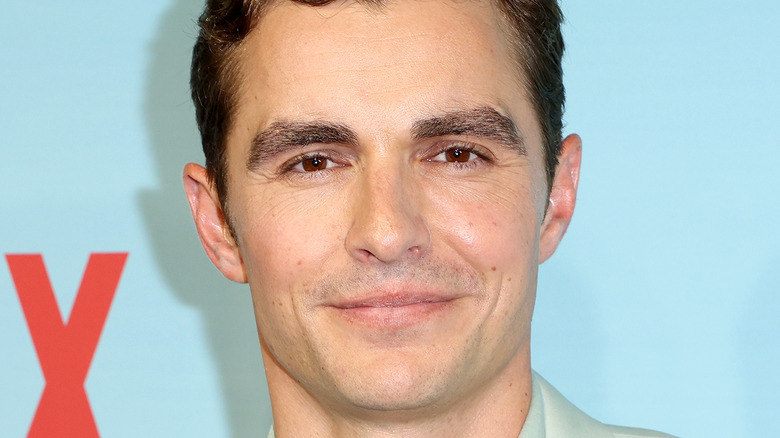 Alexander Tamargo/Getty Images
Thanks to his roles in such movie hits as "Now You See Me" and "Neighbors" (and their sequels), as well the acclaimed comedy biopic "The Disaster Artist," Dave Franco's star has risen considerably in recent years. While those projects either emphasized action and-or comedy, Franco has occasionally dipped his toes into the horror genre with turns in the 2011 remake of "Fright Night" and the zombie comedy "Warm Bodies" in 2013.
Franco's latest film, "Day Shift," gives the actor the rare opportunity to play around in action, horror, and comedy simultaneously. New on Netflix, "Day Shift" stars Jamie Foxx as Bud Jablonski, a struggling pool cleaner whose real day job is hunting vampires. But since Bud has a penchant for breaking the rules, he was kicked out of the international union of vampire hunters, a group that guarantees he and his colleagues the best pay. Stretched for cash with a pending financial obligation that could break his family apart if not met, Bud is granted one last opportunity to rejoin the union, but with a catch: Seth (Franco), a dweeby union desk clerk, must tag along with him on his hunt for bloodsuckers and report every rule he breaks. That's going to be a major problem, though, since Bud's going to need to pull out all of the stops to take down a seemingly unkillable vampire, Audrey (Karla Souza).
Directed by J.J. Perry and produced by Perry's "John Wick" collaborator and longtime friend Chad Stahelski, "Day Shift" is heavy on the breakneck speed and action associated with the hit Keanu Reeves revenge thrillers. Just as important to the success of the film, though, is its horror and the comedy — the latter of which Franco said he and Foxx put a huge emphasis on during the making of the film.
Foxx told Franco that they needed to 'infuse humor whenever possible'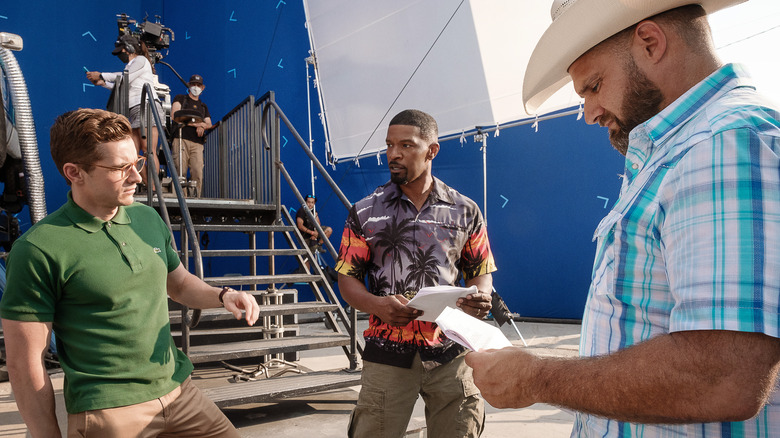 Andrew Cooper/Netflix © 2022
Written by Shay Hatten and Tyler Tice, "Day Shift" feels like John Wick meeting the unique horror stylings of Sam Raimi's "Evil Dead" films — but instead of Deadites, the monsters are vampires akin to the bloodsuckers in "Bram Stoker's Dracula." The film establishes its own identity, though, by bringing the strengths of all three of those franchises to the fore, punctuated by Jamie Foxx and Dave Franco's natural ability to riff off each other.
Sometimes the laughs in "Day Shift" are completely up to Franco, like when Seth reveals his habit of soiling himself when he gets scared. Apart from those embarrassing moments, Franco likes the blend of the film's action, horror, and comedic sensibilities. "I've realized through this press tour that peeing my pants is my thing. I have done it in multiple films," Franco cracked during an exclusive interview with Looper. "But ['Day Shift' has] a little bit of everything ... it's got comedy, horror, action, and all of those things go pretty hard. It's not just, 'Oh, it's light on this, but it's heavy on this.' We wanted the comedy to be just as big as the action."
Director J.J. Perry told Looper that he encouraged Franco and Foxx to amp up the laughs by letting the camera roll at the end of takes so the duo could turn things loose. "There was definitely comedy on the page in the script, but this guy [Foxx] ... He came up to me early on," said Franco. "He was like, 'You know what? We got to infuse humor whenever possible. Even if it's not in the scene, even if it's a more serious scene — let's give weight to those scenes, but let's infuse a little something in there because the comedy is what's going to get it to the next level.'"
"Day Shift" is streaming exclusively on Netflix.