Sam Raimi Discusses The Horror Inspiring Doctor Strange In The Multiverse Of Madness - Exclusive Interview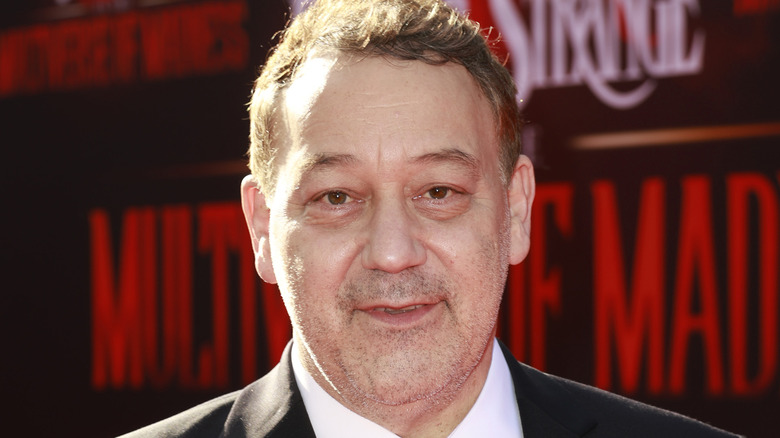 Frazer Harrison/Getty Images
Just over 20 years to the day when director Sam Raimi's superhero classic "Spider-Man" hit theaters and catapulted the Marvel Comics superhero to a new level, the visionary filmmaker is back with his first movie for the Marvel Cinematic Universe with "Doctor Strange in the Multiverse of Madness."
Raimi joined "Batman" director Tim Burton as one of the godfathers of the superhero movie genre with the first big screen version of "Spider-Man" in 2002. "Spider-Man" was the first release in a blockbuster film trilogy that made Tobey Maguire a superstar playing the titular character and also employed a young associate producer named Kevin Feige. Twenty years later, Feige — who, as Marvel Studios' president, went on to become the chief architect of the MCU — has reunited with his mentor for "In the Multiverse of Madness," the hotly anticipated follow-up to the worldwide smash "Spider-Man: No Way Home."
In "No Way Home," Dr. Stephen Strange (Benedict Cumberbatch) — thanks to the uncertainty of Spider-Man-Peter Parker (Tom Holland) — opened portals from the Multiverse that allowed other versions of Spider-Man and his foes to enter their dimension. "In the Multiverse of Madness," however, largely takes place within the Multiverse, after Strange and Wong (Benedict Wong) happen upon America Chavez (Xochitl Gomez), a young teen with the ability to travel across the Multiverse but has no idea how she's able to do it. Deepening the mystery is how America's immense powers are being sought by an evil force who could potentially tear the Multiverse apart, a scenario made more complicated when Strange seeks the aid of his fellow Avenger, Wanda Maximoff AKA Scarlet Witch (Elizabeth Olsen).
"In the Multiverse of Madness" seems tailormade for Raimi's unique filmmaking sensibilities. The film allows Raimi the opportunity to return to the superhero genre for the first time since "Spider-Man 3" in 2007, and it gives him the chance to revisit the horror roots he established in 1981 with the first film in the classic "Evil Dead" trilogy. Raimi discusses his experiences making "In the Multiverse of Madness" with Looper in an exclusive interview.
Finding his way home to the Multiverse of Madness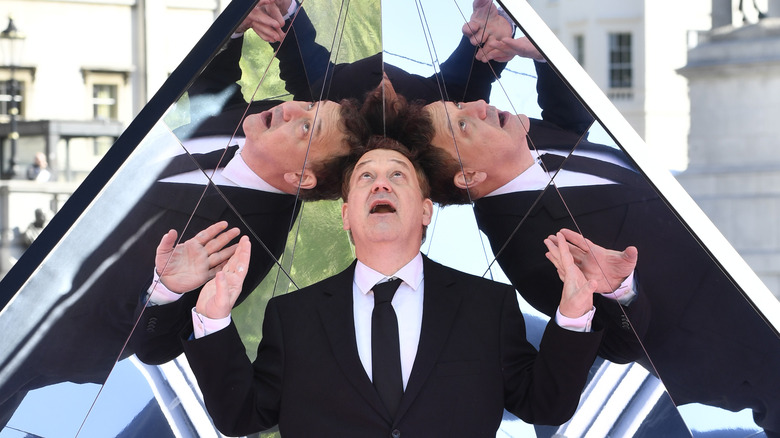 Gareth Cattermole/Getty Images
I'm wondering if there was any creative crossover between you and director Jon Watts for "Spider-Man: No Way Home" since the film sets the template for "In the Multiverse of Madness."
It really did. We had one big Zoom meeting together, but after that, our writer, Michael Waldron, spoke with their team often to keep abreast of the changes that they were making. Yes, Doctor Strange experiences the Multiverse for the first time in "Spider-Man: No Way Home," and we had to know, starting [with] this film, what did he know about the Multiverse? What lessons had he learned from their movie? Did he even remember the Multiverse? These are a lot of things that we had to really be clear on so that we wouldn't let the fans down.
I talked with your old assistant Grant Curtis a few weeks back since he's an executive producer on "Moon Knight," and he shared with me a story from 2007 about stumbling upon a bunch of "Doctor Strange" comics of yours when you were packing up your offices at Sony. I'm wondering, during that same time period, were you formulating a pitch for a "Doctor Strange" movie of your own?
I wasn't formulating a pitch. I loved the characters. When I would get tired of reading thousands of "Spider-Man" comics, I'd quietly grab a few "Doctor Strange" comics for my own enjoyment at that time!
Bringing Evil (Dead) to the Multiverse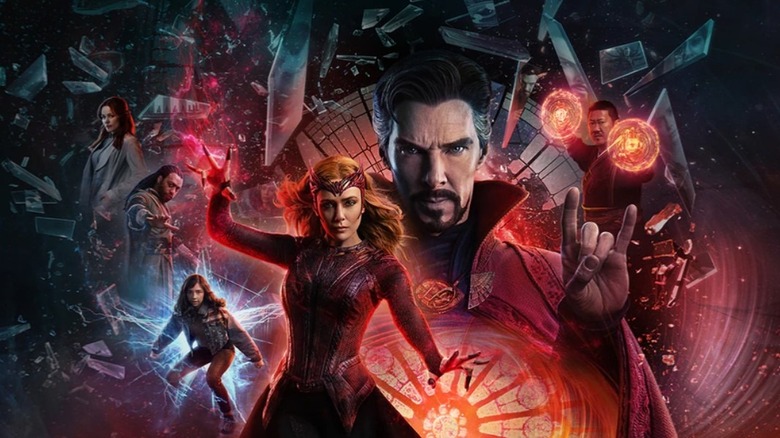 Marvel Studios/Disney
Kevin Feige said something really interesting a few months back about how "Evil Dead II" fans were going to be "very happy" regarding with what you have done with "Doctor Strange 2." You can't have a Sam Raimi movie without Bruce Campbell, so maybe that's one reason. Also, when I saw preview footage of the film, there are disembodied hands at some point, there's a giant eyeball — the sorts of things that you would see in "Evil Dead II." What else do you think Kevin was talking about when he mentioned that?
It would be the spookier parts of "Dr. Strange In the Multiverse of Madness." When Kevin first announced the movie, he said this would be "Marvel's first foray into the horror genre," and it is. There are demons and Doctor Strange has to fight some terrifying creatures, and Wanda has to face some spooky stuff also. It's the horror movie aspect that we were trying to bring to it that he might be referring to.
Are there any little "Evil Dead II" Easter eggs in the film?
Not really, not on purpose — but because I'm the same guy that made that movie, there's going to be some sort of similarity.
Raimi says working with Cumberbatch and Olsen was an exciting new experience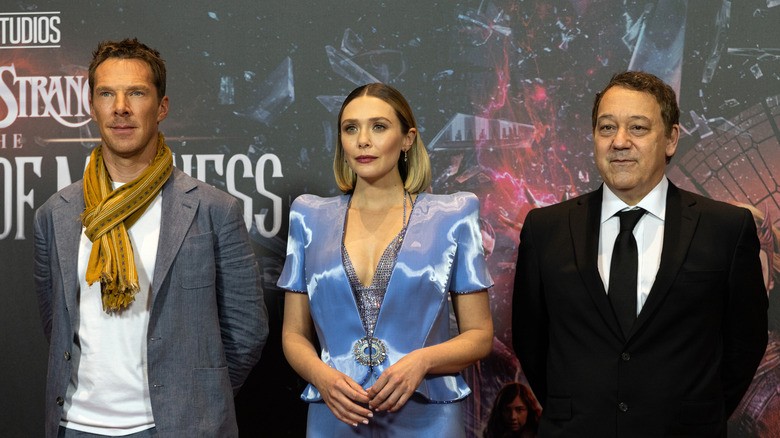 Tamir Kalifa/Getty Images
You've worked with many talented actors, including one of our personal favorites, "The King" himself, Bruce Campbell. When you get somebody like Benedict Cumberbatch and Elizabeth Olsen for "In the Multiverse of Madness," what separates those two from other actors you've directed?
It's their internal confidence. They really have thought and worked on this, these characters that they've created, and they've really brought them to life on the screen. They have a life of their own when they came to this movie. It was really cool for me as a director to experience that. I'm usually there, working with the actress, creating the characters. Now, they come to set fully fashioned, fully formed, and now the challenge is, "How can I understand where they are completely and help them grow through this movie to the next state?" A character's growth, I'm referring to. I want to know their weaknesses, their secret desires. I've got to know all that so I can properly track that journey. It's great working with actors that can deliver on that level, and those two are on that level.
Now that you're in the Multiverse, Spider-Man exists there, and I know you want to work with Spider-Man again and want to direct another "Spider-Man" picture at some point. Is there another different Marvel character you'd like to tackle?
I love so many of the Marvel characters. I love Spider-Man, but right now Spider-Man's off on its own ... I don't have another project right now, or a plan for any of the characters, but I'm open. I'm completely open. I love the Marvel universe.
Also starring Rachel McAdams, Benedict Wong, and Chiwetel Ejiofor, "Doctor Strange in the Multiverse of Madness" opens in theaters on Friday, May 6.
This interview was edited for clarity.