Day Shift's Jamie Foxx And Dave Franco On Raising The Stakes For The New Vampire Action-Comedy - Exclusive Interview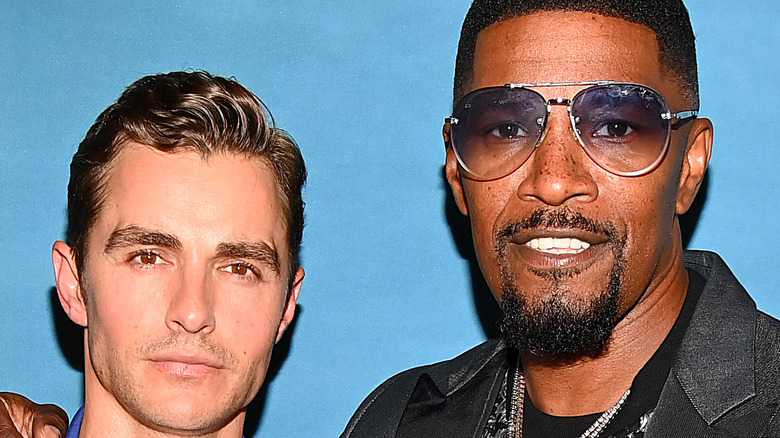 Paras Griffin/Getty Images
Thanks to the indelible impression left by the haunting 1922 classic "Nosferatu," vampire movies have been an enduring part of cinema. In the film's wake, classics like Bela Lugosi's "Dracula" in 1931, Hammer Films' "Horror of Dracula" starring Christopher Lee in 1958, and "Bram Stoker's Dracula" starring Gary Oldman in 1992 kept raising the stakes for the vampire genre, challenging filmmakers to come up with fresh new storylines.
Now, 100 years after the release of "Nosferatu," "Day Shift" has popped onto the horizon. Directed by J.J. Perry and starring comedy greats Jamie Foxx and Dave Franco, the film puts a decidedly different spin on the vampire tale with unique blend of action, humor, and horror. New on Netflix Friday, August 12, "Day Shift" sees Foxx playing Bud Jablonski, a blue-collar vampire hunter masquerading as a pool cleaner. He's struggling to make ends meet after being ejected from the international vampire hunter's union for breaking too many rules.
Strapped for cash, Bud needs to come up with $10,000 in a single weekend to prevent his wife, Jocelyn (Meagan Good), and their daughter, Paige (Zion Broadnax), from moving away across the country. Thanks to the help of his vampire-hunting colleague Big John (Snoop Dogg), Bud is given a shot to rejoin the union, but with a major caveat: He must allow a meek union representative, Seth (Franco) — who tends to wet himself at the first sign of danger — to follow and report every one of his misdeeds to his boss. But since Bud is facing a showdown with the seemingly invincible vampire Audrey (Karla Souza), Seth is going to have a hard time keeping all of the vampire hunter's rule-breaking ways under wraps.
In an exclusive interview with Looper, Foxx and Franco discussed the non-stop fun they had making the film, the mutual respect they have for each other's work, and the willingness to take some lumps by doing their own stunts to give the best performances possible.
Foxx knew Day Shift was going to be something special from the very first scene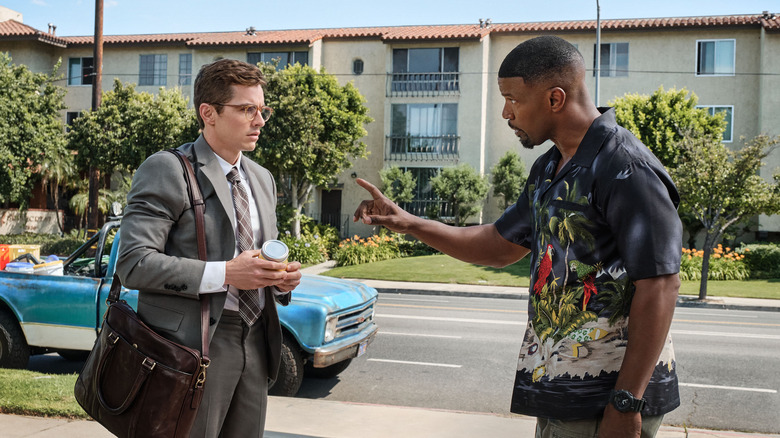 Parrish Lewis/Netflix © 2022
I have to say for "Day Shift" — to hell with Van Helsing. If you want to kick a vampire's ass, hire Bud and Seth, baby!
Dave Franco: I love it!
Jamie Foxx: My number!
There you go. Let's start with you, Jamie. You get a script, and it begins with Bud Jablonski getting into a kick-ass throwdown with this wicked old lady vampire. With an opening scene like that, this had to have been an easy movie to sign on to.
Foxx: Not only was it easy, it was so out of the box. But the fact that J.J. Perry, who we've known from all of his work on "Fast and the Furious" —
Franco: "John Wick."
Foxx: "John Wick," "Django [Unchained]." He did all the second unit [direction or stunt coordination]. He showed me the pre-[visualization] of what the fight was going to look like. I said, "Bro, I'm in all the way." Our trailer has that.
Our trailer over-performed. It had 30 million views in less than 24 hours — because when you see me pull that gun and shoot that old white grandmother through the air, and she hits the back of her head and then turns it on, people went crazy for us. I said, "Man, let's strap it up! Let's do it!"
Franco and Foxx made it a mission to amp up the comedy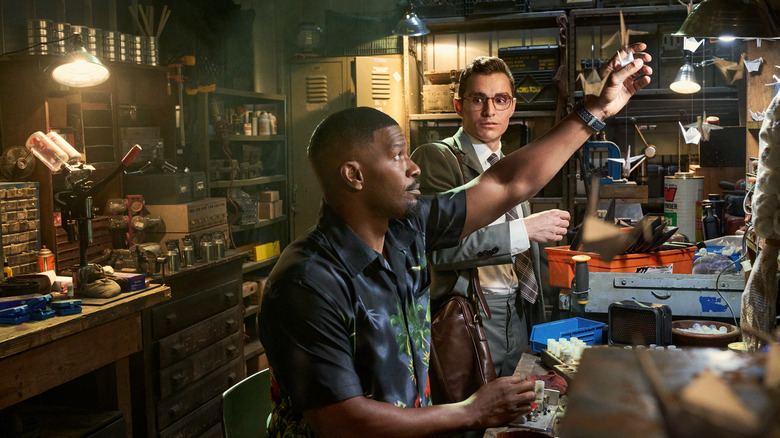 Parrish Lewis/Netflix © 2022
Dave, we actually talked for "Warm Bodies," which was a unique zombie tale. You had to love the opportunity to do "Day Shift" because it's bloody, it's gory, it's scary, and pee-your-pants funny — or in the case of your character, pee-your-pants scary.
Franco [jokingly pointing]: Sorry? What was the very end of that? Say that one more time!
I said, it's pee-your-pants scary for a guy like your character, right? [laughs]
Franco: Absolutely. I've realized through this press tour that peeing my pants is my thing. I have done it in multiple films. But it's got a little bit of everything. Like you said, it's got comedy, horror, action, and all of those things go pretty hard. It's not just, "Oh, it's light on this, but it's heavy on this." We wanted the comedy to be just as big as the action.
There was definitely comedy on the page in the script, but this guy [Foxx] ... He came up to me early on. He was like, "You know what? We got to infuse humor whenever possible. Even if it's not in the scene, even if it's a more serious scene — let's give weight to those scenes, but let's infuse a little something in there because the comedy is what's going to get it to the next level." These are genres that I love to do separately, and to do it all at once is a dream.
Foxx went to extreme measures to get Franco to join Day Shift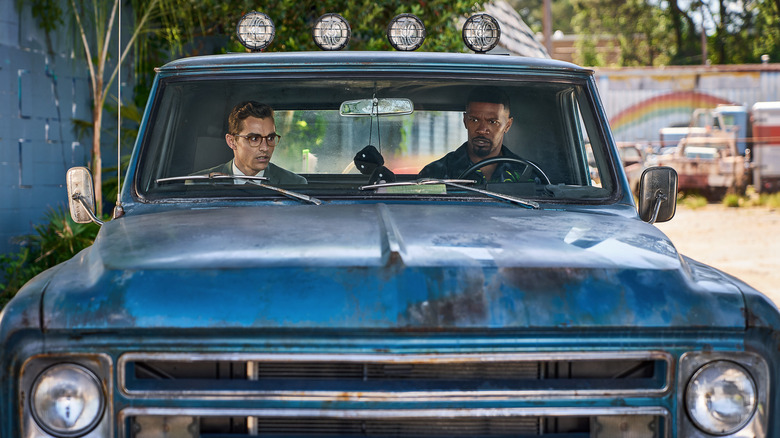 Parrish Lewis/Netflix © 2022
Jamie, correct me if I'm wrong, but this is your first vampire movie, if not your first horror movie. Were there any particular vampire movies in your life that you saw that made you say, "I've got to be in one of those someday"?
Foxx: [I was] watching Eddie Murphy in "Vampire in Brooklyn" because I'm the Eddie Murphy fan, but [also] watching Bela Lugosi in those old vampire films. I think George Hamilton played a vampire at one point back in the day, right?
Right. "Love at First Bite."
Foxx: "Love at First Bite" — yeah. But what made this so cool was having my guy next to me, Dave Franco, who I've been trying to get in a movie for the longest [time]. I was courting this guy. I was sending him text messages with pictures of him. I would send him pictures of himself and say, "How are you this funny and this good-looking?" I've got this picture where he is in a mock [turtle]neck and he's smoldering with his great looks.
I was like, if we're able to once again get into this crazy vampire world, but have not just the comedy — because it's funny — and then all of a sudden it becomes super ass-kicking ... Then [I was] brilliantly surprised with how athletic he was and how he told the stunt guys, "Let's push it further."
Franco: [I said], "Let's keep going. Let's keep going." The stunt team had certain goals for us. They're like, "If we can get you to do these moves on camera, we're golden." I was like, "No, no, no, let's go past that. Let's surprise our director [J.J. Perry]. Let's give him stuff he's not even expecting." [I wanted to do it] because I played sports my whole life and I love getting physical for these movies — and I definitely got some bruises and scars to show for it, but it was so fun.
"Day Shift" premieres exclusively on Netflix Friday, August 12.
This interview was edited for clarity.