Vanna White Appeared On Another Popular Game Show Before Wheel Of Fortune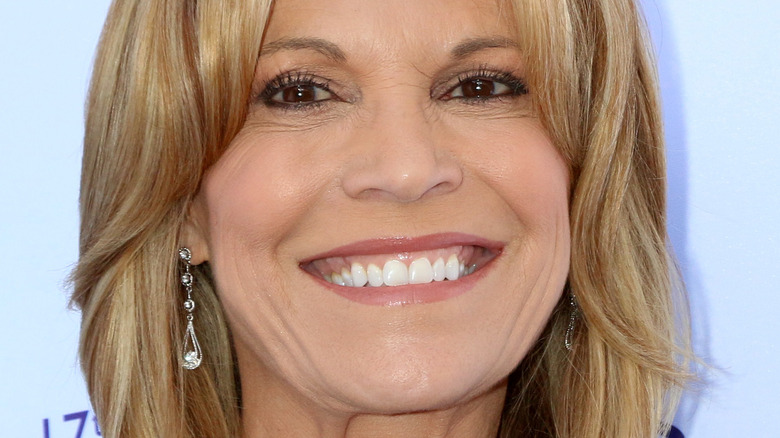 Kathy Hutchins/Shutterstock
When people think of the long-running game show "Wheel of Fortune," many things come to mind. Pat Sajak, the wheel, clever word puzzles, and of course, who could forget Vanna White? The game show icon was always there as a beacon of hope for contestants when they chose the right letter, and her presence added significant value to the overall experience as a cornerstone of the franchise. Despite some fans questioning her role, White has achieved a lot during her time as hostess to one of the small screen's most popular competition shows.
White took over the role of hostess from Susan Stafford in October 1982 and has appeared in over 7,500 episodes. While her decades-long streak of wearing a different dress in each entry is impressive, it is eclipsed by the moment she solidified her legacy in the history books. In 2013 Vanna White received the Guinness World Record certificate for the most frequent clapper. It's estimated she clapped 3,480,864 times in 30 seasons which works out to about 606 claps per episode. But the victories don't stop there. She has even excelled as the beloved TV personality outside of the show. According to IMDb, White has made cameo appearances in several shows, including "Married... with Children," "Full House," and "Fresh off the Boat." Her time on the competition series has been quite rewarding, but some fans may not realize that "Wheel of Fortune" was not her first game show.
Vanna White was a contestant on the Price is Right
Several celebrities have made an appearance on "The Price is Right" before making it big, like Aaron Paul from "Breaking Bad" as a contestant and "Baywatch" legend Gena Lee Nolin as one of the show's models. Another yet-to-be-discovered star looking for game show glory on the price-guessing contest before becoming famous was, in fact, Vanna White.
Before she became the hostess of "Wheel of Fortune," Vanna White was called down by Bob Barker and competed, hoping to win one of the fabulous prizes on "The Price is Right." Retro Machine on YouTube posted a video of White's appearance. The fashionable TV personality known for her signature style and jaw-dropping attire kept it pretty casual back then, sporting a blue "Get Serious" t-shirt. But that didn't stop her from turning heads backstage. The infamous clip of her "Price is Right" performance has been featured on "Game Show Moments Gone Bananas," "The Price Is Right Celebrates 50 Years," and "The Price Is Right 25th Anniversary Special."
In an interview with Yahoo Superfan, White talked about her experiences on the game show, saying, "I was a contestant on The Price is Right, and I didn't win a doggone thing, except for those lovely parting gifts." While she may not have had a triumphant experience that one time on "The Price is Right," White definitely found victory for decades as a champion of the small screen on "Wheel of Fortune."