The Untold Truth Of Wheel Of Fortune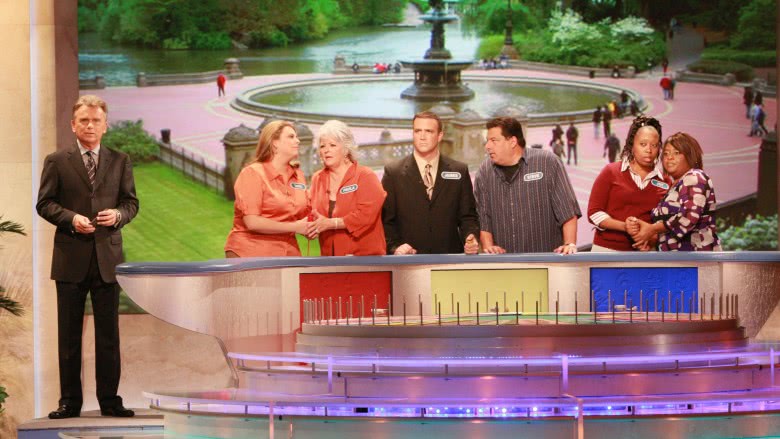 Getty Images
We may receive a commission on purchases made from links.
"Wheel! Of! Fortune!" Everybody knows the famous chant that begins every episode of the long-running game show. On the air for more than 40 years and still going strong, Wheel of Fortune has gone through a number of changes over the years, and more than a few secrets lurk behind those turning letters. Find out how a little daytime game show launched careers and inspired a nationwide mania before becoming the nighttime standby it is today. 
The first Wheel of Fortune was very different
The first version of Wheel of Fortune wasn't anything like the Wheel we know now. In 1952, CBS debuted a game show that revolved around ordinary folks who did good deeds or little acts of heroism. Those people would be brought on the show, have America hear their story, then they'd get to spin a wheel and win a prize. The theme song was the pop hit "Wheel of Fortune" by Kay Starr—and the song's popularity outlasted the program, which only ran for about a year.
This Wheel of Fortune was hosted by Todd Russell, also known for hosting the puppet-based children's program The Rootie Kazootie Show. Though Russell didn't achieve success in game shows, he was an early pioneer in the wide world of creepy puppet kids' shows of the '50s.
The original title was Shopper's Bazaar
Shouldn't game shows involve more shopping? That's what the network thought when a new Wheel of Fortune entered development in 1973. The original name was going to be Shopper's Bazaar, because a major part of the show would be contestants using their winnings to shop. To be clear, the shopping wasn't a part of winning more money, like The Price is Right. The contestants would shop for whatever they wanted to win, then play the game to take home an Indian squash blossom necklace or a Pontiac Firebird.
The name didn't make it past the pilot phase, but Wheel of Fortune stuck with the shopping motif for awhile. After playing the game, which was pretty much the same as it is now, the winner would get a chance to blow their cash on a mini shopping spree. They could buy things like redwood patio furniture or a "Mahogany fun tub for two." Though the shopping portion is a faint memory today, it stuck around until 1989, at which point producers evidently realized it isn't all that entertaining to watch someone make a list of goods they'd like to purchase.
The first hosts were Chuck Woolery and Susan Stafford
Imagining a world of Wheel of Fortune without Pat Sajak and Vanna White is pretty disturbing, but it happened. Neither Sajak nor White were the first choices for the show—in fact, Love Connection host Chuck Woolery originally spun the wheel and interviewed contestants. Wheel started as a daytime program, but that didn't stop them from giving away primetime prizes—as Woolery later recalled, they once gave away a Mercedes and even a small airplane. When asked why he left the show in 1981, Woolery cited a salary disagreement with producer Merv Griffin, though looking back, he thought he should have stayed on a little longer.
Before White ever touched a vowel, Susan Stafford was there to wear the dresses and turn the letters. She stayed with the game for seven years, and eventually grew tired of it; as she put it to the Chicago Tribune, "I mean, for seven years I stood there and turned letters." She left in 1982, and when asked if she regretted departing, she replied, "Do I kick myself? No, I like myself too much for that. Do I miss the money? You bet I do."
Susan Stafford left the show to work with cancer patients
Stafford's unhappiness with Wheel of Fortune ran deep in the months before she left. When thinking about her life and job as number one letter turner, she told the Tribune, "I had to ask myself if that was any way for a grown woman to live her life." Instead of trying to land another acting gig or moving on to more modeling, she moved to Houston to work with cancer patients.
In her book Stop the Wheel, I Want to Get Off!, Stafford recalls the moment she told her boss she was leaving, saying he told her, "Susan, you can't be serious. Even for you, this is a stretch." Later, she became a born-again Christian and allegedly helped Rock Hudson find Jesus on his deathbed.
The network didn't want Pat Sajak
Creator of Wheel of Fortune Merv Griffin was faced with the task of finding a new host once Woolery left the show, and according to his book Making the Good Life Last, he wanted Pat Sajak from the start. Sajak was a weatherman at a local news station, but Griffin loved his sense of humor. The network, unfortunately, didn't agree—specifically the head of daytime, who didn't think Sajak was qualified for the job. Undaunted, Griffin threatened to stop taping until Sajak was hired; the network wasn't about to let a hit show show slip away, so Sajak took over hosting duties, striking a blow for justice on behalf of weathermen everywhere.
People went crazy for Vanna White
It's hard to imagine a nation going crazy over someone who mostly stands, smiles, and turns things, but as Wheel of Fortune's popularity soared, so did Vanna White's. In 1986, the show became the most popular syndicated series of all time, reaching more than 30 million viewers. White appeared on the cover of Newsweek in 1987 when "Vannamania" was in full swing—the co-host received tons of fan letters and media attention, becoming so popular that people started naming their children after her. "Vanna" was the 8718th most popular girl's name in the U.S. when she joined the show in 1982—and by the following year, its ranking shot up more than 5000 places. With her newfound fame, White started a clothing line and wrote a book; 90% of girls surveyed thought Vanna White was the ultimate role model of 1986.
Pat and Vanna used to get drunk before taping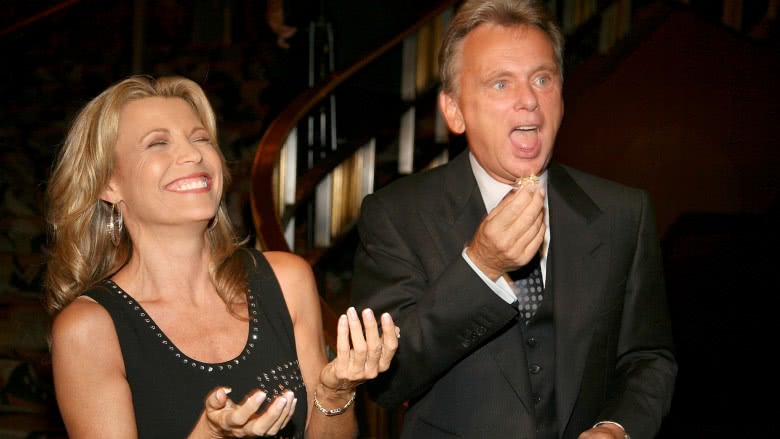 Getty Images
Though Sajak and White seemed squeaky clean, Sajak has admitted they weren't always well-behaved; in fact, in an interview with ESPN2, Sajak said he and White used to get drunk before tapings "when I first started and was much younger and could tolerate those things," adding, "We had a different show then." He went on to say that on their long dinner breaks, they'd go and have a nice Mexican meal accompanied by a margarita or two...or six. The days of drunken Wheel are over, though Sajak said he wouldn't mind seeing some of those old shows, to remember the good old days when drinking on the job was totally okay. 
Sajak and Vanna carried the Olympic torch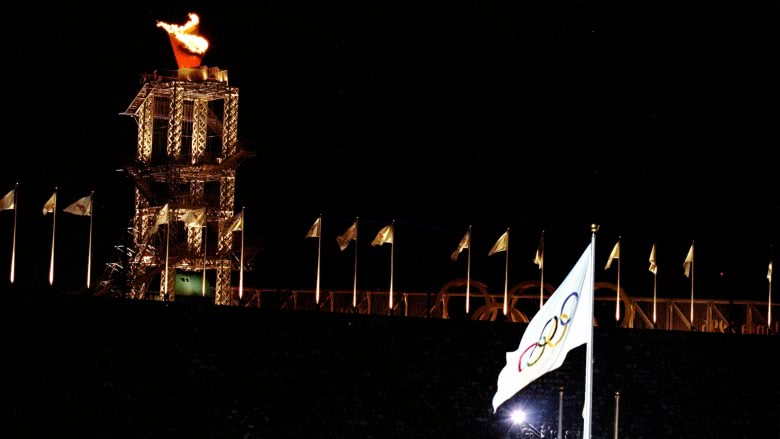 Getty Images
By 1996, Sajak and White were so thoroughly ingrained as American pop culture icons that they were asked to carry the Olympic torch for that year's Summer Games in Atlanta. As the torch passed through much of the country, it was carried by "Community and Local Heroes," with the occasional famous face popping up here and there. Though Sajak and White were obviously notable enough to earn an Olympic invitation, they still had to pay $3,000 each for their turn with the flame. 
Vanna White holds a world record
As of 2017, Vanna White has been on Wheel of Fortune for almost 35 years and has worn more than 6500 dresses during her letter-turning journey. In fact, she's never repeated a gown. In an interview with Fox (via Refinery29), she said "Never the same one twice. Nor do I get to keep them. They have to go back to the designer...I've gone through all the big styles, [including] the big shoulder pads. You name it, I've done it." After so many gowns, White prefers something stretchy and comfortable over anything else; as she pointed out, taping in a tight dress and five-inch heels isn't much fun. Of course, White's not really complaining, the show only shoots four days a month, and she understands a little clothing discomfort goes with the territory.
Yet White's greatest achievement has nothing to do with dresses—it's even more niche. In 2013, she set the Guinness World Record for Most Frequent Clapper, a title we're betting she hangs onto indefinitely.
Merv Griffin found out Sajak was hard to replace
Pat Sajak has stayed at the helm on the nighttime version of Wheel for decades, but he did leave the daytime version for a period of time. While Sajak was taping his short-lived nighttime talk show The Pat Sajak Show in 1990, producer Merv Griffin relieved him of his daytime hosting duties, subbing in former San Diego Chargers kicker Rolf Benirschke—who admitted he'd never watched the show and didn't really know how the game was played. After he was fired, Benirschke didn't seem too upset, shrugging, "I didn't pursue this to begin with. I enjoyed it, and I would consider other things, but I'm not going to pursue. My lifestyle here (in San Diego) is too precious to me."
After Benirschke's ouster, Griffin hired Bob Goen, a seasoned gameshow host and sports broadcaster, but even with Goen's experience, it still didn't work. In an interview, Goen looked back on his experience, saying, "We were the poor stepsister to the night-time syndicated version with Pat and Vanna. They were making millions and giving away BMWs, while we were stuck with $50 spaces on the wheel and giving away GEO Metros. It was a bit of an embarrassment, and I think, the ultimate demise of my version of the show." The daytime Wheel was off the air by 1991.
It's had a ratings battle with Jeopardy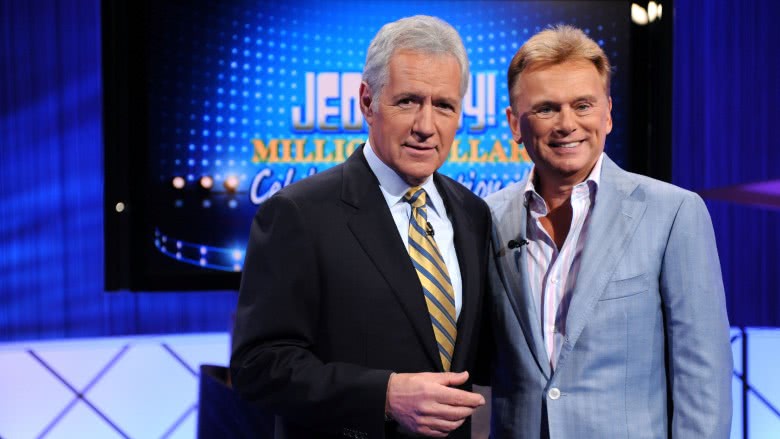 Getty Images
Wheel of Fortune and Jeopardy! have battled for syndicated ratings supremacy for years. Wheel often wins, but Jeopardy! still puts up a fight. In recent years, Jeopardy! has come out on top from time to time, but as of March of 2017, Wheel is back at number one—if only just barely. Both shows are both doing incredibly well, especially since they've been TV staples for so long; in fact, it's rare that either show places lower than fifth among all nationally syndicated programming. For something that's been on the air for more than 40 years, that's pretty impressive.