What Wheel Of Fortune Fans May Not Have Noticed About Vanna White's Dresses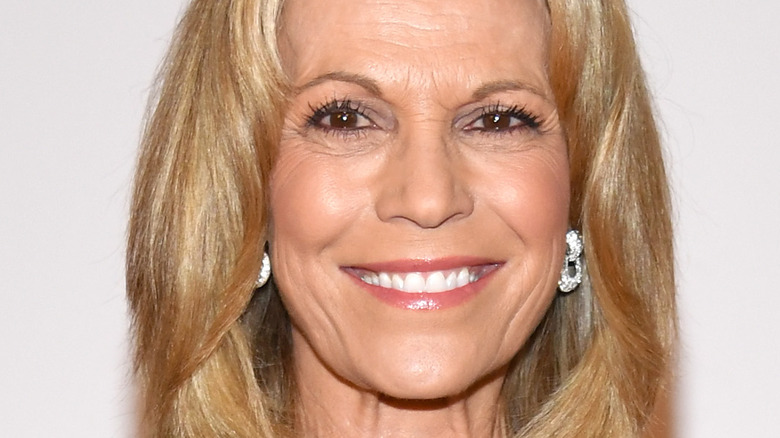 Jon Kopaloff/Getty Images
In an age of casual Fridays and remote working arrangements, fashion isn't top of mind for many modern employees. That's part of what makes glitz and glamour — wherever you can find it — so appealing. One place to look: America's top-rated game shows, including "Wheel of Fortune," where contestants are invited to spin a giant wheel, take turns guessing at word puzzles, and — hopefully — leave with cash and other exciting prizes. Hosted by Pat Sajak and Vanna White since 1982, the show is so popular that about 8 million viewers still tune in each night (via ABC).
While the drama among contestants is undoubtedly a big draw — and the opportunity to solve word puzzles from home certainly helps — White's dazzling appearance is definitely part of the package enticing viewers. Since the early days, she's grown a dedicated base of fans who are just as interested in what she's wearing as they are in the outcome of the game. Over the years, her gowns have featured sequins, sparkles, feathers, and other dazzling accoutrements. But there's one detail many fans may have missed when it comes to her attire.
She never wore the same dress twice
In 2017, Vanna White gave Fox News some juicy details about her longtime career with "Wheel of Fortune." Then 60 years old, she recalled the day she learned she'd landed the job and screamed with excitement on the phone in her apartment. She remembered making a trip to the grocery store, spotting herself on the cover of Newsweek, and realizing she was famous. She explained how — much to her regret and without her consent — her pre-"Wheel of Fortune" lingerie shots made the cover of Playboy.
She also talked about the more than 6,500 outfits she'd worn on the gameshow, hitting all the trends as styles changed throughout the decades. She sported skintight gowns that made her feel as if she were encased in a corset. She donned the giant shoulder pads that were so popular in the 1980s. Some dresses were long, and others were cocktail length. She liked the comfortable, stretchy styles best, and told The Today Show one of her favorites was a floor-length white gown adorned with pink feathers at the hemline. Form-fitting and without any slits, it was difficult to walk in. But the fun style brought back memories of a Barbie dress she had as a child.
"Never the same one twice. Nor do I get to keep them," she told Fox News of the dresses. "They have to go back to the designer, but I certainly enjoy wearing them." Three years later, however, the first part of White's statement was no longer true.
And then, one day, she wore a repeat
On September 24, 2020, after a mind-boggling 7,000 different dresses, Vanna White broke her decades-long streak and wore a repeat. It was the same silky blue dress she'd worn on the previous Thursday's show. With systems in place to make sure that never happened, it was difficult to know what went wrong to create such a mistake. But this was a year of unprecedented misfortune, and White took her fashion faux pas in stride in a video for fans. Holding the dress, she explained the situation, rolled her eyes to the sky, and sighed, noting with a frown, "This is so 2020!"
While White's attire certainly isn't the central focus of "Wheel of Fortune," it's important enough that people working on the show take specific steps to make sure she's in a unique dress for every episode. As she explained in an interview with TV Insider, they take photos to document the dresses she wears. They keep lists with descriptions of each piece. They're in contact with designers who provide the dresses and take the gowns back. Yet somehow, a mistake was made. White didn't simply wear a similar dress two Thursdays in a row. She wore the exact same one.
No one could be sure how it had happened. But according to White, the error was discovered thanks to an eagle-eyed fan. "Somebody who was watching very closely picked it up," she said. That person brought it to their attention, and a whole new angle on "Wheel of Fortune" trivia was launched.