Better Call Saul Faced Some Massive Challenges In Filming The Finale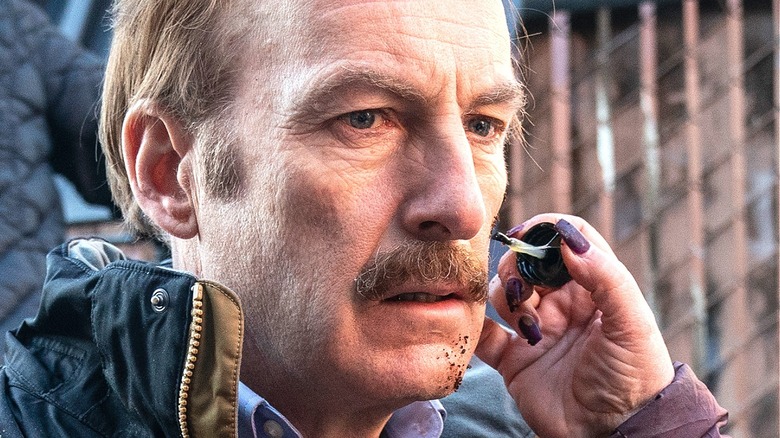 Greg Lewis/AMC/Sony Pictures Television
Contains spoilers for "Better Call Saul" Season 6, Episode 13
The emotional series finale of "Better Call Saul" is finally in the books. From two-bit conman to gaudy attorney to disheveled Cinnabon chef to jailbird, viewers have been watching the story of Jimmy McGill (Bob Odenkirk) for six seasons and were guessing about how it would conclude until the bitter end. 
Season 6 of "Better Call Saul" faced a number of challenges throughout its production. Aside from the logistical nightmare of shooting during COVID-19, the final season was nearly scrapped altogether after Odenkirk suffered a heart attack while filming. To top it all off, "Better Call Saul" was even hit with a lawsuit filed by a tax service with a similar name to a fictional (and unsavory) business depicted by the show in Season 6.
However, with no more secrets to keep or twists to spoil, series co-creator Peter Gould is now able to be more candid about the process of creating the final season. And in a new interview with Entertainment Weekly, the showrunner spilled his guts about the difficulties the "Better Call Saul" crew faced while shooting the grand finale.
The Better Call Saul finale faced fierce snowstorms and tricky scheduling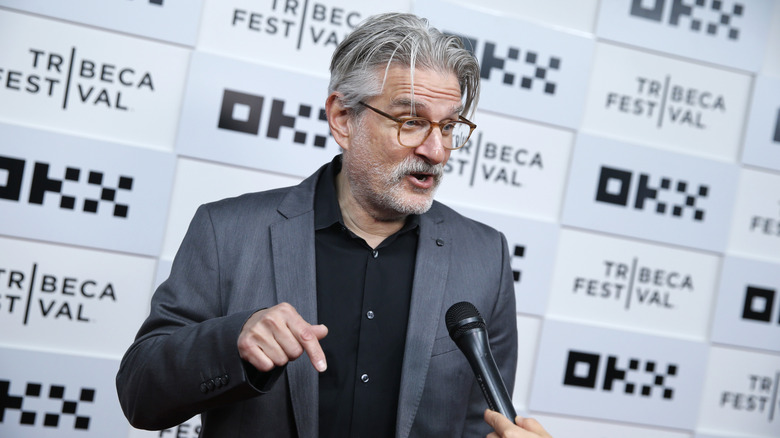 John Lamparski/Getty Images
Speaking to Entertainment Weekly, "Better Call Saul" showrunner Peter Gould painted a picture of the trials his team faced while shooting the series finale. In addition to facing significant challenges around filming during COVID-19, the production also needed to secure a realistic-looking set for the federal courtroom that plays host to Jimmy's trial. Although the Supreme Court of New Mexico provided them with such a courtroom, Gould says it was only available on weekends, forcing the crew to shift their shooting schedule. On top of that, the weather caused its own set of problems. 
"We had a giant snowstorm that actually stuck a good portion of the crew at a location," Gould recounted. "We shot at a prison, which was freezing cold and also was a working prison—it was very sobering and upsetting, let's put it that way." 
Gould continued recounting the weather-related issues that plagued the finale, adding, "We were out in the desert shooting a scene that was supposed to be in the blazing heat ... and it was actually damn cold. Last season we shot in the desert and it was way too hot. And this time we shot in the desert, it was way too cold, so we just can't win."