Better Call Saul Hit With Hefty Lawsuit Over Alleged Season 6 Rip-Off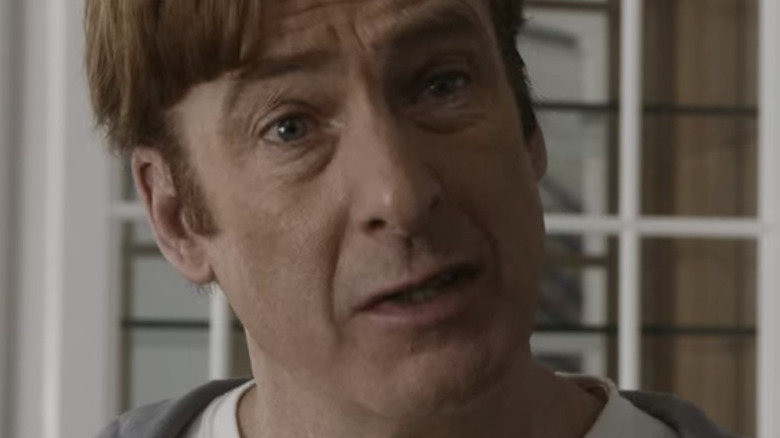 AMC
The climactic final season of "Better Call Saul" is nearly over, and what a ride it's been so far. The "Breaking Bad" spin-off series, which some fans claim is actually better than its predecessor, has explored the story of how a struggling attorney named Jimmy McGill (Bob Odenkirk) transforms into the sarcastic, wise-cracking Saul Goodman — a con-man who puts the "criminal" in "criminal lawyer" — for six seasons, but unfortunately, the utterly compelling story of Saul Goodman is nearly at an end.
On the positive side, though, Season 6 has been met with an incredible amount of praise from critics and fans alike –- with the series finale shaping up to be something absolutely spectacular. That said, the sixth season "Better Call Saul" has also certainly faced its fair share of hurdles, most famously when Odekirk suffered a heart attack during the filming of a crucial episode. 
Now, a new obstacle has reared its head in opposition to "Better Call Saul" Season 6, in the form of a hefty lawsuit from Liberty Tax Service.
AMC is being sued by Liberty Tax Service due to their depiction of the crooked Sweet Liberty Tax Service
According to The Wrap, the real-life Liberty Tax Service is suing AMC for trade dress and trademark infringement, due to the series' portrayal of a fraudulent business called "Sweet Liberty Tax Services," run by Betsy and Craig Kettleman (played by Julia Ann Emery and Jeremy Shamos respectively). Fans of "Better Call Saul" will remember the detestable Kettleman family from way back in Season 1, when Craig embezzled over a million dollars from the county at the behest of his wife, Betsy.
The lawsuit alleges that the TV series uses "an obvious imitation of an actual Liberty Tax location, but twisted to paint Liberty Tax in a negative and disparaging light," and also claims that "Better Call Saul" used the company's registered trademarks without permission (via Bloomberg Law). The company went on to assert that the show's portrayal of "Sweet Liberty Tax Service" has been harmful to the reputation of Liberty Tax Service itself, and as such, the suit is aiming to halt the distribution of the episode in which the faux Tax Service appears (that would be Season 6, Episode 2, to be precise).
At this time, neither AMC nor Sony have responded publicly to this lawsuit, so as of right now it remains to be seen what will come of this controversial episode – and indeed, whether this suit has any legs to stand on, considering that the show has used plenty of "Statue of Liberty" imagery from the very start of the series.