Only One DC Hero Can Save Warner Bros.' DCEU At This Point, And The Answer Should Be Obvious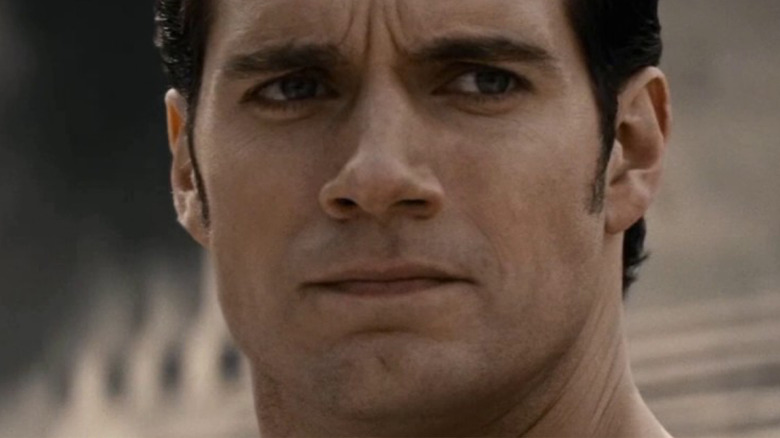 Warner Bros
When it comes to the DC Universe, Warner Bros. is in crisis mode. Their worldbuilding, fueled on high hopes of competing with Marvel Studios, has been in disarray ever since Ben Affleck looked up in the sky to scowl at Henry Cavill in "Batman v. Superman: Dawn of Justice." Flash-forward to now, and their subsequent attempts to join the superhero-shaped clouds in the sky haven't fared any better. After the $90 million canning of one film, combined with seemingly futile efforts to kill the controversy surrounding "The Flash" star Ezra Miller's recent allegations, no project stamped with DC's iconic blue label feels safe from being (for lack of a better term) Batgirled.
Regardless of one of the studio's revealed contingency plans being actioned, the scarlet speedster's solo film still has every chance to be put on the bricks. If it is, Warner Bros. Discovery would be shelving a $200 million film that's been a decade in the making. Doing so would cement the growing concerns from both fans and industry members that the studio with a golden ticket to match the MCU would be returning to the drawing board. 
They don't need to. Not entirely, at least. In fact, Warner Bros. Discovery's most powerful weapon in the DC universe is one they've barely used — they just need to give it the green light.
Green Lantern is the hero Warner Bros. needs right now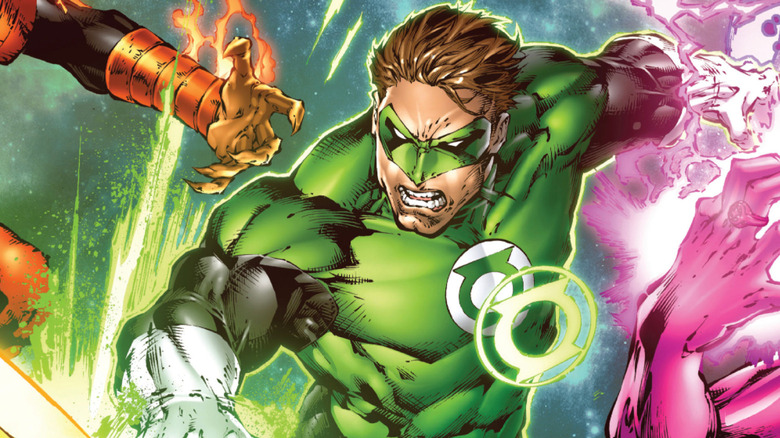 DC Comics/Eddy Barrows, Doug Mahnke, Gene Ha
Directorial cuts and cameos aside, Green Lanterns haven't been given that much live-action attention following Ryan Reynolds' 2011 rumble with the ring. His notorious misstep as Hal Jordan put the hero back massively, sealing the fate of a franchise-starter that ended with a cliffhanger to nowhere. 
That said, if comic book movie history has confirmed anything, it's that there's always a chance for a comeback. In the case of this eponymous Emerald Knight, "Green Lantern" has all the more reason to succeed, given that elements from other franchises bubbling in its melting pot that have gone on to become staples of popular culture.
With shades of both "Captain Marvel" and "Star Wars," Green Lantern was a hero saving the day years before both even existed, thriving on the comic book page and arguably defining the tone and breadth of the Silver Age. Debuting in 1959 in Showcase #22, Hal Jordan's Green Lantern, and the peacekeeping organization he was a part of, explored a corner of the DC Universe stretching beyond Batman's crime-riddled streets or even the depths of Aquaman's oceans. 
Nowadays, Jordan isn't the only Earth-based ring-wielder — he's one of many prominent Green Lanterns, all fighting alongside extra-terrestrial enforcers on a space-opera-sized level to rival the most seasoned Jedi. Sure it might sound pretty close to another galaxy from far, far away, but it's one bursting with possibilities — many of which could are ripe for the picking.
The Green Lantern series could be the start of something huge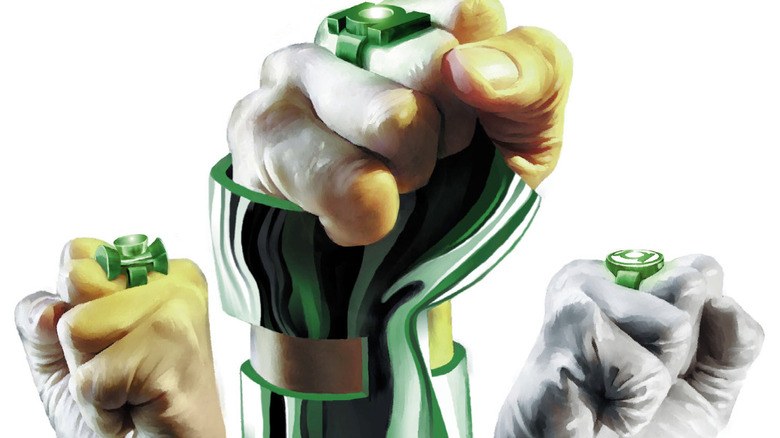 DC Comics/Brad Parker
The future of the DC Universe on film might look (increasingly) smaller than we'd like, but one remaining promised project is a "Green Lantern" TV series that has been in the pipeline since 2020. The upcoming show stars Jeremy Irvine as Golden Age Lantern, Alan Scott, whose ring works differently from the all-powerful accessories worn by Hal and company. Joining him is Finn Wittrock as Guy Gardner, the known brute of the GLC (Green Lantern Corps) and the third Earthling enlisted into the planet-protecting space force. It's an intriguing pairing to put together for the studio's second attempt at getting live-action Green Lanterns off the ground, but if done right, this approach could finally take a leaf out of the competition's playbook.
Following an investor call on August 4, 2022, Warner Bros. Discovery revealed plans that matched Marvel's methods of world-building and put a 10-year plan in place. CEO David Zaslav revealed plans "To grow the DC characters, but also our job is to protect the DC brand. And that's what we're going to do." With that in mind, it would be great to see the Green Lantern Corps expand on the small screen before soaring out to the big one, similar to how the likes of Ms. Marvel (and presumably Moon Knight and She-Hulk, at some point) are set to do. 
Taking this route would give Warner Bros. breathing time to prep for major motion picture DC events and help plant a shiny new jewel under the iconic water tower, to replace another that's recently lost its magic. 
The Green Lantern Corps has enough franchise firepower to hold its own against Marvel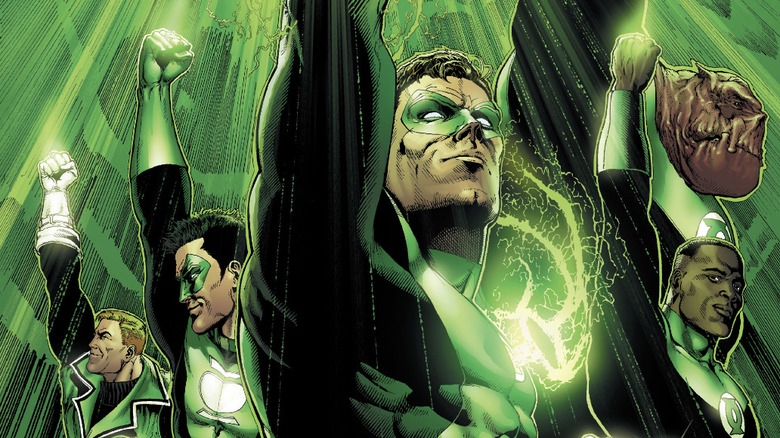 DC Comics/Ethan Van Sciver
With the "Wizarding World" crumbling as quickly as the DC Universe and "The Secrets of Dumbledore" earning the lowest box-office in the franchise to date, it's not just Dark Knights and Men of Steel Warner Bros. are struggling to maintain. 
With plans for more "Fantastic Beasts" movies seemingly halted (via Variety), it would be a great time for the studio to deviate and let the Lanterns light the way — not just by finally crafting a DC franchise that takes flight, but also by spreading out into a sub-franchise of its own, complete with spin-offs upon spin-offs. Risky as it might be, diving headlong into Green Lantern could finally beat Marvel at their own game, with a tactic even they haven't put into effect yet.
Kevin Feige might be keeping his comic books close to his chest, but any Marvel fan worth their weight in adamantium knows how much is at the MCU's disposal when it comes to the X-Men. A universe unto itself, "Ms. Marvel" has seen the studio just begin to crack open the blockbuster box of goodies that comes with their own batch of team-ups and solo adventures. If Warner Bros. followed that blueprint — that is, allowing Green Lantern to be a force unto itself, with dozens of characters worthy of individual attention — then Green Lanterns like Alan Scott and Guy Gardner could be the Wolverine and Cyclops to the Green Lantern Corps' X-Men. Other Green Lanterns like John Stewart, Jessica Cruz, and Kyle Rayner could also have their moment in the sun, while Green Lantern-adjacent groups like the rage-fuelled anti-heroes the Red Lanterns as their unconventional X-Force. In turn, this could fortify the world of these ring-wielding characters' building up to a story that rivals even Marvel's big screen outings, giving the DCEU a real rebirth.
Adapting Green Lantern Rebirth is an absolute must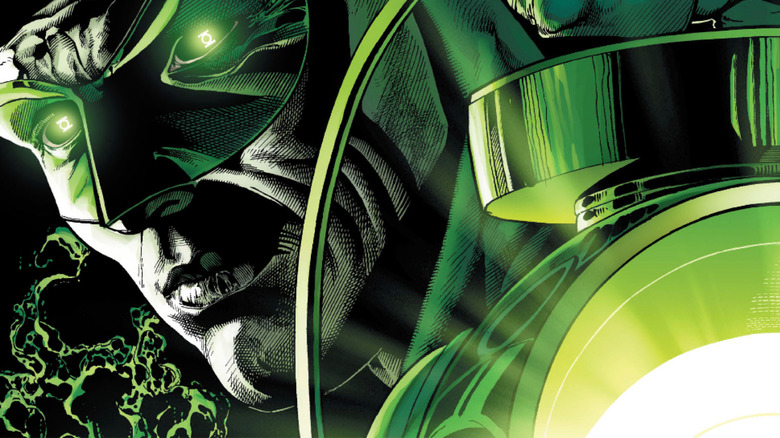 DC Comics/Ethan Van Sciver
HBO Max's choice to focus on two Lanterns from very different eras is brave, bold, and also — perhaps most importantly – leaves a lot of space to fly around in. A key chapter in DC lore, which separates the pair of Alan Scott and Guy Gardner, is Hal Jordan. And Jordan's absence from the series could set up a substantial story worthy of being a big screen event — "Green Lantern: Rebirth." 
Published in 2004, writer Geoff Johns reintroduced Hal Jordan to the Green Lantern's ranks following his death a decade earlier. It was a redemption story for Jordan, who had previously taken a Darth Vader-like route of turning to the Dark Sideand becoming the supervillain known as Parallax, only to return to the light (and live to tell the tale) after spending as stint as the Spectre. With that in mind, our small-screen intro into the refreshed world of Green Lanterns could see Gardner learn about a lost hero, the same way the original "Star Wars" trilogy told of the legend of Anakin Skywalker. Doing so would build up an air of mysticism and anticipation around "the greatest lantern of them all," ensuring that when Jordan does finally appear, it carries the necessary impact. 
Setting up Hal's reputation before he reappears would help undo the damage done by the 2011 film. And building out the Green Lantern mythos, comparable to the MCU in scope, before dumping all the major players into the mix, would be the sort of patient worldbuilding the DC Universe has so desperately needed. This would also give Warner Bros. Discovery the chance to replicate a decision DC Comics made in 2011 — one that left most heroes not wearing a green ring changed forever — without having to rely so hard on the Scarlet Speedster.
Green Lantern could give the DC Cinematic Universe the reboot it needs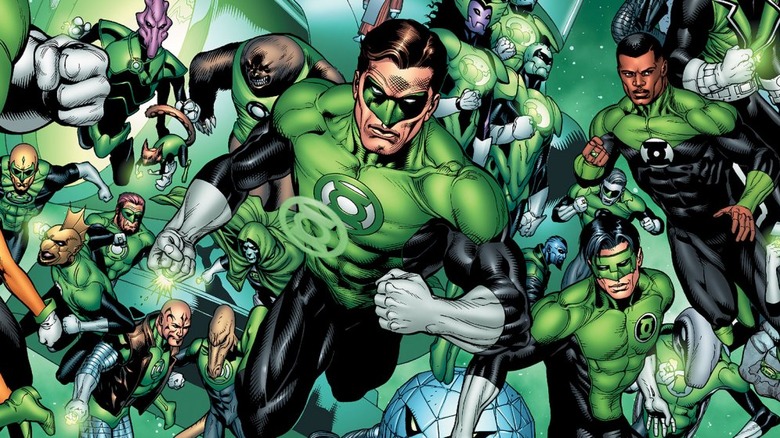 DC Comics
From what we've seen from "The Flash," it's clear Warner Bros. Discovery intends on tweaking the universe and using the "Flashpoint" to do it. Published in 2011, the comic book story saw Barry Allen time travel to stop his mother's death, inadvertently altering the timeline and the heroes in it. The slip-up was eventually rectified, leading to a massive relaunch for DC Comics known as The New 52, rebooting many heroes and giving them more than just a wardrobe change. When it came to Hal Jordan and his color-coded friends and foes, however, they were left predominantly untouched, since they were still thriving from Johns' "Rebirth" success. 
With this careful selection process in mind, could Warner Bros. Discovery's new "10-year plan" apply a similar rule for the HBO Max "Green Lantern" show, and the remaining chapters of the uneven DC universe?
Should "The Flash" actually get shelved, spending time away in a world lit with shades of "Star Wars," "X-Men," and in some cases "28 Days Later" (yes, really — it's called "Blackest Night") could be a savvy studio-produced distraction. Enough time could pass via green-tinted shows, movies, and immense crossover events, that when the Lanterns do return to Earth, them being greeted by an all-new Superman and maybe even a Nirvana-loving Caped Crusader would be permissible. 
By then, Warner Bros. Discovery could finally have regained ground to a franchise desperately needing a recharge. Perhaps all it takes is a Green Lantern power battery to do it.