How Dwayne Johnson Once Honored Paul Walker During Shark Week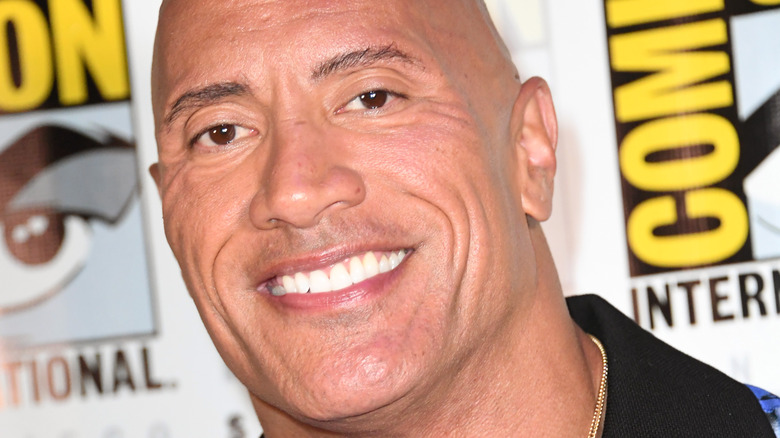 Albert L. Ortega/Getty Images
It's hard to think about the "Fast & Furious" movies without seeing the faces of Vin Diesel and the late Paul Walker. As any fan knows, Diesel and Walker started it all back in 2001 with "The Fast and the Furious," which was a mixed bag for critics and fans (via Rotten Tomatoes). However, Universal Pictures decided to keep the series going, likely because it made over $207 million worldwide at the time of its release on a $38 million budget (via Box Office Mojo). The "Fast Family" has grown exponentially since that time, with many new members on the team.
The family started with mainly Dominic Toretto (Vin Diesel), Mia Toretto (Jordana Brewster), Brian O'Conner (Paul Walker), and Letty Ortiz (Michelle Rodriguez). By the time "Furious 7" rolled around in 2015, the team included Roman Pearce (Tyrese Gibson), Tej Parker (Ludacris), Gisele Yashar (Gal Gadot), and the more recent additions of Elena Neves (Elsa Pataky) and Ramsey (Nathalie Emmanuel). Of course, it would have been complete without Luke Hobbs (Dwayne Johnson). Johnson first appeared in "Fast Five" as the character until ultimately getting a spinoff movie in "Hobbs & Shaw" in 2019 alongside Jason Statham's Deckard Shaw.
Walker would tragically die in a car accident during the filming for "Furious 7," which the cast of the film has since struggled with. Although Diesel has asked Johnson to return to the franchise in honor of Walker after their feud, Johnson still refuses to do so. However, he did once honor Walker further a few years ago during Discovery's Shark Week.
Dwayne Johnson used his Shark Week introduction to mention Paul Walker's love of marine life
Back in 2014, before "Furious 7" had hit theaters and just under one year after Paul Walker's death in November of 2013 (via The Hollywood Reporter), Dwayne Johnson made an effort to publicly honor his co-star. While filming introductions for Shark Week, Johnson made a point to have a portion of his speech discuss Walker's impact and passion for marine life (via E! Online). Johnson posted this speech on Instagram, where the caption read, ​​"[I] Was moved to shoot this very special intro to one of Paul Walker's final missions for shark and marine conservation. #DiscoveryChannel #SharkWeek #ProtectingThatWhichILove #MissYouBrotherPaul." In the video, Johnson explained that Walker was a great man, father, and friend. However, he also was an advocate for shark and marine conservation.
Since that time, Johnson has honored his co-star again on his birthday in another Instagram post on September 12, 2019, although he noted that he usually likes to keep his relationship with Walker private. The caption discussed how he and Walker bonded over being a father to their respective daughters, and that he felt compelled to write about him given the car accident that almost took the death of another friend in actor and comedian Kevin Hart, per Entertainment Weekly.
Since Johnson still refuses to return to the "Fast & Furious" franchise films because of Vin Diesel, it is unlikely we will see him as Luke Hobbs anytime soon, although a sequel to "Hobbs & Shaw" has been discussed.