Steve-O's Efforts To Bring Bam Margera Back For Jackass 4 Will Surprise You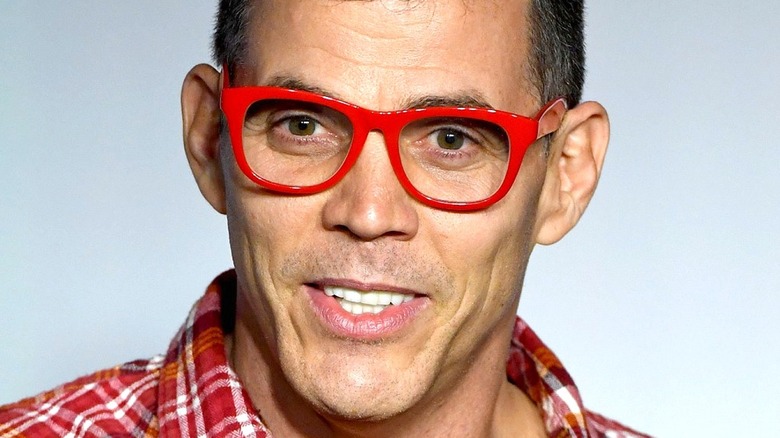 Michael S. Schwartz/Getty Images
Although the push for 2000s decade nostalgia is not as widely represented in reboots, retrospectives, and fictional settings in popular entertainment, we can always count on the "Jackass" franchise to deliver. The hilarious antics, difficult stunts, and tasteless frivolity we all remember from its days on MTV all resonate today. "Jackass" has always been a franchise that is never trying to be anything other than a laugh fest, a thrill-seeking sideshow exhibit, and a viewing result that is perfectly captured in its title.
When "Jackass Forever" was announced back in the summer of 2021, the announcement made waves across social media. It would be the first "Jackass" installment without the participation of Ryan Dunn, who tragically passed away in 2011. With the cast so far removed from the last main installment, "Jackass 3D," back in 2010, recapturing what made the franchise such an entertaining guilty pleasure years ago could turn out to be challenging. But with a worldwide box office gross of $80.3 million (via Box Office Mojo) against only a $10 million budget, the "Jackass" franchise still proved popular over 20 years after its heyday.
But apart from a tragic loss between "Jackass 3D" and "Jackass Forever," there was also a noticeable absence from the film.
Bam Margera's absence from Jackass Forever explained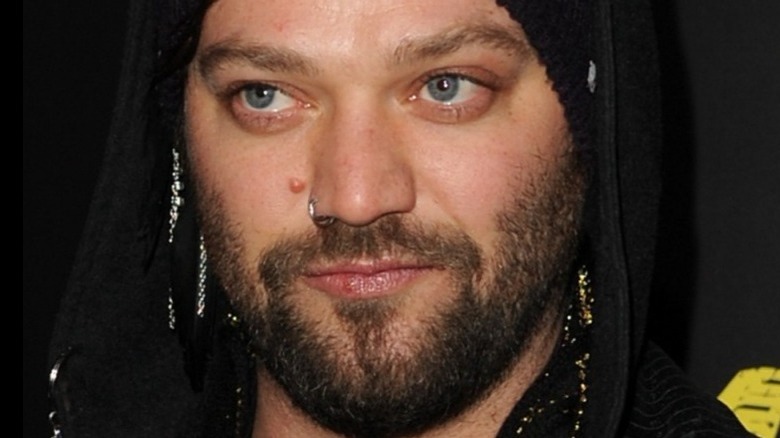 Kevin Winter/Getty Images
Bam Margera had been a part of the "Jackass" franchise since the beginning. After the MTV series ended in 2001 and he participated in the first film in 2002, he was given his own equally addictive show on MTV called "Viva La Bam" which aired from 2003 to 2006, and all of the movies up until "Jackass Forever." But the 2010s were not kind to Margera as he battled a years-long substance abuse struggle, and various troubles with law enforcement succeeded in practically destroying his life.
In a 2019 interview on "Dr. Phil," Margera commented that "rehab is just simply not for me." While defying the need for substance abuse rehabilitation after some failed attempts with in-patient treatment, he was hired to appear in "Jackass Forever," but unlike in the early days of the franchise, substance abuse would not be tolerated in the latest installment. During filming, Margera was fired from the production for testing positive for the prescription drug Adderall without a prescription, according to a report from Variety.
If you or anyone you know is struggling with addiction issues, help is available. Visit the Substance Abuse and Mental Health Services Administration website or contact SAMHSA's National Helpline at 1-800-662-HELP (4357).
Steve-O worked tirelessly to bring Margera back onto the movie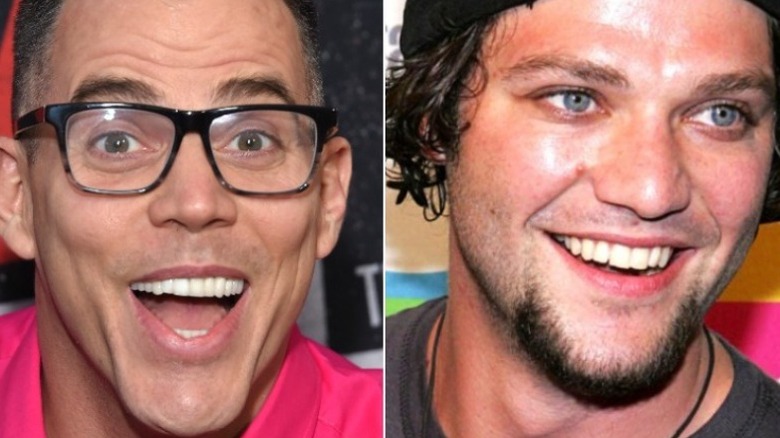 DFree & Everett Collection/Shutterstock
Similar to practically everyone in the "Jackass" franchise, Bam Margera and Steve-O have remained close over the years. In an interview with Margera on his "Steve-O's Wild Ride!" podcast, Steve-O divulged to his former co-star, "When you had been kicked out of the movie, I was oddly, like surprisingly, campaigning to get you back in the movie." Steve-O went as far as setting up a Zoom call with Margera, Johnny Knoxville, Jeff Tremaine, and Spike Jonze, but Margera "got loaded and no-showed the call." His posts and videos on social media the night before the call confirmed to everyone in attendance that he was likely hung over.
But despite his addiction problems, as well as the hard feelings that followed his firing and his botching the chance to get back to "Jackass Forever," Margera commented that he was glad he wasn't in the film. "Everything's meant for a reason and I'm much better off not being in it ... I don't want to do that anymore," he added. Margera finally completed nearly a year of rehabilitation for his addictions in mid-2022.