Lives That Were Destroyed By Jackass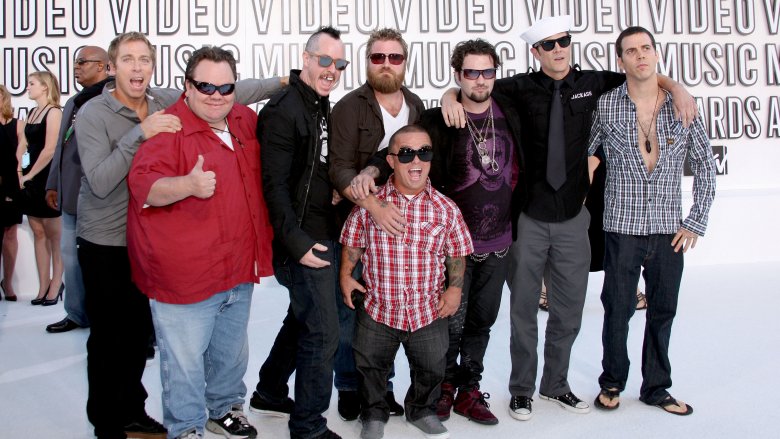 Getty Images
In 2000, "Jackass" creators Jeff Tremaine, Johnny Knoxville, and Spike Jonze assembled a crew of daredevil skateboarding wildboys with equal parts charisma, shamelessness, and chutzpah. As we all know by now, those qualities would catapult the crew to MTV fame — and that was only the beginning of their meteoric rise to the top. What followed was a juggernaut of spinoffs, films, tours, merchandising, and red carpet appearances that made superstars of the young men whose death-defying antics left audiences always wanting more.
Of course, when you build your media empire on physical punishment, it's pretty difficult to keep it all going indefinitely, and looking back, it's really no surprise that the "Jackass" phenomenon eventually started to fade. Although they've kept it going for an impressively long time — "Jackass: The Movie" reached theaters in 2002, with "Jackass Number Two" following in 2006, "Jackass 3D" arriving in 2010, and "Jackass Forever" set for 2022 — it isn't easy to keep coming up with new and inventive ways to risk life and limb.
Yet behind the scenes, it definitely hasn't been all fun and games for the guys — as well as many of the people around them. As the heyday of the enterprise that was "Jackass" began to wane, the price that those involved paid became all the more prevalent — divorces, addiction, bodily injuries, even death. Looking over the various ups and downs weathered by the crew, it sometimes looks like the gang at "Jackass" might be caught in a perpetual hangover — and those are the ones who made it out alive. Here's a look at the lives that were destroyed by "Jackass."
Bam Margera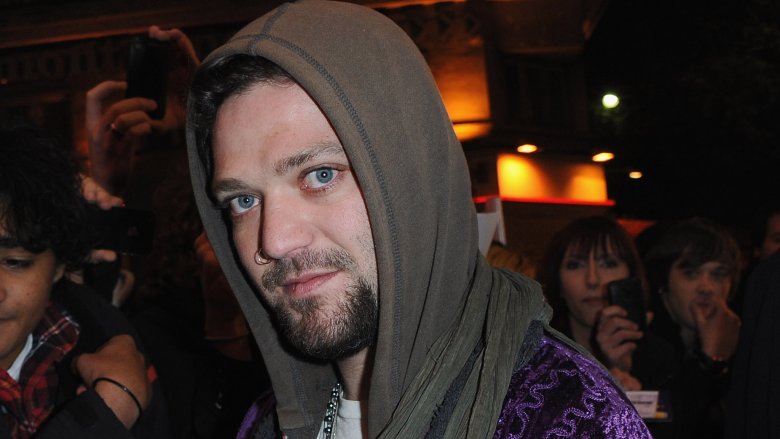 Getty Images
Bam Margera and the crew of CKY (Camp Kill Yourself) found a home for their special brand of skateboarding meets crazy when they joined forces with Johnny Knoxville's contingent from "Big Brother" to create "Jackass" in 2000. For Bam, the propulsion to fame was accompanied by unchecked alcohol use, which he admitted would fuel the often death-defying shenanigans that brought "Jackass" success, and spurred spinoff shows like "Viva La Bam" and "Bam's Unholy Union." Bam also struggled with bulimia, which his mother April Margera said on Viceland's "Epicly Later'd" (via E! News) developed during his friendship with Finnish rock star Ville Valo, whose thin frame Bam apparently admired.
Margera's ultimately ended marriage to Missy Rothstein was shaken early on by cheating rumors, plus a 911 call Rothstein made when Margera popped an Ambien during a four-day drinking binge. Margera later appeared on VH1's "Family Therapy with Dr. Jenn," where he discussed his difficulty moving on from the death of his best friend and costar Ryan Dunn.
After the end of his first marriage, Bam Margera rebounded, taking vows with Nicole Boyd and fathering a son named Phoenix Wolf in 2018, per People. But two weeks after the birth, he apparently relapsed and was arrested for driving under the influence in Los Angeles, and subsequently checked into a rehabilitation facility, which, according to TMZ, came after a confrontation from his mother and wife. Margera left rehab early, and after getting hostile at an L.A. hotel bar, was arrested for trespassing.
Around that time, pre-production on "Jackass Forever" got underway, and filmmakers and castmates wanted Margera on board, but to encourage his sobriety and a smooth shoot, required he sign a "wellness agreement," according to Variety, pledging he'd keep his substance use in check. But after a 2020 drug test came up positive for Adderall, a violation of the contract, Margera was fired from the movie. Margera later sued Paramount, Johnny Knoxville, and producer Spike Jonze, alleging wrongful termination and contesting that he'd been forced to sign the agreement in the first place. Weeks after filing that suit, Margera faced other legal issues when Boyd asked a court to grant her full custody of their child, per TMZ.
Missy Rothstein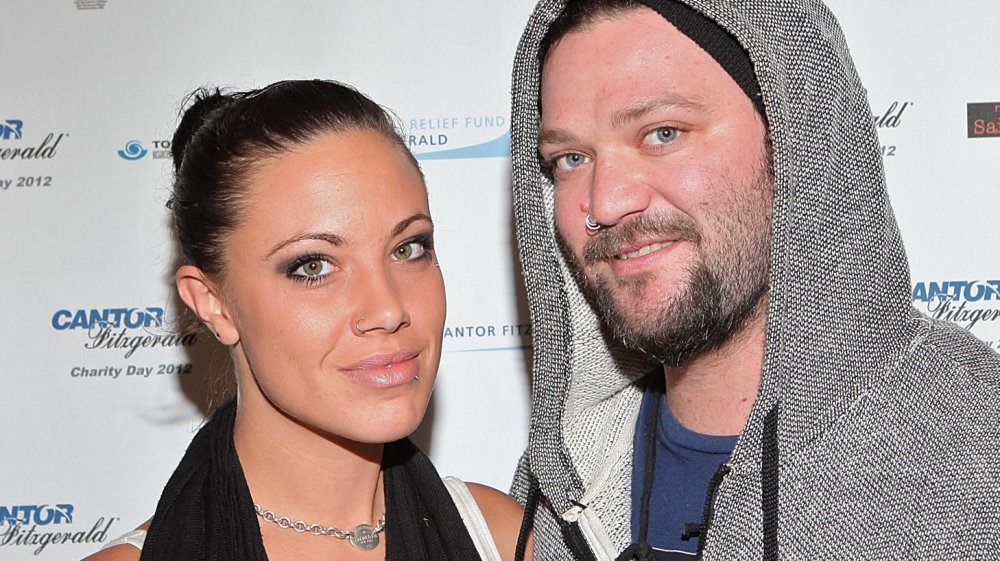 Getty Images
MTV's "Bam's Unholy Union," the "Jackass" spinoff that ran for one season, forever immortalized memories of the happier times leading up to the nuptials of Bam Margera and Missy Rothstein. The show thrust Rothstein into the limelight as she coped with the Jackassesque hijinks that ensued while she and Bam planned their Pennsylvania wedding.
Apparently, Missy expected Bam to clean up his act once the ring was on her finger, as Bam told Howard Stern in an on-air interview. Bam did not oblige, and rampant cheating rumors swirled while Bam raged on with his bad boy antics. By 2010, the two were living in separate cities, though Missy was on hand to comfort Bam when they grieved the death of their friend, Ryan Dunn.
Missy and Bam finalized their divorce in 2012, and Missy tweeted her delight: "official Divorced... happy Finally Free.... who wanna come to my Divorce Party haha... " Missy had previously appeared in Bam's films "Haggard" and "Minghags," and also strutted her stuff in a Playboy pictorial (with Bam as guest photog), but she apparently welcomed the chance to retreat from the public eye, leaving behind her social media accounts. Though Bam remarried in 2013, Missy did appear in a photo on his Instagram in 2015, indicating the two may have managed to remain friends.
Ryan Dunn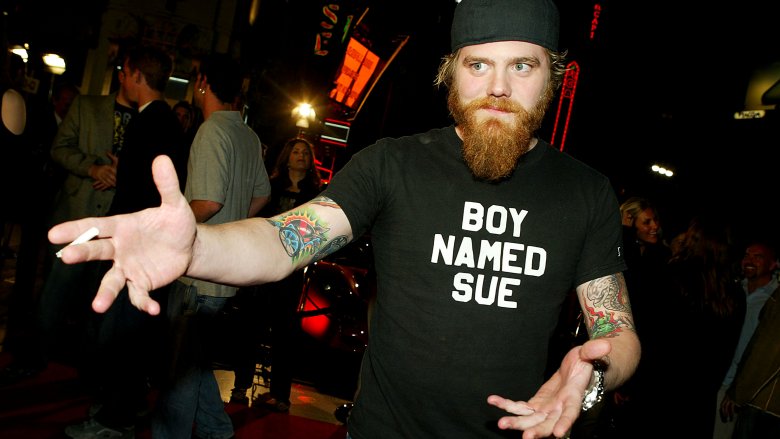 Getty Images
When you talk about lives destroyed by "Jackass," Ryan Dunn's name may be the first to come to mind.
Bam's best friend, and part of the original CKY crew, Ryan Dunn developed a reputation on "Jackass" for being the guy willing to perform the insane stunts that the other guys wouldn't. He appeared in the "Jackass" movies and had his own MTV show, "Homewrecker," as well as the G4 show "Proving Ground." He over-indulged in alcohol and racked up driving citations, including DUIs and a suspension of his driver's license. Dunn's love of alcohol, cars, and driving fast led to his end when he crashed his Porsche into a tree while drunk, traveling up to 140 mph.
Along for the fateful ride that night was Zachary Hartwell, a production assistant on "Jackass 2." The accident that took his and Dunn's lives occurred just around the corner from Hartwell's home, with his new wife hearing the impact of the crash. Hartwell's family filed suit against the Dunn estate as well as the bar that served the two earlier in the night.
The blow still lingers for the Jackass crew, many of whom have commented in subsequent years about the lasting anguish of Dunn's death. Jason "Wee Man" Acuna told Page Six, "It affected me pretty hard. I think of him every day. And I get pissed at people who I know are drinking and about to drive — like hell no. If Ryan could take that day back, I think he would."
Steve-O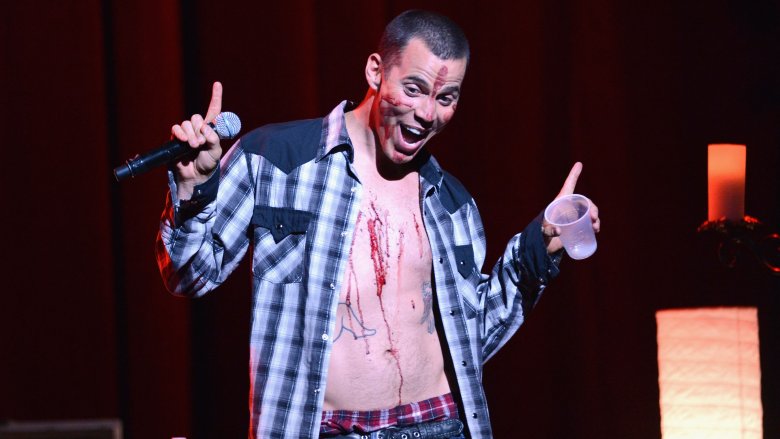 Getty Images
Steve-O, aka Stephen Glover, found his way to the original "Jackass" crew after sending videos of his homegrown stunts to "Jackass" producer Jeff Tremaine. He quickly became one of the cast members who would perform the most disgusting tricks and would mutilate his own body if it made for good footage.
Steve-O was arrested in 2002 on obscenity charges for stapling his scrotum to his thigh during a nightclub act. In the following years, he faced two divorces and multiple scrapes with the law for drugs and disorderly conduct. His drug and alcohol binges spiraled until he was institutionalized as a suicide risk. He spent a year in and out of psychiatric care as he battled the effects of years of wanton drug use. He later confessed to GQ that he heard other voices in his head while on drugs, and that one of his lowest moments was snorting cocaine off a drug dealer's table that was covered with dried blood.
To aid Steve-O, no beer was allowed on the set of "Jackass 3D." He apparently did not need the aid of drugs or alcohol to fuel his stunts. Now sober, and a devoted vegan, Steve-O is still living up to his reputation, setting himself on fire on the Howard Stern show, and running into Mike Tyson's fist on the Comedy Central Roast of Charlie Sheen, which broke his nose for a second time. While he did return to jail in 2015, it was in the name of a cause he believes in. He served 30 days for climbing a Los Angeles crane and displaying an inflatable whale with a sign reading "Sea World Sucks."
Vincent 'Don Vito' Margera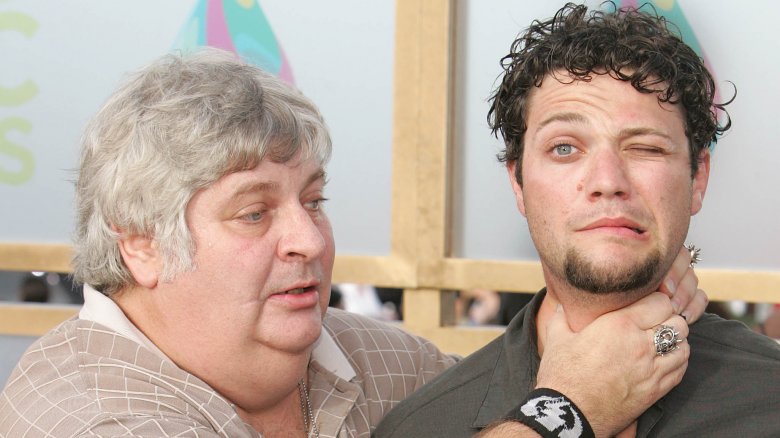 Getty Images
On "Viva La Bam," Vincent Margera became a fast star; fans relished the antics of Bam's bumbling, drunken, lazy-eyed uncle, whose rambling, slurred speech earned him the nickname of "Don Vito," à  la "The Godfather."
The show's many stunts were often designed to humiliate Don Vito or play on his lack of intellect. It was sometimes unclear if Don Vito really was so unwitting, so drunk, so unintelligible, or if he had created a character for the camera that played well to the premise of the show. That's certainly what his lawyers wanted a jury to believe when he was accused in 2006 of molesting two 12-year-old girls at an autograph appearance in Lakewood, Colorado. His lawyers argued that he was simply playing the part of the lecherous dirty old man character he was known for and that his actions had been misconstrued. Not so, said prosecutor Jim Stanley: "This man was out of control during this public event. He was so intoxicated that he peed his pants while with these children."
The jury didn't buy what Don Vito's defense was selling, and he was found guilty. In addition to probation, and registration as a sex offender, Don Vito was prohibited from being Don Vito — the judge declared that Vincent Margera could not appear in public as his TV persona for ten years. But Don Vito would never return to the public eye. He passed away from complications from kidney and liver failure in 2015.
Ehren McGhehey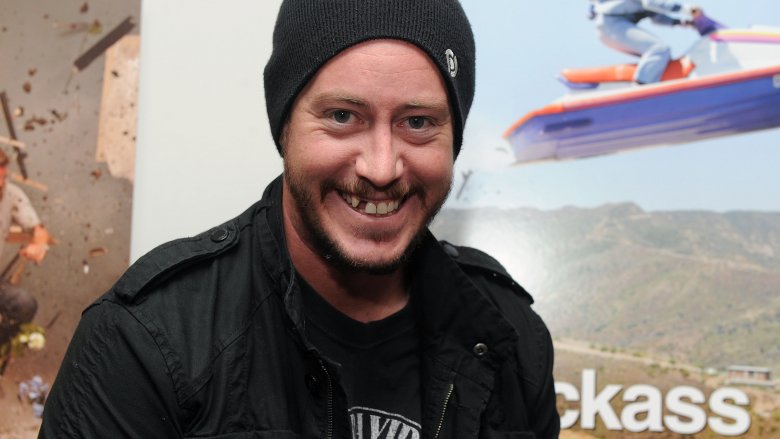 Getty Images
Ehren "Danger" McGhehey credits his pro-snowboarding background with his knowing how to take a fall — he had already broken his neck and undergone ACL reconstruction prior to joining the "Jackass" gang. And despite his fondness of safety gear, and his trademarked motto "Safety first!," Ehren was the guy known for suffering some of the most horrific injuries on the set of "Jackass."
McGhehey told Page Six that the competition between the guys to earn valuable camera time pushed him to do things he didn't really want to do. The toll on his body led to 25 surgeries tending to multiple injuries he suffered on set — including three times breaking his back. The gag he became most known for involved his tooth getting ripped out, over and over again. The last time, it was with fishing wire and Bam's Lamborghini.
McGhehey lives in Portland and enjoys his work as a professional photographer. He also occasionally acts, having made cameo appearances on "Portlandia." As for the lasting ramifications of all that havoc on his body, he cautioned, "The pain is real [from the surgeries] ... You only get one body. Take care of it."
Chris Raab
Chris Raab, better known as "Raab Himself," was part of the original CKY crew and appeared in the "Jackass" series as well as the first "Jackass" film. Although he may not have become a household name like some of his costars, he did become just as embroiled in a world of drugs and alcohol like some of the others.
Raab told Page Six that the painkillers he would turn to for his personal injuries led to an "obsessive lifestyle" that made him a "slave to drugs and alcohol." Though he pulled out of the second and third movies, he retreated deeper into his addictions, descending into paranoia and suicidal thoughts.
Now sober, the return to the "real world" beyond Jackass has not been a smooth one. Raab, who never made the kind of money that came to the bigger stars who stuck with the "Jackass" brand, blew through the more modest amount he earned as a young man and found himself paying the rent by waiting tables before he found some success in acting. Of Bam Margera's return to rehab, Raab said, "It's a shame because he was a young guy in shape and a great skateboarder, and drugs robbed him of that. It did the same thing to me, and it's hard to watch one of your best friends getting destroyed by it. He has to get sober and take this seriously, or he'll be dead."
Brandon Novak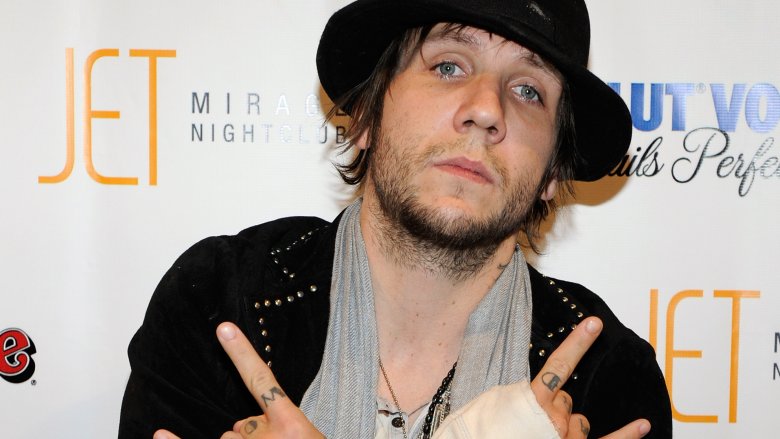 Getty Images
Professional skateboarder, lifelong friend of Bam, and original member of the CKY crew, Brandon Novak appeared in "Jackass 2" and "Jackass 3D," though his biggest claim to fame is his harrowing tale of heroin addiction and multiple stints in detox and rehab, which he recounted in his bestselling book, "Dreamseller."
A heroin addict for 21 years, Novak attended rehab multiple times over his years involved with "Jackass" and would sometimes crash with Bam when he was released, which he admits was just a way to continue using. Novak says, "And then with Bam and the crowd I ran with, you know, everyone liked to party. So if people wanted to be friends with me, they came up to me and handed me drugs. It's not like I was running with the most sober of crowds."
Novak eventually became too much to handle for even the "Jackass" crew, and Bam kicked Novak out of the studio for having heroin on him during a taping of the Sirius show, "Radio Bam," and later kicked him off an Australian tour. At Novak's lowest, he was homeless and selling his body on the streets of Baltimore for a fix while using dirty needles and contracting Hepatitis C. His own mom issued a restraining order against him. At rock bottom, he entered rehab once again and remains sober to this day. He has a documentary in the works, a graphic novel, and a re-release of his book "Dreamseller," with an updated ending focused on his return to rehab.
Zachary Hartwell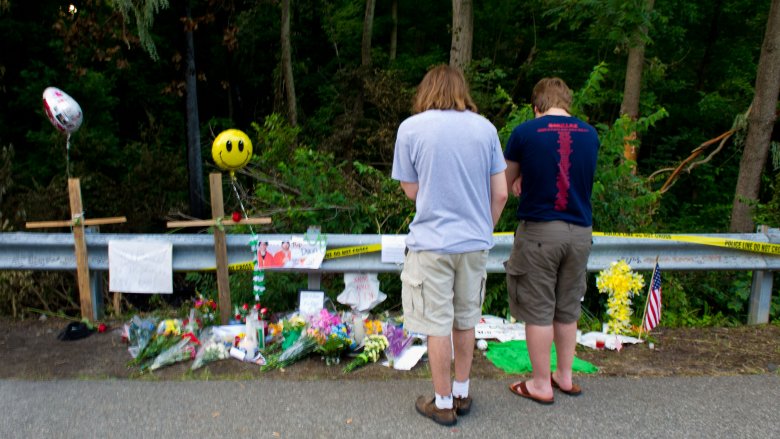 Getty Images
Along for the fateful ride the night that Ryan Dunn died was 30-year-old Zachary Hartwell, a production assistant on "Jackass 2" and stunt driver on "Minghags." The accident that took his and Dunn's lives occurred just around the corner from Hartwell's home, on his own property — Hartwell's new wife, Rachel, heard the impact of the crash. Dunn's girlfriend, Angie, had been a bridesmaid at their wedding.
Hartwell was a veteran who had served two tours of duty in Iraq. The two friends had been out that night in celebration of a business deal that involved a documentary they were making together. Photographs appearing on Twitter that night showed Dunn and Hartwell toasting over drinks at a local bar.
Hartwell's father, George Hartwell, told Hollywood Life in 2011 that the Hartwell family had no intention of suing the Dunn estate over the accident, saying, "Why would we sue? Zac made the same mistakes ... why should I make a monetary gain on my son's death?" But by 2012 the Hartwells had evidently undergone a change of heart: the family filed suit against the Dunn estate, as well as the bar that served the two earlier in the night.
Roberta 'Bobbi' MacKinnon and Tobias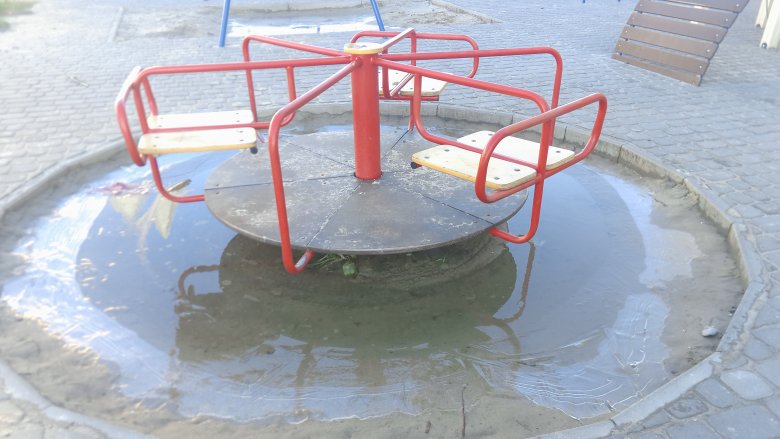 Shutterstock
In January of 2004, a group of teens in Marysville, CA thought it would be a fun idea to reenact one of the stunts they had seen in "Jackass: The Movie."
Sixteen-year-old high school junior and honor student Roberta "Bobbi" MacKinnon sat on a playground merry-go-round while her friend Christopher J. King, aided by the help of other school friends, attached the merry-go-round to a pickup truck with a piece of rope. King then drove the truck at high speed, resulting in MacKinnon being violently thrown from the merry-go-round onto pavement, fatally injuring her.
Sadly, MacKinnon isn't the only person to suffer death due to this same stunt gone wrong. A German group of daredevils known as the "Bavarian Dumbasses" attempted to replicate it in 2012, this time attaching a 20-year-old man by the name of Tobias to a playground merry-go-round using duct tape. A BMW pulled the merry-go-round with rope, but the duct tape didn't hold, and Tobias was pronounced dead at the scene.
Jason Lind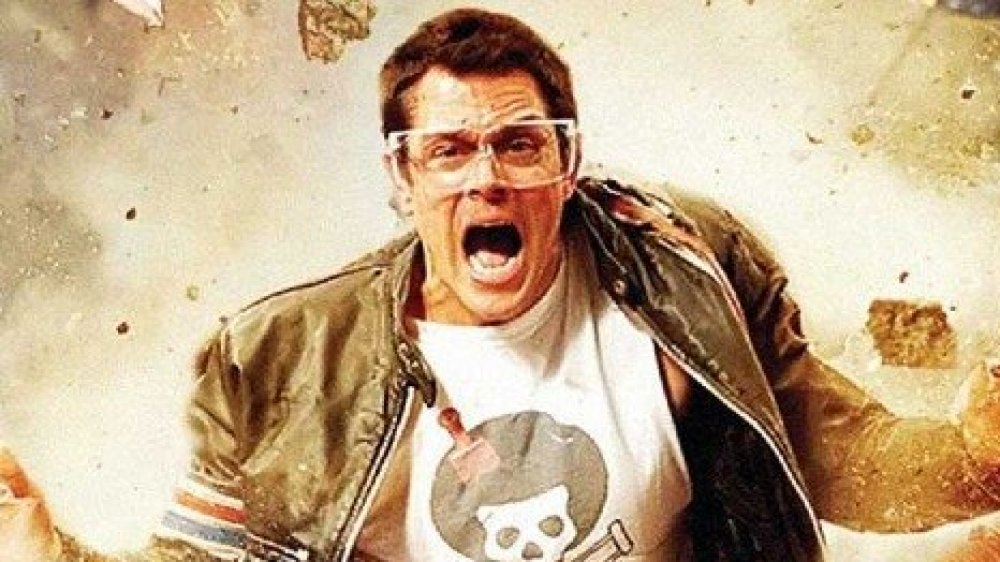 In early 2001, 13-year-old Jason Lind, with the help of two friends, doused himself in gasoline and set himself on fire, apparently inspired by two fiery stunts they'd watched Johnny Knoxville perform on "Jackass." The main difference, of course, was that Knoxville was wearing a protective fireproof suit at the time, and surrounded by a pyrotechnic expert and safety crew. Lind survived, but ended up covered with second and third degree burns. A teen on the scene reportedly told firefighters, "They were playing 'Jackass.'"
Lind's accident wasn't the first time MTV and "Jackass" came under the microscope for possibly inspiring wannabe daredevils to attempt stunts at home. Despite the numerous verbal and visual warnings the show had already presented to viewers, the Lind incident was the motivation for then-Senator Joe Lieberman to accuse MTV of irresponsible broadcasting, urging the network to move the show to a later time slot, or cancel it entirely. By April of that year, "Jackass" had moved to its new later time slot, and once again changed the wording of their disclaimer. Lind returned to school that year; as his mother told the Atlantic, "He is glad he is able to walk."
Cameron Bieberle
In March of 2008, 18-year-old Cameron Bieberle of Winter Park, Florida climbed into a shopping cart and hung onto the back of his friend Michael A. Smith's SUV. Smith drove the vehicle around a parking lot, pulling Bieberle, until the shopping cart hit a speed bump, ejecting Bieberle from the cart and killing him at the scene.
Bieberle's father told the Orlando Sentinel that his son had been watching "Jackass," which he believed had "absolutely something to do with the accident." Bieberle and Smith had reportedly videotaped themselves performing stunts in the past, but Smith had forgotten his video camera on the day of the fatal incident. For his part in the horrific events, Smith was sentenced to four years in prison, followed by 11 years' probation. His drivers' license was also permanently revoked. Bieberle's father told the Sentinel, "I'm happy about the guilty conviction, but I would have liked if [Smith] received more years in prison."
The other copycats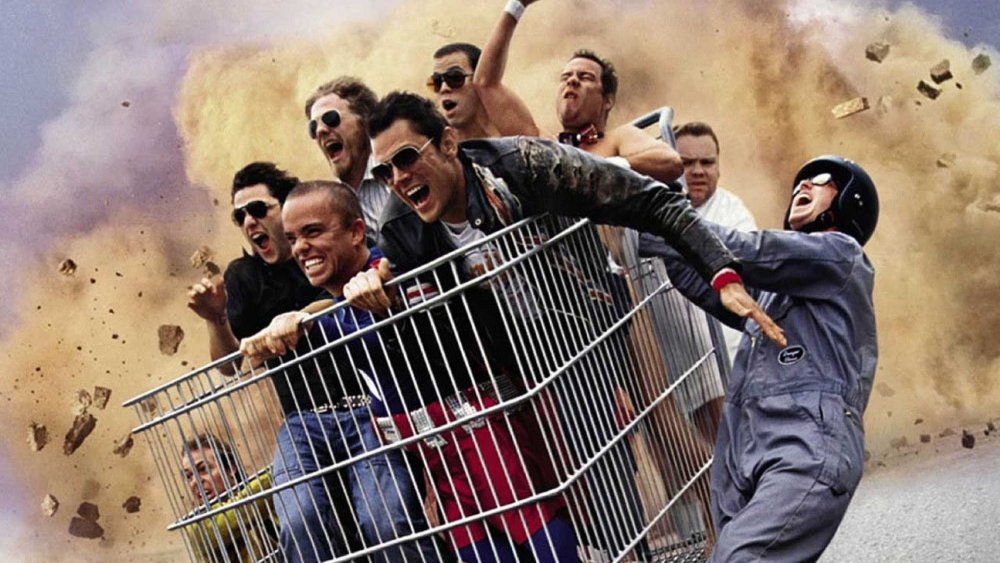 There's no shortage of stories and reports of debilitating and deadly accidents that witnesses, police, and emergency personnel at the scene surmised might have been inspired by "Jackass."
The incidents include the death of an 18-year-old Norwegian teen who dressed as a mummy and laid down on a highway, requesting that his friends videotape the stunt. Another involves a 15-year-old named Stephen Paul Raun of Albuquerque, who jumped onto the hood of a friend's moving pickup truck, only to be thrown to the ground, dragged, and killed when the driver slammed on the brakes. In Indiana, 13-year-old Aaron Brown was killed when the van he was travelling in with friends crashed as they sped across railroad tracks. A videotape with the friends' other stunt attempts was discovered on the scene.
As recently as 2014, Baltimore's Mark Ramiro shot his friend Darnell Mitchell, who was wearing a bulletproof vest. Ramiro shot too high, and Mitchell was killed. The two, along with friends, had filmed the stunt with plans to upload it online. Moments before his death, Mitchell told the camera, I'm going to put Baltimore on the map."