The Untold Truth Of Viva La Bam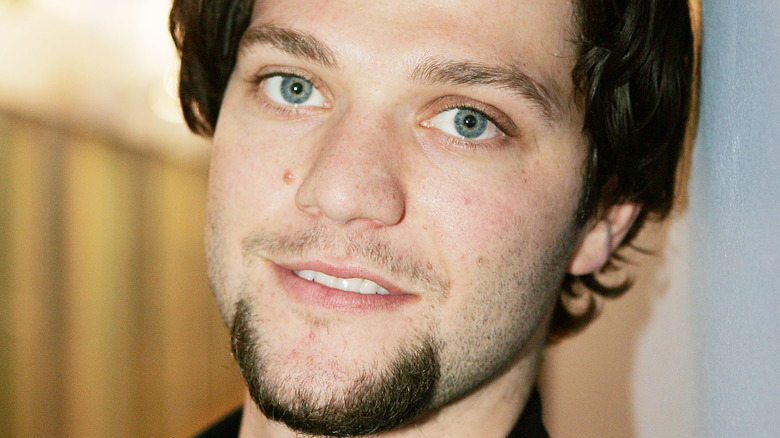 Scott Gries/Getty Images
The release of the 2022 film "Jackass Forever" arrived in theaters nearly 22 years after the debut of the "Jackass" series that started it all — a remarkable milestone for what began as a group of hard-partying twenty-somethings pranking and hurting each other for fun. Even more astounding? Most of the core group that comprised "Jackass" when it began remain in the troupe to this day, with the most notable exceptions being the late Ryan Dunn and pre-"Jackass" prank video maker Bam Margera. Bam was fired from "Jackass Forever" due to a rift with creative leads Johnny Knoxville and Jeff Tremaine, with only a brief appearance by the retired pro skateboarder remaining in the final product. However, Bam has a legacy beyond "Jackass," most notably his successful mid-2000s MTV series "Viva La Bam."
"Viva La Bam" took the basic idea of "Jackass" — an unscripted prank show that also featured a healthy dose of skate culture — and focused it more directly on Bam's closest friends as well as his parents and other members of his family. Phil and April Margera, Bam's parents, were often the target of Bam's stunts, with the results typically involving their West Chester, Pennsylvania home being damaged or otherwise "remodeled" against their wishes. Long after airing its final episode in 2006, "Viva La Bam" remains fondly remembered by fans of both "Jackass" and Bam himself, though many people don't know everything that went into its production or what happened once it ended. This is the untold truth of "Viva La Bam."
Bam went with a non-Jackass production team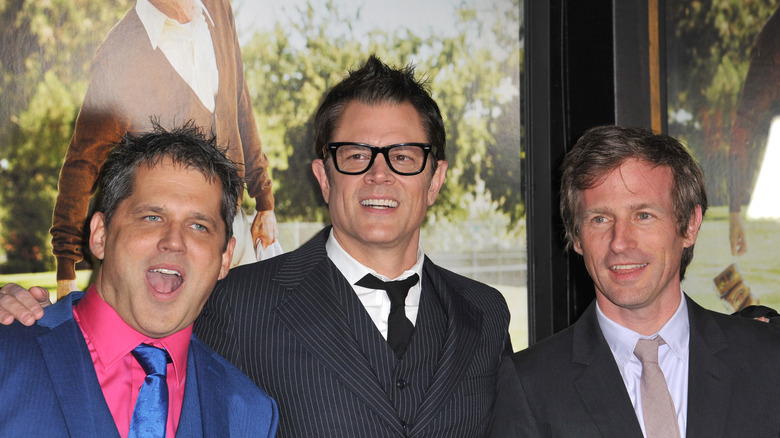 Jaguar PS/Shutterstock
The officially credited creators of "Jackass" are Johnny Knoxville, Jeff Tremaine, and Spike Jonze, and all three have remained the heads of the franchise throughout its existence. When "Jackass" stars Chris Pontius and Steve-O decided to put together their own spinoff show, they teamed with Tremaine to co-create and co-produce "Wildboyz," also bringing along longtime "Jackass" producer Trip Taylor. It was clear that Pontius and Steve-O wanted some familiar names on board to give "Wildboyz" that trademark "Jackass" feel. However, when Bam Margera decided to lead his own show, he went in the opposite direction and specifically sought out fresh blood to help him bring "Viva La Bam" to life.
Bam co-created "Viva La Bam" with Troy Miller, by then already a veteran producer and director best-known at the time as one the executive producers of HBO's acclaimed alt-comedy sketch series "Mr. Show with Bob and David." Miller, also the director of many episodes of "Viva La Bam," not only brought along an extra level of polish not seen in the intentionally scrappy "Jackass" series but, more importantly, proved that Bam could lead a successful TV series without having to rely on the people that put "Jackass" on the air. After "Viva La Bam" wrapped, Miller would work on such shows as "Arrested Development," "The Office," and "Brooklyn Nine-Nine," among many others.
The lost episode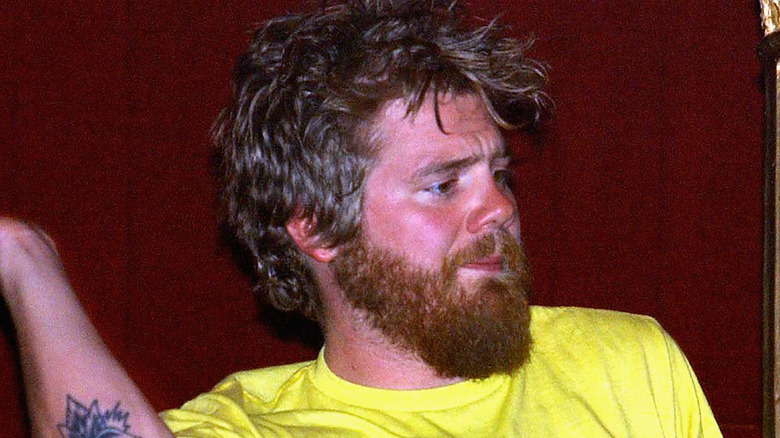 Showbizireland/Getty Images
A show like "Viva La Bam" involves filming a ton of footage that never gets used as things are edited down in order to fit into 30-minute TV episodes. However, it's not often that an entire episode's worth of footage is scrapped entirely, if for no other reason than doing so means throwing away whatever money was spent on getting that footage. But that is exactly what happened when the "Viva La Bam" crew traveled to Iceland in order to force Ryan Dunn to back up some bragging.
According to Bam Margera, Dunn was at a bar claiming that he would've gone over a waterfall in a barrel during a previous trip to Iceland, but didn't because it was too cold. Bam decided to call him out, flying Dunn and some others to Iceland the next day to challenge Dunn to do the trick in what was then a warmer season in the country. Sure enough, Dunn did it, and it was caught on tape along with a bunch of other footage that could've comprised an entire Iceland-based episode. However, Bam said MTV felt the stunt was too easy to replicate and feared that too many viewers would try it, so they nixed the episode entirely, not only never airing it but also not including it on any of the official DVD releases of "Viva La Bam," cementing its status as the show's infamous lost episode.
Johnny Knoxville only appeared in a single episode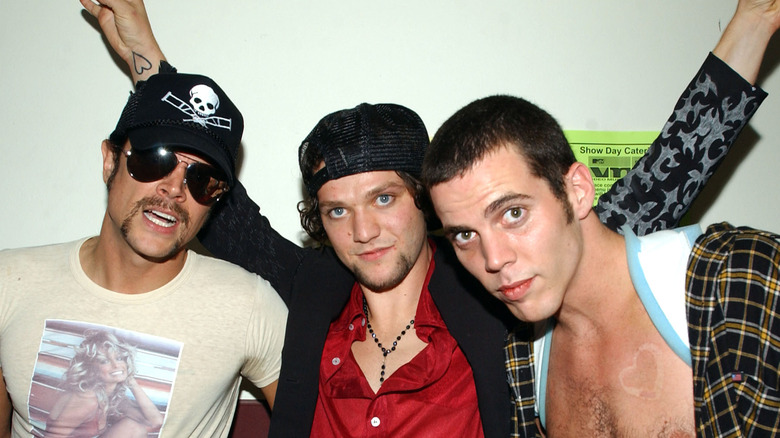 Frank Micelotta Archive/Getty Images
By the time "Viva La Bam" started airing, Bam Margera was frustrated with how much credit Johnny Knoxville had received as a creator and also de facto lead of "Jackass" when, as Bam argued, it was he and his friends doing skateboard- and shopping cart-based stunt videos that truly set the stage for what the show would become. It's a sentiment he once again echoed after his "Jackass Forever" exit, saying "I created this franchise before any of these guys ever got involved." The two would mend fences in time to film "Jackass Number Two" together and seemingly remained friends through "Jackass 3D," but their friendship has since been severed yet again for reasons both creative and personal.
As proof of how Bam was feeling about Knoxville in those days, look no further than the fact that Knoxville only appeared once throughout the 40-episode run of "Viva La Bam," which suggested that the two weren't exactly best buds at the time. Further evidence came in the form of Knoxville not making any appearance whatsoever in Bam and Ryan Dunn's 2003 movie "Haggard" despite it featuring appearances by most of the "Jackass" crew as well as famous friends like Tony Hawk. In addition, neither Chris Pontius nor Steve-O showed up in "Viva La Bam" at all, nor Bam in "Wyldboyz," suggesting that various members of the "Jackass" family had taken sides in the Bam vs. Knoxville feud. 
MTV paid the repair bills for Phil and April's house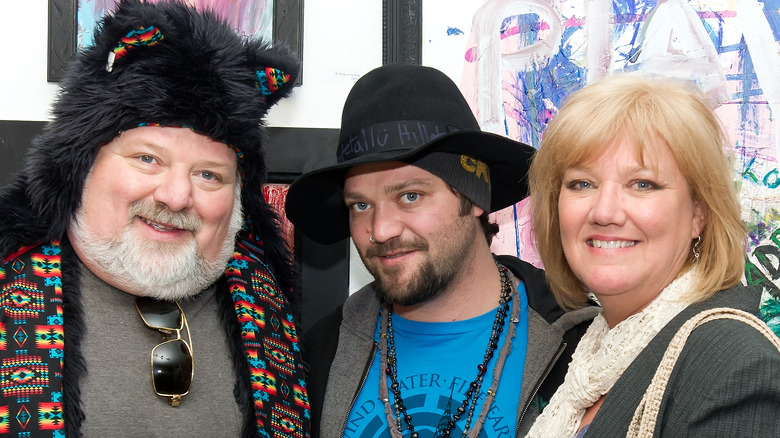 Gilbert Carrasquillo/Getty Images
Like fellow MTV prankster Tom Green before him, Bam Margera constantly tormented his parents for "Viva La Bam," usually in their own house and by doing things to their house. But while Green's pranks were usually of the sort that it would've only taken a few hours of clean-up to get things back to normal, Bam often did things to Phil and April's home that would cause significant damage and likely needed serious professional repair. In fact, the very first episode of "Viva La Bam" makes it clear just what his parents' house is going to be in for as an entire skate and amusement park was built literally inside of it. It's not exactly the type of thing that can be fixed in an afternoon, that's for sure.
However, while this bit of news may disappoint "Viva La Bam" fans as it takes a bit of the edge off of such pranks, MTV paid for all necessary repairs to Phil and April's house any time Bam and the crew would damage or remodel it in any way. It definitely makes sense when considering how quickly the couple would seem to go from anger and shock to laughter at the damage down to their home, knowing that not only was it going to be paid for but that they, as cast members of the show, were being paid as well. 
Viva La Bam brought tourism to West Chester, PA
Rosemarie Mosteller/Shutterstock
With the exception of episodes specifically revolving around traveling somewhere, such as the show's trips to places like Las Vegas, Brazil, and Germany, much of "Viva La Bam" was filmed in the town of West Chester, Pennsylvania. It's not only where Phil and April's oft-targeted house is located, but it's where Bam Margera and his friends grew up and where Bam would eventually own two homes. The area has a special significance to Bam, and it's the place he continues to call home to this day.
The town itself, however, has a more conflicted view of Bam and the show. For instance, the town council rejected the show's proposal to hold and film a parade there for "Viva La Bam," and several members of the cast and crew have had run-ins with the local law enforcement. However, local business owners also admitted that "Viva La Bam" fans would often come to the town and, while they were there, would patronize local businesses, such as Fairman's skate shop. A local business owner named Holly Brown said at the time that while she didn't much care for Bam, she would've loved to see the parade happen because it would've shown the town and its businesses to an audience of millions of potential customers.
Raab Himself retired from stunt work after the show Ended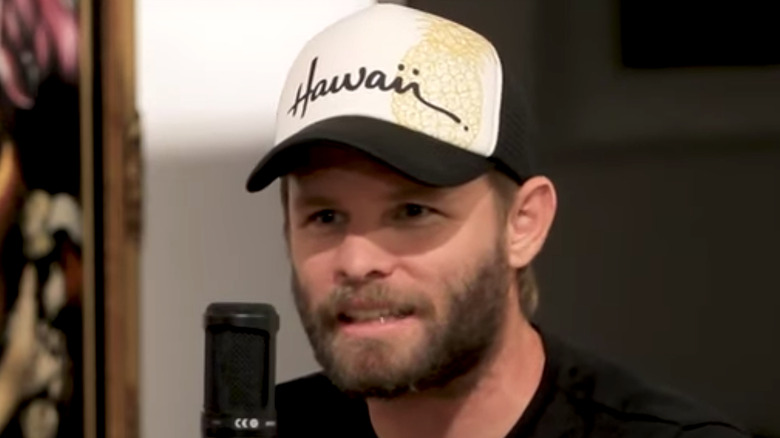 Loudwire/YouTube
Chris Raab, aka Raab Himself, was a fixture of "Jackass" from the beginning and would go on to be a series regular for the entire run of "Viva La Bam." However, many fans noticed that they didn't see Raab in "Jackass Number Two" or "Jackass 3D." In fact, he wouldn't grace the screen in another "Jackass" production until a cameo in "Jackass Forever." As it turns out, Raab was in a very dark place during his career as a stunt performer and, by the end of "Viva La Bam," things had gotten so bad for him in terms of addiction and other health issues that he decided to give up that life entirely, effectively retiring from it after "Viva La Bam" wrapped.
That being said, Raab was never completely out of the "Jackass" orbit during his time away from the screen, serving as a production assistant on "Jackass Presents: Bad Grandpa" and working as a camera operator on "Jackass Forever." Things are much better for Raab now and he much prefers a career that is largely behind the scenes, content with doing the occasional cameo but mostly working on the production side of things and — like pretty much everyone else these days — hosting his own podcast, called "Bathroom Break."
Viva La Bam lasted longer than Jackass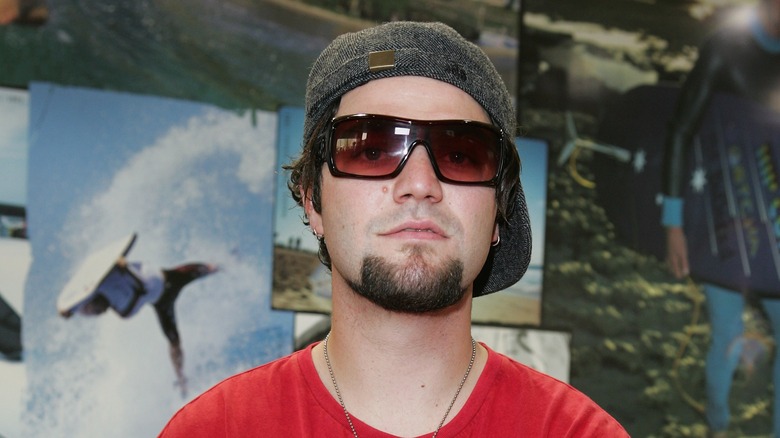 Gaye Gerard/Getty Images
One might assume that none of the shows that spun off from "Jackass" were quite as successful as the flagship series. However, it's easy to forget that "Jackass" didn't actually last all that long as a TV show. The series' meager three seasons didn't even stretch across a full two years, and when all was said and done, only 25 episodes were produced. It might seem like it lasted much longer than it did since MTV reran those three seasons for years afterward, especially when it was time to promote a new movie, but the original run of "Jackass" was a short one indeed.
With that in mind, it wouldn't have been all that hard for "Viva La Bam" to outlast "Jackass," but it's still impressive that it did. The episode count exceeded "Jackass" by 15, ending its run at 40 episodes stretched across five seasons. It's not hard to imagine that Bam Margera was proud to have his solo venture outlast "Jackass," especially given his feelings about "Jackass" and its creative leadership at the time. If Bam was feeling competitive with the other "Jackass" spinoff, "Wildboyz," he also beat that series as it only made it to 32 episodes. When all is said and done, "Viva La Bam" remains the longest-running show starring or featuring any members of the "Jackass" crew.
It marked the screen debut of Sean Penn's son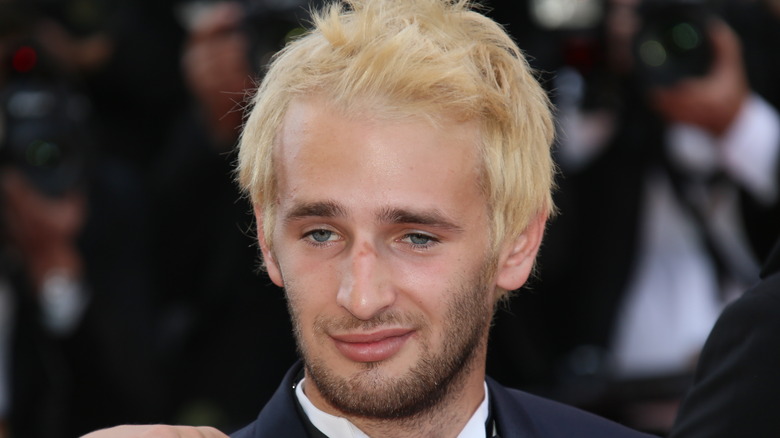 Denis Makarenko/Shutterstock
The episode of "Viva La Bam" that featured Johnny Knoxville also had another surprising appearance: Oscar-winning actor Sean Penn. Of course, it's not the first time that a major A-lister showed up within the "Jackass" universe, as Brad Pitt appeared in not one but two episodes of the original series. In the case of Penn, he came along with his then-11-year-old son, Hopper, a budding skateboarder who was the more likely reason the father/son duo appeared on the show as he was probably the "Viva La Bam" fan — though Sean certainly seemed to be enjoying himself as well. But it was Hopper who got his hands dirty by pouring paint on Johnny Knoxville's car as part of a prank war between Knoxville and Bam in the episode.
Hopper is now a full-fledged actor in his own right, with numerous credits to his name that include movies and TV shows. As it stands, "Viva La Bam" is his earliest credit (aside from archival footage of him used for a VH1 special about unusual celebrity child names), which means the show is technically his screen debut. Hopper's acting career post-"Viva La Bam" might have started sooner, but some personal struggles including his parents' divorce and a near-fatal skateboarding accident in his teens put such ambitions on hold for a few years. But he did get back on the board and has since become a very talented skateboarder.
It was unscripted, but not always as surprising as it seemed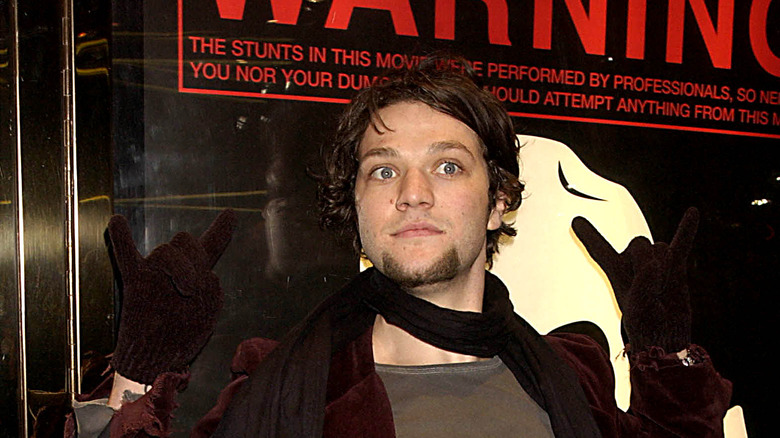 Dave Benett/Getty Images
By all accounts, "Viva La Bam" truly was an unscripted show. Sure, a lot of the pranks involved a fair amount of planning and setup, but that doesn't mean that the victims knew what was coming or that their reactions weren't genuine. Some of the best reactions came from Bam Margera's mom, April, who always made the best faces and gave the best screams when she was on the receiving end of a prank. But she also spilled the tea a bit about how it was often pretty easy to know when a stunt was coming.
Bam has confirmed that April in particular could usually figure out that Bam was cooking something up when he'd be just hanging around at her house with an MTV crew, since it's not like the show was about just following Bam around as he went about his day-to-day business. So when she'd come home or wake up and Bam would be standing in her kitchen surrounded by cameras and production people, she knew she was in for something. But she was at least a good enough sport to not ask a million questions and would just go with the flow, as if she had absolutely no clue that she was about to have a very exhausting day that would very likely end with her home being damaged in some way. 
Bam was poised to become the biggest Jackass alum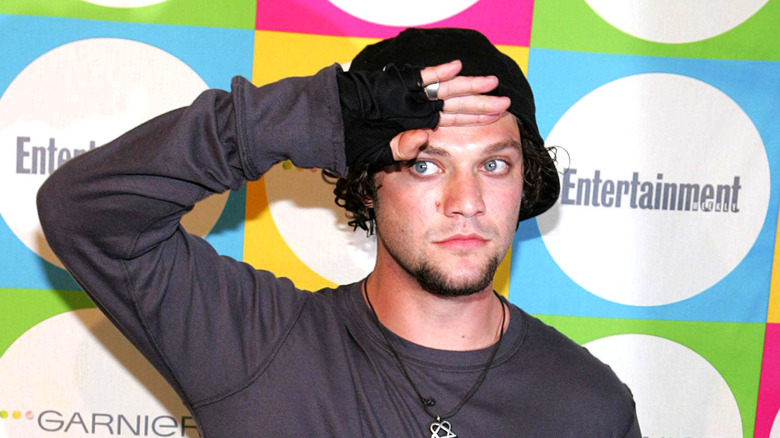 Everett Collection/Shutterstock
At this point, there's little arguing that Johnny Knoxville is the biggest solo success story of any of the "Jackass" crew. Not only did he front his own spinoff movie, "Jackass Presents: Bad Grandpa," but he has appeared in multiple major Hollywood productions such as "The Dukes of Hazzard," "Men in Black II," and the 2014 "Teenage Mutant Ninja Turtles" movie. But when "Viva La Bam" was on the air, it seemed as though that distinction was going to belong to Bam Margera.
Not only had Bam co-created a popular TV series, but during that time, his skateboard line was doing extremely well (outselling Tony Hawk's own boards), he launched his own Sirius Satellite Radio channel, he started a music label, he appeared in multiple video games, he co-wrote and directed a movie, and he had another series set to follow up "Viva La Bam" about his pending marriage at the time. Unfortunately, none of his business or media projects proved to have much staying power, and worst of all, addiction really started to become an issue for both his professional and personal life. Bam still has multiple projects going at any given time, but he's yet to reach the heights he was poised to scale in the mid-2000s.
Bam had several unsuccessful follow-up shows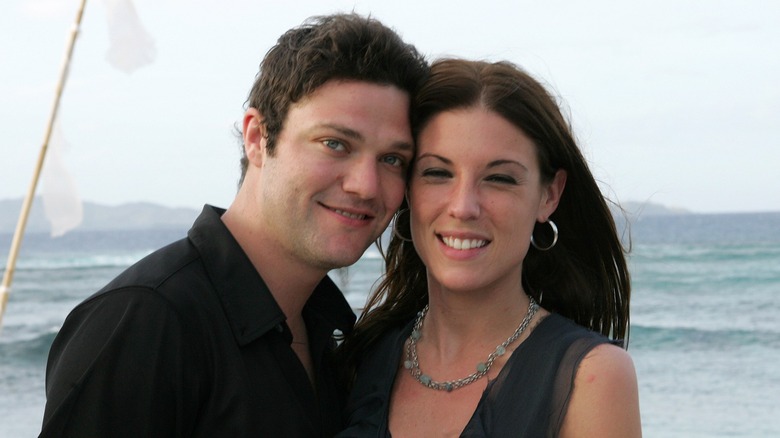 Mark Epstein/Getty Images
"Viva La Bam" was a successful show by most measurements, even beyond besting of the runs of "Jackass" and "Wildboyz." It was so successful, in fact, that it was a no-brainer for MTV to give him a follow-up show to pick up where "Viva La Bam" left off, which ended up being "Bam's Unholy Union." A little more grounded than the usual Bam-based fare, "Bam's Unholy Union" followed Bam as he planned his wedding with then-fiancée Missy Rothstein, with the finale of the first season depicting the wedding in question. A second season was in discussion, but didn't end up happening. On an episode of his radio show "Radio Bam," Bam claimed MTV wanted him and his wife to fake a pregnancy for the second season, which they were unwilling to do. Bam has also stated that Missy wasn't a fan of being on television.
It would be three years before Bam would attempt another show. In 2010 he teamed with Spike TV for "Bam's World Domination," which saw Bam, Ryann Dunn, and Tim O'Connor attempt a vicious obstacle course. There's some mixed messaging as to whether it was originally intended to be a pilot for a full series or just a one-off special, but a one-off special is all it would ever be. Four more years would pass before Bam would try TV again, this time with "Bam's Bad Ass Game Show" on TBS ... which didn't last beyond its initial six-episode order.  
Skateboarding was a focus on the show just so Bam could skate more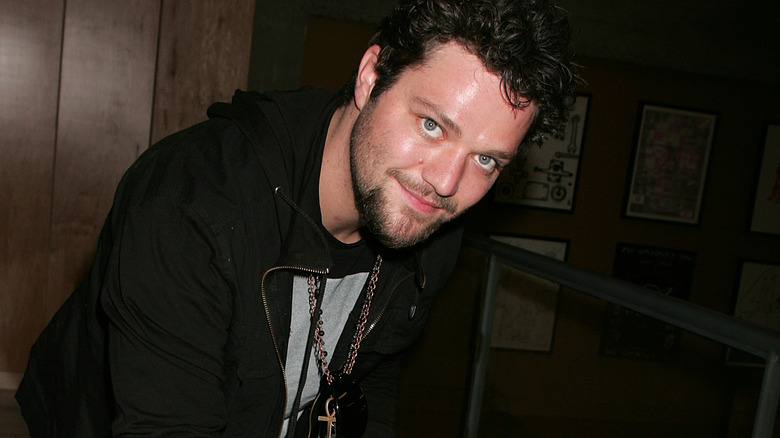 David Livingston/Getty Images
Bam Margera's first love, and what put him on the path to "Jackass" and mainstream celebrity status, is skateboarding. He was even a professional skateboarder for a time, with a skateboard line that rivaled Tony Hawk's in sales at its peak. "Jackass" had a loosey-goosey enough schedule that it didn't interfere with Bam's skateboarding too much, but being the lead star and one of the main people behind a show like "Viva La Bam" is a totally different story. Suddenly, Bam was struggling to find the time to skate even for fun, and he wasn't happy about it.
His solution? To make skateboarding a huge part of "Viva La Bam" and have some of the stunts involve skating and building impromptu skate parks. In this way, he could manage to star in and run his own show (plus his various other business ventures) but still have an excuse to get plenty of board time in since it was woven into the fabric of "Viva La Bam." Because "Jackass" was born from skateboarding-based "Big Brother" magazine and its fans and staff, skating has always been in the DNA of the "Jackass" universe, but never was it more prominent than it was in "Viva La Bam."
Don Vito got into some serious trouble after the show ended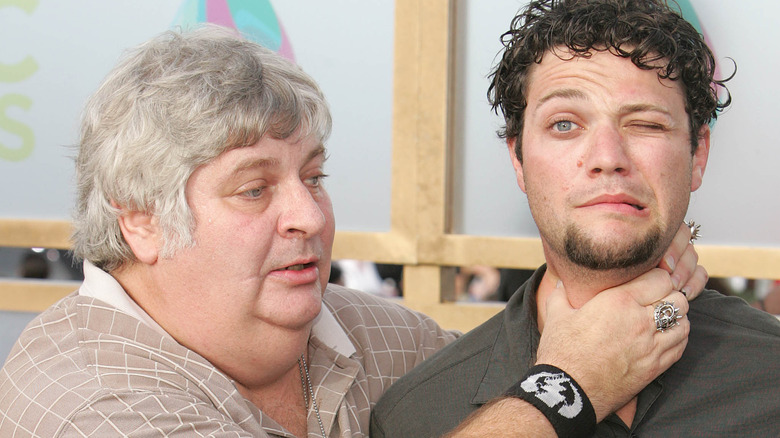 Peter Kramer/Getty Images
Vincent "Don Vito" Margera was one of the big breakout stars of "Viva La Bam." The real-life uncle of Bam Margera and brother of Phil Margera, Vito had made appearances in "Jackass" but it wasn't until "Viva La Bam" that he was made a prominent figure and truly became a minor celebrity in his own right. Known for his exaggerated reactions to pranks as well as his speech being almost impossible to understand most of the time, Vito was a fixture of the show and one of its biggest sources of comic relief throughout its entire run.
However, in 2006, Vito was arrested for allegedly having inappropriate physical contact with two 12-year-old girls. Margera was found guilty on two counts of sexual assault and sentenced to 10 years of probation, during which time the court forbade him from portraying the persona of "Don Vito" publicly in any way. After the fallout of his arrest and probation, scenes filmed featuring him for "Jackass Number Two" were removed, and he only appeared briefly in one scene of "Bam's Unholy Union" but was otherwise absent from the series. He would remain effectively removed from public life for his remaining years, passing away in 2015 before his probation would've ended.