Why Frank Castle From The Punisher Looks So Familiar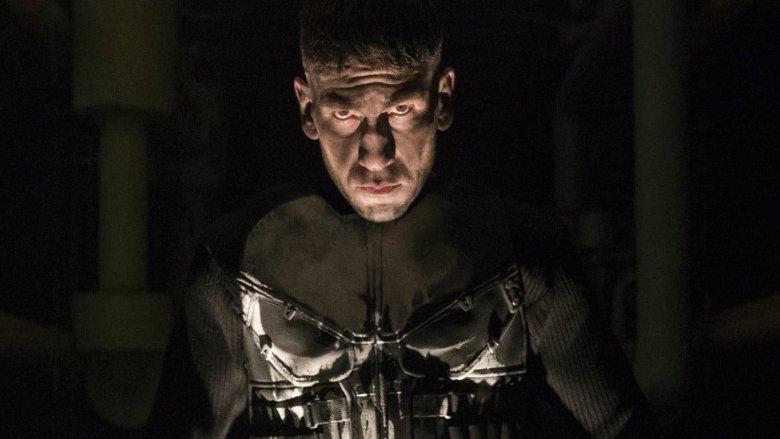 Vengeance-obsessed vigilante Frank Castle, a.k.a. the Punisher, gunned, stabbed, and pummeled his way into our hearts when he stole the show in season 2 of Netflix's Daredevil. And while the proverbial antihero may have been the polar opposite of his lawyer-turned-crusader counterpart Matt Murdock, that definitely is not to say his methods—which include eye gouging, throat-slitting, Louisville slugging, and everything in between—aren't, ahem, efficient. 
The Punisher's very own standalone series promises to be an action-packed thriller with equal doses of humanity and hard-hitting renegade justice, and we couldn't be more excited that the man behind the skull vest is being played by none other than actor Jon Bernthal. We know what you're thinking—you know that scowl from somewhere. That isn't just your mind playing tricks on you—odds are you've probably seen him in action on the screen before. Want to know where? Read on to find out why the Punisher looks so familiar.
TV guest roles
After leaving a promising theater career in 2002, Bernthal instantly started racking up guest roles on a number of high-profile procedural dramas like Law and Order: Criminal Intent (2002), Without a Trace (2004), CSI: Miami (2005), and Law and Order: Special Victims Unit (2005). On SVU, he portrayed Sherman Hempell, a reluctant reporter who assists the team in an investigation relating to the effects of an antimalarial drug and its link to recent cases of sexual assault, murder, and suicidal behavior.
While this "Sherman" fellow is a far cry from Bernthal's Punisher, watching the future Frank Castle burst through the SVU department doors, demanding everything they know about Quilium—the rage-inducing drug in question—is truly a sight to behold... if only because it's unlikely we'll ever see that hairstyle again.
The Class
Bernthal got his big break in a genre that might have fans of his later work scratching their heads: in 2006, he was cast as Duncan Carmello, a contractor who lived with his mother, in the ill-fated 2006 CBS sitcom The Class.
The show, which chronicled the personal lives of a group of former elementary school classmates, only lasted one season, but it boasted quite the up-and-coming cast. Bernthal shared billing with future Mean Girls and Masters of Sex actress Lizzy Caplan, Modern Family's Jesse Tyler Ferguson, and Parenthood's Jason Ritter. Despite the show's failure, Bernthal and the actors portraying the rest of his newly reacquainted buddies would go on to achieve their own success, each landing acclaimed gigs in the ensuing years.
Night at the Museum: Battle of the Smithsonian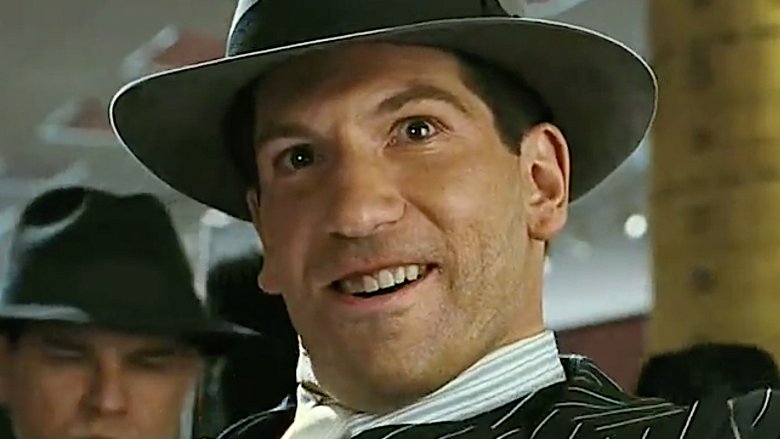 After a string of roles in dramatic films in the mid-2000s—including The Air I Breathe and Day Zero in 2007 and 2008's A Line in the Sand—Bernthal returned to his comedic roots in 2009, portraying notorious gangster Al Capone in the Shawn Levy-directed Night at the Museum: Battle of the Smithsonian.
While the real-life Capone limited his shenanigans to the confines of the Windy City, Bernthal's interpretation of the ruthless mob boss had bigger ambitions: specifically, helping Kahmunrah take over the world alongside fellow ne'er-do-wells Ivan the Terrible and Napoleon Bonaparte by unleashing the magical power of a mystical golden tablet.
Hey—actors need to let loose sometimes too, y'know.
Eastwick
Right around the time Bernthal scored the role he'd eventually become known for—more on that later—he landed a recurring role in Eastwick (2009), the short-lived comedic television adaptation of John Updike's fantasy novel The Witches of Eastwick. Portraying Raymond Gardener, token lazy, unemployed lover of beer, hammocks, and making up excuses, Bernthal would go on to appear in the first—and only season before the supernatural dramedy was canned by ABC.
Don't waste your tears on this cast, though—they may have played witches, but they were anything but cursed. Ashley Benson would go onto star in Freeform sensation Pretty Little Liars one year later, while Lindsay Price would nab a lead role in the Ellen Degeneres-produced sitcom Splitting Up Together. Jaime Ray Newman, Bernthal's onscreen wife, would reunite with the actor in The Punisher, playing Sarah Lieberman, wife of Frank Castle's hacker bud Micro.
As for Bernthal himself? Well...
​The Walking Dead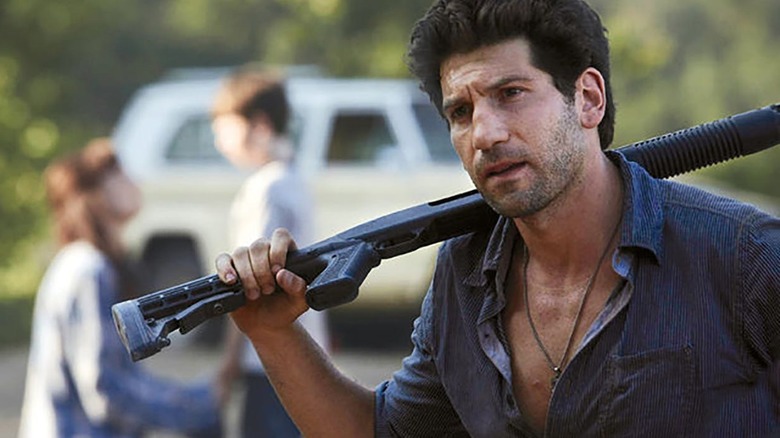 Comic book nerds who dabble in the occasional binge-a-thon likely know Bernthal best from seasons one and two of AMC's The Walking Dead. Portraying Shane Walsh in the hit horror drama, Bernthal went from loyal ally and Carl's surrogate father figure to cold, cunning survivalist once the bleak new world drove a wedge between himself and his former partner-turned-frenemy, Rick Grimes. While he didn't last very long—at least not compared to his fellow castmates—Bernthal played a pivotal role in establishing a recurring theme that would continue to define the show's narrative: the dangers of the living in a world populated by the dead.
Though his name has long been scrubbed from the opening credits of The Walking Dead, Bernthal has nothing but kind words for the cast and crew. During an appearance on SIRIUS XM Radio's Covino & Rich Show, Bernthal said, "The cast and crew of [The Walking Dead], they're my family, and I love them." In true Shane fashion, he added, "the movie I'm about to do shoots in Georgia. Every day off, I'll be down [on the set of] Walking Dead, making sure they're doing their f***ing job right."  
Snitch
We're guessing it's hard to avoid being typecast as a badass after portraying an increasingly amoral, murder-y ruffian in a show about the dissolution of humanity in a zombie-populated apocalyptic hellscape. But, for better or worse, Bernthal's next big role would see him return to the dramatic thriller genre, starring alongside Dwayne "The Rock" Johnson in 2013's appropriately named Snitch.
Bernthal portrays Daniel James, an ex-felon working at a construction company owned by Johnson's John Matthews. Hoping to turn his life around for his son and overworked wife, James has been living a clean life—that is, until Matthews, who realizes that James has two out of three felony strikes, convinces his employee to hook him up with a drug dealer... in order to save his estranged, drug-hustling son who was recently offered the chance to reduce his prison sentence for drug dealer names.
You know, like friends do.
The Wolf of Wall Street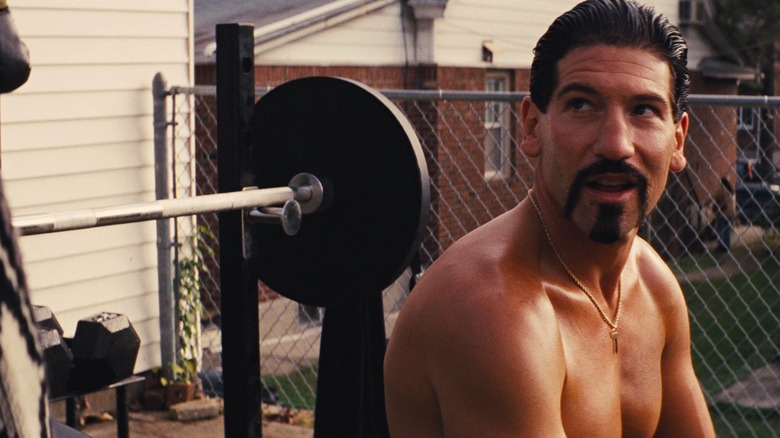 Let's be real: every single actor ever found their way into The Wolf of Wall Street, so you're forgiven if you totally missed Bernthal's performance as Brad Bodnick, "the Quaalude King of Bayside," in Scorsese's debaucherous portrait of American greed, excess, capitalistic corruption, and, uhh...plane orgies?
Decked out in an over-the-top mustache-goatee combo and seemingly at his most comfortable with as little clothing as possible covering his ripped upper half, Brad (based on the real "Wolf" Jordan Belfort's Quaalude dealer) was an absurd caricature—not the wise and/or brooding and/or sociopathic puzzle Bernthal's known to portray. In other words: the character was a total departure from Bernthal's typically serious-as-a-heartattack roles.
Mob City
The Wolf of Wall Street was a financial and critical success, which may have been what inspired Bernthal's interest in pursuing a role in Mob City, a TNT crime drama based on real-life accounts of interactions between 1940s LAPD officers and Los Angeles mobsters. What's more, the project was helmed by Frank Darabont, with whom Bernthal had worked in the first and second seasons of The Walking Dead.
The first actor officially cast on the show, Bernthal would go on to portray Detective Joe Teague, a tormented WWII veteran who finds himself caught between LAPD's Captain William H. Parker and notorious mob boss Mickey Cohen. Unfortunately—and you should've guessed this already, based on Bernthal's streak of bad luck on the small screen—the show lasted a mere six episodes before TNT put the kibosh on the love letter to classic noir.
Fury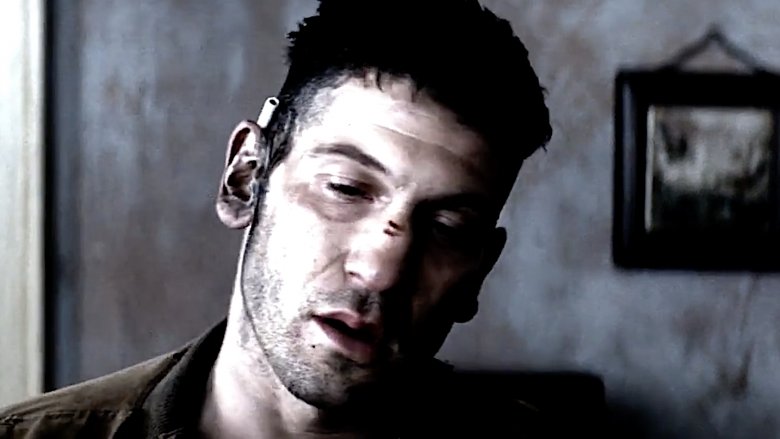 Perhaps inspired by his less-than-stellar experience with TV, Bernthal returned to Hollywood after Mob City ended up sleeping with the fishes. The former Walking Dead antihero would find himself starring in a number of big-name blockbusters, the first of which was David Ayer's wartime epic Fury, where he stepped into the combat boots of "world-wise" Arkansas native Grady Travis—just one player in an ensemble cast making up a tank unit stationed in Nazi Germany in the final days of WWII.
The unapologetically brutal film, which also starred Brad Pitt, Shia LaBeouf, Michael Peña, and Logan Lerman, may have seen the vast majority of its entire main cast killed off in a relentless depiction of the horrors of war—but it was also a box office hit, grossing $23.5 million in its opening weekend. Call it an unqualified success—for David Ayers, if not for moviegoers who didn't expect to see Shia LaBeouf's brain explode through the back of his skull or a rocket tear Bernthal's chest in half.
Me and Earl and the Dying Girl
Next up for the Bernthanator was the quirky, sad, super upsetting, we're-not-exaggerating-when-we-say-this-was-a-heartbreaking-freakin'-movie, Me and Earl and the Dying Girl (c'mon—it's in the title). Written by novelist Jesse Andrews, who also penned the novel upon which the indie film was based, the film followed the teenage exploits of one Greg Gaines (the titular "Me"), Earl (..."Earl"), and Rachel Kushner (not gonna say it), as they struggle through high school drama, dip their toes into amateur filmmaking, approach young adulthood, and come face to face with the unfair nature of mortality.
Of course, Bernthal's character, a too-cool-for-school history teacher named Mr. McCarthy, is relegated to the sidelines, acting as a surrogate father figure to the younger cast and offering advice to Greg—which, as is often the case with young 'uns, he doesn't take. Ironically, whereas we're typically enthralled by Bernthal's show-stealing presence, it's McCarthy's mystery that makes the Havanera-shirted educator such a standout in a film otherwise populated by characters who wear their adolescent pain like a favorite pair of pajamas.
Sicario
Often, a single character with minimal screen time can serve an obvious purpose while simultaneously encapsulating the very message at the heart of a film. So while it might appear that 2015's Sicario wasted Bernthal, who portrayed a corrupt Phoenix police officer named Ted—and who only appears for a few (incredibly violent and profane) scenes—the actor had a different take on his brief presence.
In an interview with CBR, Bernthal explained his belief that minor characters in the hands of talented writers and directors can monumentally affect the plot of a film. "Oftentimes a role like that is just sort of used as a set piece, just to further the story," he admitted. "But I think what great directors do, and Denis would do a lot is let these [small] characters have a three-dimensionality to them, and let's them have a pronounced backstory, let them to be a real person."
The Accountant
It's almost like Bernthal is contractually obligated to assume the persona of "bad dude with a gun who will make you pee your widdle twousers" in every other film. Following the quirky, sob-inducing Me and Earl and the Dying Girl and the morally complex Sicario, the soon-to-be Marvel renegade assumed the role of Brax, gun-toting hitman and brother to Christian Wolff (Ben Affleck) in 2016's The Accountant.
While the film itself, which explores the repercussions of digging too deeply into insider financial deception, didn't exactly meet critics' standards, it did rake in big bucks on its opening weekend. And despite its total disregard for portraying autism in an accurate way, we got to see the fella who would be Punisher! Shooting people! With a gun! Like a meanie! Because Hollywood.
Baby Driver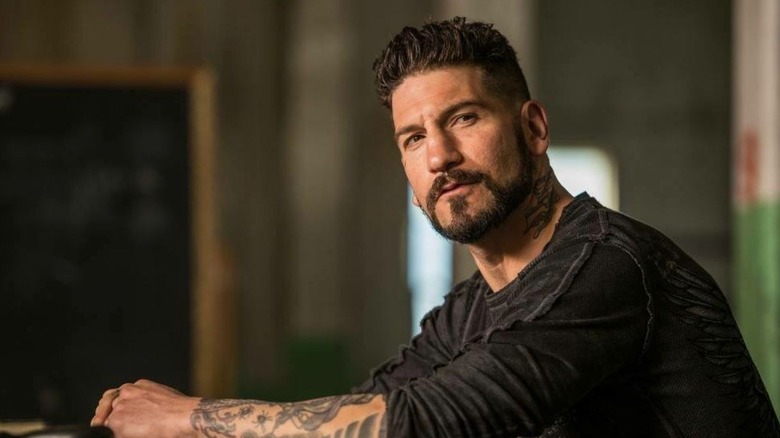 Given his track record with minor roles that leave major impacts, it comes as no surprise that Bernthal's work as the imposing Griff in Baby Driver would leave people talking after the end credits. But who would've thought it would inspire one of contemporary cinema's most befuddling mysteries?
What in God's name happened to Griff, the muscle behind Doc's crew? One popular online theory suggests that he pulled off the big bank heist in the sky. Why, you might ask? A clever line of dialogue by Edgar Wright, master of foreshadowing, explains his potential fate. Griff's last line in the film, stepping out of an elevator, is the ominous "If you don't see me again, it's 'cause I'm dead."