Prey's Amber Midthunder Dishes On How Historically Accurate The Sci-Fi Thriller Actually Is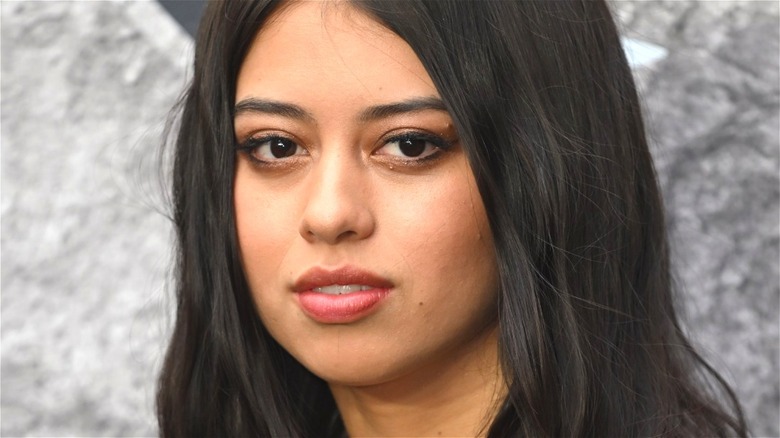 Karwai Tang/Getty
Days into its first round of reviews, critics are still picking their jaws up off the floor over "Prey." The film, which is a prequel to 1987's "Predator" film, has amassed an incredible 93% score on Rotten Tomatoes. Put simply, the "Predator" prequel appears to be that friggin' good. 
Looper recently sat down for an exclusive interview with Dakota Beavers, the actor who plays Taabe in the film, to talk about the process of making the movie. Beavers gushed over nearly every aspect of the film's production, in particular highlighting the film's dedication to historical accuracy (aside from the aliens, of course).
"One of the first things that was integral to making this movie was having Jhane [Myers] head up the project with Dan [Trachtenberg]," Beavers said, noting that Myers' Comanche and Blackfeet American Indian background helped instill a sense of legitimacy to the cultural representations on screen. "Being a Comanche woman herself who is there to say, 'This is right, this isn't right'; 'This looks good, this doesn't look good'; and to be there for the actors." 
Some of the best examples of Myers' attention to detail in "Prey" came through the simple, yet intricate, depictions of daily life in the late 1700s.
Even the toothbrushes are historically accurate in Prey
During a recent interview with the Hollywood Reporter, "Prey" star Amber Midthunder delved into the extensive efforts to pay attention to detail during the production of the "Predator" prequel. According to Midthunder, things were so realistic on the set of "Prey" that actors were using period-accurate toothbrushes. These tools were built by producer Jhane Myers, who used her knowledge and research as a member of the Comanche Nation to construct them, the actor said. 
So, what inspired this level of dedication? According to Midthunders's interview with THR, director Dan Trachtenberg was that obsessed with getting things right. "Dan at one point said, 'Did people brush their teeth [back then]? Like how did that work?'" remembered Midthunder, who has repeatedly spoken about how seriously she took the responsibility of accurately representing indigenous people on screen.
"You know this is about Comanche people in the 1700s, which I am not Comanche," Midthunder told the AV Club in a video interview. The 25-year-old actress has roots in a number of different Native American tribes, including the Sahiya Nakoda, Hunkpapa Lakota, and Sisseton Dakota (via Instagram). "So I also come from Plains people," she said. "It was important to me to represent their people as well as I could, 'cause ultimately they're the ones that this is about. They're the ones that this reflects on." 
"Prey" is set to hit Hulu on Friday, August 5.