Predator Prequel Prey Has Rotten Tomatoes Critics Picking Their Jaws Up Off The Floor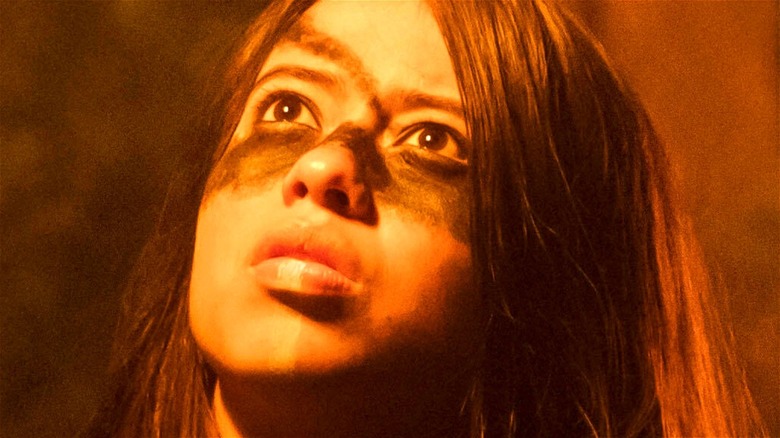 David Bukach/Hulu
It's a good week to be a "Predator" fan. The iconic science fiction film franchise is set to return with its fifth installment to date (excluding the "Alien vs. Predator" spin-off films), titled "Prey." The film, which is directed by "10 Cloverfield Lane" director Dan Trachtenberg, is also the franchise's first installment since Shane Black's "The Predator" hit theaters back in 2018. However, unlike that film, which is set in the present day, "Prey" takes place hundreds of years in the past.
In specific, "Prey" is a "Predator" prequel set in the Comanche Nation in the early 1700s. It follows an ambitious young Comanche warrior named Naru (Amber Midthunder) as she is forced to try and defeat a member of the franchise's fictional alien race before it manages to successfully hunt and kill her. Unable to match her hunter's technologically advanced weaponry, Naru must use her environment, skills, and intelligence in order to survive.
Unlike the previous installments in the "Predator" franchise, all of which were released in movie theaters when they made their respective debuts, "Prey" is a streaming-exclusive film. It is set to premiere Friday, August 5 on Hulu, and in anticipation of its long-awaited debut, the first reviews for "Prey" have begun to circulate online.
Critics are calling Prey the best Predator film since the 1987 original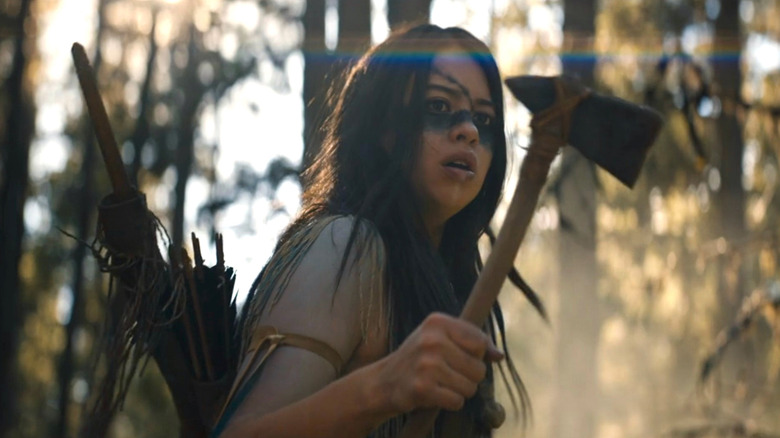 Hulu
The initial wave of reviews for "Prey" has been overwhelmingly positive. Indeed, as of this writing, the film currently holds an impressive 96% Tomatometer score on Rotten Tomatoes. While it is, of course, entirely possible that the film's score will fluctuate a bit as more reviews from Rotten Tomatoes-approved critics come in, its current rating does place it considerably higher than not only 2018's "The Predator," but also 1987's "Predator," which holds an 80% Tomatometer score.
In other words, if "Prey" manages to keep its score above 80%, then it'll end up being the highest-rated "Predator" film to date and only the third installment of the franchise to hold a Fresh rating on Rotten Tomatoes. Based on the film's early reviews, it's not hard to see why critics are falling head over heels for "Prey" either. A number of critics have gone out of their way to praise, in particular, the film's action sequences, with many calling it a worthy sequel to the franchise's first, Arnold Schwarzenegger-led 1987 installment.
For instance, in their review of the film for The Hollywood Reporter, Frank Scheck wrote, "The important thing [about 'Prey'] is that the action sequences are staged with maximum skillfulness." For Bloody Disgusting, Megan Navarro similarly observed that "'Prey' takes its cues from 1987's 'Predator' in terms of simplicity and bloody action-horror." In their Empire Magazine review of "Prey," James Dyer also praised the film, writing, "Effortlessly the best 'Predator' movie since the original, 'Prey' proves that, against all expectation, there's life in the franchise yet."
In case the film's reviews weren't already positive enough, many critics are also praising the star-making performance that's at the center of "Prey."
Critics are praising Prey's central star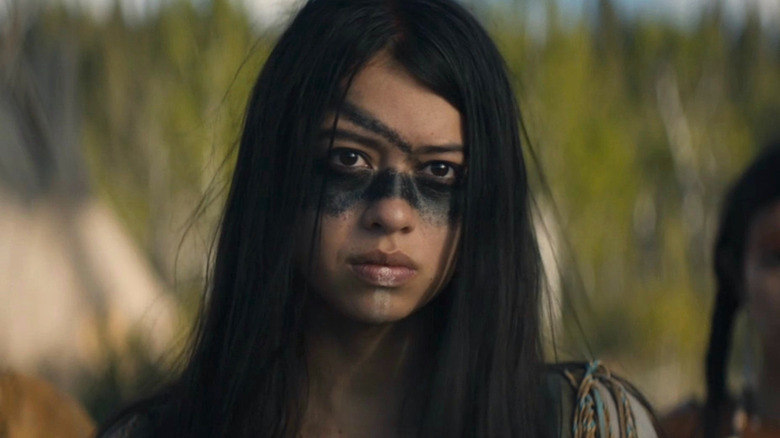 Hulu
A lot of the early praise surrounding "Prey" is being directed toward its central star, Amber Midthunder. The actor, whose previous credits include "Legion" and "Roswell, New Mexico," plays Naru, the young Comanche warrior who finds herself at the center of a deadly cat-and-mouse game in "Prey." If the film's early reviews are to be believed too, then it looks like "Prey" gives Midthunder the chance to prove herself as a star who is more than capable of leading her own action movie.
For instance, in their review of "Prey" for The Jewish Chronicle, Linda Marric wrote, "Bolstered from the get-go by Midthunder's peerless delivery, the film feels like a true and conscious new departure away from the usual rehashing and repackaging of the same old ideas." For IGN, Tom Jorgensen similarly noted that "it's the ferocious, star-making turn from Amber Midthunder that stands as [the film's] greatest strength." In their Variety review of "Prey," Owen Gleiberman also praised the film's exploration of Midthunder's Naru, writing, "The journey of Naru lends ['Prey'] a semblance of emotional coherence that most of the 'Predator' films have lacked."
Altogether, the film's reviews indicate that "Prey" is the thrilling and well-made "Predator" follow-up that fans of the franchise have been waiting a long time for. Of course, those same fans will get to see for themselves just how well the "Predator" prequel actually lives up to their expectations when "Prey" goes to Hulu instead of theaters on Friday, August 5.