Writer John Logan On Directing They/Them And Penning Gladiator, Penny Dreadful, And More – Exclusive Interview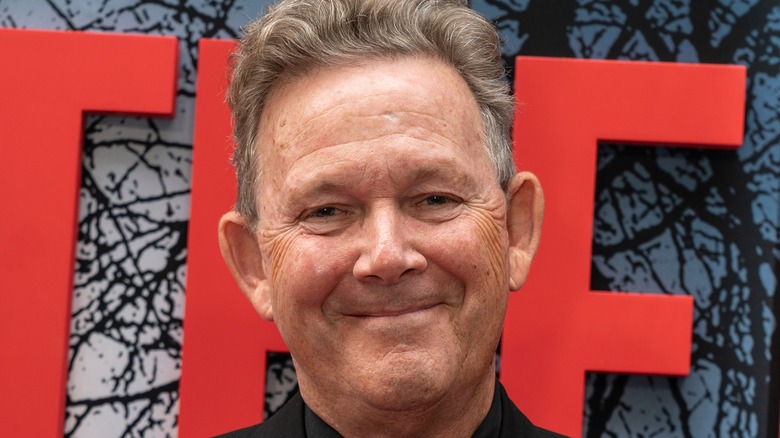 lev radin/Shutterstock
Oscar-nominated screenwriter John Logan has penned such blockbuster movies as "Gladiator," "The Aviator," and the James Bond films "Skyfall" and "Spectre." Now, he's trying his hand at something new: directing.
Logan's self-penned directorial debut comes in the form of the LGBTQ-focused slasher flick "They/Them" (pronounced as They-Slash-Them), which premieres on Peacock on Friday, August 5. In it, a disparate group of queer kids are sent to a gay conversion camp, where a team of counselors try to change their sexual orientation and gender identities while a killer runs amuck. The camp is led by Owen Whistler, played by Kevin Bacon, who also executive produced the film alongside iconic horror company Blumhouse Productions ("The Purge," "Insidious," "Paranormal Activity").
During an exclusive interview with Looper, Logan opened up about why the film is important to him and the LGBTQ community, what it was like working with a living legend like Bacon, and what his past projects mean to him.
Logan wants They/Them to be 'a queer empowerment movie'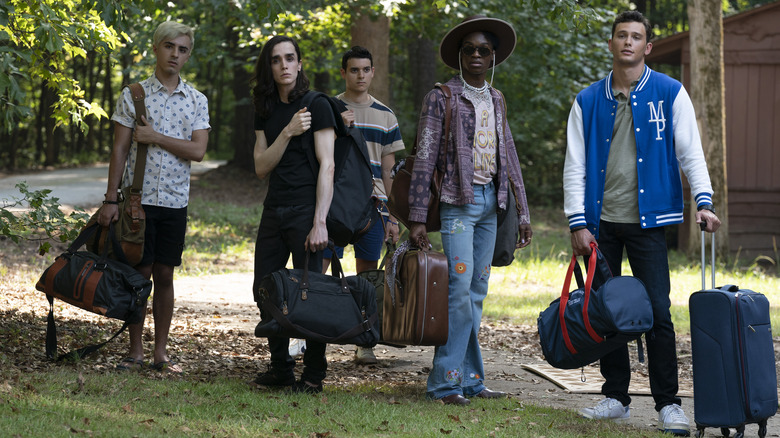 Peacock
The film wasn't quite what I had expected. I went into it thinking it was a "slasher flick," which it is, but the real horror is what's happening day-to-day at the camp. How did you come up with the idea of setting it at a gay conversion camp?
I wanted to write a queer empowerment movie. I've loved horror movies since I was six, and growing up, I can remember that gay characters were mostly non-existent. If they existed at all, even in coded ways, they were jokes or victims or killers — they were never the hero. I know how much that would have meant to me to see a queer hero in a horror movie, so that's what I wanted to do. I wanted to create some context for that.
I had met some people who had gone through so-called conversion therapy, and they told me about their experiences, which stayed with me. Frequently, those are camps in very isolated areas. It came to me that the isolated camp in the wilderness is the main trope of the slasher movie — and I love slasher movies. I'm very unapologetic about loving slasher movies, and it seemed to me that it was a good setting to wrap around this queer empowerment drama. 
As you said, the slasher-movie elements are one part of the horror. That's the jump scares, the suspense, [and] the mass killing, but the real, true horror is the psychological warfare that goes on with those kids to try to get them to deny their queer identities.
Why is Peacock the right place for it?
First of all, Peacock has been amazing from first to last. I'm a first-time director, and Blumhouse and Peacock fully supported me. I needed more rehearsal time because I had never done this before. I needed more shooting time, and they were so generous.
Peacock is a very pro-queer network. They're very open to alternative stories, like "Queer As Folk." They're very open to telling stories that the mainstream might shy away from. A gay empowerment movie set in a conversion camp wouldn't be for everyone, but Peacock was enthusiastic about it from the beginning, I think because it was different. It was unique, and if you look at what Peacock has to offer, there's always a quality of uniqueness, which, to me, is very special and very rare.
He looked to Friday the 13th for inspiration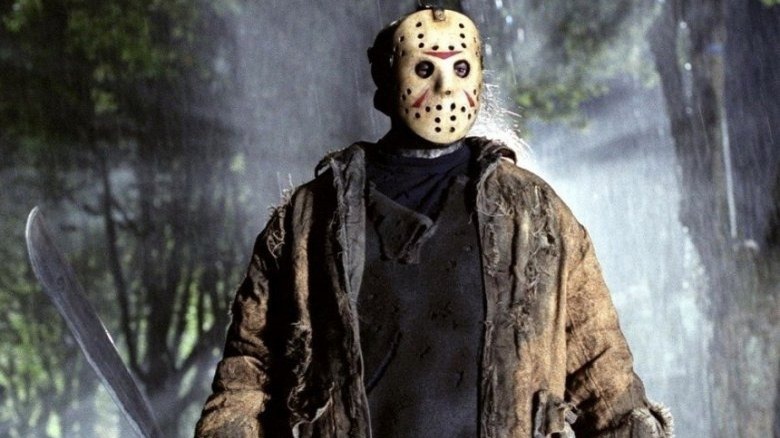 This is your first foray into directing. What past horror films influenced your directorial approach?
A lifetime of them. Certainly, as I looked toward directing this, I inundated myself with slasher movies. The rustic ones, from "Sleepaway Camp" and "The Burning" to the first few "Friday the 13th" movies, things in the wilderness. Then, I looked at generally frightening wilderness movies that weren't even horror movies, just to get a sense of what that would feel like. I'm sincere when I say, from the time I was six, I was watching "Dracula" and "Frankenstein" on an old black-and-white TV. All of that went into my DNA in some way.
I've heard the film described as "Get Out" meets "Friday the 13th." Would you agree with that?
No. I don't compare. "They/Them" is a unique piece. I never compare anything I do to anything else. You have to give your heart and soul to the uniqueness of what you're creating.
What do you hope straight people get out of it — pure entertainment or some enlightenment?
The movie is entertainment, first and foremost. It's a horror movie that should be thrilling and suspenseful, but it's also a movie with heart. Whether you are gay or straight, you're still moved by the characters. You're still moved by those kids and what they go through. Any story that's positive and uplifting and empowering about kids and human beings should be welcomed by all audiences — gay, straight, whomever.
He wrote the lead role with Kevin Bacon in mind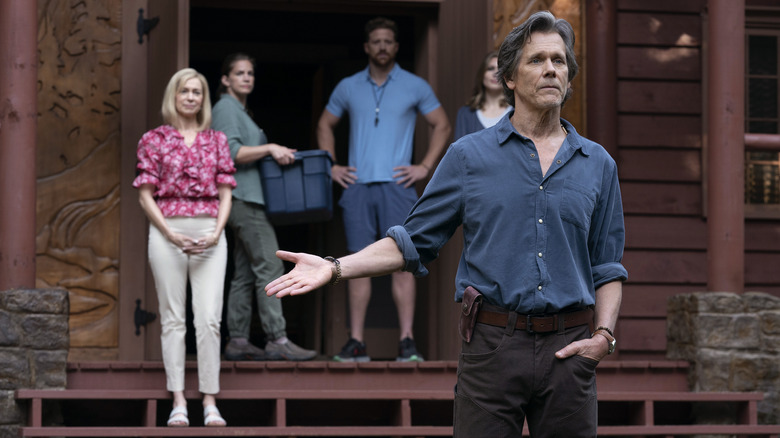 Peacock
What was it like being one degree from Kevin Bacon?
It was great. I've known Kevin for a few years, and I've always wanted to work with him. It's the weirdest thing, though ... when I started writing this script, I kept thinking of Kevin. I kept hearing his voice and thinking of him because of that genius quality he has to go from absolute charm to absolute icy, frightening demon on a dime.
That's what the character is, so I couldn't shake Kevin when I was writing it. Usually, in movies, you have an actor in mind that never actually works out, but I called Kevin and said, "Okay, well, I've written this movie. There's a part for you. I hope you like it," and thankfully, he did.
Any funny or memorable moments with him on set that you can share?
We decided on the first day that we wanted to film Owen's opening speech to the kids. The very first time our actors saw Kevin, it was walking through that door in character as Owen Whistler, telling them these are the rules of the game. On a meta cinematic level, that's a five-page speech he gives, and he was word-perfect every time. It was almost saying to young actors, "This is how a professional does their job. Show up prepared."
He fanboyed out on the set of the James Bond films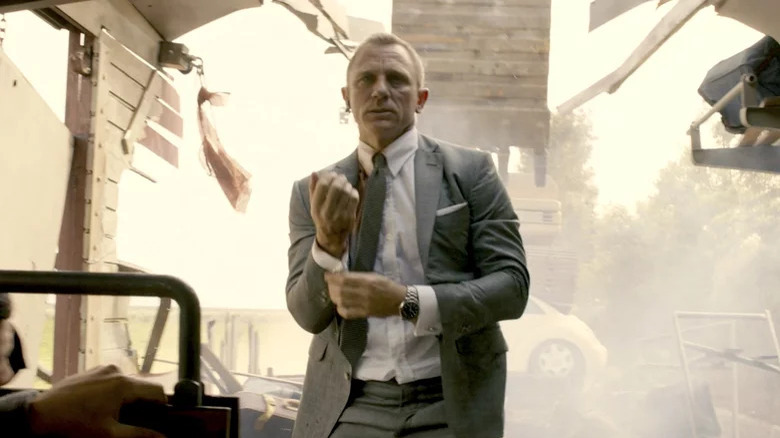 Sony Pictures
You have a few other horror projects in your background, including the series "Penny Dreadful." Which character or storyline was your favorite from that show?
Vanessa Ives. I wrote around the character on "Penny Dreadful," and I begged Eva Green to do it for months. She finally did, and she became my muse for the years working on that show. She was such a touchstone for me as an artist, as an actress. It's a very special, intimate connection I have with Eva Green and that character on that show.
There's so much you can do with that series. Do you see it being resurrected again?
You never know. Never say never.
You also have a lot of high-profile films in your background, but two of the biggest have to be the James Bond films, "Skyfall" and "Spectre." What was it like working on those?
Oh, it was great. The fanboy in me couldn't believe I was there on the set with James Bond — and there was the Aston Martin. It was great. Working with [director] Sam Mendes, who I've known for years in theater, was very rewarding because we were both new to the franchise. Our biggest concern was, "Don't mess it up. Try to be faithful and pay homage to everything that's come before us — all the Ian Fleming novels, all the movies — and try to do something new." It was a blast.
One more question, about "Gladiator," which was the second highest-grossing film of 2000. Given how dominant Marvel movies are at the box office these days, how do you think "Gladiator" would fare if it were released in theaters today?
Quality will win out. [Director] Ridley Scott made an exceptional movie with a wonderful cast that really spoke to people, and that's a universal and timeless thing. It's the reason why we can still watch a classic move from the 1930s, and we can still laugh at the Marx Brothers or be transported by Fred Astaire and Ginger Rogers dancing. There's something timeless about great cinema, and, for me, "Gladiator," because of Ridley Scott, is great cinema.
Logan's latest film, "They/Them," will exclusively premiere on Peacock on August 5.