The Real Reason Yellowstone Keeps Getting Snubbed By Emmy Voters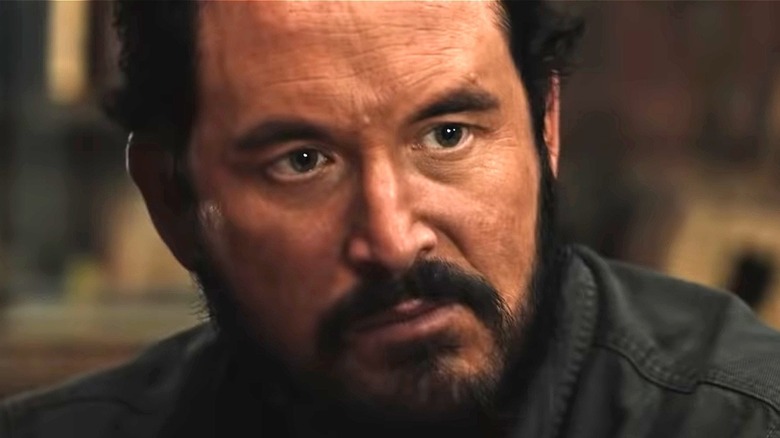 Paramount Network/ YouTube
Since its premiere in 2018, Taylor Sheridan's "Yellowstone" has been one of the most popular streaming programs on television, with a deeply devoted fan base and overwhelmingly positive reviews in each of its four seasons (via Rotten Tomatoes). But for some reason, the Paramount Network only has one Emmy nomination to show for it, and people just can't understand why. 
"Why was @Yellowstone snubbed again???" wrote Twitter user @TheHemptress420 in response to the Television Academy's July 2022 decision to not even give Sheridan's flagship western drama a nod in the technical or lower categories this year, let alone an acting or outstanding drama series category. "WTH @TheEmmys," the user said. Perhaps the most surprising snub for the 2022 Emmy Awards and "Yellowstone" was the lack of an outstanding lead actress in a drama series nod for Kelly Reilly aka Beth Dutton, who was one of two cast members to have a submission this year, along with Kevin Costner. "It's criminal Kelly Reilly doesn't have an award," tweeted @D12996361. Los Angeles Times writer Glenn Whipp described the "Yellowstone" snubbing as yet another disappointment for the awards show, opining, "Leave it to the dimwitted, doughy, overindulged big-city elites at the TV Academy. What the hell do they know, anyway?"
According to experts, "Yellowstone" has long been a series that suffers from what it does best — separating itself from the "Succession"-loving coastal elitist pack. They claim it's ultimately because of this that the Television Academy has decided to repeatedly thumb its nose up at it, along with a number of other interesting reasons.
There's a 'conscious and unconscious bias against the arena of horses and cowboys,' experts say
One of the first — and biggest — theories experts have about why "Yellowstone" keeps getting snubbed out of Emmy nominations is simply because it's a Western, which is a movie and television genre that has long been considered fruitless when it comes to awards. 
"There's both a conscious and unconscious bias against the arena of horses and cowboys," explained a longtime television writer-producer who spoke to Vanity Fair under the condition of anonymity. "It's partly a demographic issue," said another source, who is described as an Emmy voter. The person noted how Taylor Sheridan's spin-off series "1883" was also snubbed and how it likewise suffers from a case of differing demographics. "The fact that 1883 has Faith Hill and Tim McGraw means it speaks to a country audience a little bit," said the Emmy voter. "It is hugely popular, but not in the right places for the Emmys."
Throughout TV and movie history, Western projects have rarely felt the love from awards show voters (via FilmSite). Modern and more recent Westerns have found much more success lately, such as "Hell or High Water" and Netflix's "The Power of the Dog," but their themes have been nowhere near as conservative or rooted in cowboy culture and earnestness the way "Yellowstone" has. And because of this, there's one major audience that keeps feeling left out ...
Yellowstone is not cynical or funny enough for so-called 'coastal elites'
According to TV experts, two the most influential factors for Emmy voters right now are cynicism and dark satire, both of which "Yellowstone" and Taylor Sheridan are complete strangers to. 
"I think the earnestness of Yellowstone may alienate some [Hollywood] people," explained the writer and producer who spoke anonymously to Vanity Fair. "It's not cynical, which is probably why many, many millions of people enjoy it. It's telling a good story, it's not making fun of itself, and it's beautiful to look at. But for whatever reason, that doesn't feel premium and elevated enough [to win awards]." The insider added, "Cynicism is equated with quality."
Overall, experts believe that voters ultimately nominate shows like "Succession" over "Yellowstone" because they appeal more to the "coastal elite" — aka viewers living in big cities like Los Angeles and New York — which is who the networks will always prefer to impress and cater to. "A soap set in the big money world of a publishing empire seems fancy and a ranch in Middle America doesn't," the writer-producer said. Some media outlets, such as the Daily Mail, have gone so far as to say "Yellowstone" is too "woke" for Emmy voters and viewed as a "red-state Succession," which has led to it being a victim of what's being described as an ongoing political and cultural war (via The Hollywood Reporter). But experts insist that there's actually a lot more to the Paramount Network series than meets the eye, which will hopefully be recognized one day. 
"Even if the images of modern-day cowboys conjure some notion of 'the real America' in the flyover states ... Yellowstone's portrayal of land-use politics in the western U.S. — particularly their effect on the Native American characters — is a Trojan horse, a political subtext hiding within a melodrama," wrote THR awards editor Tyler Coates in a July 2022 article. "That tactic is what TV does best."