What You Don't Know About Yellowstone's Taylor Sheridan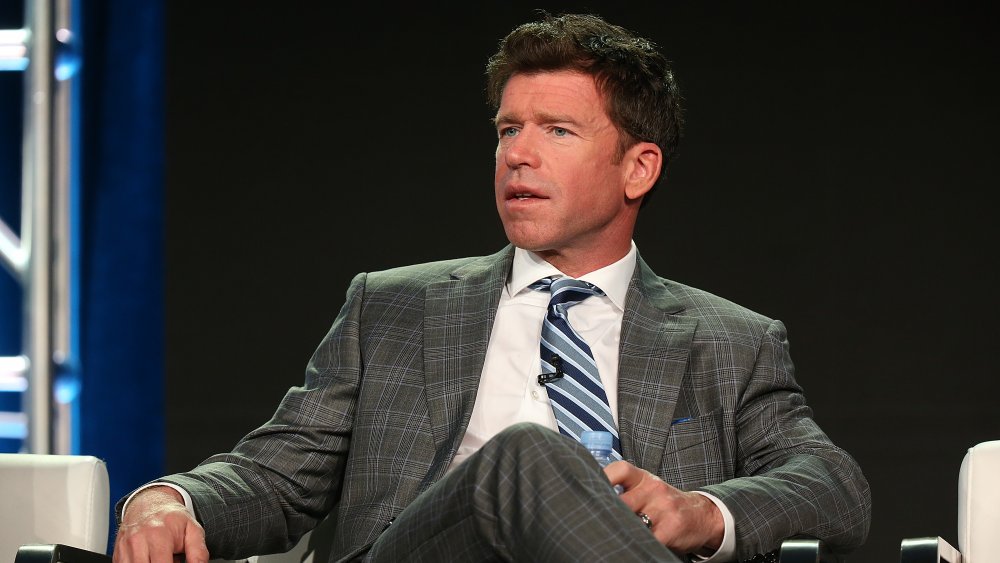 Phillip Faraone/Getty Images
Over the course of its three electrifying seasons on the fledgeling Paramount Network, the neo-Western saga Yellowstone has transformed itself from the little show with a big star that could, to a ratings powerhouse with a fervid fanbase that's certain to keep it in production for years to come. That big star at the heart of Yellowstone is none other than screen icon Kevin Costner, of course, who portrays Montana ranching magnate John Dutton in the series. If you've yet to catch up to Yellowstone, it finds John and his rapidly fracturing family fighting tooth, nail, rope, and bullet to keep their coveted ranching lands in their own hands — a fight that's found them warding off power plays by duplicitous politicians, sleazy land developers, and indigenous tribes to claim it for themselves. 
If you're already among Yellowstone fandom, you know season 3 of the series ended in a hail of gunfire that's left the fates of many a Dutton very much in question. As it is, the wait has begun to see how the show's creative team will forge ahead in the wake of that explosive finale. Rest assured that series creator Taylor Sheridan has a plan in place for the already filming fourth season of Yellowstone.
And if you dig the mod-country flavor that Yellowstone is bringing, Sheridan's is a name you really should get to know a little better, because he's the mind behind some of the best Western-tinged dramas of the past decade (see: Sicario, Hell or High Water, and Wind River). The multi-talented Sheridan talked about Yellowstone's creation, his career trajectory, and more in a 2018 interview with Deadline that proved the very definition of revelatory. 
Here's a few things we didn't know about Yellowstone creator Taylor Sheridan, from that interview.    
The cowboy way is in Taylor Sheridan's blood, and Yellowstone is his Game of Thrones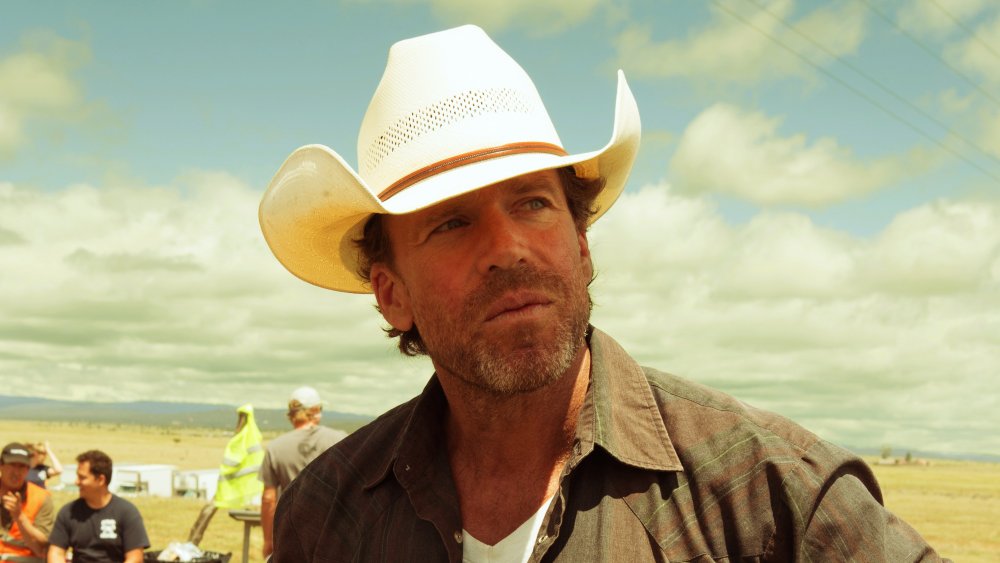 CBS Films/Lorey Sebastian
Even as Yellowstone continues to entertain with an endless menagerie of modern cowboy carnage and peurile political maneuvering, fans would likely point to the show's authenticity as the factor that keeps them coming back. And in spite of the series' melodramatic manipulations, the thing that makes Yellowstone so watchable is that Sheridan and Co. continue to paint a patently realistic picture of a dying way of life. And at least part of that authenticity stems from the fact that Sheridan himself actually lived that life in his formative years. 
Seems the talented writer, director, and actor grew up riding horses and corralling cattle on his family's ranch in Cranfills Gap, Texas, according to both the Deadline interview and Wide Open Country. And even in his youth, one has to think Sheridan could see that way of life quickly fading. As such, it's no surprise he didn't linger long in the family business, with the ruggedly square-jawed Sheridan catching the acting bug during his time at Texas State University.  
Whatever the case, there's little question Sheridan's upbringing plays a big part in informing the narrative of his hit series. So too, it seems, did one of the most epic small screen series of the modern era. "The linear format of TV is almost dead and people binge-watch and it's very hard for these commercial television channels to compete. This was my answer to Game of Thrones. Not in sheer size, but in saying, 'Hey, guys, you can do this too; a different version.' You can actually use commercial breaks to your benefit, build tension with them. It can be a more communal viewing experience."
It's safe to say millions of Yellowstone viewers agree on that.
Sheridan's first career act unfolded in front of the camera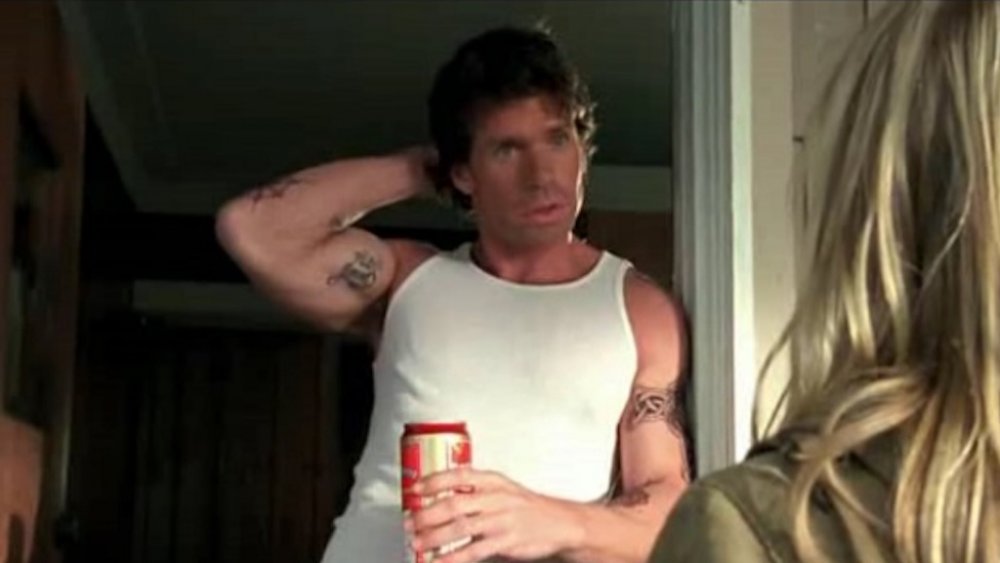 The CW
On the subject of Taylor Sheridan's ambition to become a leading man, acting actually was what paid the bills for the man for his first couple of decades Tinseltown. And Sheridan had some legit success as an actor, scoring gigs on Walker, Texas Ranger, Star Trek: Enterprise, Party of Five, and NYPD Blue in his early days. Fans of cult CW hit Veronica Mars no doubt recall Sheridan's hilariously aloof work as beefy bad boy Danny Boyd, who featured prominently in all matters concerning Liam Fitzpatrick (Rodney Rowland) and Neptune's own Fighting Fitzpatrick crime syndicate.
Audiences also know Sheridan for his two seasons-plus of work as Deputy Chief David Hale from FX's bracing biker drama Sons of Anarchy. And those fans certainly recall that Deputy Chief Hale met a rather brutal end in show's season 3 premiere. Turns out, Sheridan's Sons of Anarchy exit is exactly what inspired him to leave acting behind and make a go of it behind the camera — this even as he had never written, produced, or directed a thing. Sheridan goes on to credit a fierce determination to see his vision to fruition as the key to his success: "I had worked on some really bad movies and really bad TV shows and that's not counting the ones that I read for and I didn't get. Or the ones I read and wouldn't audition for. I sat down and said, 'I don't know how to do to this. But I sure know what not to do.' Write a movie you want to see, that says something about the world. I spent the first 20 years of my career compromising. I decided I would spend the next 20 never compromising."
Sheridan's Sons of Anarchy exit paved the way for much greener pastures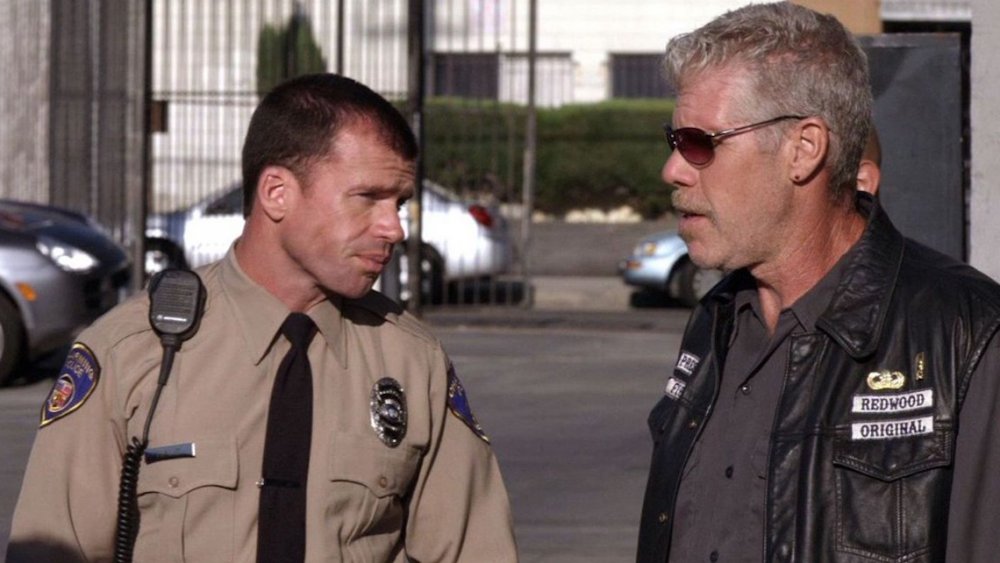 FX
Regarding Sheridan's time on (and subsequent exit from) Sons of Anarchy, the actor turned writer-producer-director spoke candidly about what led him to leave the series, and ultimately acting behind altogether. And even though clearly Sheridan enjoyed working on Kurt Sutter's beloved show, he opted out of Sons of Anarchy because he felt his pay didn't line up with the amount of work he was actually doing. Turns out, the experience became the straw that broke the camel's back in terms of his acting career. 
"As far as working on Sons, it was very enjoyable; I never had any conflict or saw any. It was a very well-cast show. The dialogue was great. It was fun to do. So there were no battles like that. No battles over character; my character was quite clear. I didn't know I was going to write until I quit the show. We were renegotiating on Sons after the second season and I had one idea, and the studio had a different idea. Everyone on the show was making twice what I'm making, the other series regulars. We're not talking about the stars. And I'm on the DVD [cover] bro; only two people on it. I say, 'Why is this all you're offering me? It seems unfair.' I'm told, 'That's all you're worth and all you'll ever be worth.' I took that in. And I said, 'OK. I guess I'll tell my own stories.'
Those harsh words fueled Sheridan's desire to author his own story, and essentially birthed one of the more miraculous second acts Hollywood has ever seen. If Taylor Sheridan continues to have it his way, he won't be writing himself off into the sunset for many years to come.