Horror Anthologies To Check Out If You Love American Horror Stories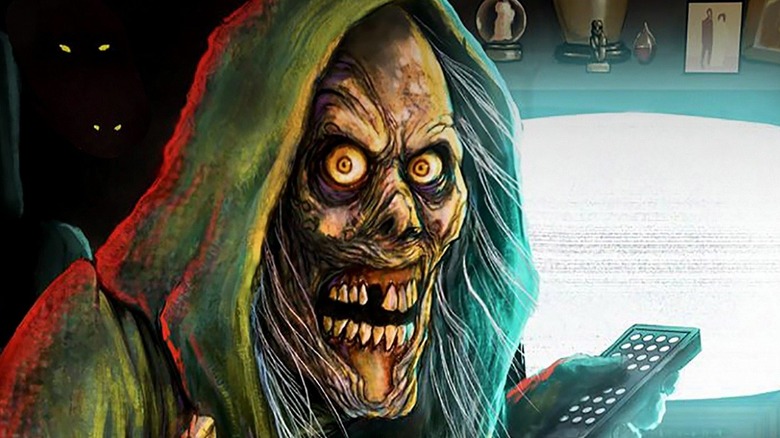 Shudder
"American Horror Story" has become one of the most notable genre anthologies of all time, ushering audiences into a new era of horror on the small screen. For 10 seasons, "American Horror Story" has brought an amazing, ever-growing cast to bloody, gruesome, and terrifying stories that have touched on different themes and styles. From a creepy carnival freak show to a haunted murder house, each season has delivered a fresh tale. Recently, "American Horror Story" expanded into a spinoff series, titled "American Horror Stories," which delivers an original horror tale each episode. The spinoff's second season just debuted on Hulu, with its first tale dealing with a crazed dollmaker and his kidnapped victims.
"American Horror Story" and "Stories" continue to be popular, but they're far from being the only horror anthology out there. The format existed way before "American Horror Story" debuted in 2011, creeping out audiences and telling strange original horror stories. Some were highly stylized and hosted by well-known icons. Others were even family-friendly. However, all these horror anthologies are perfect for fans of "American Horror Story"/"Stories" looking for a good watch in between seasons.
Tales From the Crypt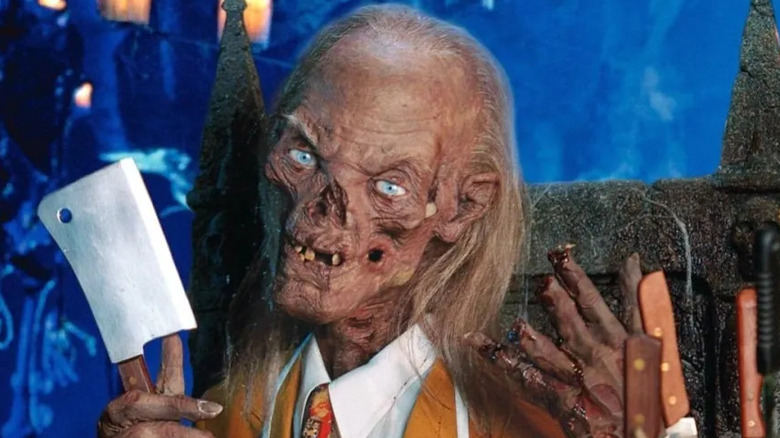 HBO
True genre fans remember when HBO had their own horror anthology series based on the EC Comics series "Tales From the Crypt." Each episode has a new story introduced by the legendary Cryptkeeper (voiced by John Kassir) that's typically based on a tale from either the original comic or other EC horror comics, like "The Vault of Horror" and "Two-Fisted Tales." Being free from censorship on HBO, the series is filled with gore, profanity, and sex. It touches on nearly every facet of horror, ranging from suspenseful murder stories to creepy creatures. It even gets meta with an episode focusing on a cartoonist who works on the "Tales From the Crypt" comics and has his monsters come to life.
"Tales From the Crypt" became such a hit that it had multiple specials delivering holiday-themed horror stories. A film adaptation also brought the Cryptkeeper to the big screen. The series also featured some familiar guest stars throughout, including the likes of Daniel Craig, Arnold Schwarzenegger, Demi Moore, Brad Pitt, Lea Thompson, and Whoopi Goldberg. Some episodes were also directed by legends like Richard Donner, Robert Zemeckis, Tom Holland, Tom Hanks, and Tobe Hooper. "Tales From the Crypt" ran for seven seasons on HBO before ending in 1996, but remains a nostalgic treat for horror fans and always welcomes newcomers.
The Twilight Zone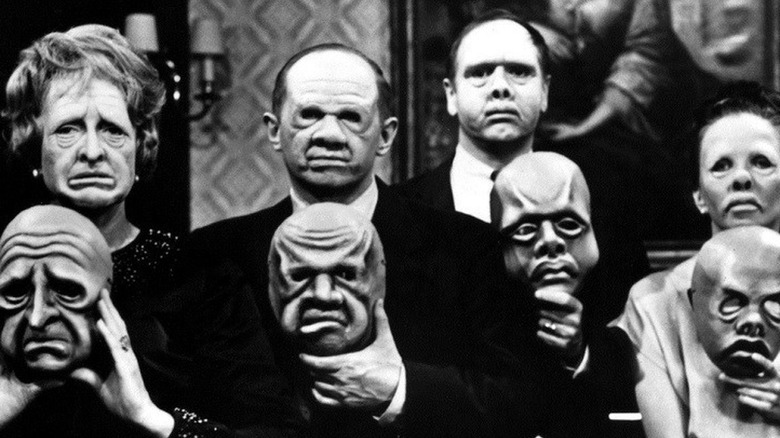 CBS
Quite possibly the most iconic anthology series of all time, Rod Serling's "The Twilight Zone" takes viewers on a mysterious and boundary-pushing trek into the unknown. In each episode, Serling's narration introduces viewers to mind-bending tales with shocking twists. "The Twilight Zone" isn't purely horror; it also mixes in some sci-fi, psychological thrills, and even comedy for good measure. "The Twilight Zone" is light on gore and best suited to those looking for the captivatingly strange and bone-chillingly eerie.
Since it first debuted in 1959, "The Twilight Zone" has been reincarnated plenty of times even after Serling's original series ended in 1964. Along with a movie adaptation in 1983, "The Twilight Zone" was revived in 1985 for a new series that only lasted three seasons and another reboot in 2002 that had an even shorter life span, only lasting one season. More recently, Jordan Peele led a "Twilight Zone" reboot in 2019 for CBS that received mixed reviews and only lasted two seasons, but featured some great modern additions and updates. Not only did it have a star-studded cast featuring Zazie Beetz, John Cho, Kumail Nanjiani, and Peele himself as the narrator, but it also paid great homage to Serling with an incredibly meta first-season finale. All in all, a trip into "The Twilight Zone" is heavily worth it.
Channel Zero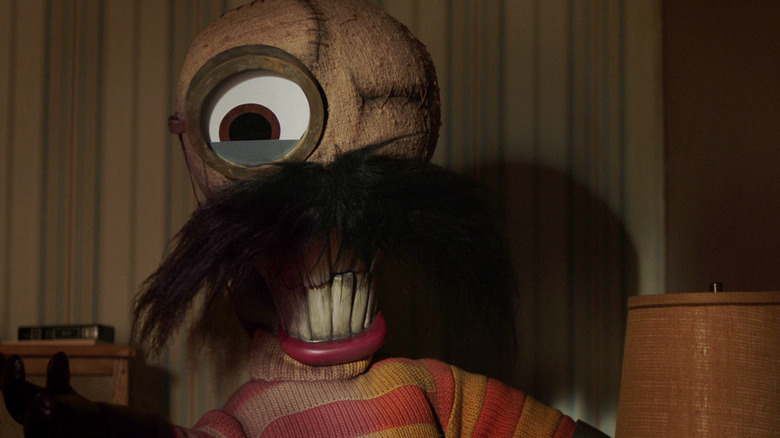 Syfy
Syfy's "Channel Zero" is a unique kind of modern horror anthology given what its season-long stories are based on. Each season, "Channel Zero" adapts a "creepypasta": horror legends born and shared on the Internet. The show turns these stories into season-long storylines that horrify viewers and make them shudder. Its first season, "Candle Cove," is based on Kris Straub's 2009 creepypasta of the same name and follows a psychologist looking into his brother's disappearance to see if it's connected to a strange children's TV series from his childhood.
"Candle Cove" was highly regarded by both critics and fans for its creepy atmosphere and strong horror mystery, giving Syfy and horror fans a new anthology obsession. Following "Candle Cove," the series continued for four seasons, adapting creepypastas like "The No-End House," "Search and Rescue Woods (Butcher's Block)," and "Hidden Door (The Dream Door)" before being canceled in 2018. "Channel Zero" delivers some one-of-a-kind scares and opens up a whole new space in horror for fans to check out.
Black Mirror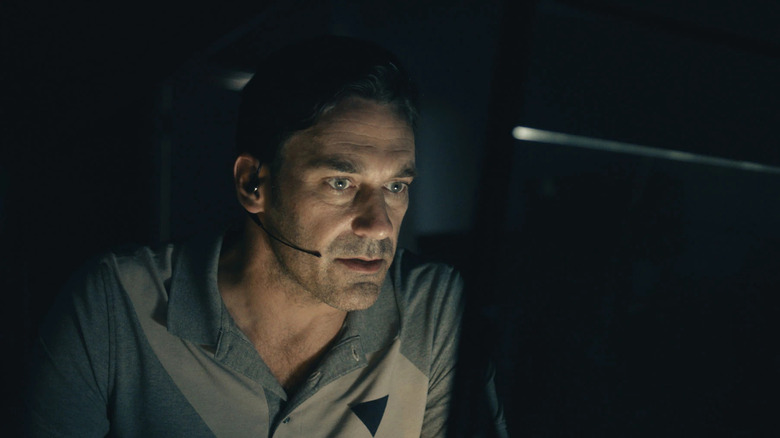 Netflix
Alongside "American Horror Story," Netflix's "Black Mirror" has been a pivotal force in reviving the anthology TV series format and offering a refreshing set of thrilling and chilling stories. "Black Mirror's" creepiness stems from its commentary on social issues and personal strife through people's relationship with technology. The series has delivered some impactful stories about virtual reality blending with actual reality, as well as near-future dystopian horror stories that are completely gripping. Not to mention, it even got an interactive film on Netflix, titled "Bandersnatch," that turned a choose your own adventure game into an interactive nightmare.
"Black Mirror" is constantly raising the bar for dystopian storytelling with how it instills fear in its viewers and hits closer to home in unexpected ways. It's no wonder that it's attracted some big talent like Daniel Kaluuya, Wyatt Russell, Anthony Mackie, Bryce Dallas Howard, and many more to star. "Black Mirror" remains one of Netflix's most beloved and watched series. There's no better time to check it out than now as Season 6 is nearly upon us. While details have been scarce, it was revealed that its going to have a top-notch cast, including Josh Hartnett and Kate Mara (via Variety).
The Terror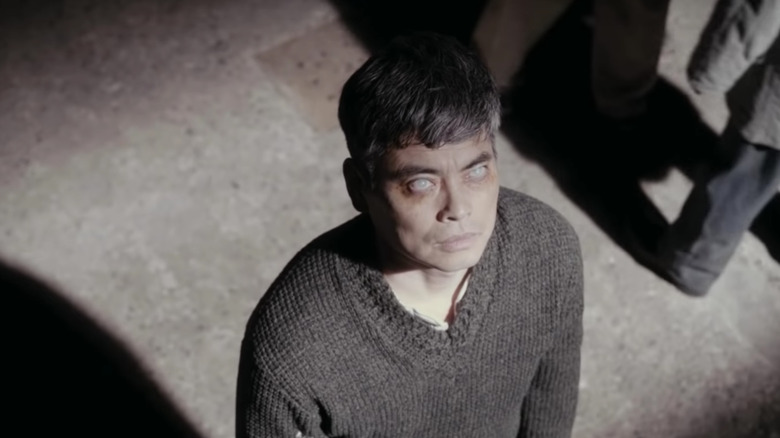 AMC
While it only has two seasons so far, AMC's "The Terror" has already become a beloved horror anthology. The series takes viewers into interesting historical periods with unique horror stories that span the entire season. The first season brought viewers into a frigid tale of survival as a group of explorers and sailors get trapped in the Arctic and are hunted by a fearsome creature. "The Terror's" first season immediately made a big impression on the horror community through its tense atmosphere and gruesomely harrowing story of survival. "The Terror" brought new meaning to terror on the small screen and had a follow-up season that was very different, but just as strong.
Season 2 of "The Terror," titled "Infamy," brought viewers into a haunting supernatural story of a group of Japanese Americans being forced to live in an internment camp at the height of World War II. "Infamy" mixed supernatural and realistic terrors perfectly to create a character- and history-driven story with strong highs and emotional conclusions. Sadly, there's still no word on a third season, as AMC continues to think about what they should do next (via Deadline). However, just because "The Terror's" future is uncertain doesn't mean "AHS" fans should miss out on it, as it provides a similar kind of vivid atmosphere mixed with historical context. 
Two Sentence Horror Stories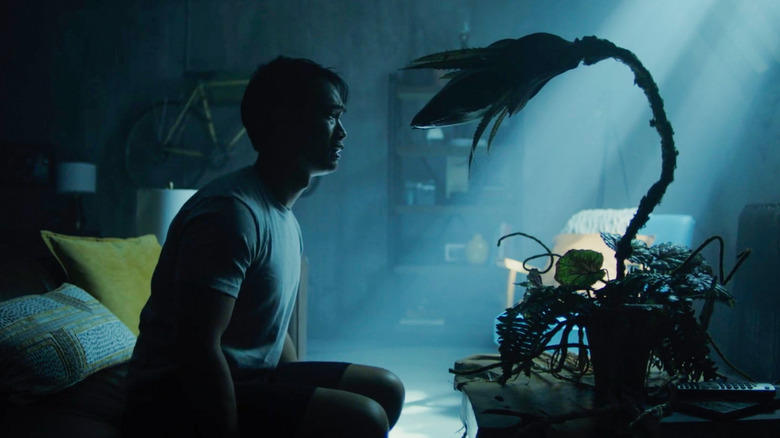 CW
If you're looking for an anthology series that's simple yet creative, "Two Sentence Horror Stories" should be on your watchlist. Its premise is exactly as described in its title: Each episode contains a horror story stemming from a couple of sentences that introduce it. Within this simple framework and concept, the CW horror series has been able to touch on personal, social, and even cultural fears. The original idea for "Two Sentence Horror Stories" was that it would simply act as a collection of short films, but CW expanded into an entire series that has become kind of a cult favorite among its audience and now lasted for three seasons.
It's essentially the kind of idea anyone could come up with on Reddit, but the endless possibilities of this flexible concept have made the series a great place for rising talent, directors, and writers. From supernatural ghost stories to web-based home invasion thrills, "Two Sentence Horror Stories" has really done it all. It's been especially great at promoting a diverse set of characters and stories. It may not have the same level of name recognition as other anthologies, but "Two Sentence Horror Stories" is worth the time for any fan of the genre.
Goosebumps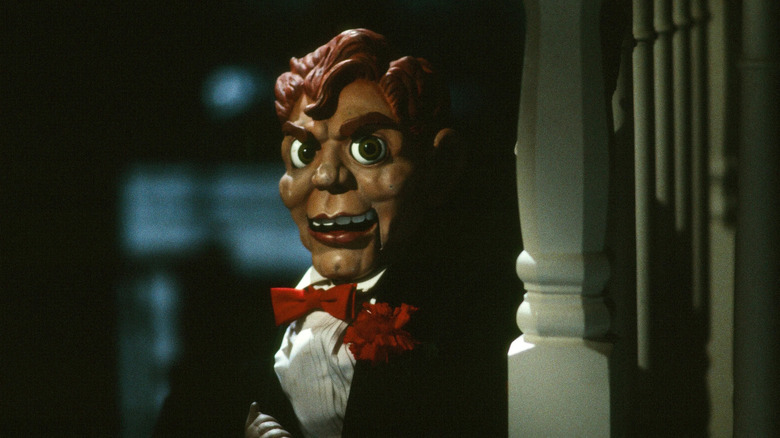 Fox
Based on the children's horror book series of the same name by R.L. Stine, "Goosebumps" is a classic horror anthology that acted as a great gateway show for kids. While the book series was a massive hit, many young TV watchers of the '90s likely remember tuning in to see some of Stine's best stories become live-action episodes. "Goosebumps" offered great scares, ranging from kids dealing with a haunted dummy named Slappy to a brother and sister getting lost in a haunted tower. Keen-eyed viewers might even remember seeing a young Hayden Christensen, Ryan Gosling, and A.J. Cook starring in some episodes.
Now, don't get me wrong: Looking back on the series, its effects and acting are pretty dated. But it's still great to watch some of Stine's most notable creations come to life, and some of its twist endings still shock. It was also great to see "Goosebumps" make it to the big screen in 2015. Plus, Disney+ is making a "Goosebumps" series of their own. At least for now, though, the original '90s anthology series remains the best way to experience "Goosebumps" outside of the books and is something that all horror fans should check out at some point.
Are You Afraid of the Dark?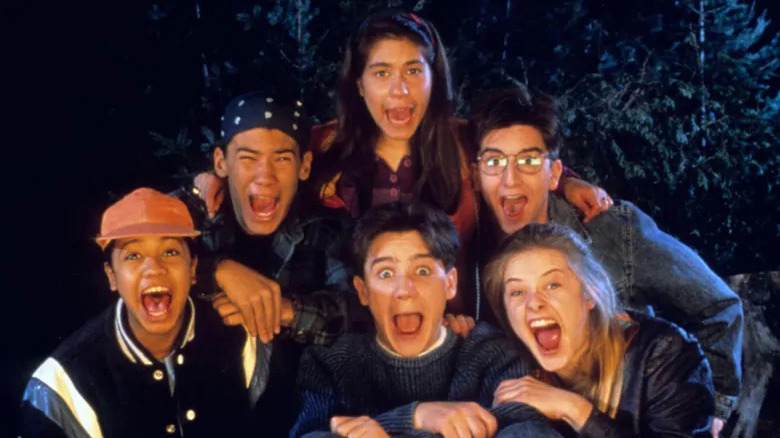 Nickelodeon
Alongside "Goosebumps," Nickelodeon's "Are You Afraid of the Dark?" was another destination for kids looking for a good scare in the '90s. Throughout the decade, "Are You Afraid of the Dark?" offered kids fresh, original horror tales that were legitimately scary and remain so today. Its legendary cast of Midnight Society members introduced young audiences to intriguing tales full of frights and scary turns. Like any good horror anthology, "Are You Afraid of the Dark?" touched on everything the genre has to offer, including creepy clowns, haunted houses, and zombies. It even played on common childhood fantasies, like getting stuck in the mall after closing.
It also featured some notable appearances by young stars of the time, including Will Friedle, Melissa Joan Hart, Neve Campbell, and Ryan Gosling. "Are You Afraid of the Dark?" remains a nostalgic treat and, luckily, is still going strong today. Although its revival in the late '90s didn't last long, Nickelodeon rebooted "Are You Afraid of the Dark?" in 2019 with a season-long storyline titled "Carnival of Doom" that was successful enough to garner two more seasons. The third season, "Ghost Island," premiered in July 2022, catering to a new generation of young viewers. "Are You Afraid of the Dark?" has truly become a multigenerational horror anthology like no other, making it a must-watch for the whole family,
Room 104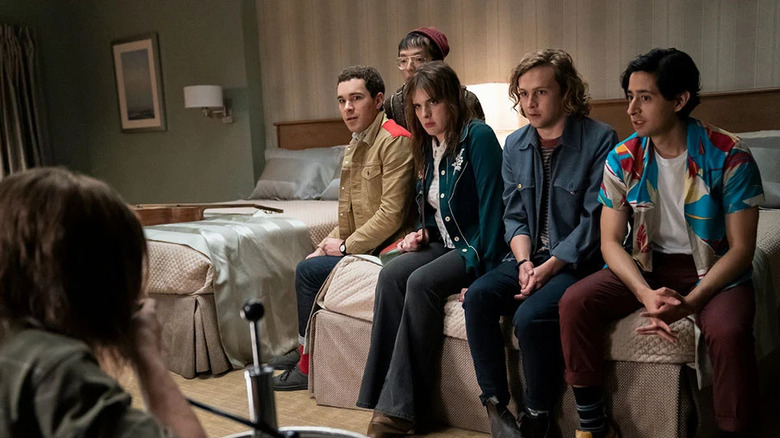 HBO
Created by Mark and Jay Duplass, HBO's "Room 104" is a great modern anthology to dive into with its genre-bending set of stories. Set within a single room of an American motel, each episode shows the actions and experiences of a new occupant of the room, which can deliver good laughs or scary frights. The clever premise keeps the setting constant but stays fresh with a rotation of new guests. While it runs the gamut from drama to comedy, horror fans get what they crave through unique personal hells and strange confrontations that arise during the guests' stays. 
Through the series' four-season run, plenty of talent has entered the titular Room 104, including Brian Tyree Henry, Mahershala Ali, Luke Wilson, Dave Bautista, and Tony Todd, to deliver some memorable performances. As a horror fan, maybe you're not always in the mood for just horror and want a little taste of everything. Well, then you have to try "Room 104."
Creepshow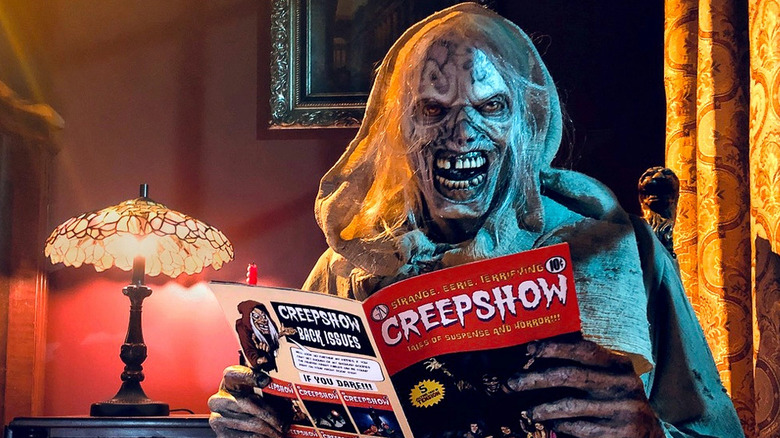 Shudder
Although it was originally an anthology film from the mind of Stephen King and George A. Romero, "Creepshow" has become so much more since Shudder turned it into a horror anthology TV series. Each episode, the show's narrator, The Creep, brings viewers into a terrifying horror tale from the "Creepshow" comic book that will bend their minds and give them goosebumps. For Shudder, a streaming service dedicated to the horror genre, "Creepshow" has been one of their biggest series, garnering wide acclaim and featuring some notable names from the field.
Some episodes have been directed by legends like Tom Savini, Greg Nicotero, Roxanne Benjamin, Joe Lynch, and David Bruckner and have featured big acting names like Giancarlo Esposito, Tobin Bell, David Arquette, and Jeffrey Combs. Throughout "Creepshow's" three seasons, it has delivered strong stories filled with gore and spookiness that stay true to their roots, as some are based on King's short stories. A fourth season is now in full swing, making it the perfect time to catch up on "Creepshow," including its holiday and animated specials.
Slasher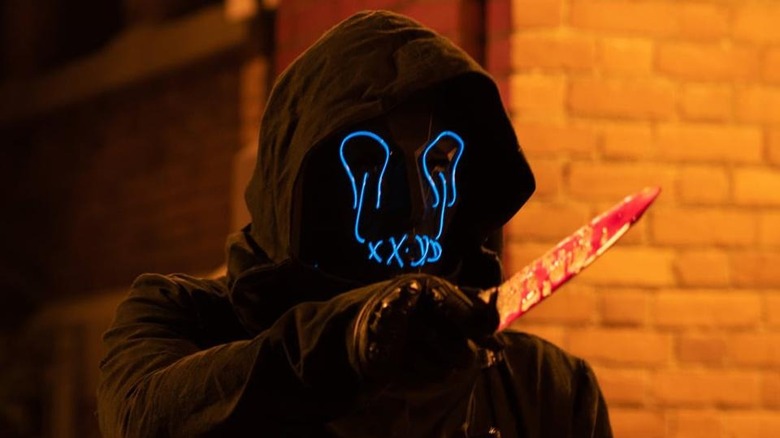 Chiller
Do you love the slasher sub-genre and its killer stories, like that of Bloody Face in "AHS: Asylum" and Twisty in "AHS: Freak Show"? Do you wish there was an anthology series out there that introduced new slashers to the genre? Well, you're in luck, because an anthology series called "Slasher" does just that. Each season of "Slasher" gives viewers a new masked killer with unknown motivations and a thirst for blood. Those looking for fresh blood will love what "Slasher" has to offer, as it utilizes each setting of each season well.
From a classic summer camp massacre to a group of friends being hunted by a killer for past misdeeds, "Slasher" is a true culmination of the slasher sub-genre, while offering some totally new takes. If you hadn't heard of "Slasher" before, it's not too surprising, since it's been pulled in a bunch of different directions during its run. The series premiered on former horror TV channel Chiller before getting picked up by Netflix for distribution. After the Netflix deal fell through, it now has a home at Shudder. 
Love, Death & Robots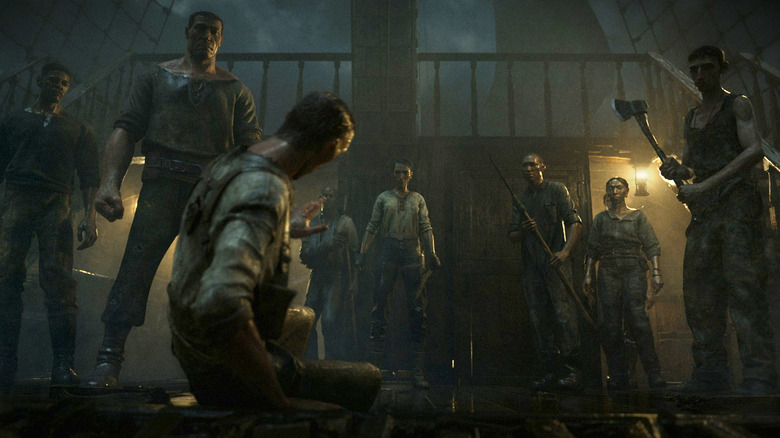 Netflix
Netflix's "Love, Death & Robots" is one of the most ambitious anthologies out there, constantly delivering awe-inspiring animation and captivating original stories. Created by Tim Miller and executive-produced by David Fincher, each episode brings viewers into an original animated or live-action tale that connects with one of the title's main elements: love, death, or robots. Through three seasons of stories, "Love, Death & Robots" has provided a visual feast for viewers that never gets old. Its latest season was a special treat for horror fans. From a story about soldiers walking into a gruesome hell to a miniature version of George A. Romero's "Night of the Living Dead," volume 3 gave horror the right kind of spotlight.
Fincher himself directed a dark and stormy tale of betrayal with "Bad Traveling," which featured an absolutely terrifying crab antagonist. "Love, Death & Robots" continues to push the boundaries for what's possible with animation and storytelling, making it a must-watch anthology for all, but especially for horror fans looking for some creative new visions.